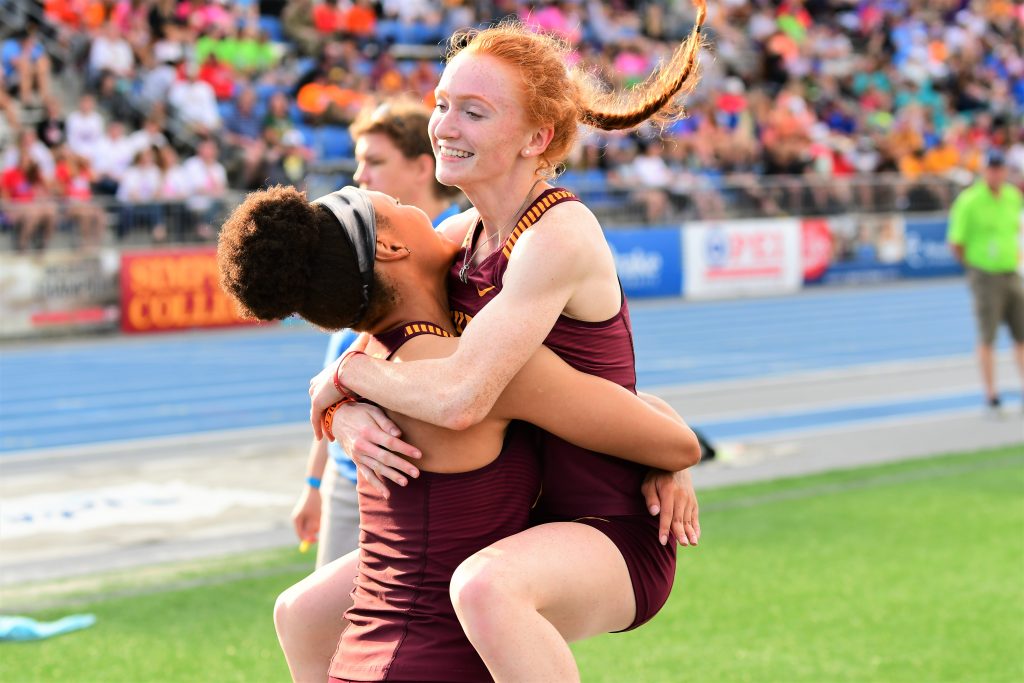 Millie Hill has a love-hate relationship with the 400 hurdles.
On Friday, the Ankeny Centennial sophomore placed fourth in the event at the girls' Class 4A state meet at Drake Stadium. She posted a time of 1:07.16.
"I hate it, but I love it," Hill said. "It's sucky, but I like it. It takes a lot of grit. It goes by fast, so that's a plus."
Caroline Schaeckenbach of Iowa City High easily won the race in a time of 1:03.37. She finished more than 3 seconds ahead of runner-up Hope Morken of Ames.
"I ran a 1:06.85 at state qualifying so I was hoping to come out a little faster than that, but I'll take it," Hill said.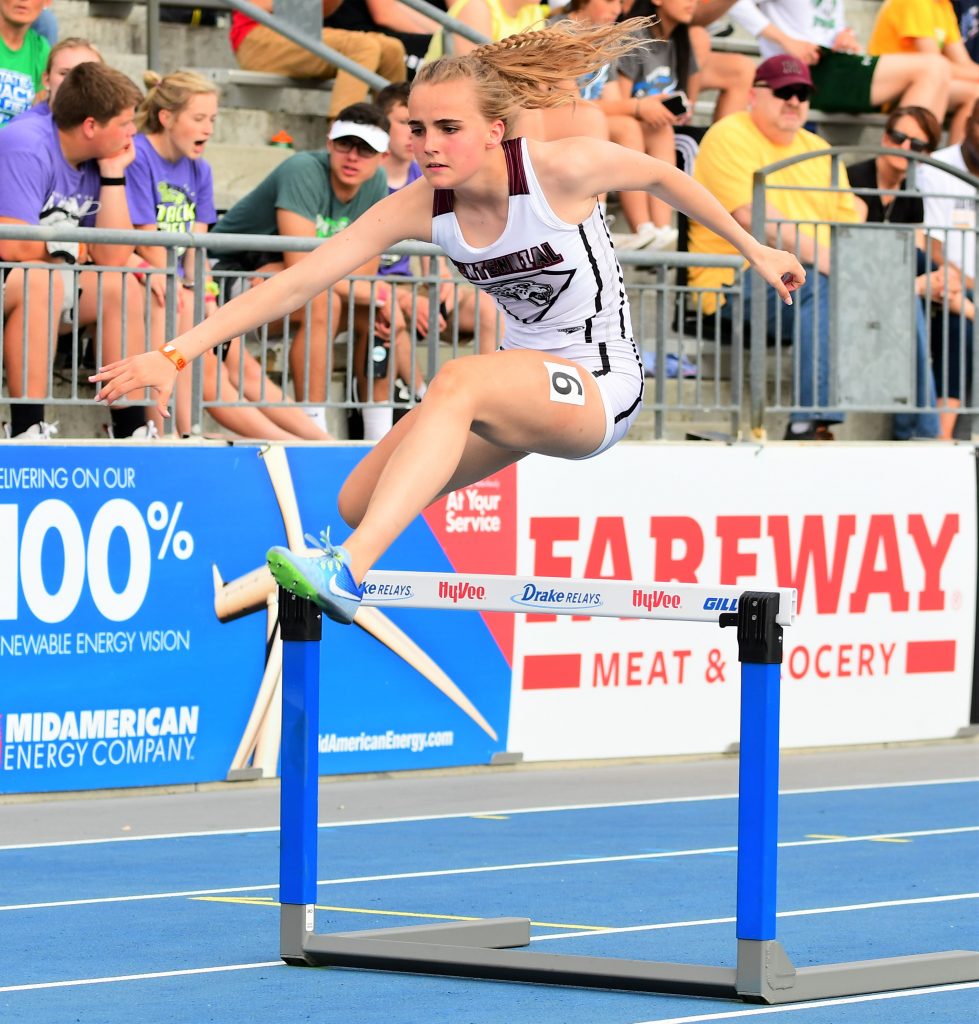 Centennial scored points in two events on Friday. The Jaguars also placed sixth in the distance medley relay for the second straight year.
The foursome of Katie Petersen, Macee Pruisner, Elle Street and Kathryn Vortherms won the second section in a time of 4:09.85. It was the third-fastest clocking in school history.
Vortherms ran the 400-meter third leg a year ago as a freshman. On Friday, she came from behind on the 800-meter anchor leg, dropping 5 seconds off her best time.
"I knew I could run down at least two of the girls ahead of me," Vortherms said. "But I wasn't sure about (getting) first or second place."
The Jaguars were seeded 11th going into the event. They overcame a sloppy handoff on the first exchange.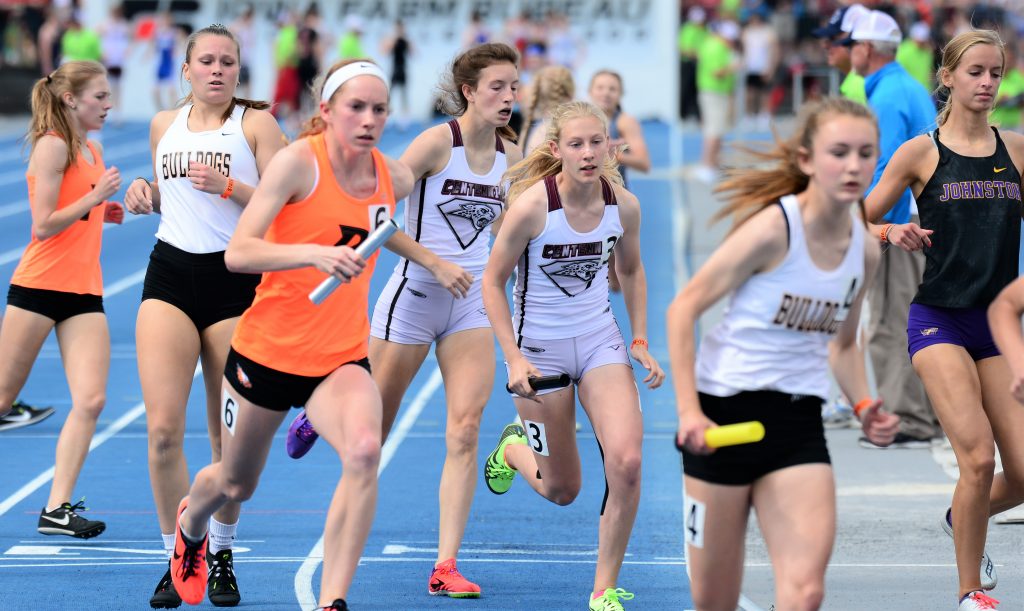 "It wasn't pretty, but we got it connected. So it was fine," Petersen said. "I think we improved about five spots, so that was awesome."
Cedar Falls won the final section in 4:00.19, which broke the state record.
After the first two days of the meet, Centennial is tied for 16th place in Class 4A with eight points. Ankeny, meanwhile, is tied for 25th with four points through 10 events.
The Hawkettes also scored points in two events on Friday. Shelby Romig placed sixth in the long jump with a leap of 16 feet 11.25 inches.
Darby Thomas of Council Bluffs Lincoln won the long jump by more than a foot. She jumped 18-11 to capture her third straight title.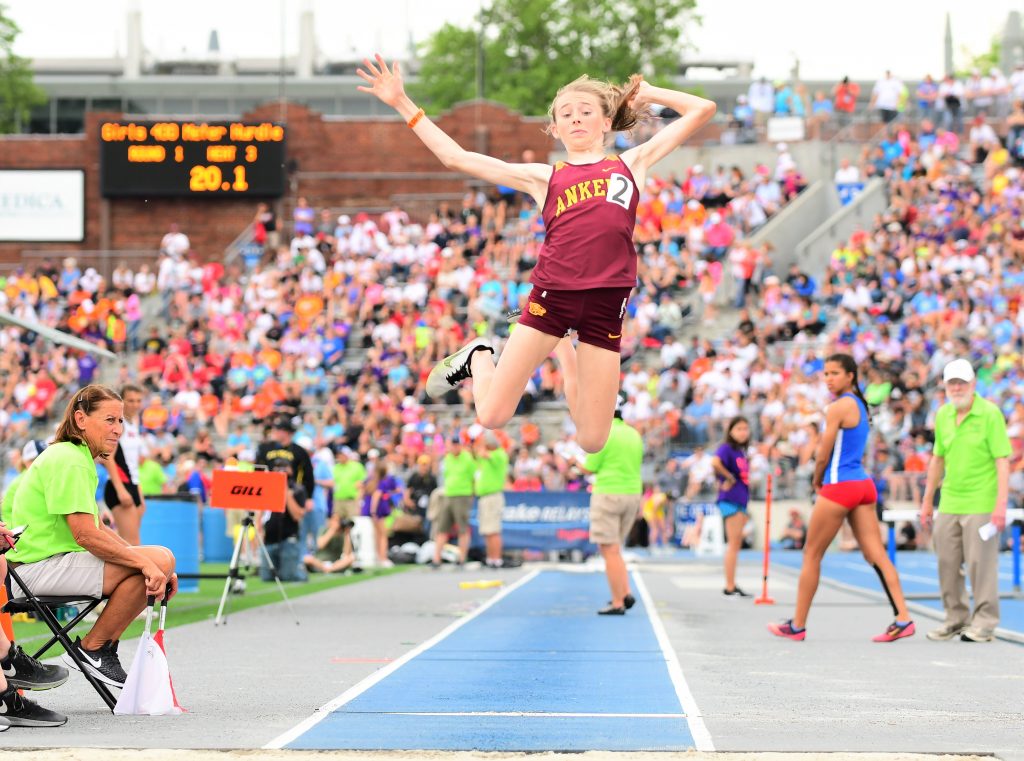 Ankeny added an eighth-place finish in the 4×200 relay. The quartet of Eva van de Mortel, Eden Gibson, Eva Fulk and Mikala Sidney posted a time of 1:43.63.
"I know our goal was 1:42 or 1:43 and we got really close, so I'm proud of that," said van de Mortel. "But I don't really think about time too much. I kind of just go based on how it feels."
Waukee easily won the 4×200 in 1:41.00. The Warriors lead the Class 4A standings with 55.33 points.
Ankeny qualified for Saturday's final in the 4×100 relay. The team of Sidney, van de Mortel, Fulk and Mytika Mayberry posted the fastest qualifying time of 48.10 seconds.
Centennial's Petersen advanced to Saturday's final in the 100 hurdles. She posted the fourth-fastest qualifying time of 14.87 seconds.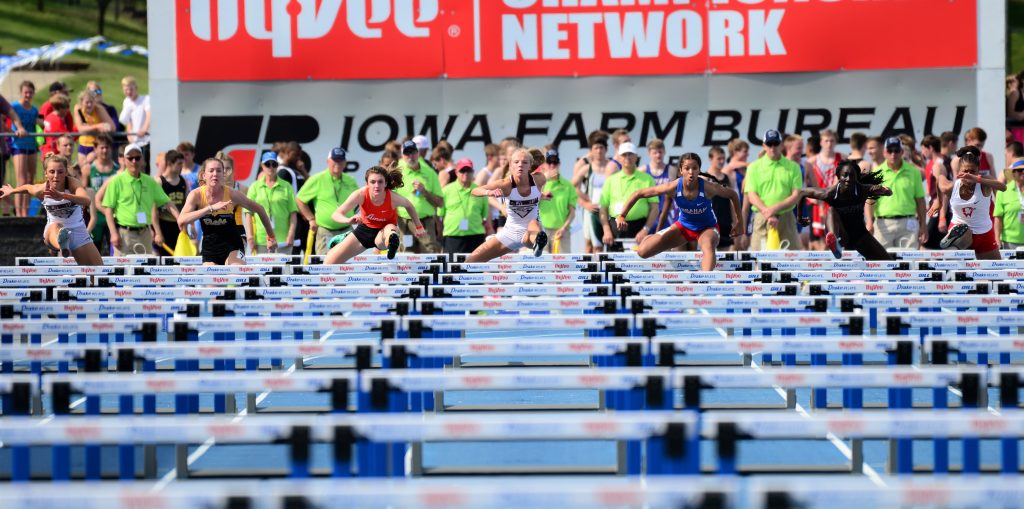 Here are the rest of Friday's results:
100 hurdles–Romig (A), 15.80 (13th); Meg Ridout (AC), 16.15 (21st).
400 hurdles–Sarah Bosch (A), 1:09.25 (10th); Ellie Dalton (A), 1:11.31 (20th).
4×100 relay–Centennial (Hannah Wilson, Pruisner, Ridout, Sophie Lampe), 50.19 (16th).
4×400 relay–Ankeny (Sydni Wendling, Gibson, Fulk, Holly Trimble), 4:06.63 (15th); Centennial (Vortherms, Street, Josie Bearden, Hill), 4:09.43 (17th).