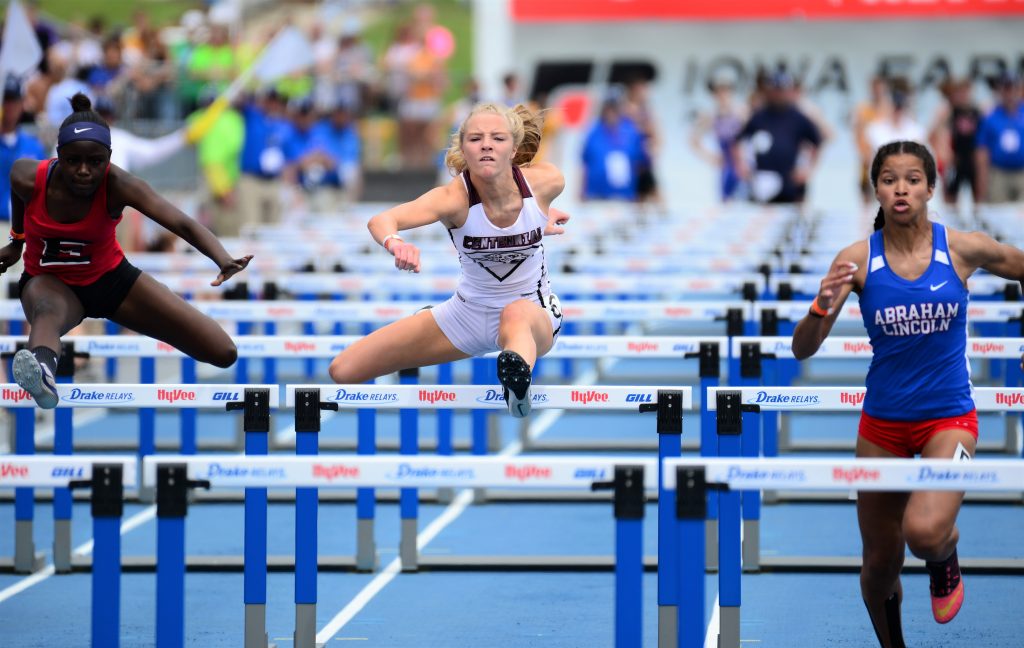 The final day of the coed state track meet could not have gone much better for the Ankeny Centennial girls' squad.
The Jaguars scored points in three more events and finished in a tie for 12th place in Class 4A with Ankeny and Johnston. All three squads finished with 22 points.
It was Centennial's highest finish in school history, eclipsing a tie for 13th place in 2016.
"Based on our seeds, we were projected for three medals and 11 points at state," said Centennial coach Andrew Kruzich. "We finished with five (medals) and 22 (points). That's outstanding."
The Jaguars were led by junior Katie Petersen, who closed out the meet with a fourth-place finish in the 100 hurdles. She posted a time of 14.77 seconds.
"I was happy with (my race), especially after (running) the sprint medley and shuttle (hurdle) this morning," said Petersen. "I felt pretty good running that time."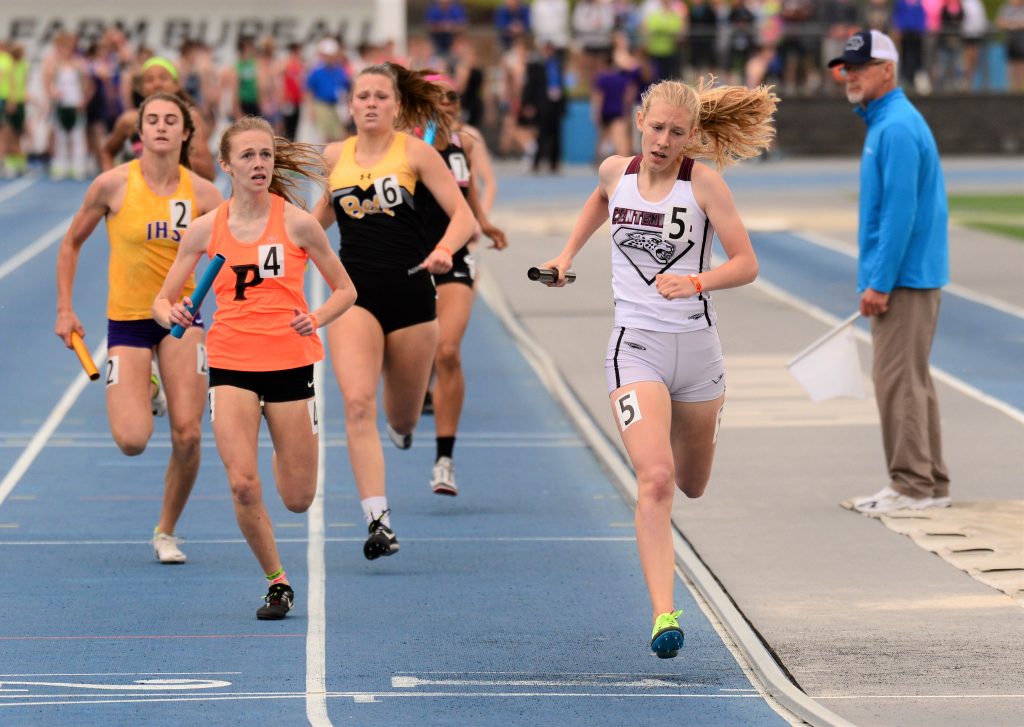 Council Bluffs Lincoln star Darby Thomas won the race in 14.23, the sixth-fastest time in Iowa history. It was the first state title on the track for the Nebraska recruit, who was already a three-time champion in the long jump.
"It was really fun to run against her," Petersen said.
Petersen became the first Centennial girl to earn four medals at the same meet. She ran on the sixth-place distance medley relay on Friday, then helped the Jaguars to two more relay medals on Saturday.
Centennial began the day with a fifth-place finish in the sprint medley relay. The foursome of Hannah Wilson, Macee Pruisner, Petersen and Kathryn Vortherms set a school record with a time of 1:49.46.
"At the state qualifying meet we had a couple of iffy handoffs, but we really cleaned those up and it showed today," Petersen said.
Cedar Falls won the event with a time of 1:47.42. The Jaguars captured the second section behind a strong anchor leg from Vortherms, who ran the final 400 meters in a personal-best 58.1 seconds.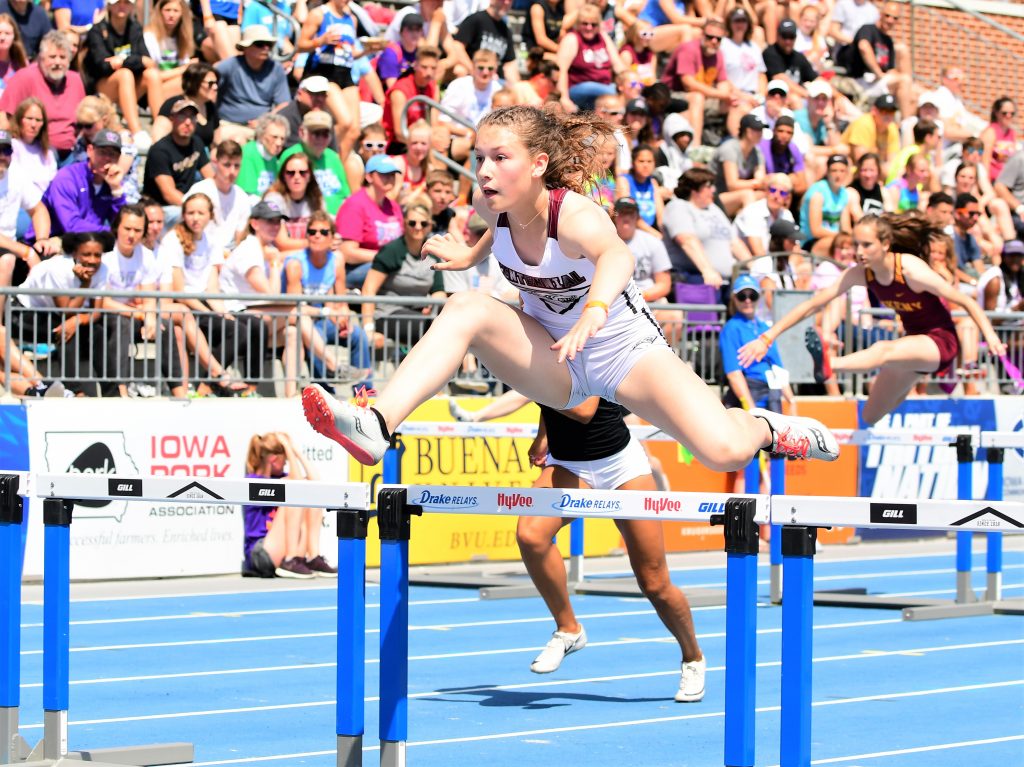 "Medleys are a lot of fun," Kruzich said. "It's great to blend different running groups together–the distance medley was two sprinters, a hurdler and a 400/800 runner. Every training group is represented in those events, so all of our girls and coaches help contribute to those performances."
On Friday, Vortherms dropped 5 seconds off her best time on the 800-meter anchor leg of the distance medley relay.
"We figured we were one of five teams pushing for seventh and eighth in the distance medley, and we took sixth," Kruzich said. "We thought we could maybe grab an eighth in the sprint medley, and we got fifth. Our handoffs were great, and they needed to be–1.3 seconds separated 5th-12th places–so it was nice to execute all around. And Kathryn was a beast twice over on those anchors. She's a special kid."
Centennial later placed fourth in the shuttle hurdle relay. The quartet of Petersen, Sophie Lampe, Calea Jones and Meg Ridout was clocked in 1:05.56.
Waukee won the race in a time of 1:03.11, edging Dowling Catholic by .12 seconds. The Warriors went on to claim their fourth consecutive team title, finishing with 81.33 points.
The shuttle hurdle race was contested as a timed final after Thursday's preliminary heats were called off due to inclement weather. The Jaguars ran in the same section with Dowling Catholic, which put up the mark to beat and that's what Waukee did shortly thereafter.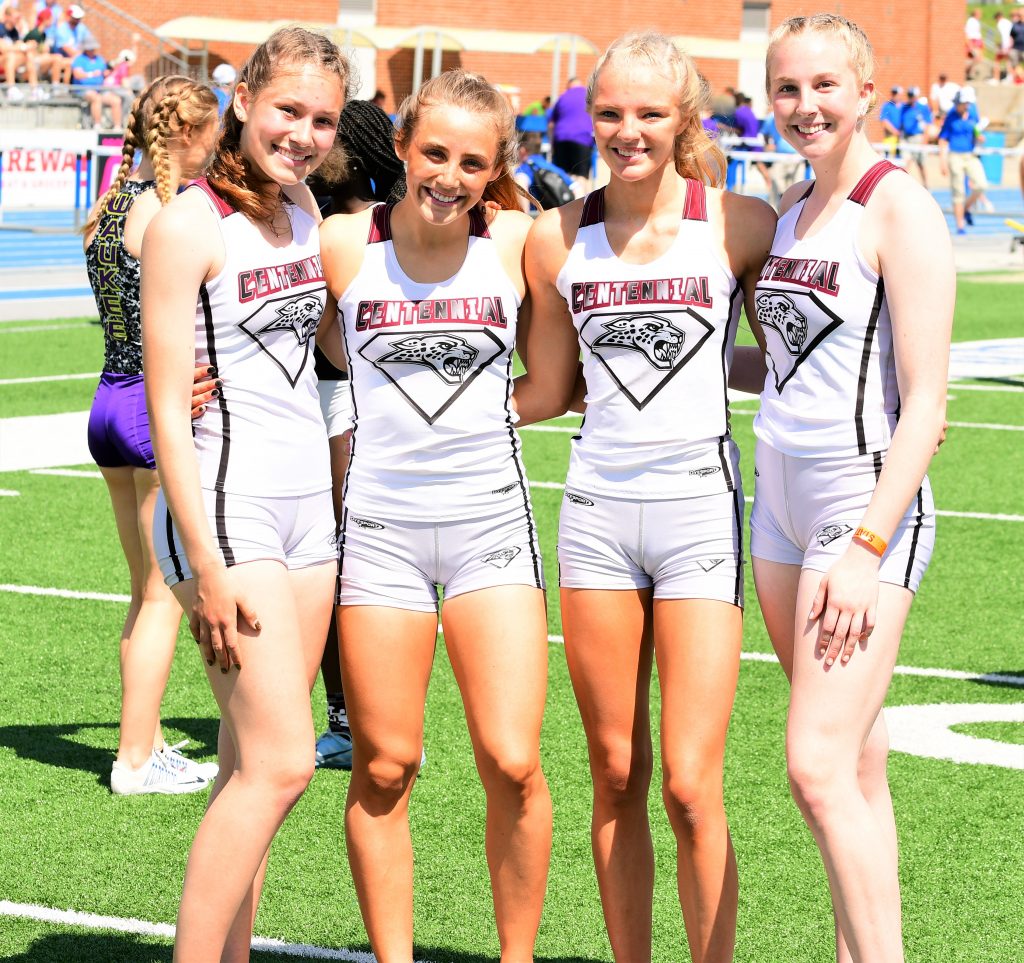 "It worked out well for us," Petersen said. "It was nice to be in the second-fastest heat."
Most of Centennial's state qualifiers will be back next season. Ridout is among the seniors who will have to be replaced.
"I'm so happy that we ran for Meg, because it's her senior year and I just wanted to really do good for her," Jones said.
According to Kruzich, the Jaguars performed about as well as he could have expected in most of their events.
"I haven't had a state meet like this one in a long time–all of our medaling threats performed at or above their seeds," he said. "Everything went smoothly, and our girls just had great attitudes. They managed their schedules well, took care of their bodies, and were upbeat and supportive of each other. We were plus 18 spots total from seed to finish. We even got some help from some other events to hang on to 12th place. I'll take it.
"And of course, it's totally appropriate that we tied with Ankeny for 12th. They had a great weekend, too," he added.