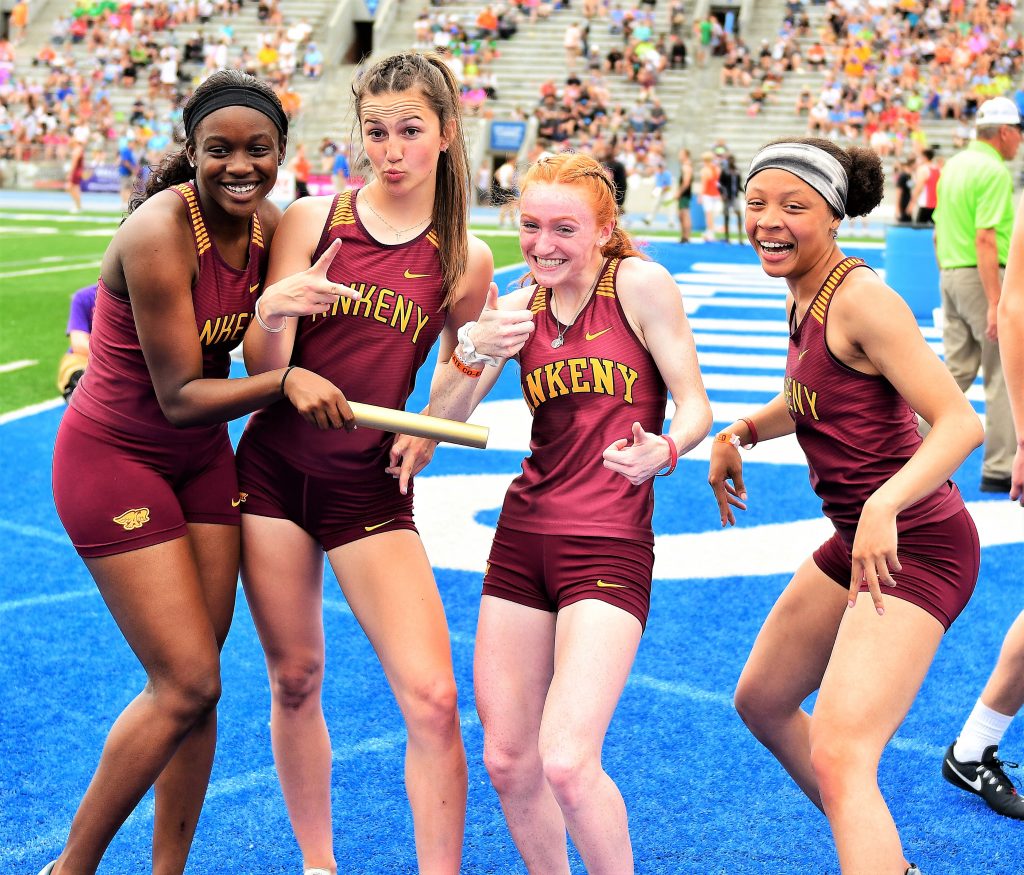 It's been nearly 20 years since the Ankeny girls' track team captured a state title in a relay event.
In the previous two years, the Hawkettes almost ended that drought.
On Saturday, they finally did.
The foursome of Mikala Sidney, Eva van de Mortel, Eva Fulk and Mytika Mayberry raced to a victory in the Class 4A 4×100 relay at Drake Stadium. The Hawkettes posted a time of 48.29 seconds.
"Oh my God, it's amazing," said Mayberry. "This is what I've been praying for and working for, and this is it. It's surreal."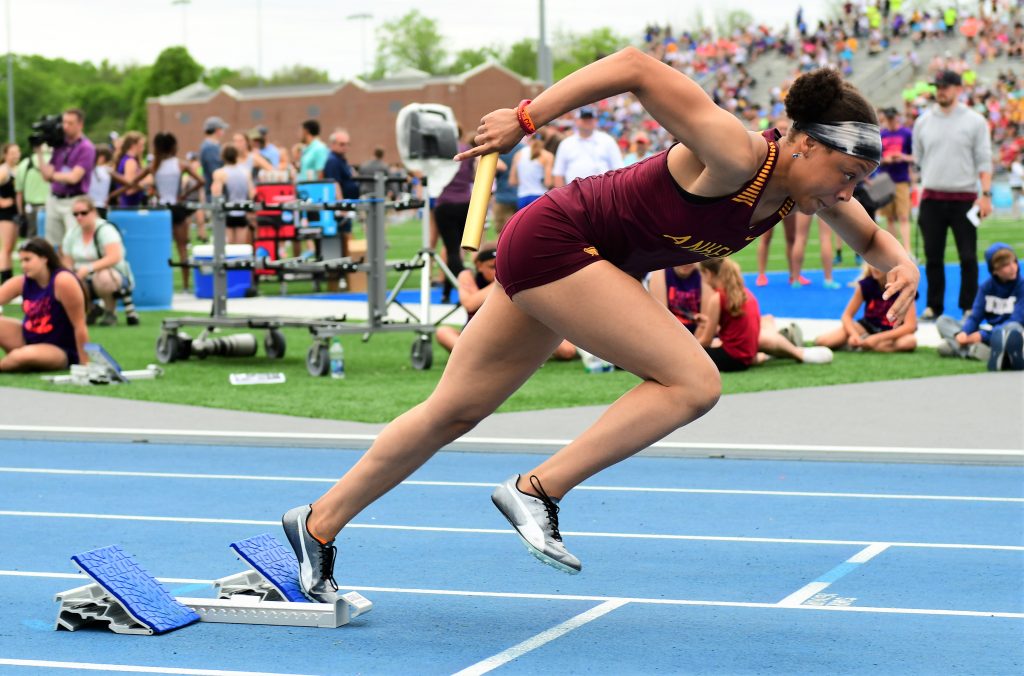 Sidney, a senior, won a state title in the final race of her career. She ran on Ankeny's second-place 4×100 relay as a sophomore in 2017 before missing last season due to a knee injury.
"It feels great," said Sidney. "We've been working for it for so long and so hard."
Both Mayberry and van de Mortel ran on the Hawkettes' third-place 4×100 relay a year ago. That team also ran 48.29 in the finals.
Peyton Daugherty graduated from that squad, while anchor runner Jasmine Rumley elected not to run track this spring in order to focus on swimming. However, Sidney returned from her injury, and first-year Ankeny coach Thomas Cotter found another talented sprinter in Fulk, a freshman.
On Saturday, the Hawkettes held a short lead when Fulk handed the baton to Mayberry on the final exchange.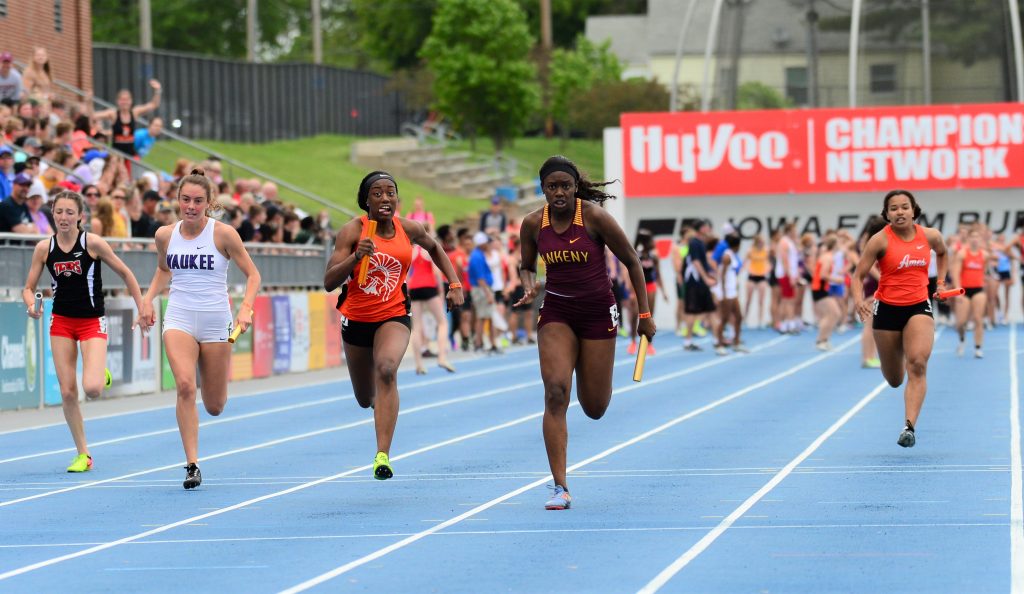 "As soon as I handed off, I knew she was going to take it," Fulk said. "I knew she was going to win it for us."
Mayberry held off a strong challenge from Waterloo East star Kerris Roberts down the homestretch. Roberts crossed the finish line in second place, but the Trojans were later disqualified–thus allowing Waukee to place second in 48.95.
Mayberry said she didn't hear Roberts coming anyway.
"I blacked out everything around me because my true competitor was the clock," she said. "It was me against the clock at that point in time. And we won."
Ankeny claimed its first state title in any event since Emily Roberts captured both the 400 and 400 hurdles in 2010. It's the Hawkettes' first crown in a relay event since winning the 4×200 in 2000.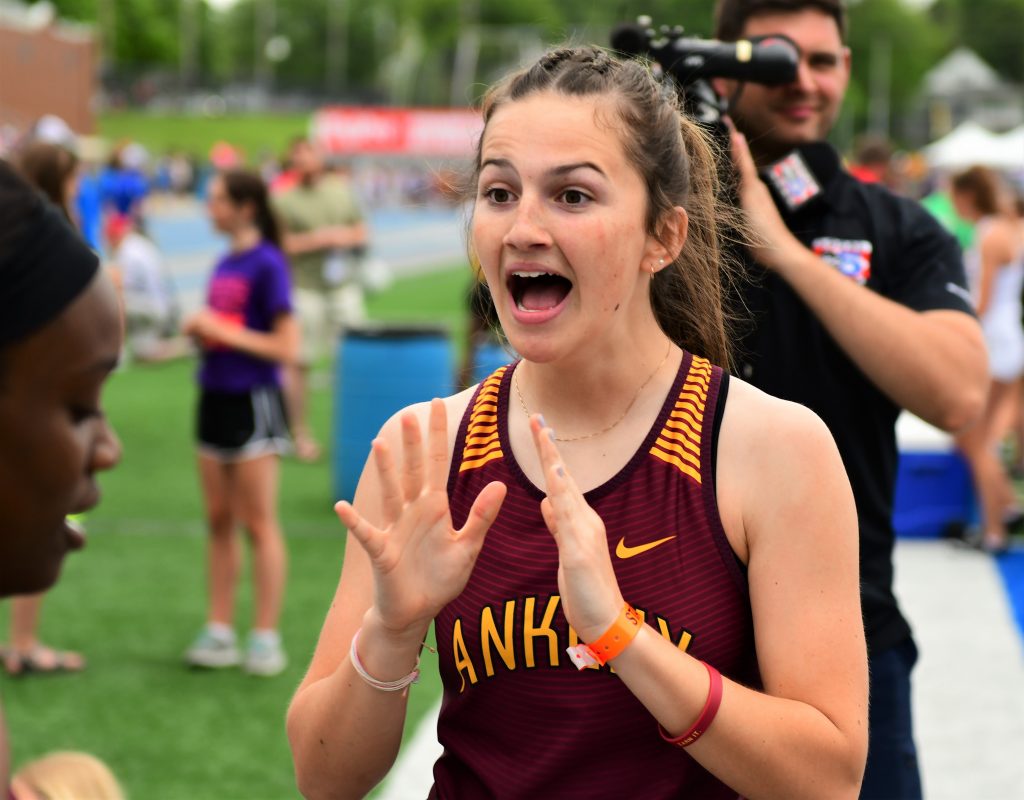 "It's so crazy," van de Mortel said. "I feel like I've been imagining it so many times in my head, but being able to be here in person and say that I am a state champion, it does not feel real at all."
The victory allowed Ankeny to tie Ankeny Centennial and Johnston for 12th place in Class 4A. All three teams finished with 22 points.
It's the Hawkettes' highest finish since they placed 11th with 32 points in 2013.
"It was a great weekend for the program," Cotter said. "We knew we could finish at or near the top 10. While we left some points on the board, we executed really well this weekend against great competition."
Mayberry earlier placed fifth in the 100. She was clocked in 12.72 seconds.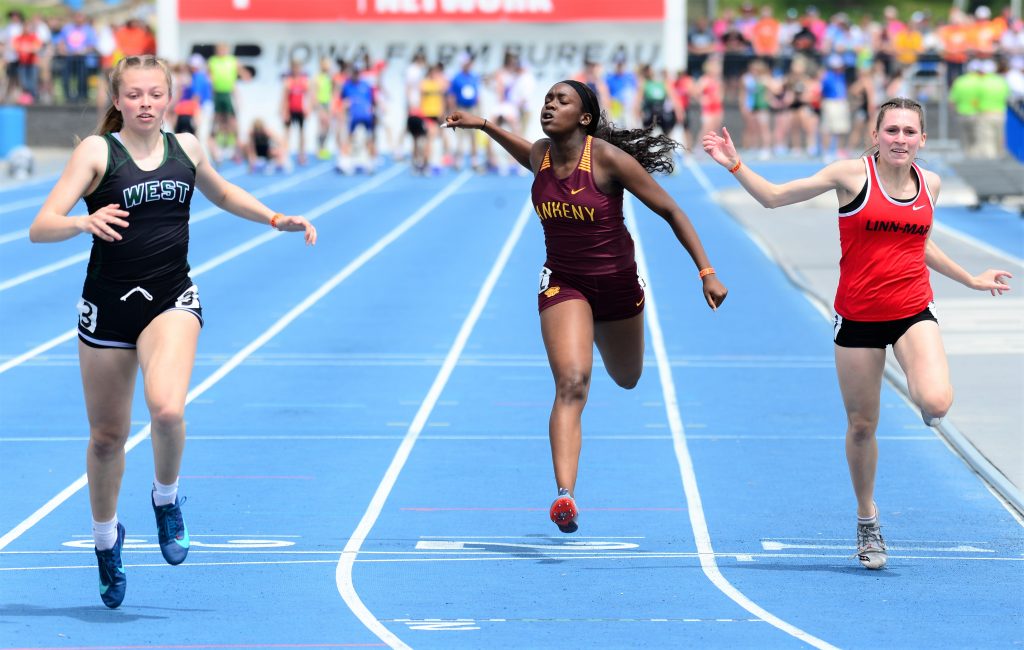 "I'm perfectly fine (with the race)," said Mayberry, a sophomore. "I've got more areas to grow in and I've got more years to do it, so I'm fine with where I'm at."
Waterloo East's Roberts easily won the race in 11.90. She ends her illustrious career with seven state titles.
Mayberry said she'll miss running against the Purdue recruit.
"She's my fiercest competitor," Mayberry said. "And I really need that to (get) better."
Roberts also won the 200 in 24.74. Sidney placed sixth in that race in 26.60.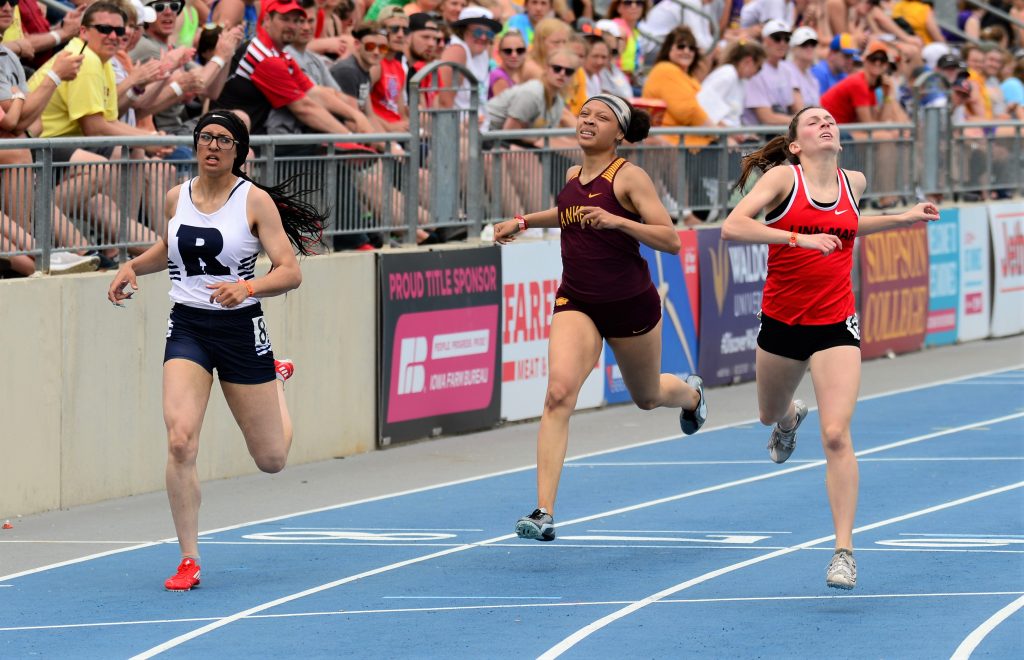 "Honestly, I came in (seeded) fifth so I wanted to place fifth," Sidney said. "But during my preliminaries, I ran a sixth-(best) time so I'm not too upset about it. But I kind of wanted to do better."
The 200 was run into a stiff headwind that measured 6.1-meters per second.
"I definitely could (feel the headwind)," Sidney said. "At first in my head I was like, 'I felt it but I didn't think it was that bad. It was like a light breeze.' But then I looked at the time, and it was definitely not a light breeze."
Ankeny also picked up a point in the shuttle hurdle relay, where the Hawkettes placed eighth in a time of 1:06.73. That team consisted of Malea Daugherty, Calyssa Wright, Ellie Dalton and Shelby Romig.
The shuttle hurdle race was contested as a timed final after Thursday's preliminary heats were called off due to inclement weather. The Hawkettes ran in the same section with Dowling Catholic, which put up the time to beat of 1:03.23 heading into the final section.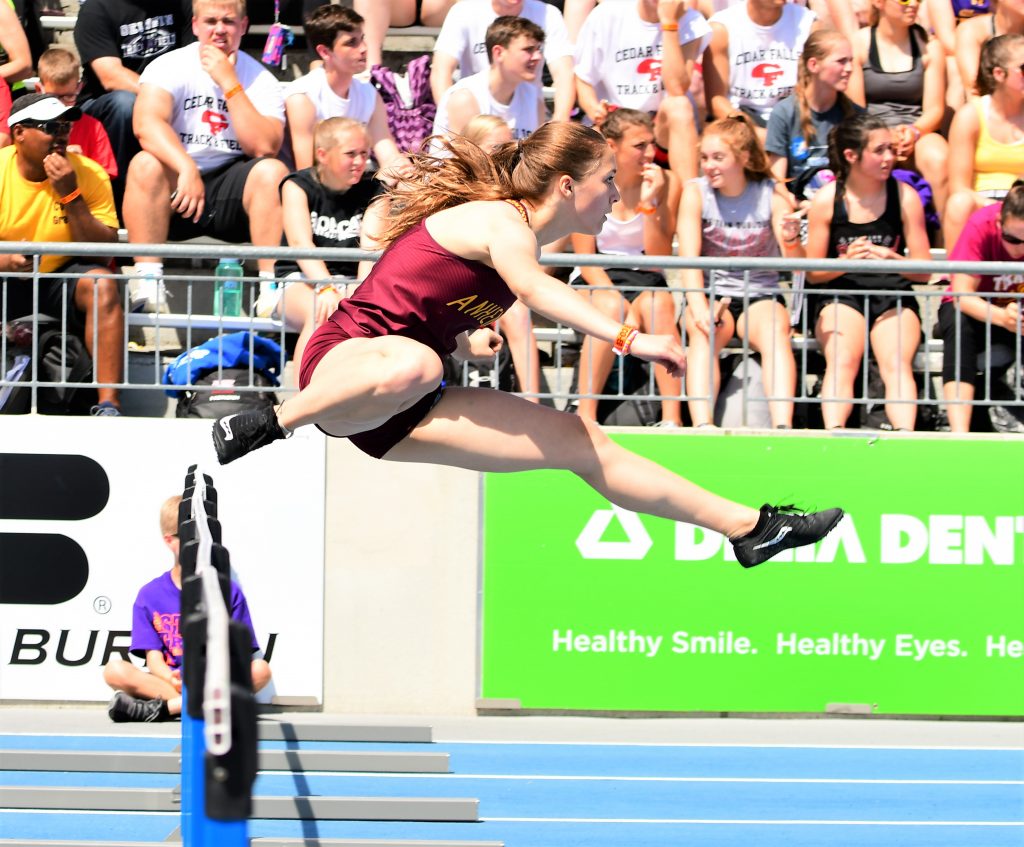 Waukee then won the event, posting a time of 1:03.11. The win helped the Warriors to their fourth consecutive team crown.
Ankeny also competed in the sprint medley relay on Saturday. The quartet of Daugherty, Macey Filling, Eden Gibson and Sydni Wendling placed 18th in a time of 1:54.46.
"Our theme was 'Earn It' going into the season," Cotter said. "Everything we achieved was going to be earned. I'm so proud to see the work and trust the girls have in their coaches and teammates."
Only a few of Ankeny's state qualifiers will have to be replaced. The future looks bright for the Hawkettes.
"We have many returners coming back," Cotter said. "They have really bought in and built up a culture that we can compete with anybody."