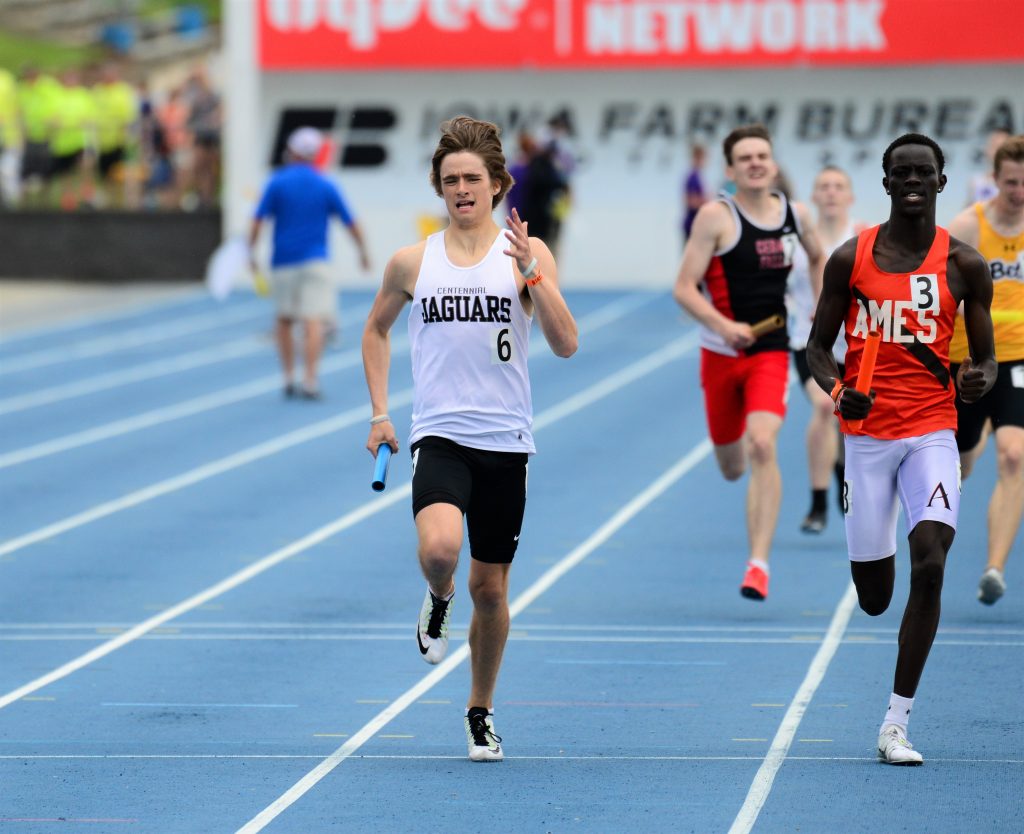 The final race of Liam Murphy's high school track career was one that he'll never forget.
Murphy anchored the Ankeny Centennial boys' team to a third-place finish in the 4×400 relay at the Class 4A state meet on Saturday at Drake Stadium. He used a strong finish to pass Ames' Aniey Akok in the last 50 meters.
"I knew when I got the baton that (Akok) was going to get out pretty hard," said Murphy. "So I just kind of sat with him and I was racing for third. I just kind of sat on his hip and that last 100 I just kind of kicked. I had more than he had left. It's always nice to follow someone, though. It's a lot easier to chase than it is to lead."
Murphy teamed up with Dylan DeAngelo, Avery Gates and Thomas Collins to post a time of 3:19.59. Ames was clocked in 3:19.73.
"We were pretty confident," Collins said. "(In the preliminaries on Friday) we broke our PR by 3 1/2 seconds, and we knew we had more in us. We gave it our all, and we had a good time doing it."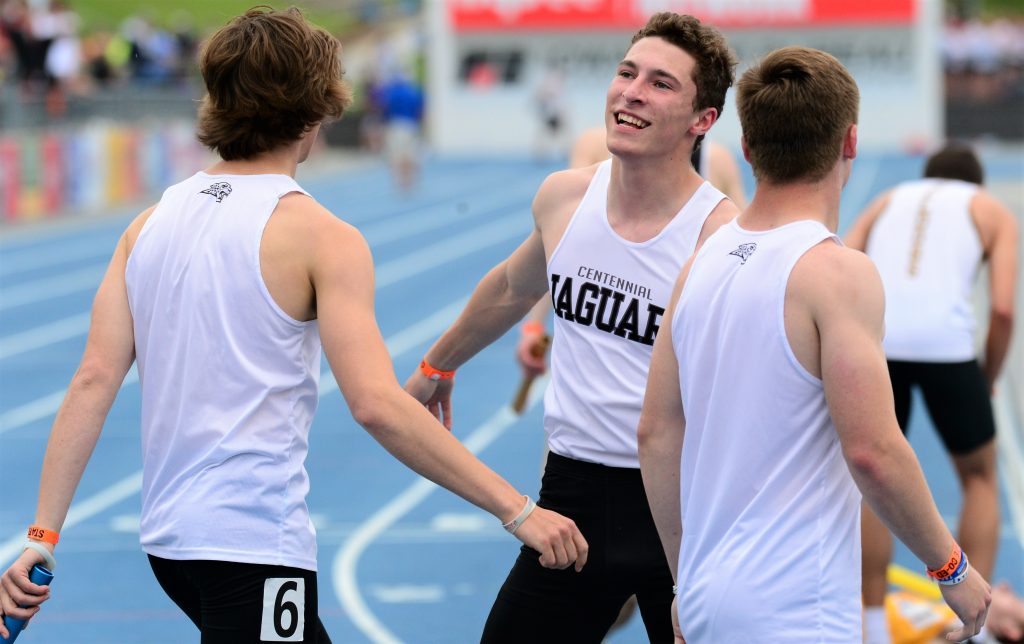 Waukee won the 4×400 in a time of 3:14.81. The Warriors edged Valley by .44 seconds, but the Tigers easily captured the Class 4A team title for the third straight year by racking up 89 points–26 more than Ames.
"Going into that we kind of knew it was probably a race for third with those two teams in front of us," Murphy said. "So our goal was to get third to place as high as possible. It was good to get that done–it's a good one to end on."
Murphy is the lone senior on the 4×400 relay. DeAngelo and Gates are both juniors, and Collins is a sophomore.
"We've only got one senior graduating," Collins said. "He's a big part of it–I love running with Liam–but we'll find someone."
The third-place finish lifted Centennial into 16th place in the final Class 4A standings. The Jaguars scored 20 points in the three-day meet.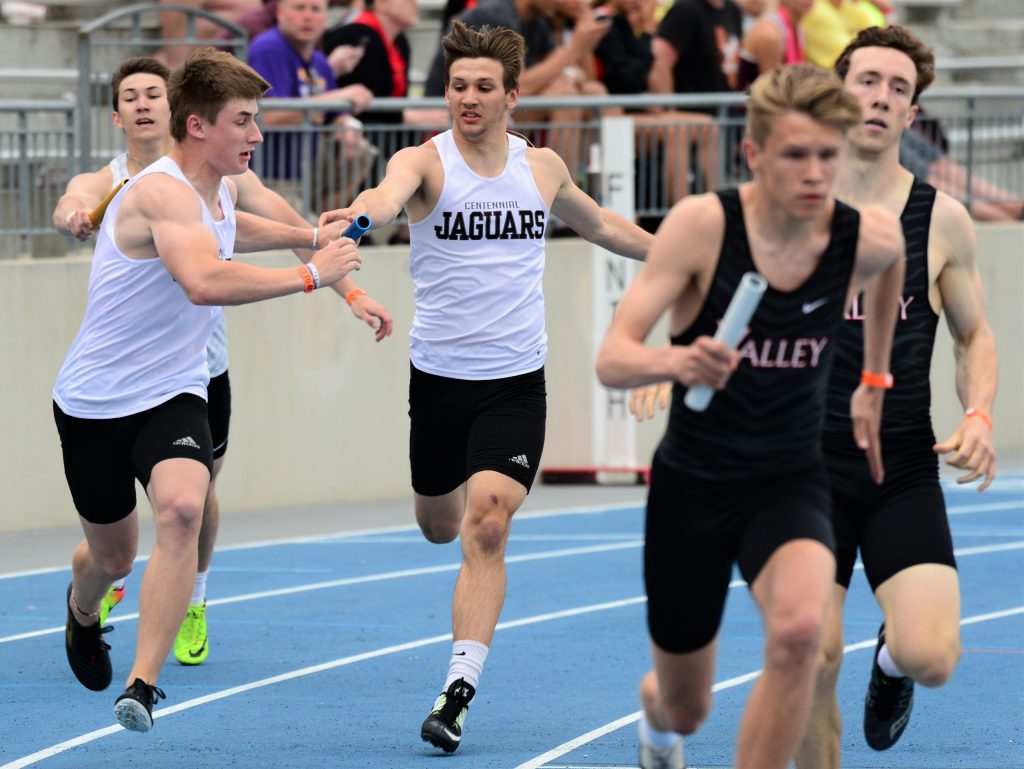 Earlier on Saturday, Centennial took fourth in the sprint medley relay. The foursome of Gates, Jon Wong, Murphy and Collins posted a time of 1:32.34.
Bettendorf won the race in 1:30.92, setting an all-time state record behind a strong anchor leg from Iowa State football recruit Darien Porter.
"That's one of my favorite races, and I think all of us love to run it," Collins said. "We go out there and have a good time, and the stick gets around pretty fast."
Centennial coach Nate Smith said he was proud of the way his team responded after being disqualified in the shuttle hurdle relay on Thursday.
"The team finished the state meet focused and strong given a bit of a rough start," he said. "For a rebuilding year, this was an impressive team. We set school records in the shuttle, sprint medley, 400, 4×400, discus and 400 hurdles. And the 4×400 had an elite all-state performance."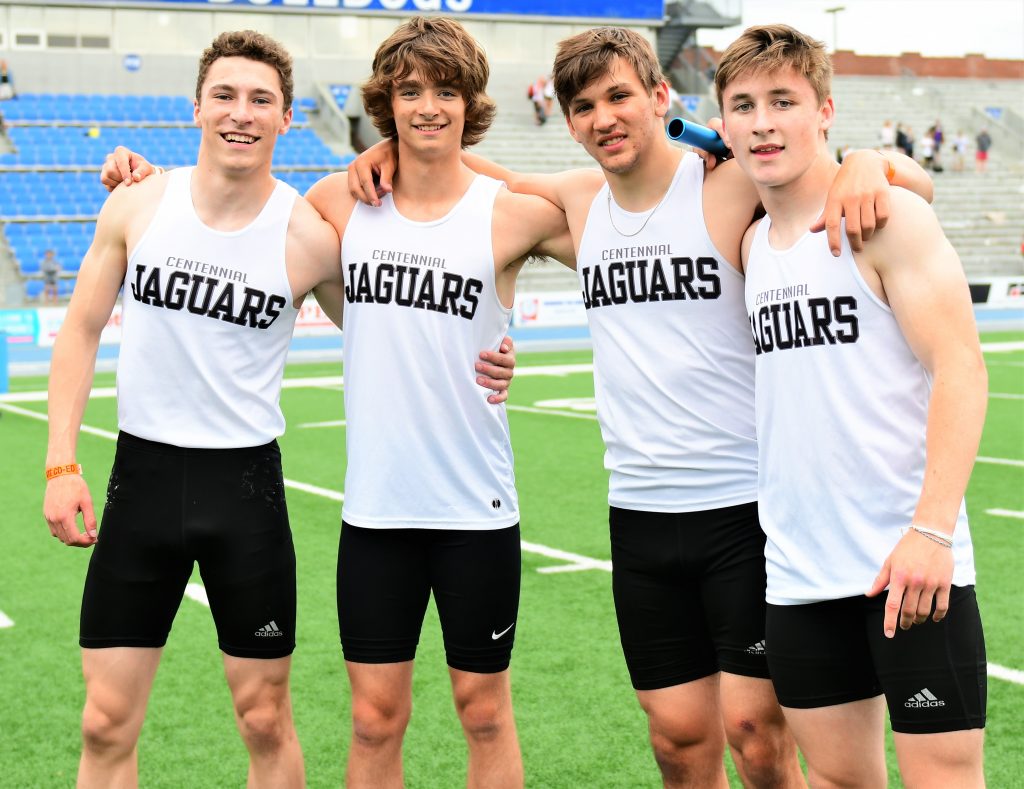 Also on Saturday, Centennial's Gabriel Vicker placed 19th in the 1,600. He posted a time of 4:39.59.
"Gabriel got cut off in his race," Smith said.
Justin Thorn took sixth for the Jaguars in the wheelchair 100. He was clocked in 37.99 seconds.
"Justin finished with a solid race," Smith said.