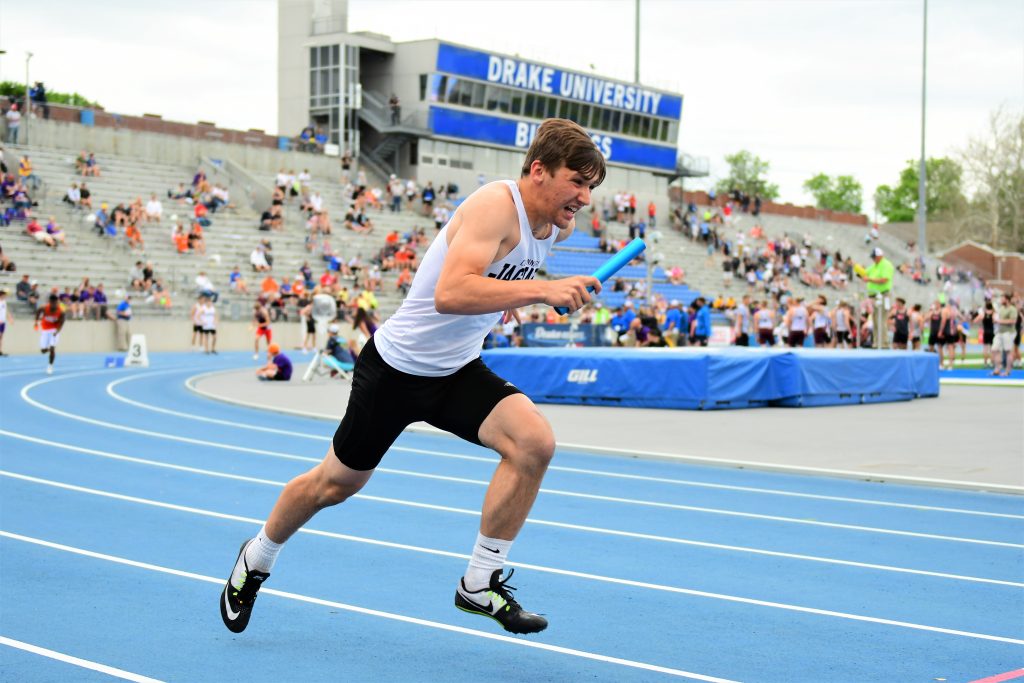 Junior Dylan DeAngelo helped the Ankeny Centennial boys' track team to a 16th-place finish in the Class 4A state meet on Thursday through Saturday at Drake Stadium.
DeAngelo placed third in the 400 hurdles with a time of 53.35 seconds, which broke his own school record. He also ran on the third-place 4×400 and sixth-place 4×200 relays.
Here is some inside info on DeAngelo:
Overall, were you pleased with your performances at the state meet?
Yes, for the most part I was pleased with my performances and had a lot of fun competing, but the shuttle hurdle relay would be something I wish I could take back.
The meet got off to a rough start on Thursday, when you stumbled over the last hurdle on the opening leg of the shuttle hurdle and fell as you approached the exchange zone. What happened? Did the record heat have anything to do with it?
Although it was really hot out and and we weren't used to running in the heat, I don't think it had anything to do with me falling. I think I just overlooked the last hurdle and was more focused on getting to the exchange which took my focus away from getting over the last hurdle.
Your team finished the race and posted a time of 59.13 seconds that would have qualified for the final had your team not been disqualified. Was the DQ for an early start?
The DQ happened from the exchange between me and our second leg, Jon Wong. That was my fault because after I fell I got frantic, and tried not to waste too much time so when I was getting up I told him to go, hoping I was in the exchange zone but I wasn't.
You obviously had to put that race behind you with three more events still to come. Was that hard to do?
It was kind of hard to put it behind me right after it happened because I didn't have anything the rest of the day so I definitely thought about it a lot, but I received a lot of moral support from my teammates and coaches so that made it easier to put it behind me.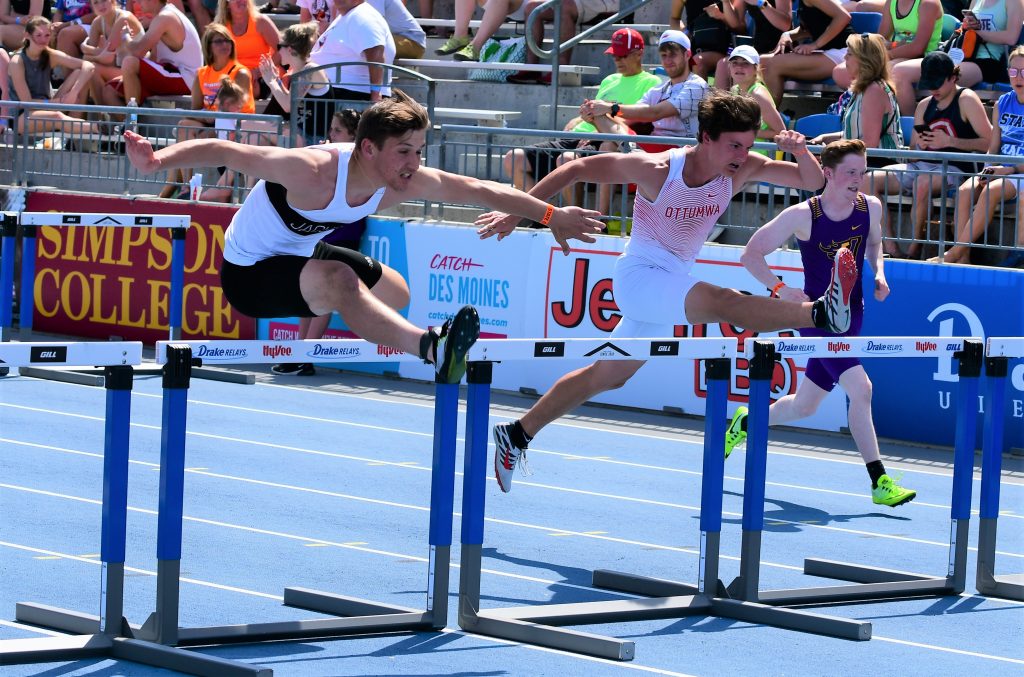 On Friday, you earned your first medal in the 4×200 relay. Were you happy with your team's time of 1:29.06 in that event?
Yes, I was very happy with our time. It was our season-best, and we competed well against the other teams.
Valley broke the all-time record in the 4×200 and went on to win the team title for the third straight year, finishing 26 points ahead of Ames. Did you think that the Tigers were the team to beat for the 4A crown going into the meet?
Yeah, we knew that they had a lot of really good relay teams and that they had a lot of success at the Drake Relays, so we knew they were going to be hard to beat.
About an hour later, you earned another medal in the 400 hurdles, where you got off to a strong start and led the race going into the homestretch. Was it your plan to go out hard in that race?
Yeah, after watching my previous races my coach noticed that I had been getting out kind of slow, leaving a gap for me to have to try and make up in the end. He told me I should try and get out faster so I don't have to make it up in the end.
You told me on Friday that the last hurdle slowed you down a little bit, but I wasn't in a position to see it. Did you clip it pretty hard?
No, I didn't really hit it at all going over it, but it took a lot of energy out of me going over it. That caused me to not finish as hard as I would have liked to.
Then, on Saturday, you closed out the meet with a strong opening leg in the 4×400 relay, helping your team to capture another medal. Were you confident that your anchor runner, Liam Murphy, was going to catch Ames' Aniey Akok in the final strides for third place?
Yes, I was very confident in Liam. He is a very smart runner and stayed on Akok's hip for the majority of the race. And although I knew Akok was a good runner, I knew that Liam was going to finish the race with all he had with it being his last race.
Although Liam will graduate, your team will return most of its state qualifiers next season. Do you think you guys will be able to do a lot of damage in 2020?
I am very confident that we will have a lot of success next year. Even though we lose some great senior runners, we will be returning at least three people in all but one relay, while the teams that placed ahead of us in those relays this year will lose most of their runners.
I know you come from a large family and that some of your brothers have competed in sports at the collegiate level. What are your plans? Would you like to run track in college?
Yes, I am very interested in running track at the collegiate level. I love to compete in track and think it would be a lot of fun.