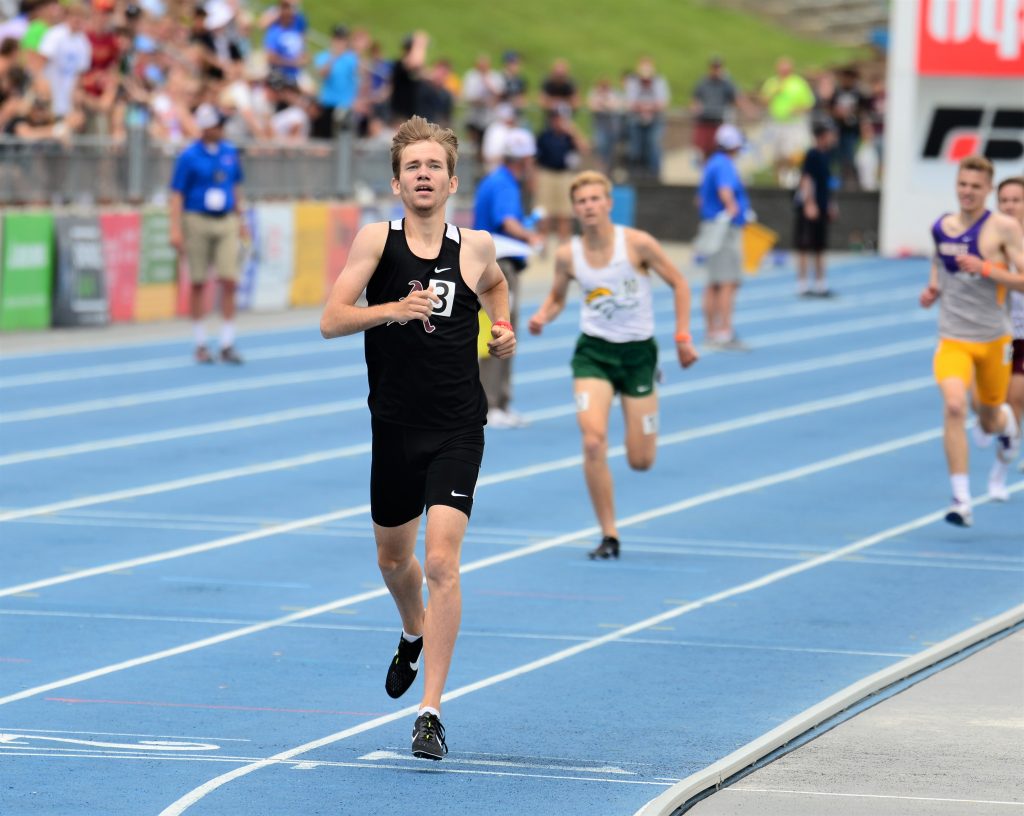 Tim Sindt wanted to make a statement in his final race as an Ankeny Hawk.
But he also wanted to win another state track title.
The standout distance runner managed to do both on Saturday at Drake Stadium.
Sindt pulled away from the field early in the race, built a commanding lead and then cruised to a victory in the boys' Class 4A 1,600-meter run. He posted a time of 4:20.95 to complete the distance double after winning the 3,200 on Thursday.
"It feels really good," said Sindt, who is also a two-time state cross country champion. "I thought I had a chance last year (to win the 1,600), and then Camden (Cox of Ankeny Centennial) had a really strong finish. So I was glad there was no one there to finish like that this year. I took it out of them early, which was my goal, and it worked."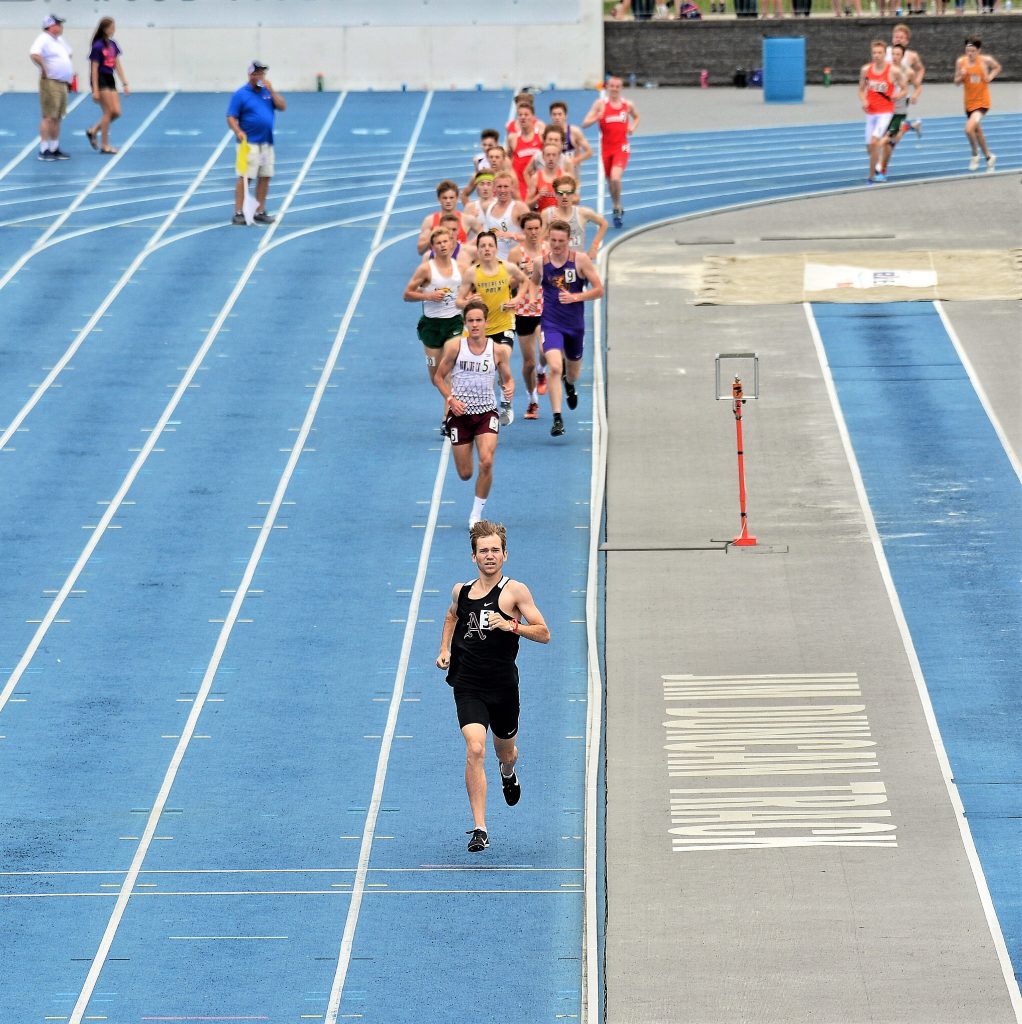 Sindt ran the opening 800 meters in 2:08 to put a lot of distance between himself and the rest of the field. Nobody ever came to challenge him on the final two laps.
Sindt finished nearly 3 seconds ahead of runner-up Ben Hermiston of Dubuque Hempstead, but the margin could have been greater if the Iowa State recruit had continued to push the pace.
"I was trying to make a statement, but my main goal was to win," Sindt said. "Obviously, if I felt perfect–and I've felt a little banged up all season–I would have kept pushing that pace and tried to go for a PR like a 4:10ish or 4:12, but I haven't felt perfect all year. I'm just ready for a break now."
On Thursday, Sindt became Ankeny's first state champion since Aaron Jarosh won the long jump in 2005. Now, Sindt becomes the first Hawk to win two individual races in the same meet since Andy Brodell won the 100 and 200 in 2003.
Sindt led Ankeny to a sixth-place finish in Class 4A, accounting for 20.25 of the team's 39 points.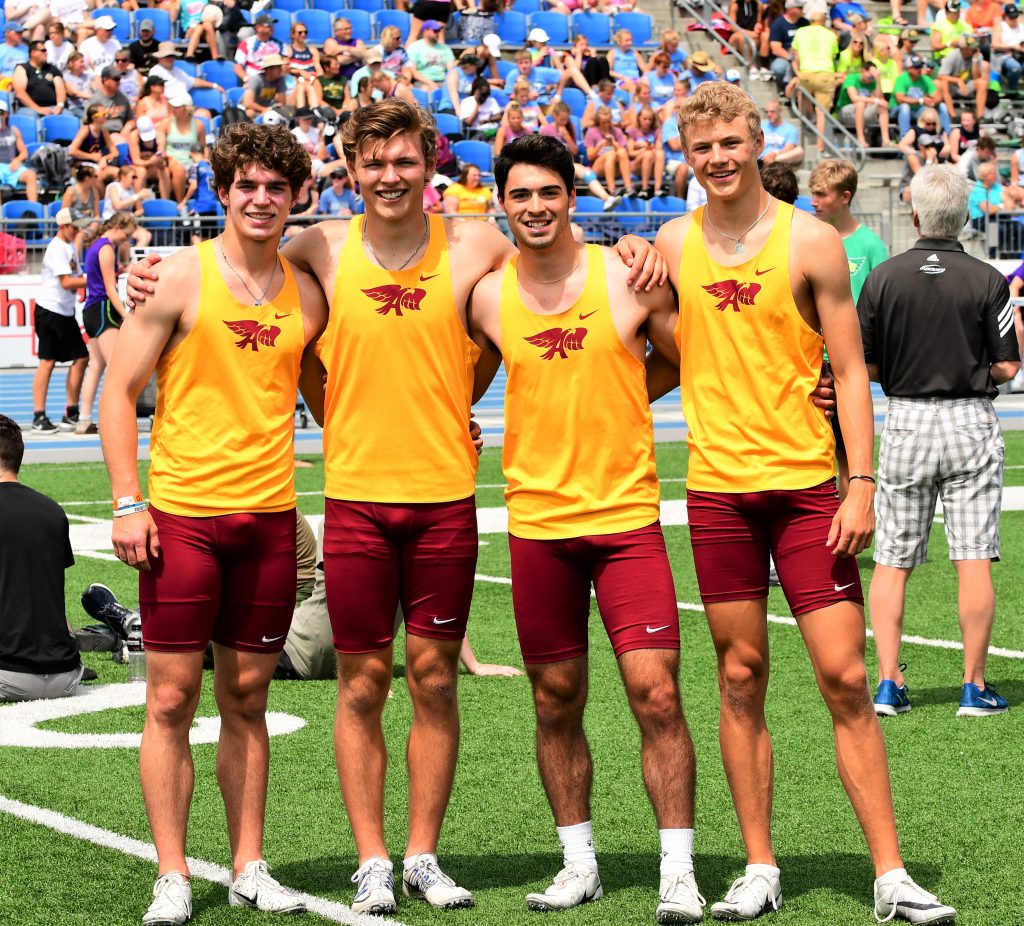 "It's a great way to end (my career). I love ending on top," Sindt said. "I told myself all day, 'This is your last high school race and could be the last race you ever win as an individual.' But we'll see."
Valley racked up 89 points to easily win its third straight team title, finishing 26 points ahead of Ames. Ankeny earned its highest finish since placing second in 2004.
"It was a great showing by the Hawks," said Ankeny coach Nick Nelson. "The athletes worked extremely hard all season. We fell short on some things, but overall everyone had their best performances at the state meet, and as a coach that is all you can ask for. I am pleased with how the seniors showed up for their last meet. They will be missed greatly."
Earlier on Saturday, two of those seniors helped Ankeny to a runner-up finish in the shuttle hurdle relay. Max Griffin and Conner Niffenegger teamed up with sophomores Mason Thompson and Cael Boyd to set a school record with a time of 57.36 seconds.
Valley won the race in 57.18, but not before Niffenegger nearly caught Jayden Williams from behind on the anchor leg.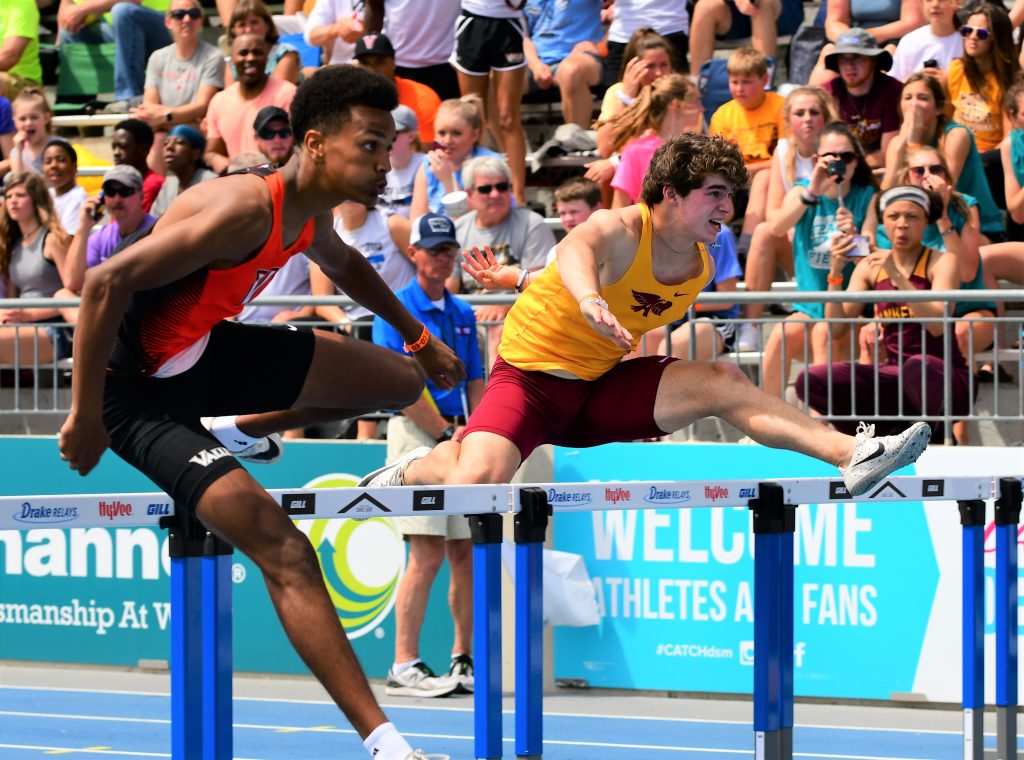 "What it looks like is if I had one more hurdle, I felt like I would have had him," Niffenegger said. "It was so close."
The Hawks improved their time by nearly a full second from Thursday's preliminaries, when they were clocked in 58.30.
"We thought we had a shot, especially since some of our guys didn't run their best race in prelims," Griffin said. "We knew we had a chance going into the finals to run a real good time and (possibly) get first."
Two other seniors, Max Smith and Jalen Elwell, also ended their careers in style on Saturday. Smith placed fifth in the 100 in 11.09 seconds, while Elwell came out of the slow section to place sixth in the 800 in a time of 1:57.54.
Joe Schaefer of Johnston won the 800 in 1:52.96. But only four other runners in the fast section ran under 1:57, allowing Elwell to earn three team points. Without those points, Ankeny would have finished in a tie for eighth place overall.
"I was surprised, but I knew I could go sub-2 (minutes)," said Elwell. "I just didn't think I would get a nearly 4-second PR from it so it was really cool to look up at the videoboard and see my 1:57. I was in shock."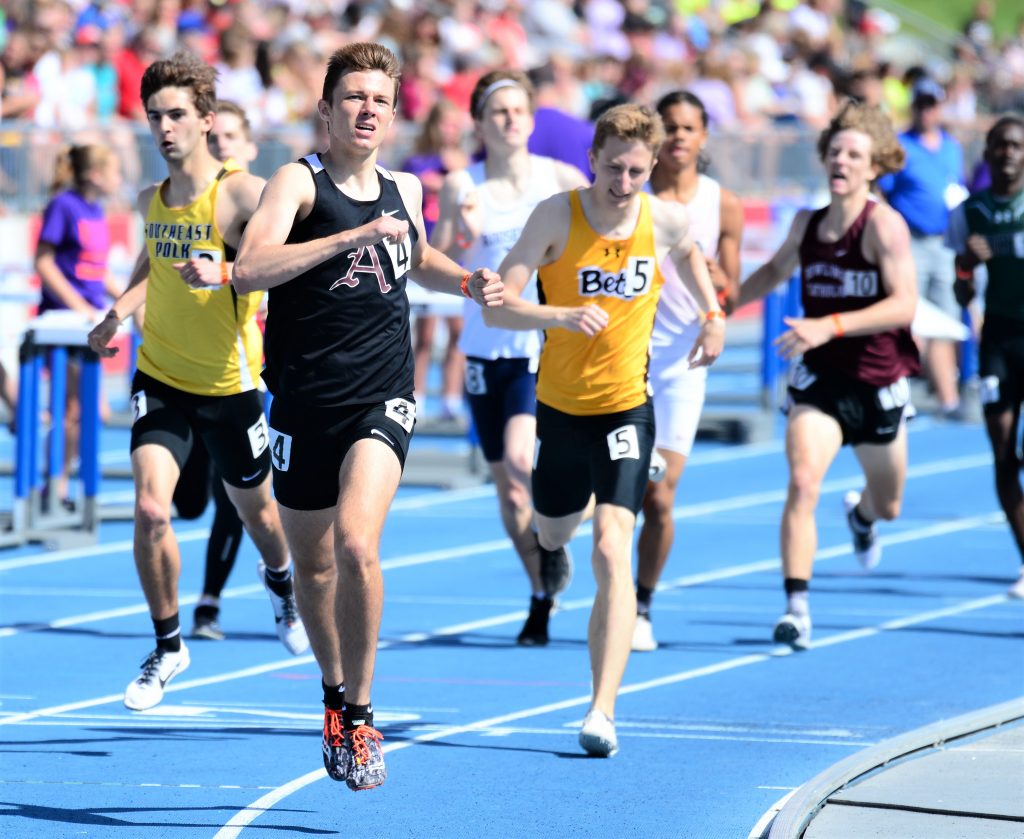 In the 100, Bernard Bell Jr. of Ames won a close race to defend his title. He was clocked in 10.92, edging a star-studded field that included Darien Porter of Bettendorf, Ardell Inlay of Sioux City East and Harrison Waylee of Urbandale.
Smith proved that he belongs with the aforementioned group.
"I felt like I had a chance, but I knew how good they were," Smith said. "I knew anyone could win that race. They're all pretty good athletes."
As he walked away from the track, Smith said he was looking forward to going home.
"I'm ready to be done with track and just relax and eat whatever food I want," he said.