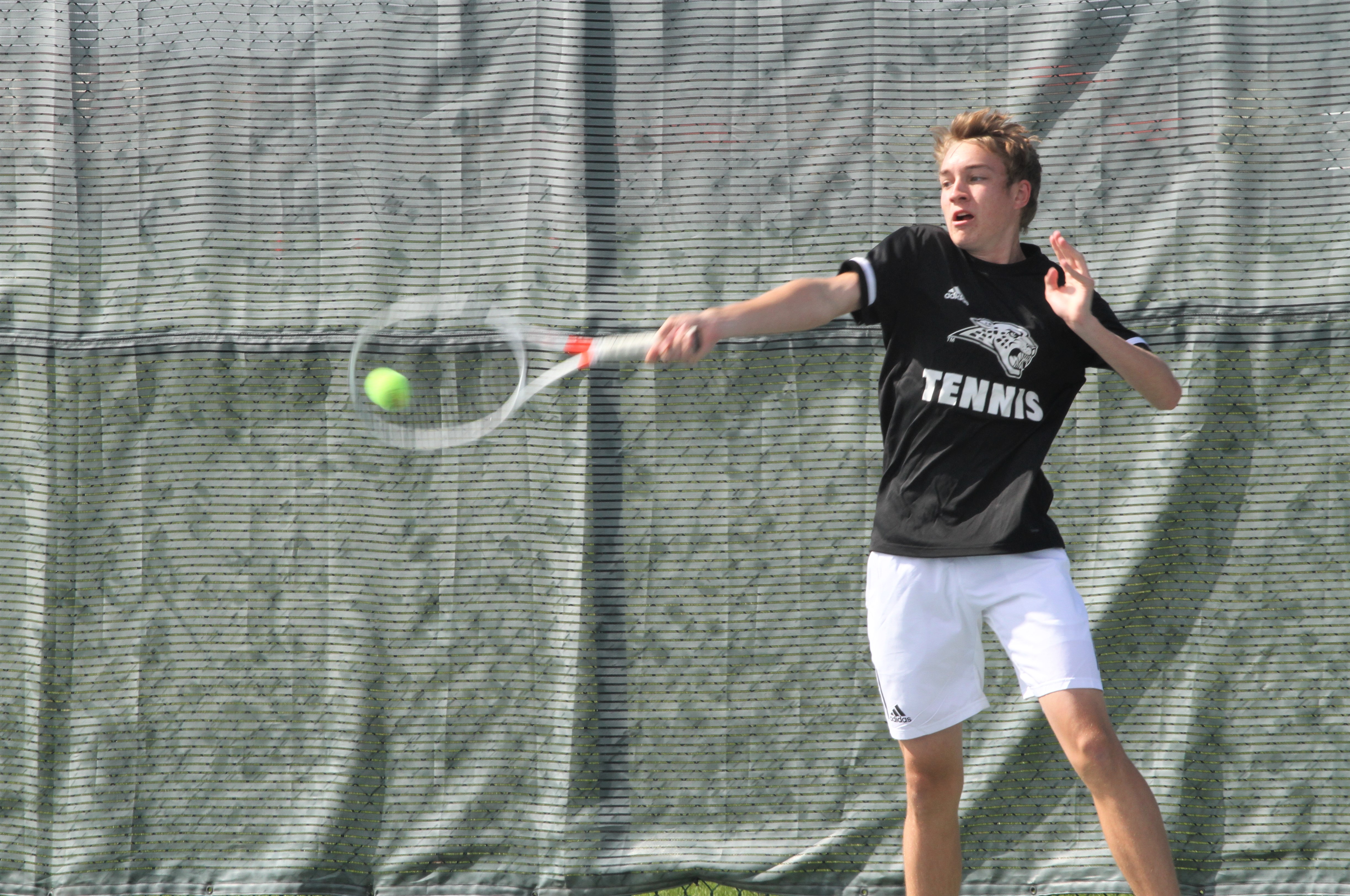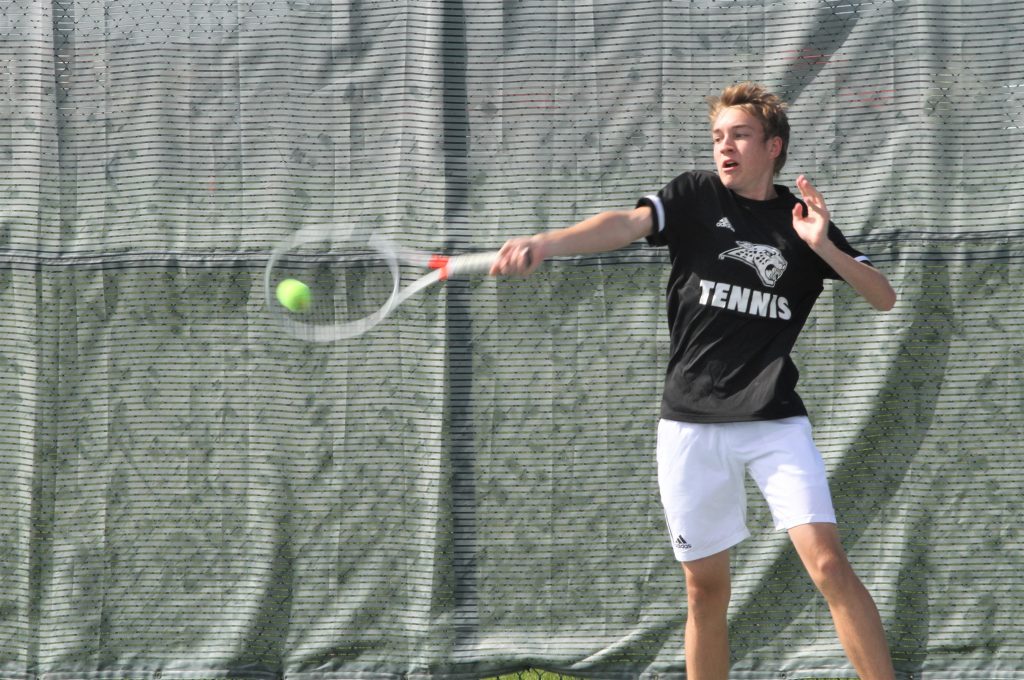 Ankeny Centennial's Will Blevins finally ran out of gas on Saturday at the boys' state tennis tournament in Cedar Rapids.
After playing two consecutive grueling three-set matches, Blevins dropped a 6-3, 7-5 decision to Luke VanDonslear of Linn-Mar (Marion) in the third-place match of the Class 2A singles tournament. By placing fourth, the sophomore finished one spot higher than he did a year ago.
"The last match my foot started to blister, and I had to wrap," Blevins said. "I knew I couldn't play longer points so I tried to finish the point early. And, it was tough knowing that I was one set away from the state championship."
VanDonslear, a junior, and Blevins will be the top returning players from this year's tournament. Rami Scheetz of Cedar Rapids Washington defeated fellow senior Justin Sehlin of Pleasant Valley, 6-2, 6-0, to win the title.
"Will had a fantastic tournament and should be very proud of how he competed," said Centennial coach Tami Lewton. "He is such a pleasure to coach. He always listens and isn't afraid to try new strategies. He solidified his position as one of the top kids in the state."
On Friday, Blevins advanced to the semifinals with a three-set victory over third-seeded Sam Shin of Iowa City West. After dropping the first set, he rallied for a 5-7, 7-5, 6-2 victory.
"I think the key to winning against Sam was playing consistent and playing to his backhand," Blevins said. "He was starting to cramp, and I knew I had more stamina than he did in that match."
Lewton said the unseeded Blevins was determined to defeat a seeded player after being overlooked for one of the top four seeds.
"It was frustrating that he wasn't seeded, but he took it upon himself to knock off a seed," Lewton said. "After losing the first set to Sam, he believed in himself, adjusted his strategy and came back to win."
That set up a showdown against the second-seeded Sehlin in the semifinals on Saturday morning. Sehlin, who lost to Shin in last year's third-place match, dropped only one game in his two matches on Friday.
Blevins came out on fire, easily winning the first set. But Sehlin then regrouped and came from behind for a 2-6, 6-3, 6-2 triumph.
"Sehlin began to push and lob the ball and play long points," Blevins said. "I don't think the match from Friday did anything to affect my game, but him playing the lob game really affected my game."
Lewton said it was a fantastic match, but added that fatigue started to set in for Blevins.
"It was very close, and unfortunately wore him out," she said. "The other semi wasn't as close so the match for third was tough. Luke was well-rested, and Will was spent. After getting down 3-6, 1-4, Will didn't give up and fought to get back to 5-4 but just couldn't get past the finish line."
Sehlin was likely affected as well in the title match. He didn't put up much resistance against Scheetz, the Connecticut recruit who became Washington's first state champion since Johnny Watson in 1996.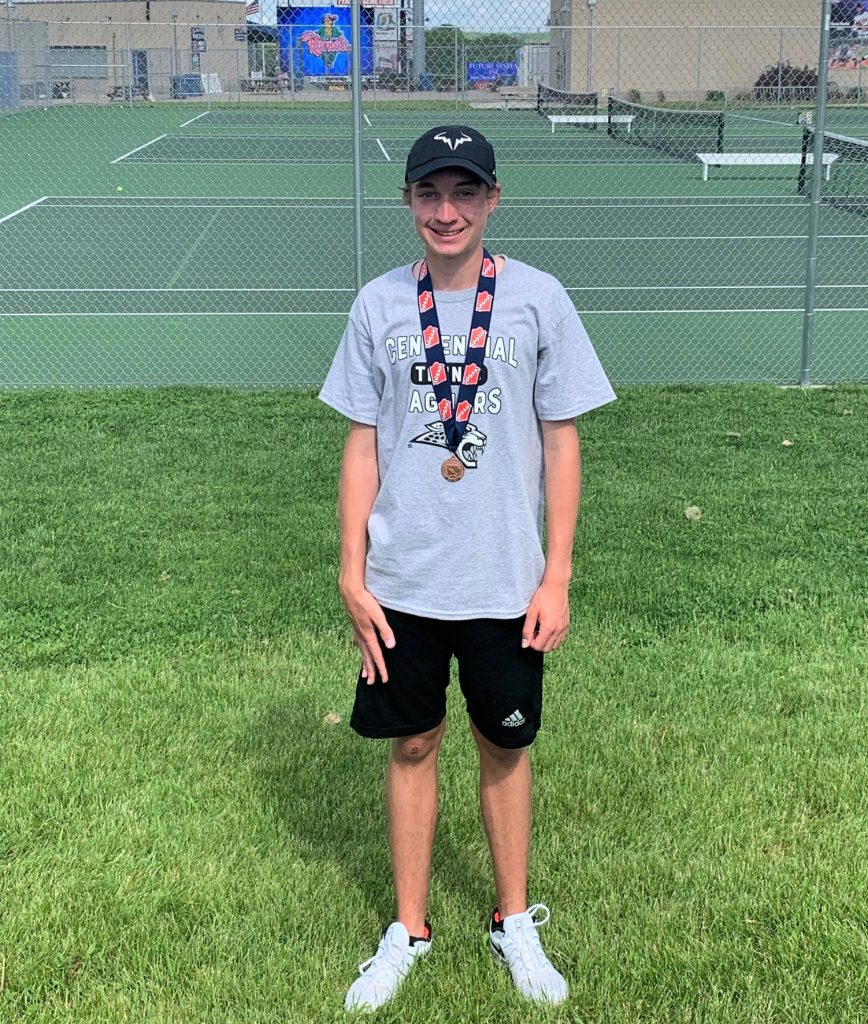 The Centennial duo of Samson Densmore and Ryan Lofgren was also hoping to place in the Class 2A doubles tournament, but they were eliminated after going 1-2 on Friday. They dropped a 6-3, 6-4 decision to Bettendorf's Josef Porubcin and Yash Singh in a second-round consolation match.
The Bettendorf team was seeded second, but was upset in the opening round. They then reeled off four straight wins to earn a fifth-place finish.
"We definitely feel we could've beat them," Lofgren said. "It was a disappointing result, but knowing we can compete at that high of a level is great going into next season."
Lewton said the two juniors just need to play some more matches together.
"They played (Bettendorf) very close, but just didn't have enough experience to beat a team that has played together for two years and I believe has a record of 46-4," Lewton said. "Ryan and Samson are a great team, and they just need to play a bit more together."
Densmore and Lofgren opened the tournament with a 6-0, 6-1 victory over Valley's Kyle Elmore and Grant Songer. They then lost to fourth-seeded Timmy Ellis and Nate Withers of Ames, 6-1, 6-1, in the quarterfinals.
"Ames was probably a bit more than we could handle, especially with Ellis being the defending state singles champ," Lofgren said.
The Jaguars will be back in action on Tuesday in the Class 2A state team tournament at Ankeny. They will play top-seeded Iowa City West, last year's runner-up, in the semifinals at 8:30 a.m.
Pleasant Valley and Waukee will collide in the other semifinal.
"I'm just looking forward to the opportunity of playing at that level because Iowa City West is a great team–more of a dynasty at this point," Lofgren said.