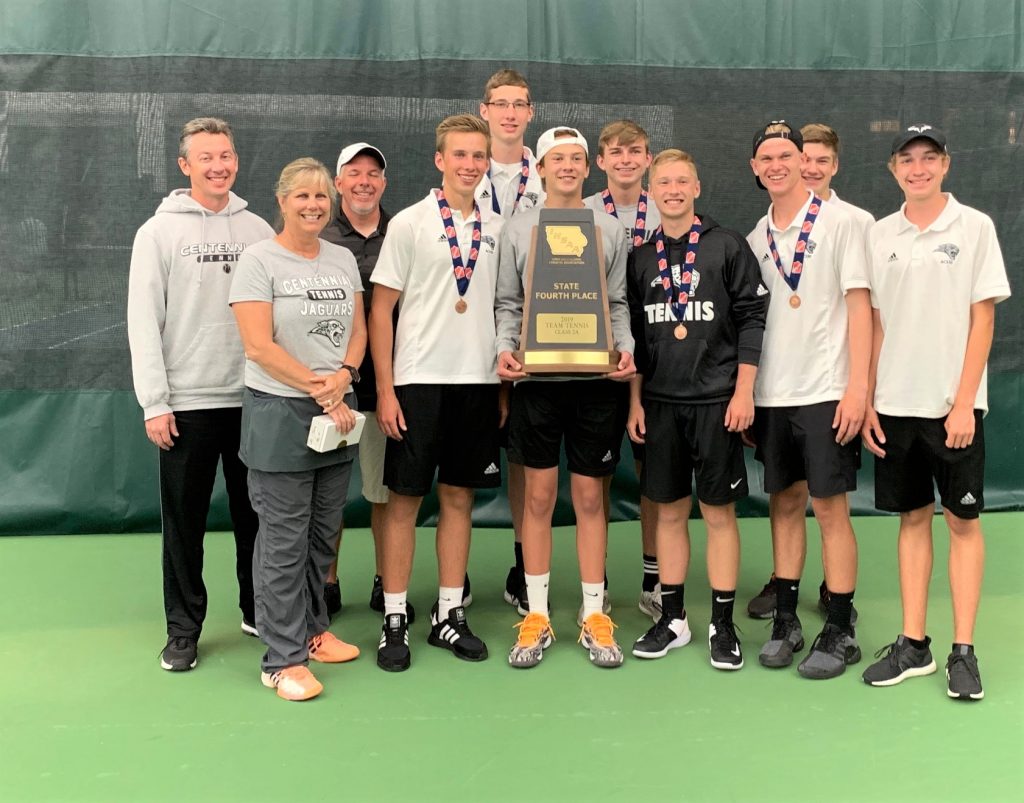 The most successful boys' tennis season in Ankeny Centennial school history ended on Tuesday with a fourth-place finish in the Class 2A state team tournament at the Life Time Athletic Club in Urbandale.
The Jaguars lost to eventual champion Iowa City West, 5-0, in the semifinals. They then dropped a 5-1 decision to Waukee in the third-place match.
"I'm super proud of our season and the guys on our team," said Centennial coach Tami Lewton, whose squad finished with a 13-3 record. "They are a super special and talented group. While it's sad the season is over, they have made some history in the tennis program and they should be proud of that!"
The tournament was supposed to be played at the Prairie Ridge courts in Ankeny. It was moved indoors due to rain.
Centennial sophomore Will Blevins closed out a tremendous season by winning his final match. He rallied for a three-set victory at No. 1 singles over Waukee's Will Ecklund, avenging an earlier loss.
"I am very proud of our team," Blevins said. "This is the first time we made it to the top four and this is the best tennis team that Centennial has ever had in its history."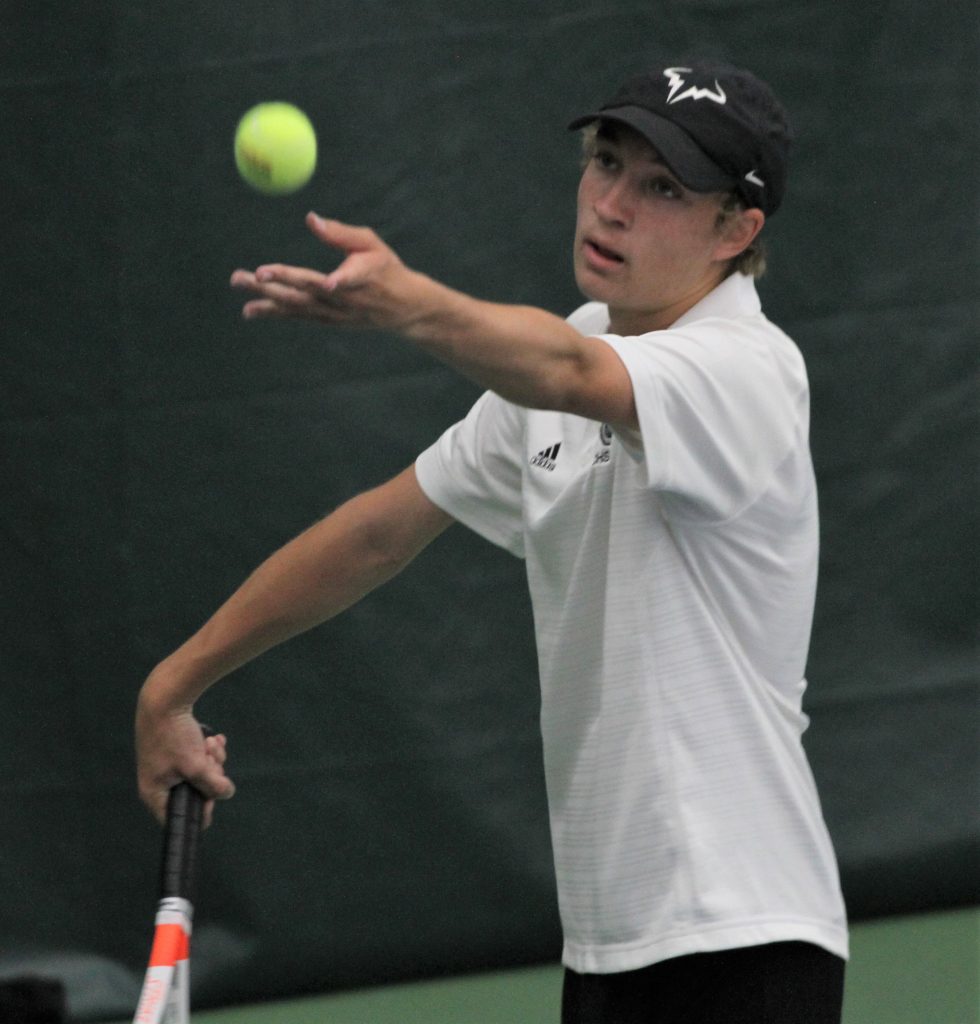 Ecklund and Noah Burmeister teamed up to win the Class 2A state doubles title last weekend. Burmeister defeated Centennial's Samson Densmore in straight sets on Tuesday.
"I was really proud of Will and his revenge against Ecklund. He played an awesome match with a great comeback," Lewton said. "And Samson played a great match against Noah. That was one of the best matches I've seen him play! Their No. 2 would be a No. 1 on most teams."
The Jaguars also got a strong effort from No. 3 player Ryan Lofgren. He split his first two sets against state singles qualifier Sam Fouts before losing a third-set super-tiebreaker.
"Ryan fought back (to win the second set), but we just found out that he has strep and mono so he ran out of gas," said Lewton, whose team lost to Waukee for the second time this season. "He showed great courage though in fighting for it."
Earlier, the Jaguars had no answers for top-seeded Iowa City West, which went on to win its sixth crown in the last eight years with a 5-1 victory over Pleasant Valley. The Trojans completed an 18-0 season.
"We knew that the match vs. Iowa City West would be a tall order," Lewton said. "They have not lost any meets and only dropped two matches in dual play all season.They are an incredibly talented team and only lost one match all day."
The No. 1 singles match featured a rematch between Blevins and Iowa City West's Sam Shin. Blevins defeated Shin in the quarterfinals of the Class 2A singles tournament on Friday en route to a fourth-place finish, but Shin reversed the outcome on Tuesday with a 6-3, 6-7, 6-3 victory.
"I thought we played well," Lewton said. "We were hoping to win two (of the singles matches), but it just didn't happen. Will's match could have gone either way."
Blevins battled back from a 5-1 deficit in the second set and eventually won a tiebreaker. But Shin then regrouped to win the decisive third set.
"I think Shin was able to gain back the momentum through playing his style of game and through his crowd," Blevins said.
Blevins will be back next year along with Densmore and Lofgren. The Jaguars will have to replace their No. 4 through 6 players–James Cole, Zach Petersen and Joel Unick.
"I feel like next year and years to come our team will be able to make it to the top eight," Blevins said. "If some of our lower-level kids put in the training during the offseason, I think it is possible for us to make the final four again."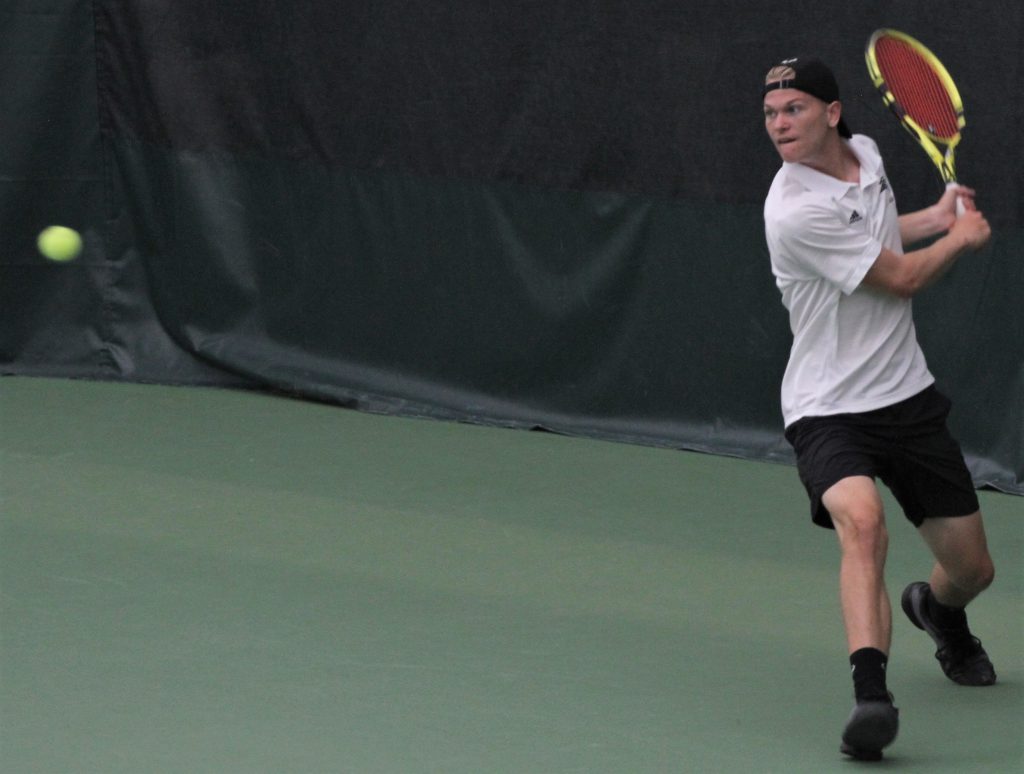 Here are the match-by-match results:
Iowa City West 5, Centennial 0
Singles–Shin beat Blevins, 6-3, 6-7, 6-3; Wenzel beat Densmore, 6-1, 6-0; S. Chackalackal beat Lofgren, 6-1, 7-5; Young beat Cole, 6-2, 6-0; Kasturirangan beat Petersen, 6-2, 6-1; L. Chackalackal vs. Unick, DNF.
Waukee 5, Centennial 1
Singles–Blevins (AC) beat Ecklund, 3-6, 6-1, 10-8; Burmeister beat Densmore, 6-2, 6-0; Fouts beat Lofgren, 6-2, 6-7, 10-5; Danna beat Cole, 6-0, 6-1; Mekala beat Petersen, 6-1, 6-1; Rayasam beat Unick, 6-4, 6-2.