After a long day of tennis, Ankeny Centennial's Alli Gustafson needed to show some patience in order to place among the top eight finishers in the girls' Class 2A state singles tournament at Bettendorf.
Gustafson's opponent in a second-round consolation match, Ramya Subramaniam of Pleasant Valley, preferred to play longer points, keeping the ball in play while waiting for her foe to make a mistake.
"She was a grinder," Centennial coach Ryan Petersen said of Subramaniam. "She got everything back, but Alli found the patience to get the win."
Gustafson eventually posted a 6-4, 6-1 victory in her third match of the day on Wednesday, assuring herself of a top-eight finish. She will finish her high school career as a singles medalist after earning a sixth-place finish in doubles a year ago.
"I think the key to winning against (Subramaniam) was to strategically decide when to just play my game and hit the ball with pace and when to just wait her out," said Gustafson. "It wasn't my favorite match to play, but it worked out in the end."
Earlier, Gustafson opened the tournament with a straight-set win. She defeated Lydiah Kennedy of Bettendorf, 6-2, 6-3.
"(Kennedy) had a powerful first serve," Petersen said. "Those two had a fun match."
Gustafson then lost to second-seeded Arunadee Fernando of Ames, 6-0, 6-2, in the quarterfinals. The win allowed Fernando to join teammate Lauren Couves in an all-CIML final four that also includes defending champion Cari Naanep of Johnston and Sofia Sackett of Dowling Catholic.
"I was actually really happy with how I played against Fernando," Gustafson said. "I was able to really hit the ball and play up to her level, which is my favorite type of game to play. I knew I had nothing to lose, so there was no pressure. It was a fun match."
Gustafson will play fourth-seeded Malina Amjadi of Cedar Falls in a consolation semifinal on Thursday morning. Depending on the outcome of that match, she will then either face Mackenzie Klein of Dowling or Katie Carver of Urbandale for fifth or seventh place.
"I'm looking forward to Thursday," Gustafson said.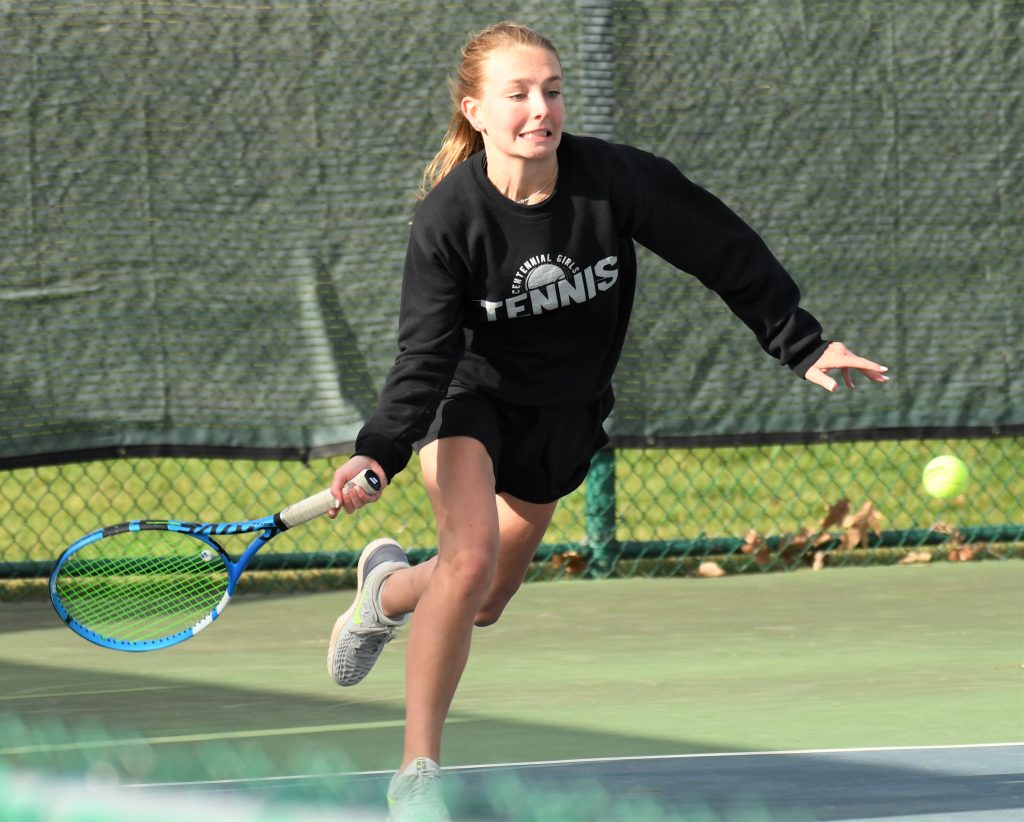 Gustafson's sister, Jordyn, made her state-tournament debut on Wednesday along with teammate Tayler Bloom. They lost their first two matches in doubles and were eliminated from the tournament.
The duo opened with a 6-2, 6-0 loss to Kaylyn Chleborad and Allison Szalay of Dowling.
"Our first match was very tough as we were put against the No. 2 seed, but we played really well and made the best of it," said Jordyn Gustafson. "When we moved into the consolation bracket, we just couldn't get in our groove. Although we lost, it was still a great experience to get to play in the state tournament."
Bloom and Gustafson ended their season with a 6-2, 6-1 loss to Vivian Mitchell and Caroline Mascardo of Iowa City West.
"I feel that we played well, but definitely not our best," Jordyn Gustafson said. "We seemed really hesitant and we were definitely nervous about going into the tournament. I personally felt very nervous especially going into the second match."