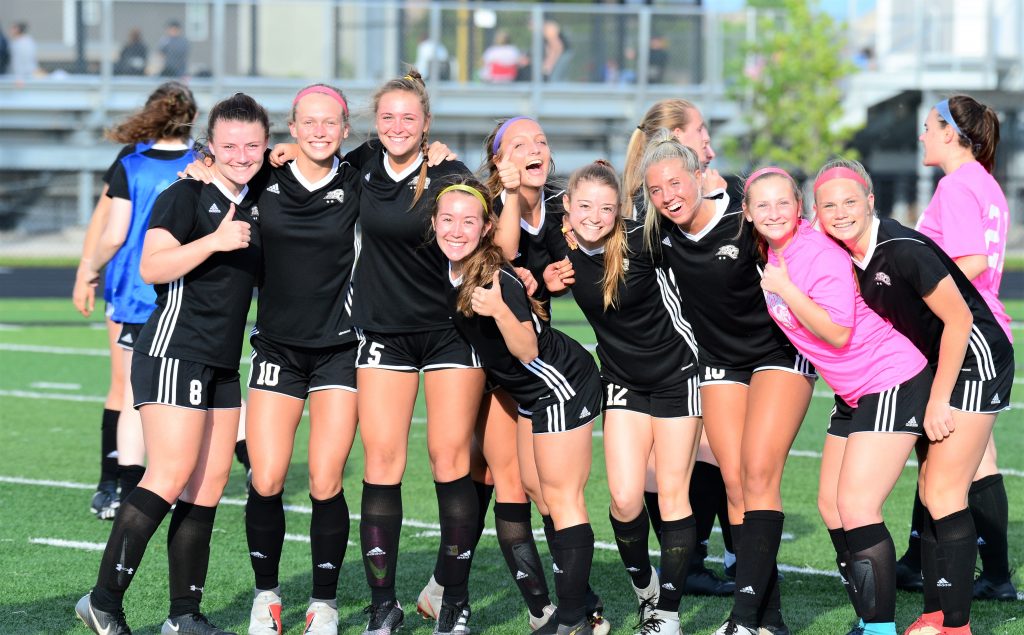 It didn't take long for the Ankeny Centennial girls' soccer team to turn Wednesday's game against visiting Fort Dodge into a rout.
Elizabeth Overberg scored a goal in the opening minute off an assist by Kenzie Langstraat, and the fourth-ranked Jaguars went on to post a 13-0 victory in a Class 3A regional semifinal. The game ended at halftime due to the mercy rule.
"We were aggressive from the start, and Kenzie drove into the box and calmly found Overberg for the first goal," said Centennial coach Chris Allen. "Pretty soon we added another. We wanted to impose our will a bit more than we had in earlier games, and we did."
Carlie Jensen had a hat trick for the Jaguars, scoring all three of her goals in an 8-minute span midway through the half. She also contributed an assist during that stretch.
Langstraat, Grace Meador and Meghan White each had two goals and an assist in the win. Macie Langstraat and Lizzie Strom each added a goal and an assist.
"It was a good game for us," Allen said. "We have spent a lot of time working on patterns that would open up scoring opportunities for us and being more competitive. I think both of those elements showed in the game."
Paige Frette also had a goal for Centennial, which improved its record to 14-3. The Dodgers finished the season at 1-12.
"We had some great finishes that any team would have struggled to stop," Allen said. "Our coaching staff had faith in our kids to work out of their (scoring) slump, and they did in dominant fashion."
The Jaguars will host No. 15 Cedar Rapids Kennedy (7-5) in the regional final on Monday at 6 p.m. The Cougars posted a 3-0 victory at No. 11 Ames on Wednesday.
"We figured Kennedy and Ames would be a close match," Allen said. "The CIML is incredibly challenging and this contributes to the success that many CIML teams have in the postseason. But schools like Kennedy are also powerhouses, typically making appearances in the state tournament. They have the ability to knock anyone off at anytime. In the end, we figured our bracket would be very competitive."