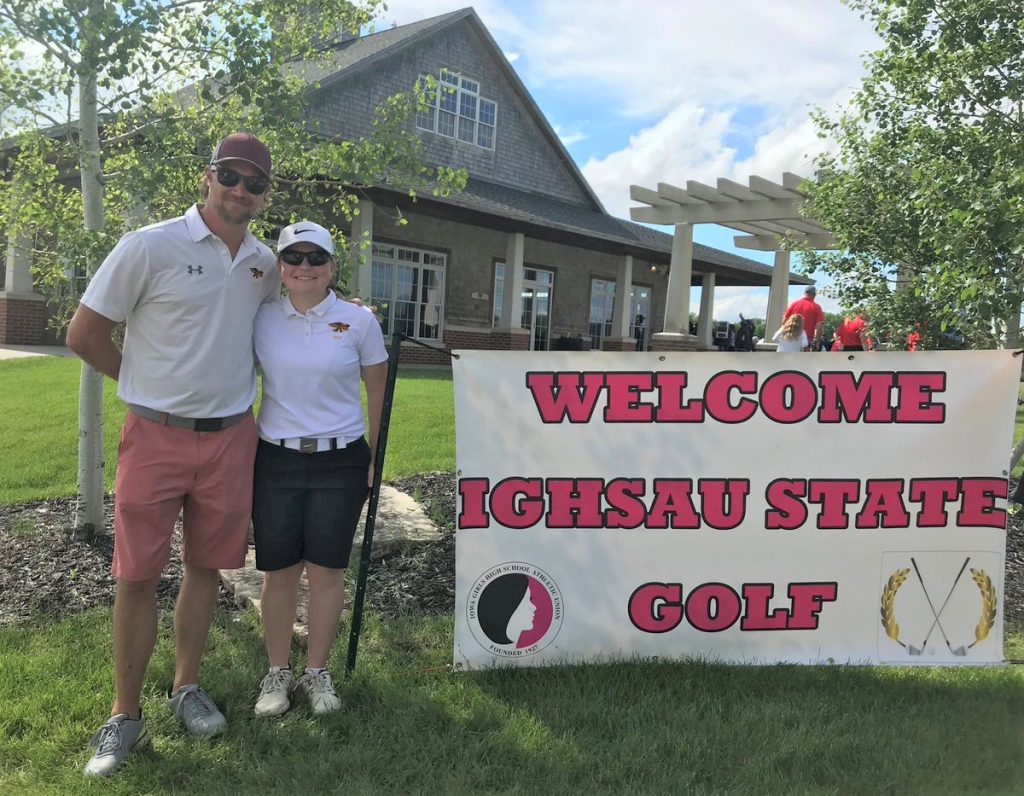 Ankeny Centennial's Lauren Sease and Ankeny's Jaci Webb were both hoping to earn top-10 finishes in the girls' Class 4A state meet at Coldwater Links Golf Course.
The duo nearly accomplished their goal.
Sease carded a 13-over-par 84 in Wednesday's final round and finished with a two-day total of 161, allowing her to place 10th in a field of 68 golfers. Webb, meanwhile, was one stroke back in 12th place with a 162 total after shooting a 9-over 80 on Wednesday.
"I feel OK with my 12th-place finish," said Webb. "It obviously stings a little bit and knowing that it came down to one shot is a little hard, but I'm happy that Lauren got a top-10 finish. And overall, I had a great season."
Sease was all alone in sixth place after shooting a 77 in Tuesday's opening round. But she struggled in the rainy conditions on Wednesday, losing six strokes to par on her first five holes.
"It was very wet, which definitely had an effect on my play and made me struggle a lot in the beginning," said Sease. "I had a hard time the whole round, but I just tried to focus on getting some good shots in to try and make some pars."
Sease then rallied after the rough start. She made a birdie on No. 8 sandwiched around two pars.
"Today's round was more of a scrambling round–she had some tough breaks in some sand traps," said Centennial coach John Petersen. "The wet conditions early made putting more difficult. However, she kept her composure and battled through."
Sease had two double bogeys on the back nine, but then completed her round with a par on No. 1.
"I'm very happy that I met my goal of a top-10 finish," Sease said. "I'm just a little disappointed because I could have placed better."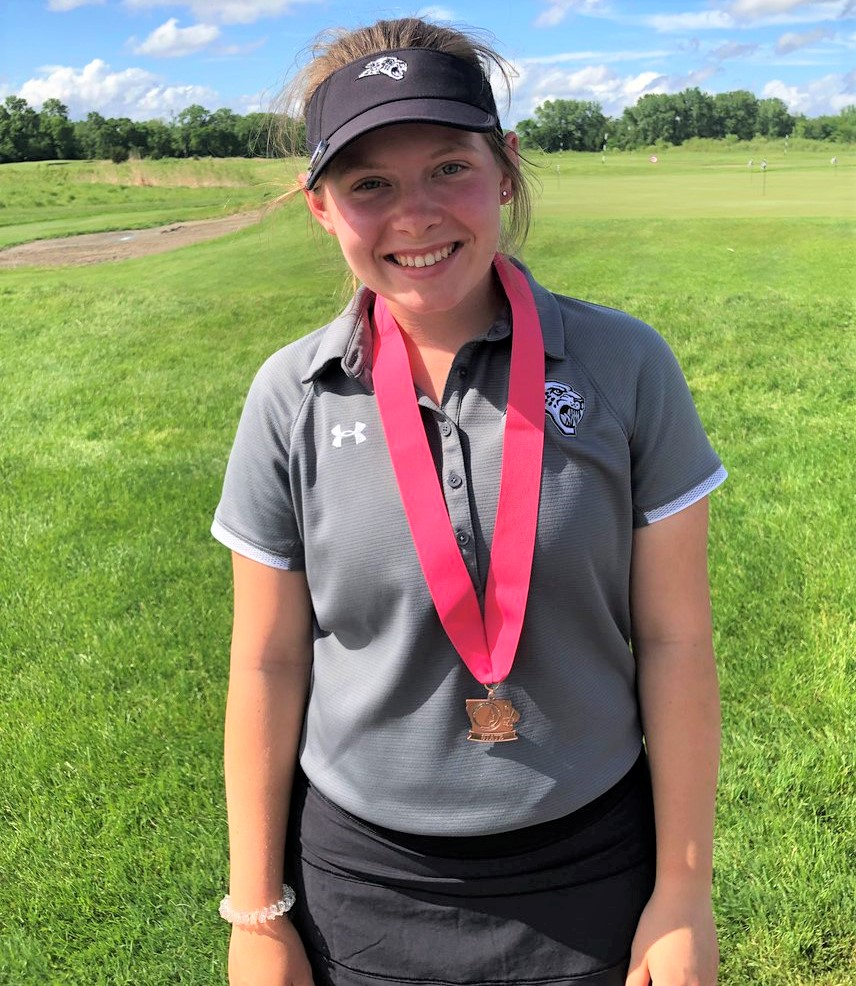 Webb started her final round on No. 11 and was 1-under-par through four holes, thanks to an eagle on the par-5 No. 14 hole.
"Coach (Seth) Hagarty and I got a good warmup in this morning, which definitely helped," Webb said. "We spent a lot of time putting and about 45 minutes on the range and looked at ball flight, and made some little tweaks that we noticed we needed to fix from (Tuesday). Getting off to a great start was a great help!"
Hagarty said Webb hit a great drive down the fairway on No. 14 to set herself up well.
"She had about 185 (yards) left to the flag," Hagarty said. "She was confident with her hybrid club and picked a good aiming point and let it fly. It looked great in the air and hit the green and rolled to the back pin placement to within 3 feet. She waited for everyone else in her group to finish the hole and then made her first-ever eagle."
Webb then played the next four holes in 5-over-par before making a birdie on No. 1. She later birdied No. 9 for the second straight day.
Webb needed a par on No. 10 to move into a tie with Sease, but she finished with a bogey.
"Although her goal was to finish in the top 10, she was still happy with improving upon her first-day score," Hagarty said of Webb, who had opened with an 82. "I am extremely proud of how she played on both days.
"This was certainly an improvement over her 24th-place finish last year, but it has now left her hungry and fueled for next season already. I can't wait to see what Jaci can do in the next two years. She is a great golfer with a tremendous head on her shoulders and to top it off she has a plethora of great golf shots in her bag. She has a very bright future, and I am excited to just have the opportunity to be a part of it all," he added.
Valley's Paige Hoffman held off Shannyn Vogler of Bettendorf to win the individual state title. Hoffman shot a 69 on Wednesday and finished with a 5-under-par total of 137 to win by one stroke over Vogler, who closed with a 67.
Hoffman also led Valley to the team title. The Tigers tied a tournament record, shooting a 631.