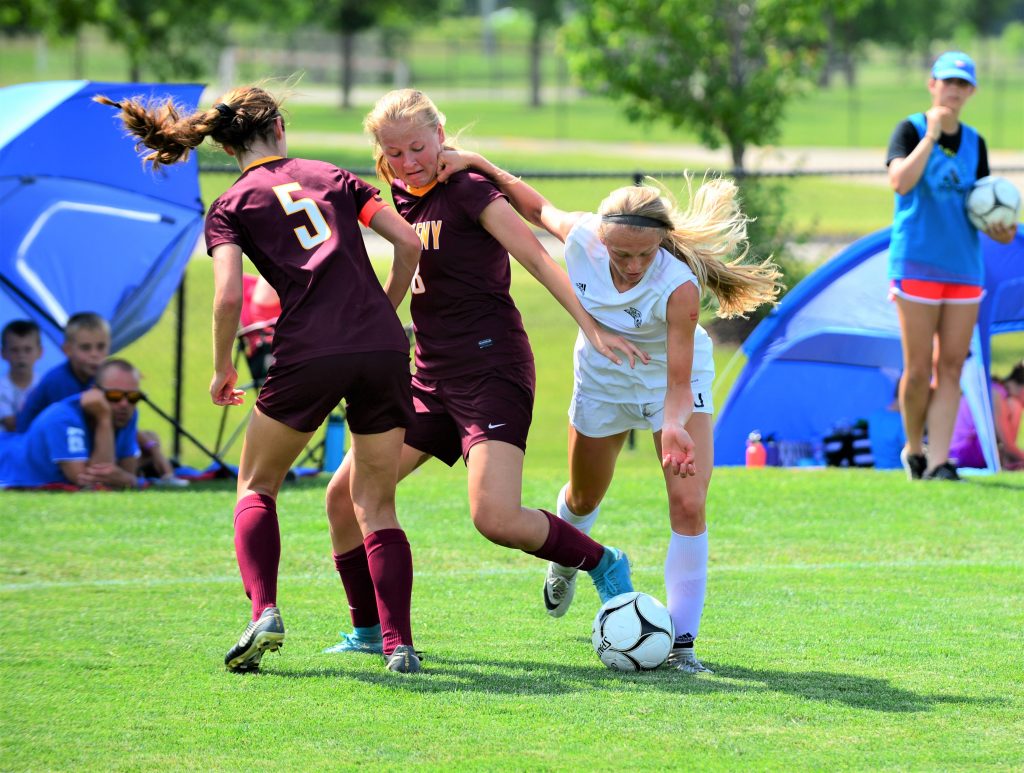 The girls' Class 3A state soccer tournament has a familiar look to it.
All eight qualifiers are back from last year's tournament. Even more amazing, all four of Thursday's quarterfinal games are rematches from 2018.
Fourth-ranked Ankeny Centennial (15-3), the defending champion, will play No. 5 Council Bluffs Lincoln (16-2) at 4:15 p.m. on Field 8 at Cownie Soccer Complex. The Jaguars routed Lincoln, 7-0, a year ago.
"I think we're capable of winning (the title) again," said Centennial defender Olivia Wee, who was named to the all-tournament team last year. "We've got a lot of talent on the field. We just need to be gritty."
No. 6 Ankeny (15-4) will play No. 3 Linn-Mar (Marion) (18-1) on Field 7 at 4:45 p.m. The Lions will be looking to avenge last year's 5-1 loss.
"I'm so excited for state and to see what it has to offer," said Ankeny senior Olivia Sharar.
No. 1 Waukee (15-3) enters the tournament as the top seed. The Warriors will play No. 12 Pleasant Valley (12-5) in the quarterfinals.
No. 2 Valley (15-3) and No. 7 Dowling Catholic (13-3) will meet in the other quarterfinal game. The Tigers won last year's matchup, 2-0, before losing a shootout to Ankeny in the semifinals.
The Hawkettes eventually lost to Centennial, 3-2, in the championship game. The crosstown rivals could meet again on Saturday in a rematch for the title at 3 p.m.
"I think we have been filled with potential from the start and it has shined through at the right moments," said Ankeny defender Chloee Kooker, who was an all-tournament pick a year ago. "We are ready for state and super excited!"
Ankeny will first have to deal with a talented Linn-Mar team. The Lions' only loss came to Valley, 1-0, on May 18.
Abigail Santana leads Linn-Mar with 14 goals and 12 assists. Hallie Peak and Piper Carey each has scored 13 goals.
"It's a quick turnaround now, playing a tough Linn-Mar side," Ankeny coach Simon Brown said after the Hawkettes defeated Cedar Rapids Prairie, 4-0, in a regional final on Monday. "Thank you to everyone who supported us this season at home, and we hope to make you proud at Cownie."
Centennial is seeking its third title in the last four years. The Jaguars advanced to the tournament with a 2-0 win over Cedar Rapids Kennedy, getting goals from Wee and Gillian Nithang.
Centennial is riding an eight-game winning streak, while Council Bluffs Lincoln has won 14 consecutive games. The Lynx haven't lost since the first weekend in April, when they suffered back-to-back losses to Centennial (1-0) and Waukee (2-1).
Track star Darby Thomas leads Lincoln with 20 goals, despite playing in just 14 games.
"We've just got to do our best," Nithang said. "We need to stay focused and work really hard."
Centennial coach Chris Allen will be honored before Saturday's championship game, whether his team is playing or not. He is the 2019 recipient of the Iowa Girls' High School Athletic Union's Soccer Golden Plaque of Distinction award.
Allen has compiled a career record of 209-31 in 12 seasons of coaching. He coached Ankeny to state titles in 2011 and 2013 before moving across town to Centennial, where he captured crowns in 2016 and 2018.
"This is truly a tribute to the incredible student-athletes, managers, coaches, administration and families with whom I have had the honor and privilege to work and to my own family who has sacrificed their time to invest in and support the teams that I have genuinely loved over the years," Allen tweeted.
Allen is also a finalist for the National High School Athletic Coaches Association's National Soccer Coach of the Year award.