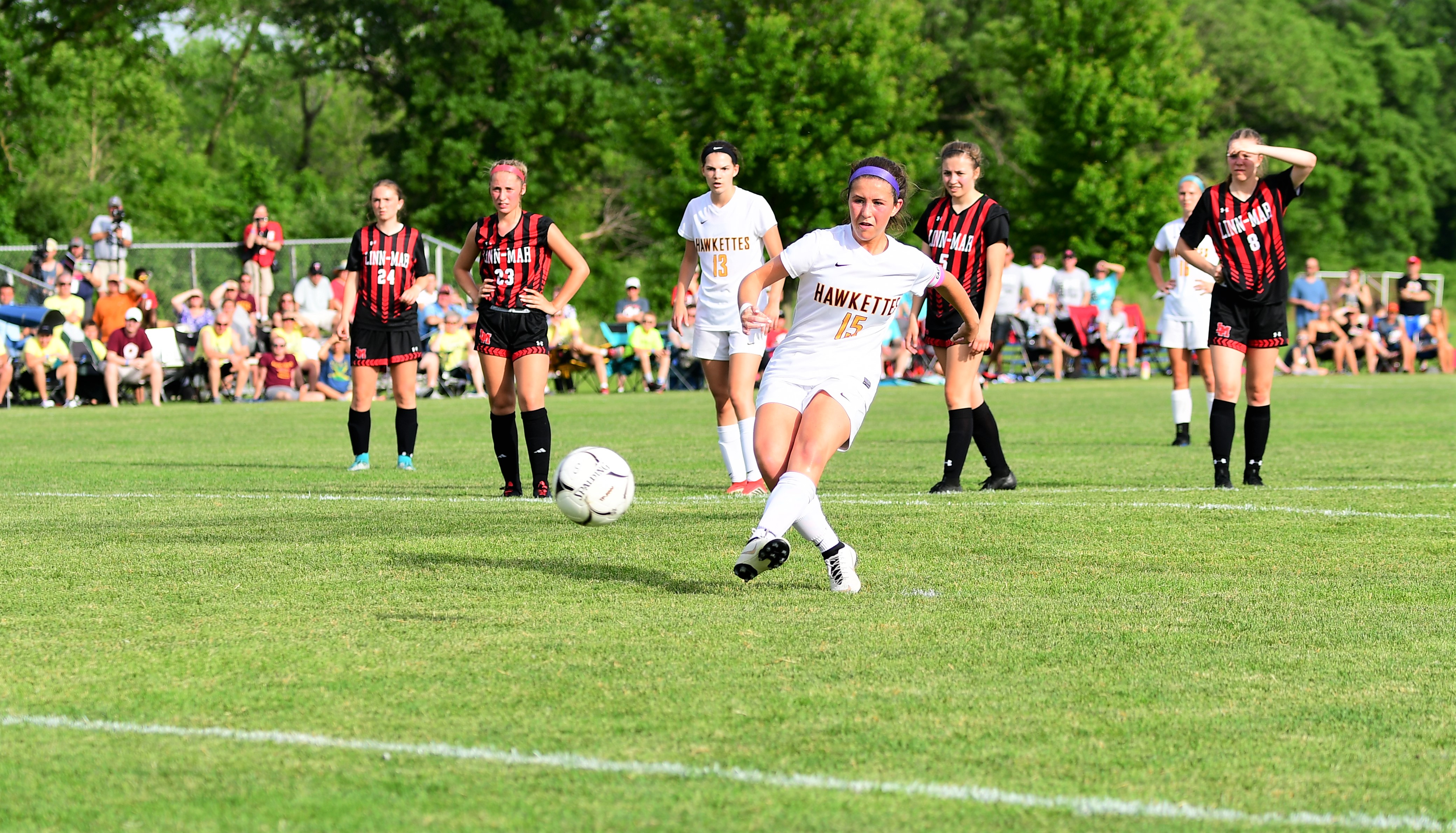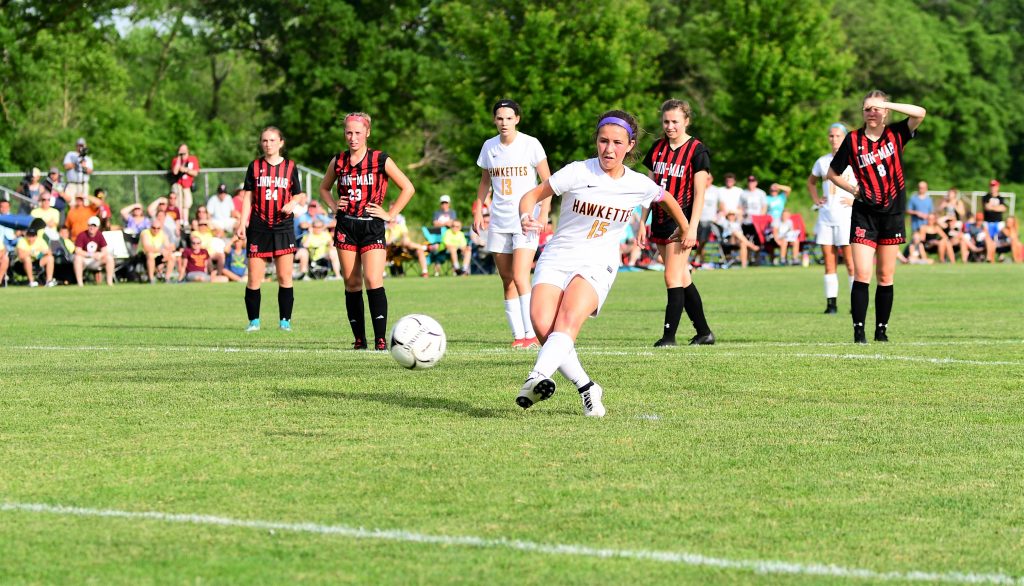 Ankeny girls' soccer coach Simon Brown noticed that Linn-Mar (Marion) wasn't substituting during the first half of Thursday's Class 3A quarterfinal at Cownie Soccer Complex.
Brown started rotating in some of his own reserves, hoping that the third-ranked Lions would eventually run out of gas on an 87-degree afternoon.
His gamble paid off in the second half, when No. 6 Ankeny scored all three of its goals to post a 3-0 victory. The Hawkettes defeated Linn-Mar in the quarterfinals for the second straight year.
"I knew their girls weren't going to last 80 minutes," said Brown. "In the second half, you could tell that they were gassed."
Ashley Harrington put Ankeny ahead with a goal in the 44th minute. It was her team-leading 17th goal of the season.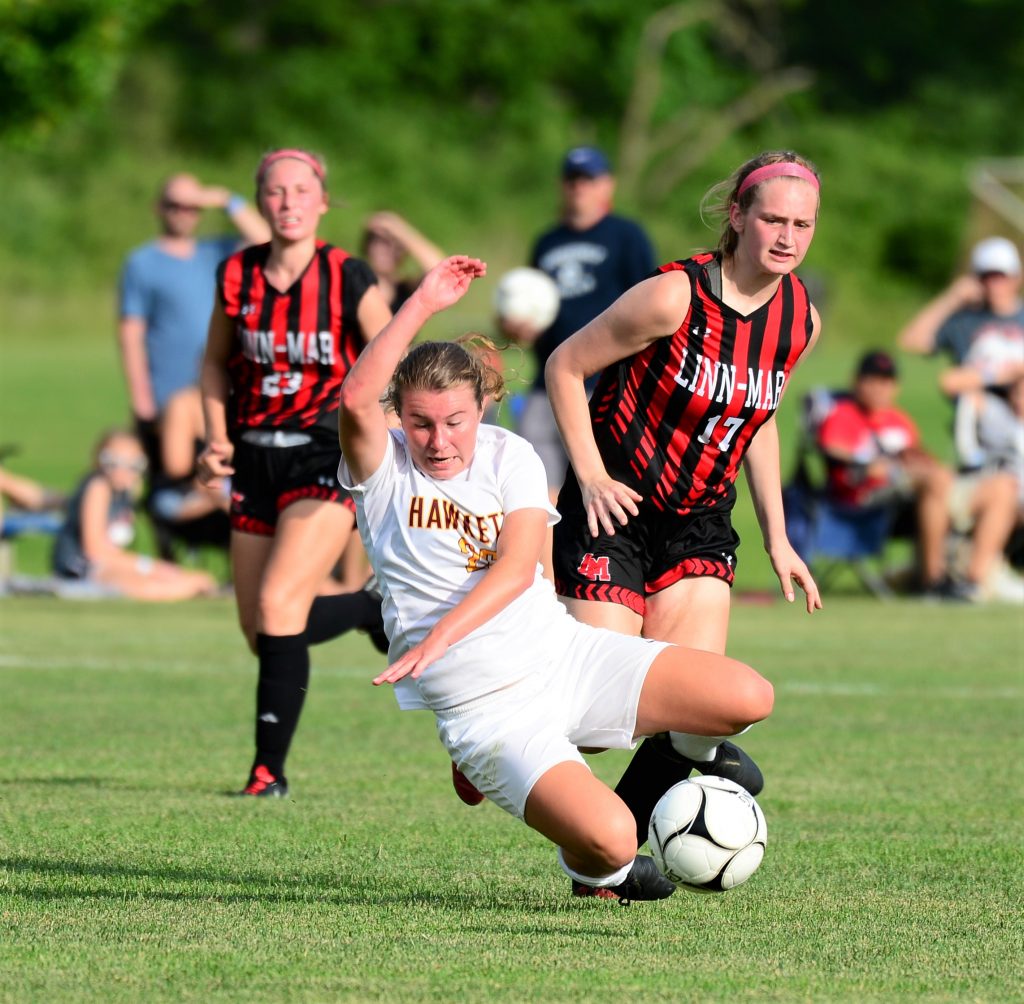 "I had a great ball over the top," said Harrington. "I knew I just had to make a run on it, and as long as I got a body part on it–some way or another–I thought it would go in, because I saw the goalkeeper coming out. I got taken out along the way, but that doesn't matter."
The score remained 1-0 until the 64th minute, when Ankeny's Olivia Sharar drew a foul in the box. Teammate Kate Schaeffer then converted the ensuing penalty kick.
"We take PKs every day at practice," said Schaeffer. "I knew I could step up and take it. Sharar did all the hard work to get the foul, so shout out to her."
In the 75th minute, Linn-Mar was called for another foul. This one led to a free kick from Schaeffer, who blasted a shot into the net for her second goal of the game.
"Sharar normally takes those, but Chloee (Kooker) said I could take it," Schaeffer said. "So I stepped up, and I did it."
Ankeny (16-4) posted its fifth consecutive shutout. The Hawkettes have not allowed a goal since May 13, when they suffered a 2-0 loss at Ames.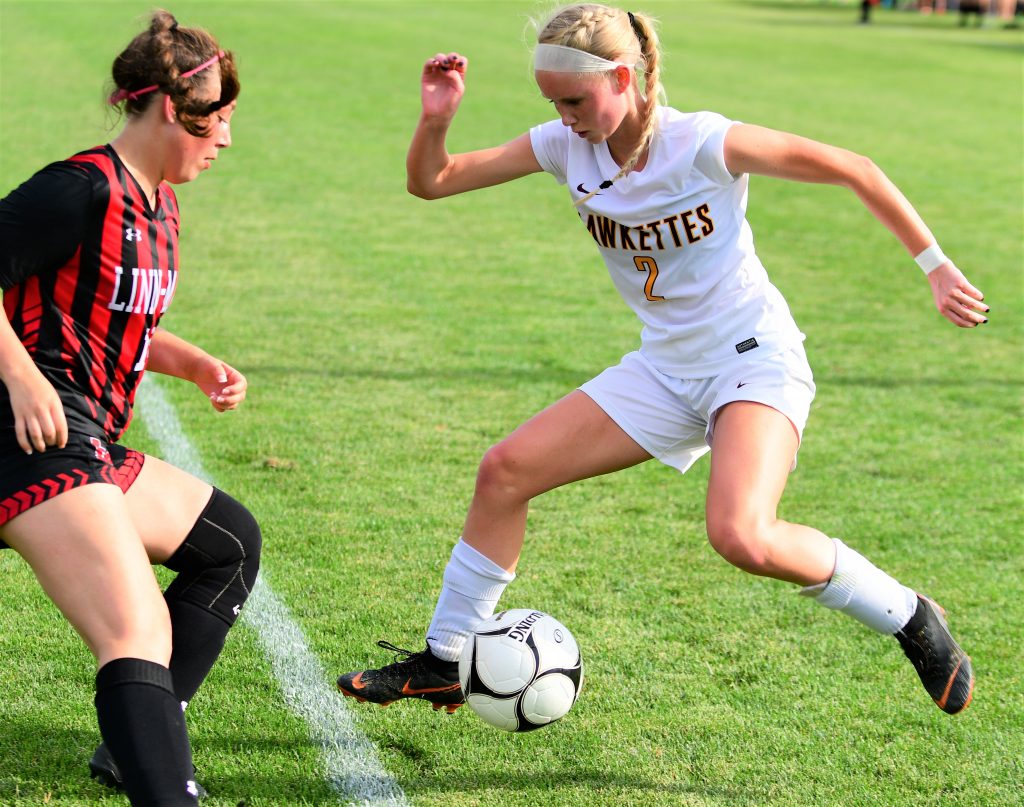 Linn-Mar ends the season at 18-2.
"We worked really hard in practice on shutting down their top three forwards," said Ankeny defender Saige Adamson. "We were really confident in the back line with what we were doing."
While her teammates celebrated the win afterwards, Adamson was busy wrapping a bag of ice onto her left elbow.
"One of their girls hit it," she said. "I think it hit a nerve, but it's fine. I'll be ok."
The Hawkettes will play No. 7 Dowling Catholic (14-3) in Friday's semifinals at 4:15 p.m. The Maroons advanced with a 2-1 victory over No. 2 Valley.
Ankeny defeated Dowling, 1-0, in a shootout on April 23.
"They're very good, and they play very similar to us," Brown said of the Maroons. "They are solid at the back and have a really good goalkeeper. We struggled in the first game to break them down, so it'll be a really good battle. The key will be the same as today. All the tactics are there. The girls just have to be good teammates and be positive with each other. That's what is going to get us through the next couple of days."
Harrington said the Hawkettes are determined to get back to Saturday's championship game. They lost to Ankeny Centennial, 3-2, in last year's final.
"We have the drive, and we know what we want," Harrington said. "We want to get to the championship, and we want to win the championship. If we don't give it our all, it could end right here."
Adamson vowed that she would be ready to play–and was hoping that her teammates would be ready as well.
"I think if we come out strong and play the game we play, we'll be good," she said. "We'll beat them."