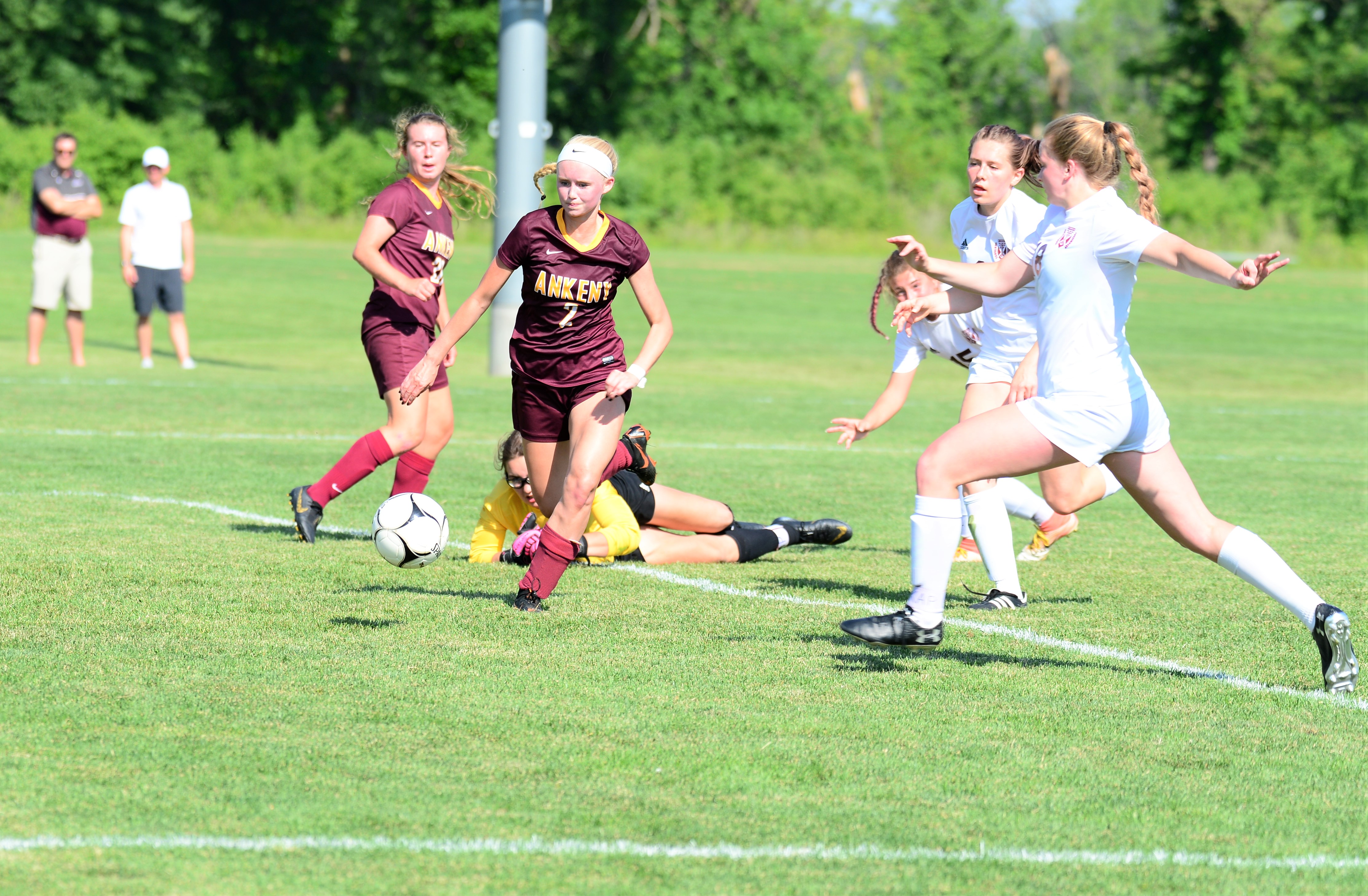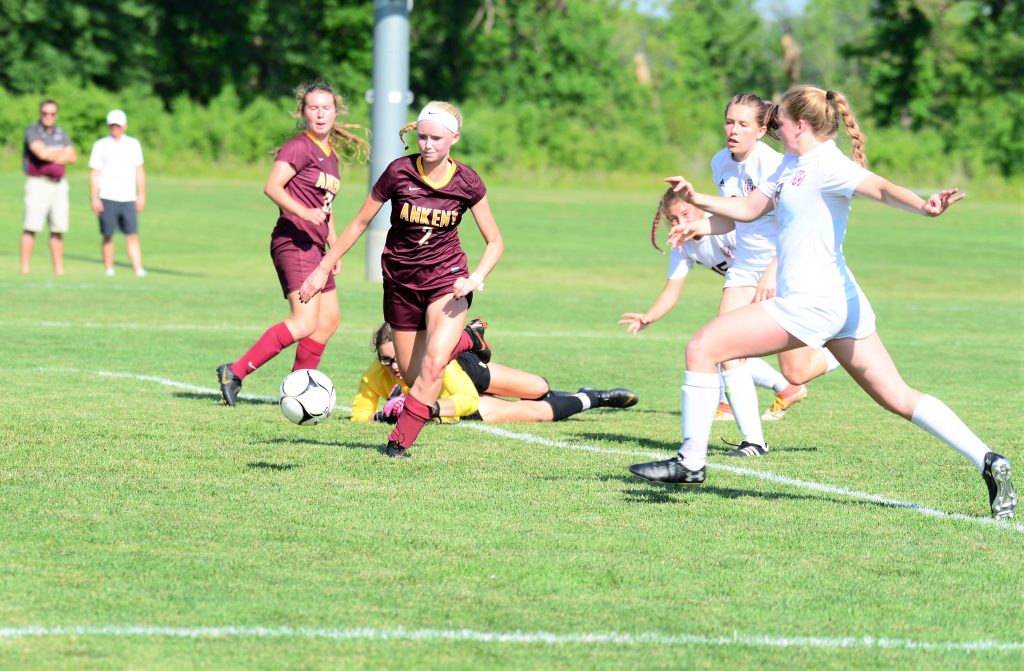 Senior Olivia Sharar was named to the all-tournament team after helping the Ankeny girls' soccer team to the Class 3A state title on Saturday. She scored six goals and had seven assists as the Hawkettes posted an 18-4 record this season.
Senior Allie Wyckoff helped Ankeny Centennial to a 16-4 mark, including a trip to the Class 3A semifinals. The defender was named to the All-Iowa Elite team by The Des Moines Register.
Here is some inside info on the duo:
Congratulations to both of you on an outstanding season. Olivia, has it sunk in yet that you're a state champion?
Sharar: Honestly, everything happened so fast. The season flew by and I'm sad that it is over, but I am ecstatic that we ended the season like this. There is no better feeling than to end my high school career like this. I couldn't have asked for a better group of girls to win this game with and spend my season with.
How did you celebrate on Saturday night?
Sharar: We all went to my house and had a team sleepover. We rewatched the entire game and bonded about all the good memories we had over the season. I couldn't have had a better night with my girls.
Allie, I know your season didn't end the way you wanted it to–with a semifinal loss to Waukee in a shootout. Was that one of the hardest losses you've ever had to deal with?
Wyckoff: Yes, it was a heartbreaking loss due to it being my last high school soccer game. It was the last time playing with my teammates, and that was the most sad thing about it. Waukee played a great game.
Did you watch the championship game on Saturday, and if so, was it hard for you to watch? Were you rooting for your crosstown rivals to win?
Wyckoff: Yes, most of our team went to watch together. It was hard to watch because we all wanted to be out there playing so bad. But yes, Ankeny has some of my best friends on their team, and I am glad they were able to experience that joy in their high school soccer careers.
Including the regional finals last Monday, both of you had to play multiple games over the course of the week in fairly hot temperatures. Do you think the heat was a factor, and how did you deal with it?
Sharar: I think the heat was a huge factor. Playing in heat has never been the best for me personally, but over the course of the last couple weeks I had to learn to overcome the uncontrollable. I focused on the things I could control like staying hydrated, and taking care of my health and body.
Wyckoff: I think the heat can be a factor, but everyone has to deal with it, and everyone is tired from the games they've played. It comes down to mental strength, telling yourself you're not tired, and coming out onto the field wanting it more than anything.
Olivia, the results would suggest that your team really enjoyed playing for first-year coach Simon Brown. What did he bring to the program?
Sharar: There is so much I could say about Simon. Bringing in Simon and the rest of the coaching staff was the best thing that could have happened to this team. He has never given up on us and has believed in us from the beginning. He has pushed us to be better players and better people. I couldn't be more thankful for everything he has done for us.
When he first became the coach, did it take you awhile to understand what he was saying?
Sharar: It definitely took some time to understand Simon. There are still things he says now that confuse me but overall I have learned to understand him and the things he says even if they don't make sense.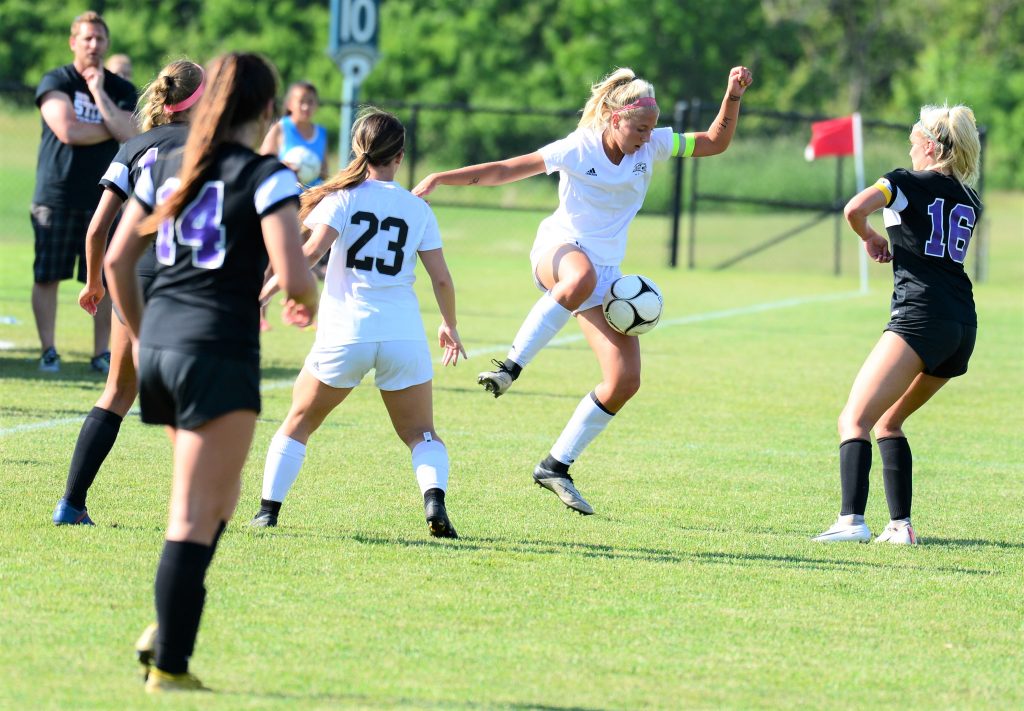 Allie, your coach–Chris Allen–received the Golden Plaque of Distinction award prior to Saturday's championship game. Why do you think he's been so successful in his career?
Wyckoff: Allen is one of the most hardworking people I know. He is always trying to find ways to help players and the team be successful, and he puts a lot of his time and energy into the soccer program.
What will you miss the most about playing for him and the Jaguars?
Wyckoff: I absolutely loved the three years I played high school soccer. I will definitely miss the connections I built with the coaches and teammates, the bus rides we spent singing to music, and being a Jaguar in general. It was a great experience.
Olivia, you have signed a letter of intent to play for Indiana State. When do you report to school?
Sharar: I report at the end of July.
What position will you play, and do you think you'll have a chance to contribute right away?
Sharar: I was recruited to play left forward when I go out to Indiana. When I go out I plan to play right away and get into things. I have been playing my whole life to get to this point and play in college so I am excited to contribute right away and play the sport I love.
Allie, you have signed to play for Iowa State. When do you report to school?
Wyckoff: I report the weekend of June 22nd, and I'll be starting workouts that week up there.
What position will you play, and do you think you'll have a chance to contribute right away?
Wyckoff: I will be playing outside back, which is my main position, but we also talked about outside mid as well. I hope to make an impact, but I'm really going to have to work hard.
The FIFA Women's World Cup is under way in France. Are you watching any of the games, and do you think the U.S. team has a good chance to defend its title?
Sharar: Yes, I watch the Women's World Cup. The U.S. team has always been so fun to watch because they are all such talented players. I think they have a good chance at defending the title, and I will be cheering them on along the way.
Wyckoff: Yes, I am. The U.S. is currently ranked No. 1 according to FIFA, so I think they have a good chance.