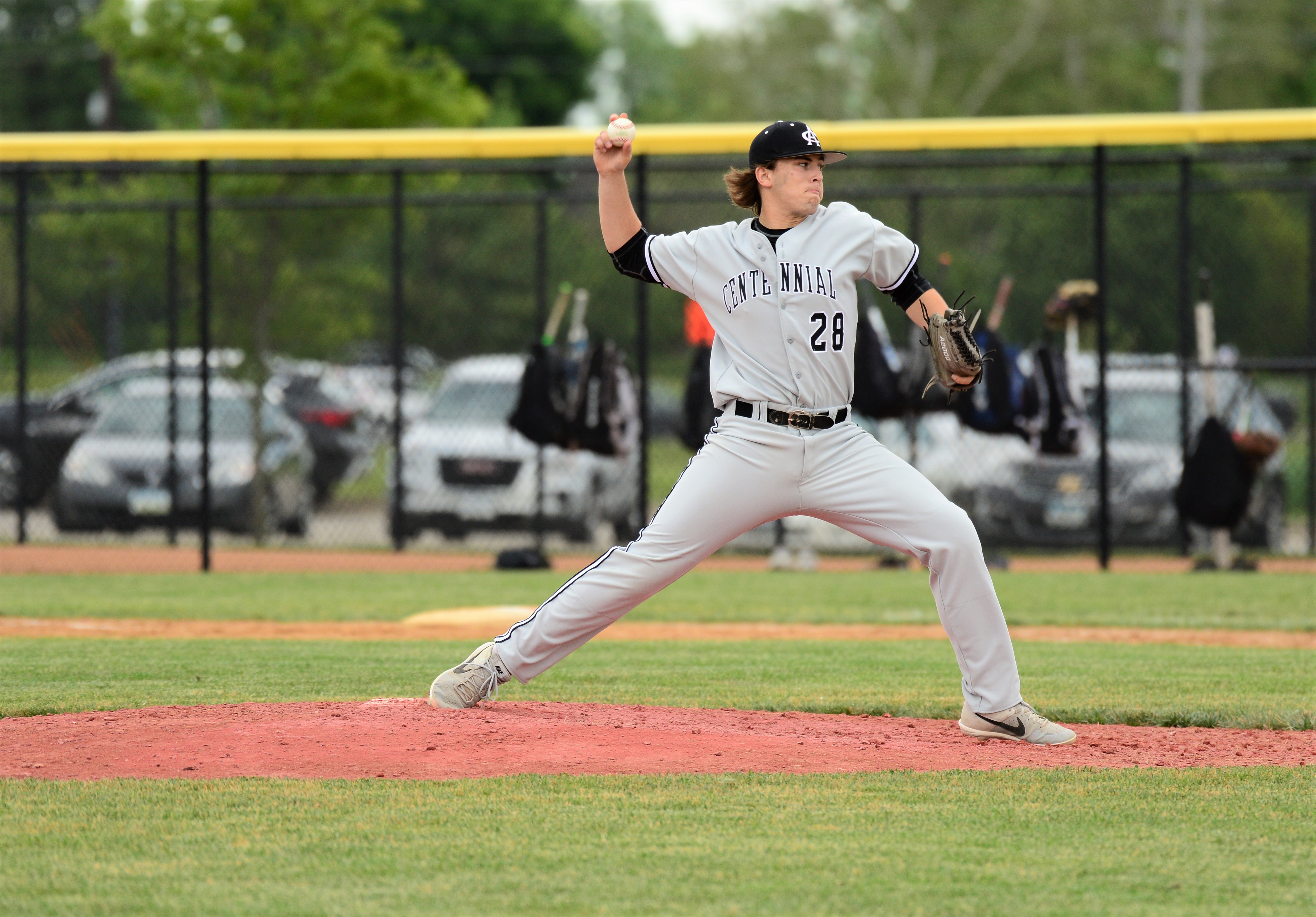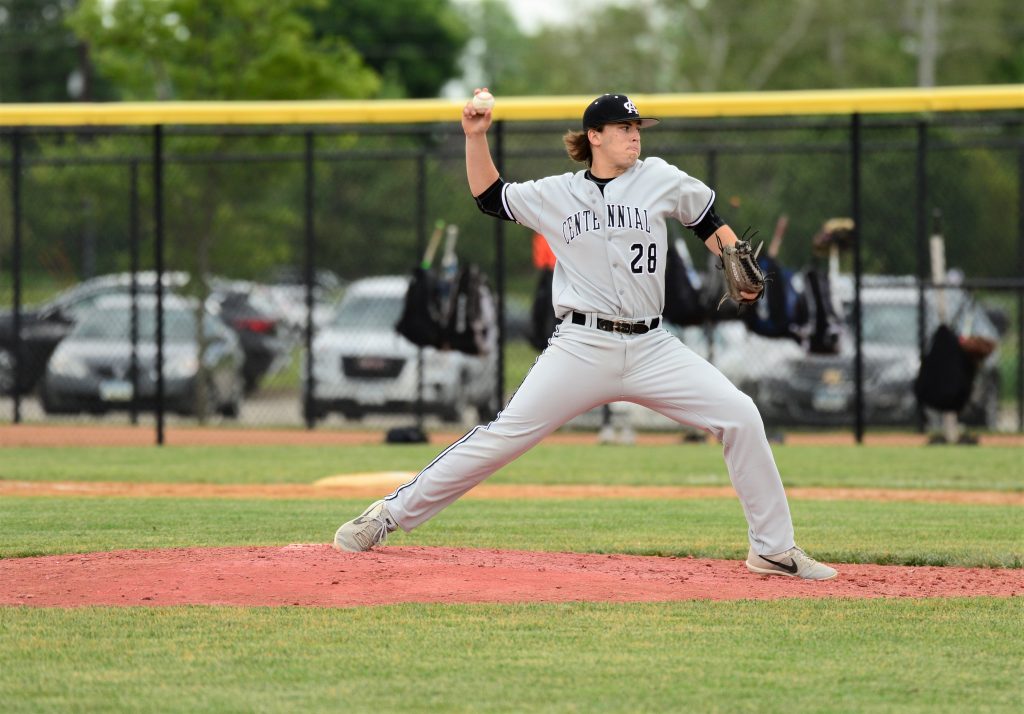 The crosstown rivalry never gets old for Ankeny Centennial junior Trey Morris.
"It's always fun to beat (Ankeny)–in every sport," said Morris.
Morris and fellow righthander Tyler Heinzerling threw back-to-back shutouts on Monday as the eighth-ranked Jaguars swept a CIML Central Conference baseball doubleheader at Ankeny, 4-0 and 5-0. The Hawks entered the twinbill on a four-game winning streak, but managed just eight hits on the night.
"We were coming off a tough week, so we had to come back and redeem ourselves," said Heinzerling. "There was a lot of talk about these games and they're a great team, but we were ready."
Morris tossed a four-hitter in the opener to raise his record to 3-1. He walked none and had eight strikeouts.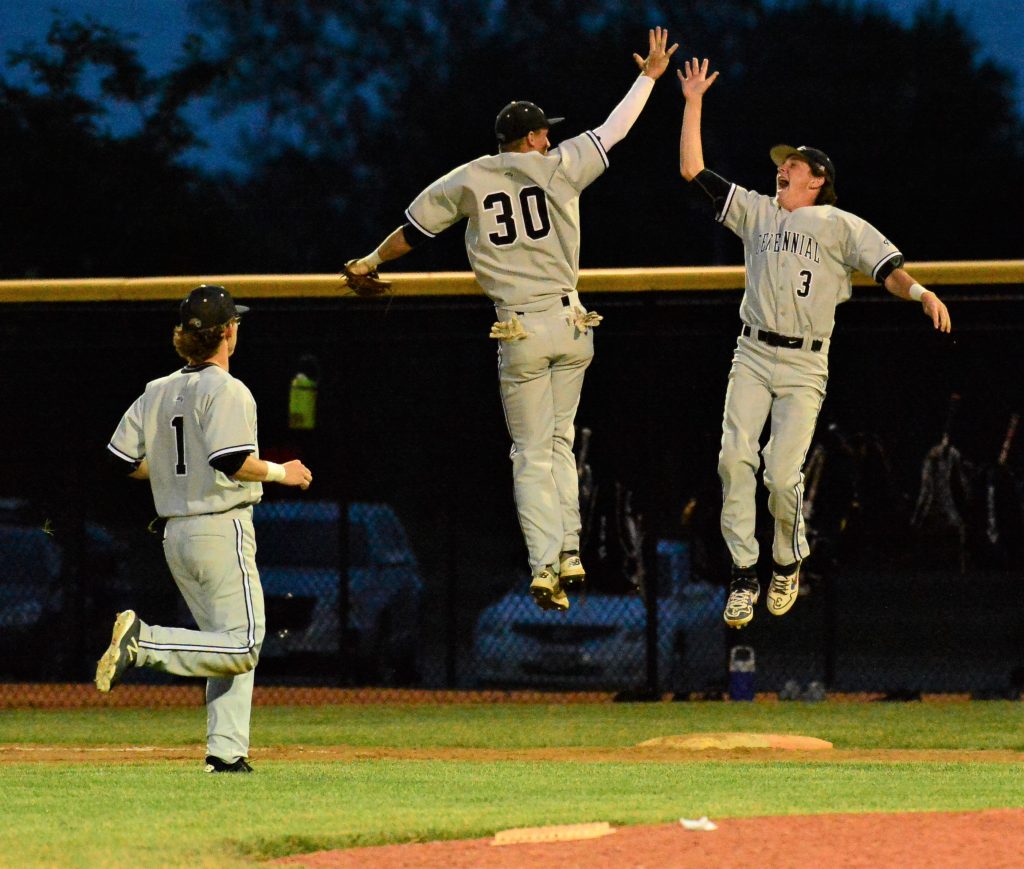 "I think all of my pitches were working pretty well," said Morris, who lowered his ERA to 1.17. "I just tried to keep it low and compete, throw strikes and let our defense work. They did a nice job tonight."
In his previous start, Morris took a 2-0 lead into the sixth inning against No. 5 Dowling Catholic on Wednesday before the Maroons rallied for a 4-2 victory in eight innings.
"I really wanted to finish it off tonight," Morris said. "I was feeling good and on a roll, and I wanted to keep it going."
Morris closed out the game in style. He struck out the side in the seventh inning.
"His changeup and curve were really good, and his fastball always has life," said Centennial catcher Ryan Vermeer. "And he had good location, too. This might have been his best (outing) of the year. He's looked good in some of his other starts, but I think he can be even better than that."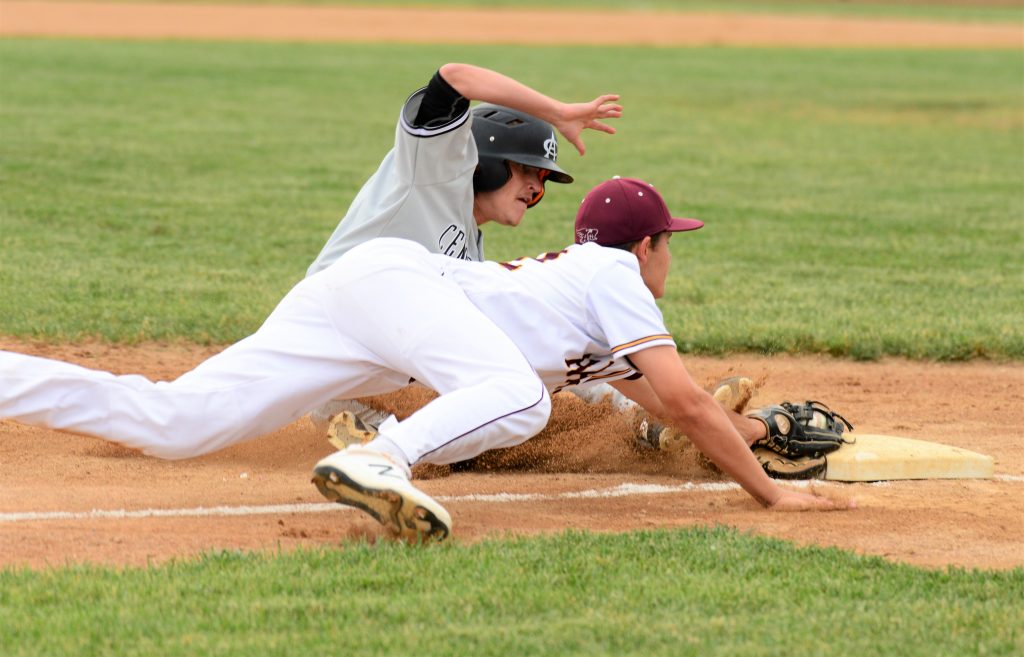 Morris also went 2-for-4 with two doubles and one RBI. He doubled off Chris Spear in the second inning before Josh Meador followed with a run-scoring single, then Nathan Reinke later hit a sacrifice fly to make it 2-0.
Vermeer went 3-for-3 with a double and one RBI. Meador and Keaton Gray each went 2-for-4.
Spear (2-2) allowed 10 hits and had six strikeouts over the first 6 2/3 innings.
"That was the first time I've faced him," Vermeer said of Spear. "I was looking for a ball a little up because the umpire wasn't giving him anything down (for strikes), so since he brought it up I was just trying to take it up the middle."
Ankeny's Cael Boyd went 2-for-3 in the loss. He singled in the bottom of the first inning, but was immediately thrown out by Vermeer trying to steal second–only the second time he's been caught stealing this season.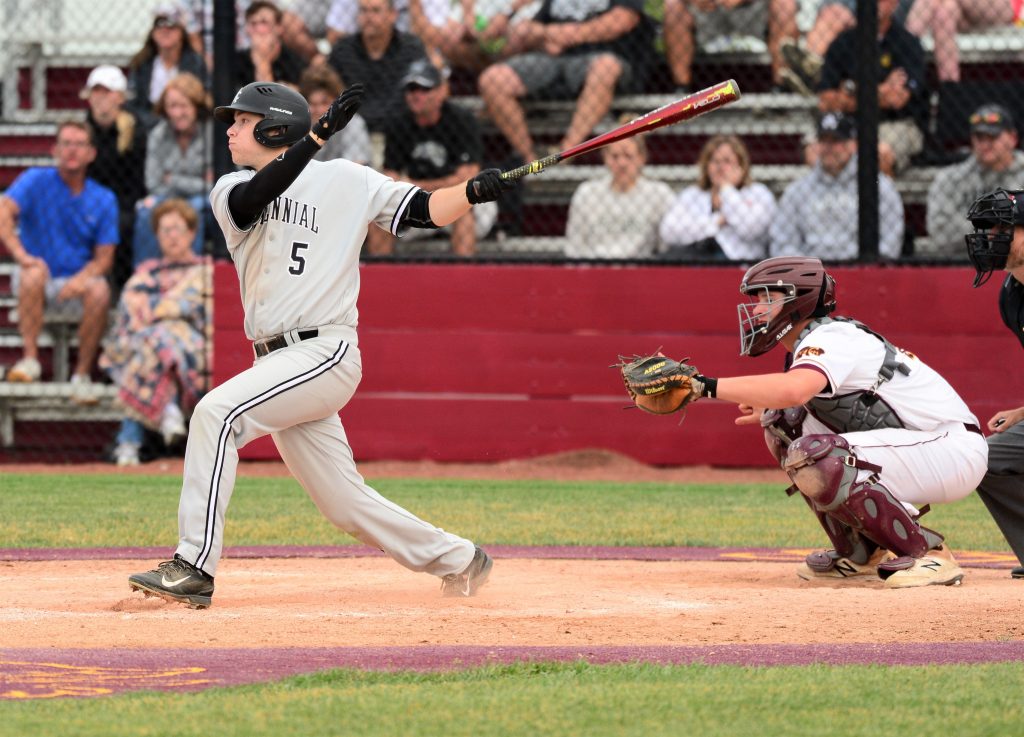 It was that kind of night for the Hawks.
"I knew we needed to play clean ball games, and we certainly didn't do that," said Ankeny coach Joe Balvanz. "But you've got to tip your cap to both Morris and Heinzerling. They just did a tremendous job on the mound. They are two excellent examples of what a high school pitcher should be–working ahead in the count and throwing multiple pitches in different counts for strikes. I was very impressed by both of them."
In the nightcap, Heinzerling (3-0) threw a four-hitter to remain unbeaten. He walked two and had six strikeouts while lowering his ERA to 1.31.
"Everything was working, and our defense was great," Heinzerling said. "They're always helping me out."
Centennial took a 2-0 lead in the fourth inning. Reinke drove in a run with a grounder, then Avery Gates hit an RBI triple into the left-field corner off Weston Fulk (0-1).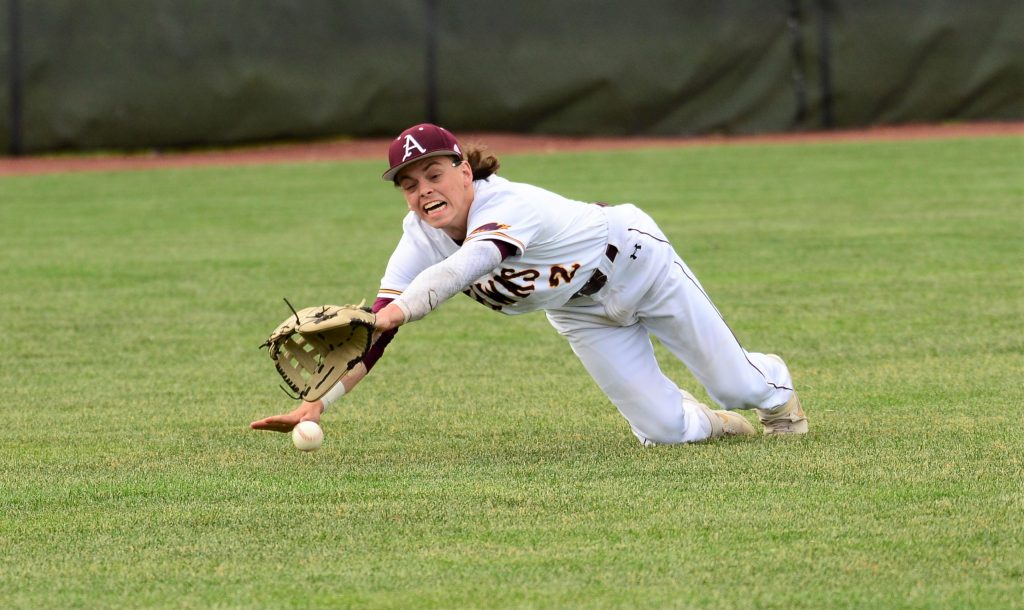 "My approach lately for a lot of pitchers is just sitting back on the ball and kind of hitting it to the opposite side of the field," said Gates. "It's a better approach for me."
Vermeer went 2-for-4 in the win, while Morris had an RBI double in the Jaguars' three-run sixth inning. Derek Boike and Gray also knocked in runs.
Evan Lyons went 2-for-3 with two doubles for the Hawks. He followed a leadoff walk to Fulk in the fifth inning with a double to left, but pinch-runner Cooper Cox took a wide turn at third base and was thrown out.
"Our inexperience showed tonight, for sure," Balvanz said. "We made some mistakes on the basepaths, whether it's not knowing how many outs there are or just not running intelligently."
Fulk led off the seventh inning with a single, then Lyons followed with a blast into deep right-center field. But he was robbed of another extra-base hit when Gates ran to his left and made a diving catch, likely preserving the shutout.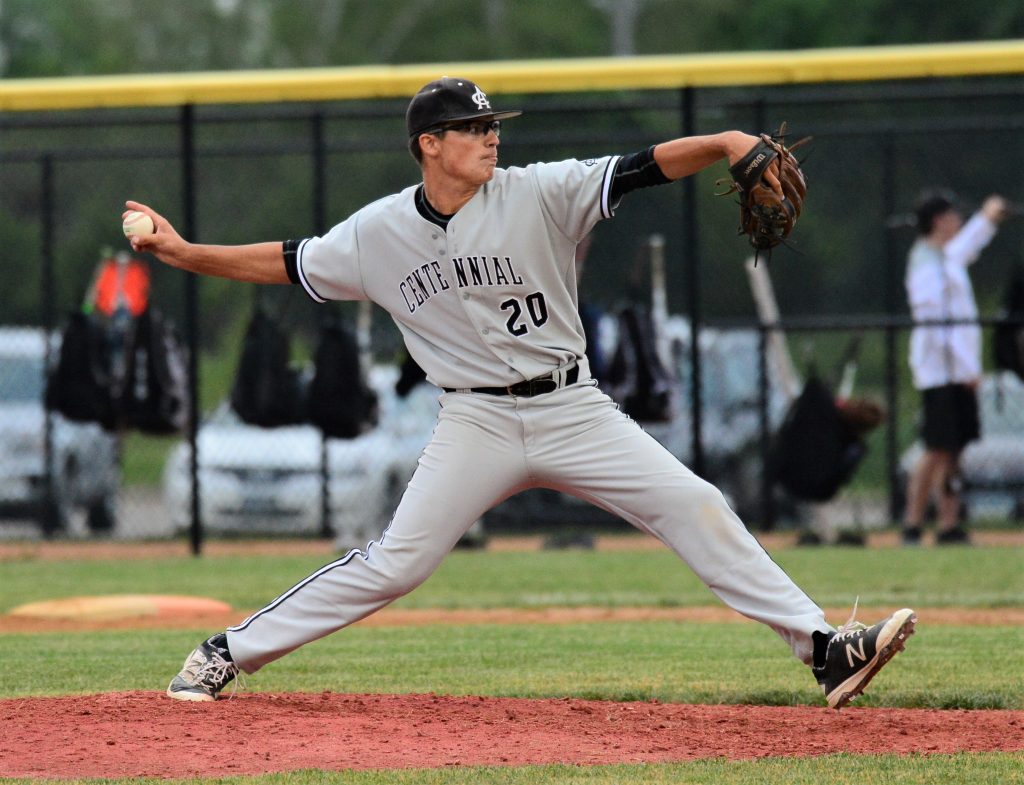 "I knew it was the last inning of the game potentially," Gates said. "I just tried to do it for our pitcher and keep runners off the bases. It was kind of hard to see out there with the lighting, but (the ball) came into view eventually. It was probably one of my better catches."
The next batter, Kade Somers, hit a sharp grounder that was fielded by Heinzerling, who then threw to second to begin a game-ending double play.
"I was a little worried about getting (the throw) to second, but we figured it out," Heinzerling said. "That was a nice way to end it."
The sweep allowed Centennial to move ahead of Ankeny in the Central Conference standings. The Jaguars are now 4-4 in the league and 14-5 overall.
"We don't put too much into our record," Vermeer said. "We just try to go out and win every game and take it one game at a time, but we've got a lot of confidence. We're going to be a state tournament team."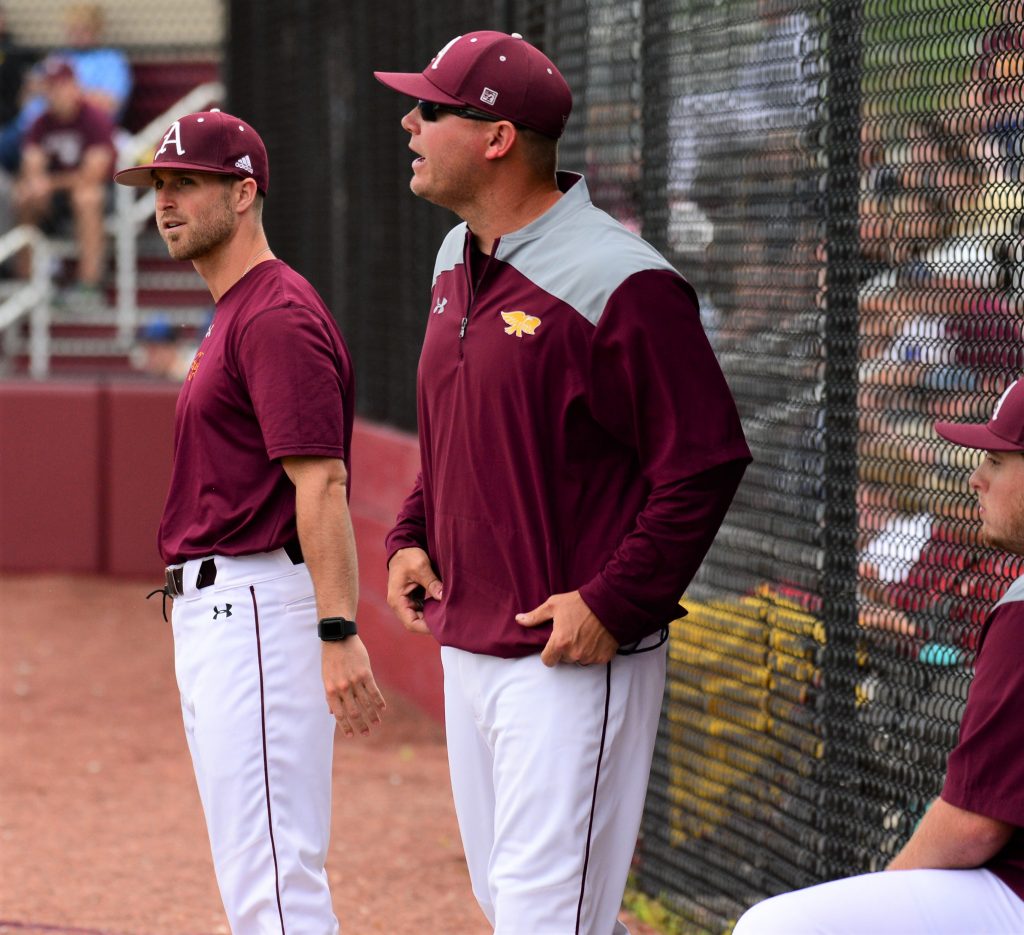 Centennial got off to an 11-2 start before losing three of its next four games. The Jaguars bounced back in a big way on Monday.
"The whole team definitely thought they were going to be good games, but we knew we could pull off a sweep and we did," Gates said.
The Hawks dropped to 3-4 in the conference and 8-7 overall.
"I thought we played a pitch behind tonight," Balvanz said. "We work on playing a pitch ahead and really anticipating what I'm going to do if the ball is hit to me. But we've got some guys who are inexperienced and haven't been in these spots before.
"We're going to have to grow and get better or this is going to be a tough task. We have to improve, and they just have to get back to work and that's what we'll do," he added.