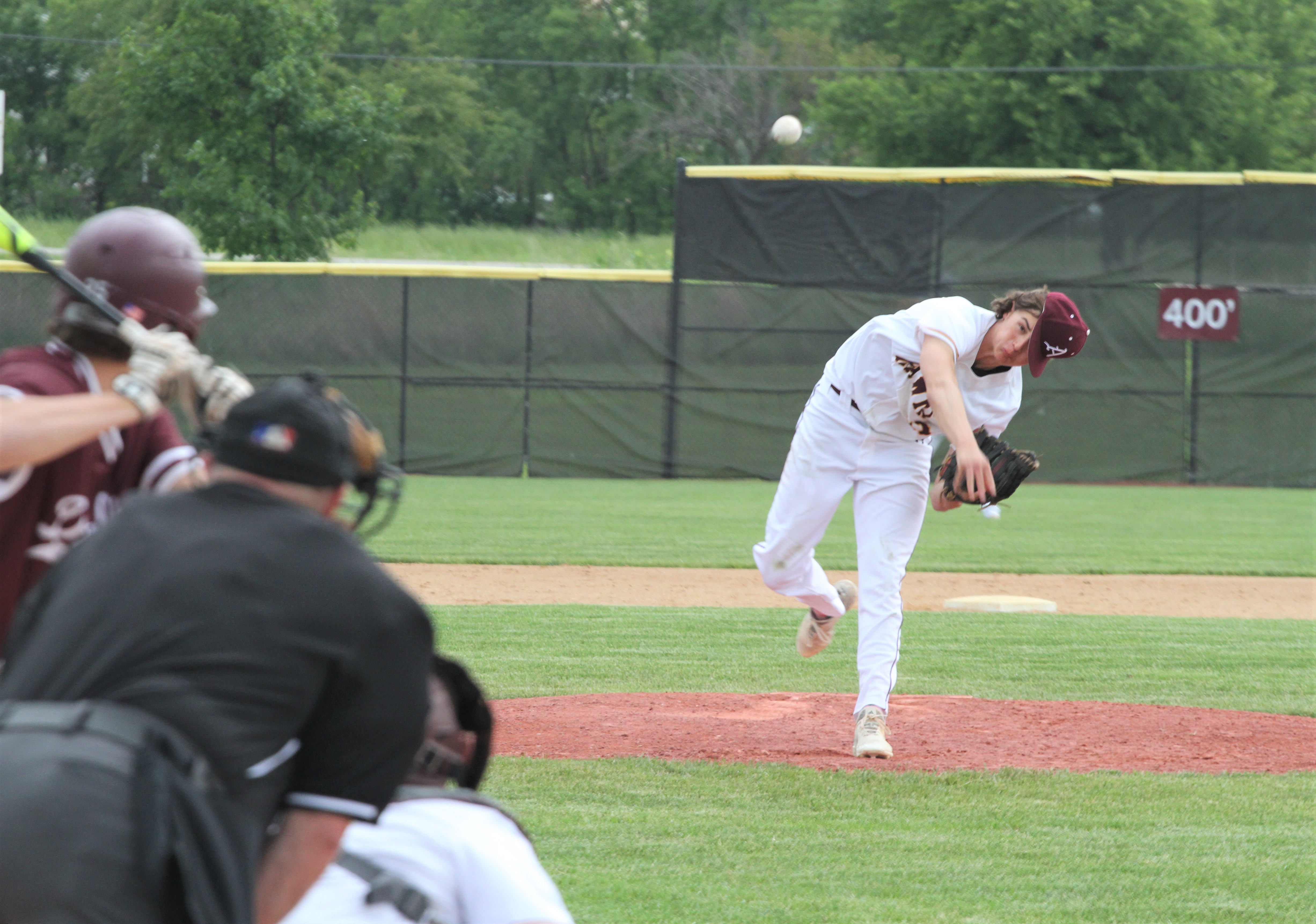 Brody Brecht gave the Ankeny baseball team a much-needed lift on Wednesday.
The sophomore righthander outdueled Johnston standout Jackson Vines to lead the visiting Hawks to a 1-0 victory in the first game of a CIML Central Conference doubleheader, handing the top-ranked Dragons just their second loss of the season.
"Going into the game we obviously knew they could hit the ball," Brecht said. "So I knew that I needed to mix my pitches and not give them anything right over the plate. My curveball worked well and I hit spots with my fastball, but my defense also made some great plays to help me out so it was a great team effort and win."
Brecht (4-1) allowed just four hits and had 11 strikeouts over the first 6 1/3 innings. He threw 111 pitches before being relieved by Will Johnson.
Vines, meanwhile, scattered six hits and and had 14 strikeouts in a complete-game effort. The senior has committed to play for Iowa, which has offered Brecht a scholarship.
"Our guys were ready to battle, and it was fun to watch," said Ankeny coach Joe Balvanz. "Vines was really dealing, but for Brody to do what he did against that offense at his age is an impressive feat. I don't know if I've seen a performance like that out of a kid that young. He's just really talented."
Johnston was batting .409 as a team and entered the twinbill with 22 home runs, more than any team in Iowa. But the Dragons managed just one extra-base hit–a double by Peyton Williams–and three harmless singles off Brecht.
The Hawks were coming off back-to-back shutout losses to No. 8 Ankeny Centennial on Monday.
"Coach Balvanz told us that we needed to learn from the Centennial game and move on from it because we had a great opportunity at Johnston," Brecht said. "All of us knew that we were better than what we showed on Monday, so we moved on from it and went into Johnston knowing we were the underdogs and had nothing to lose so we went out there and had fun."
Ankeny scored the game's only run in the third inning after a leadoff single by Kade Somers, who went 2-for-3 in the win. Cael Boyd later reached base on a fielder's choice, advanced to second on a single by Mo Watson and came home on another single by Jase Bauer.
"As a group we talked about being resilient and just coming to the park every day with the attitude that you're going to get better, and you just have to believe in yourself," Balvanz said. "When these guys believe in themselves, they can go toe-to-toe with anybody."
Ankeny survived a scare in the seventh inning after Johnson entered the game in place of Brecht, who then moved to center field. With two on and two outs, Andrew Nord hit a blast to deep center that had a chance to be a walk-off double, if not a home run.
But Brecht made a leaping catch at the wall to end the game.
"Nord just tattooed the ball, but Brody went and took it away," Balvanz said. "It was quite the play."
Boyd went 2-for-3 and stole a base. He then went 2-for-3 with a double and two walks in the nightcap, which was won by Johnston, 6-5, in eight innings.
Boyd is now batting .340 on the season.
"He's playing at a real high level right now," Balvanz said.
Weston Fulk went 3-for-4 with a double and three RBIs in the second game. Brecht went 2-for-4 with a double and scored two runs.
Johnson (0-1) took the loss, allowing one run over the final two innings.
"We battled, and we came back," Balvanz said. "We had some chances, but we just didn't execute some things."
Nord went 2-for-4 with a double and four RBIs for the Dragons, who are now 8-2 in the conference and 18-2 overall. Caden Stock went 2-for-3 with a double and one RBI.
Ankeny is 4-5 in the league and 9-8 overall.
"It would have been nice to get two (wins), but we certainly gained a lot of confidence in that doubleheader," Balvanz said.
The Hawks will host a non-conference twinbill against Des Moines East on Thursday.