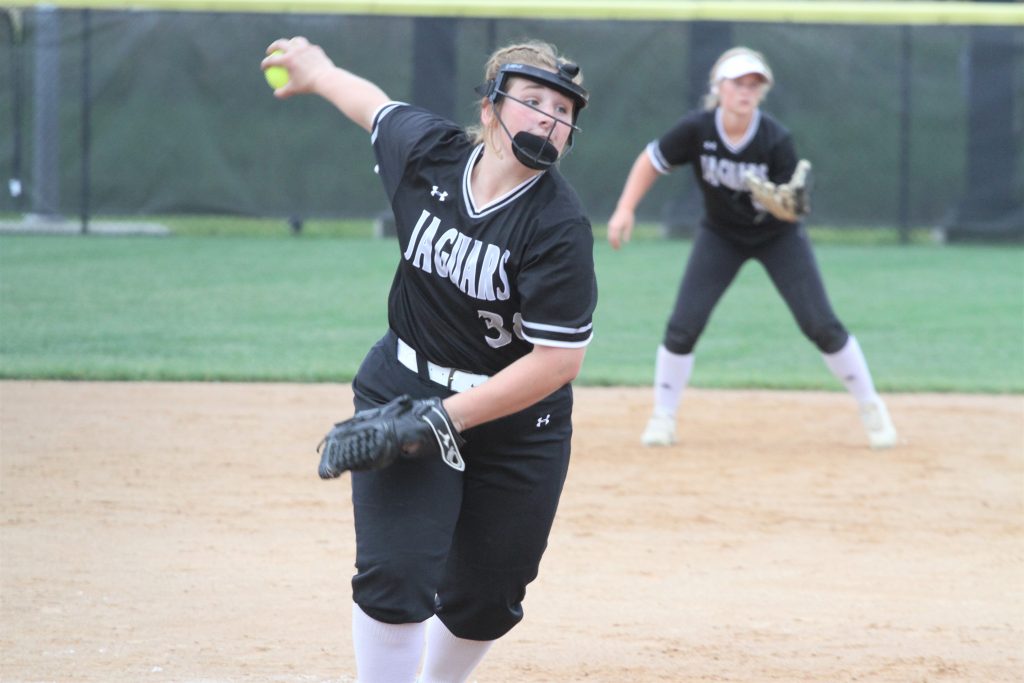 The Ankeny Centennial softball team moved back into a tie for first place in the CIML Central Conference by sweeping a doubleheader on Thursday at Urbandale.
Karlie Kaiser tossed a no-hitter in the nightcap as the Jaguars completed the sweep with a 3-0 victory. She walked three and had one strikeout while raising her record to 3-0 on the season.
"Karlie just did what she needed to do, and we scratched across a few runs for her," said Centennial coach Brett Delaney.
Kaiser, who lowered her ERA to 3.80, was handed an early lead by her teammates. The Jaguars scored one run in the first inning and another in the second, then tacked on an insurance run in the sixth.
Ella Schulz went 2-for-3 and scored a pair of runs. Lily King, Chloe Peck and Cassie Severson each drove in a run.
"It was a good team effort," Delaney said. "We did a bunch of the small things right tonight."
Centennial rolled to an 11-4 win in the opener. The Jaguars erased a 3-2 deficit with three runs in the second inning, then added two runs in the fifth and four more in the sixth.
Taylor Runchey went 2-for-3 with a triple and three RBIs. She also scored twice.
Kennedee Jones doubled and knocked in two runs. Franie Burnett doubled, walked twice, stole a base and scored three times.
Kayla Stone (2-5) was the winning pitcher. She allowed two earned runs on seven hits and had five strikeouts.
Stone also helped herself by going 2-for-4 at the plate.
"We had a really good night," Delaney said. "We hit the ball pretty well in the first game, and Stone pitched a heck of a game."
The Jaguars improved to 8-2 in the conference and 13-8 overall. Urbandale's records dropped to 5-7 and 10-13.
Eighth-ranked Johnston is also 8-2 in the league at the midway point of the season. The Dragons will visit Centennial for a huge doubleheader on Monday.
"We don't talk about it at all," Delaney said of the conference race. "We just go out and play. Those conference games are important, but all the games are important."