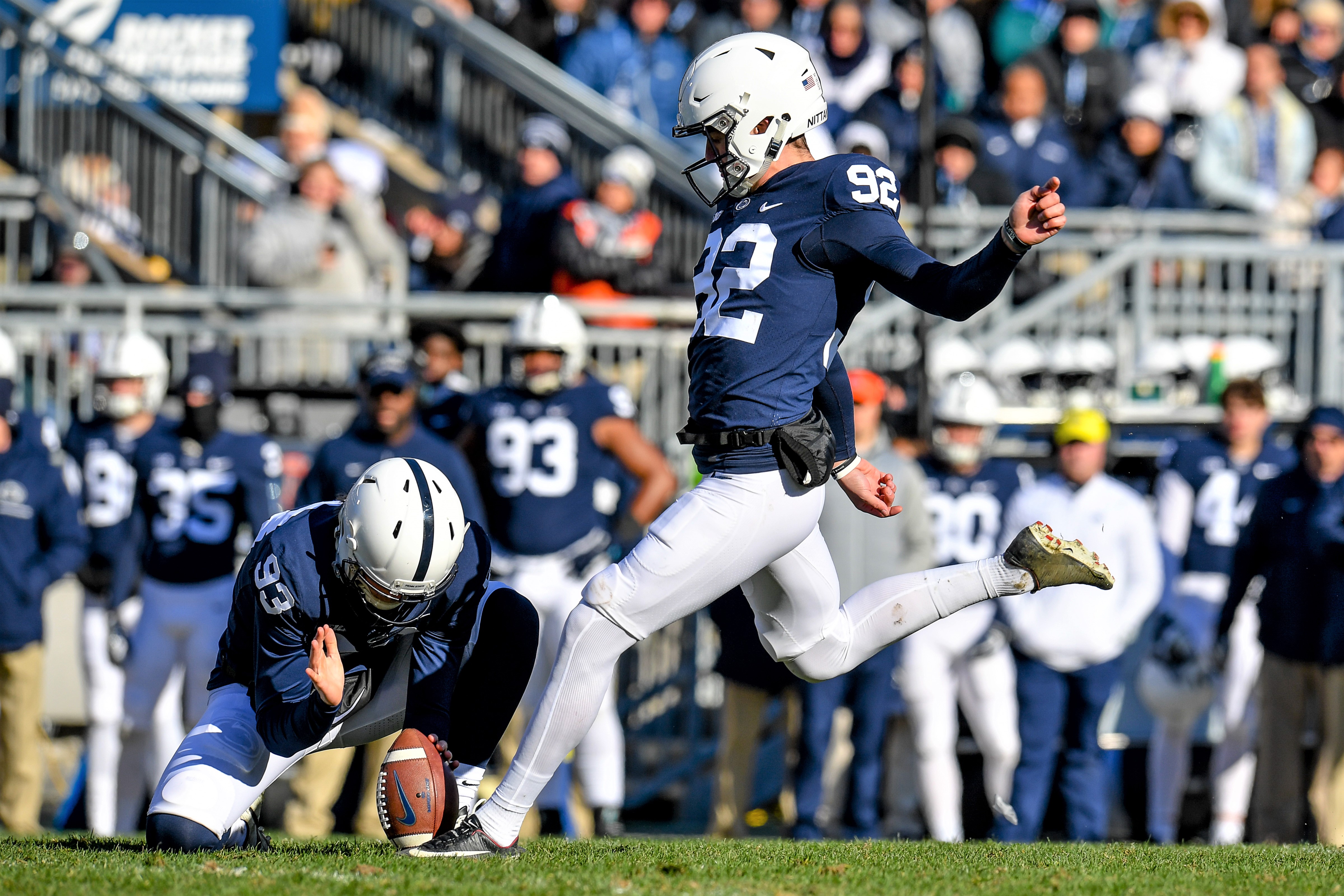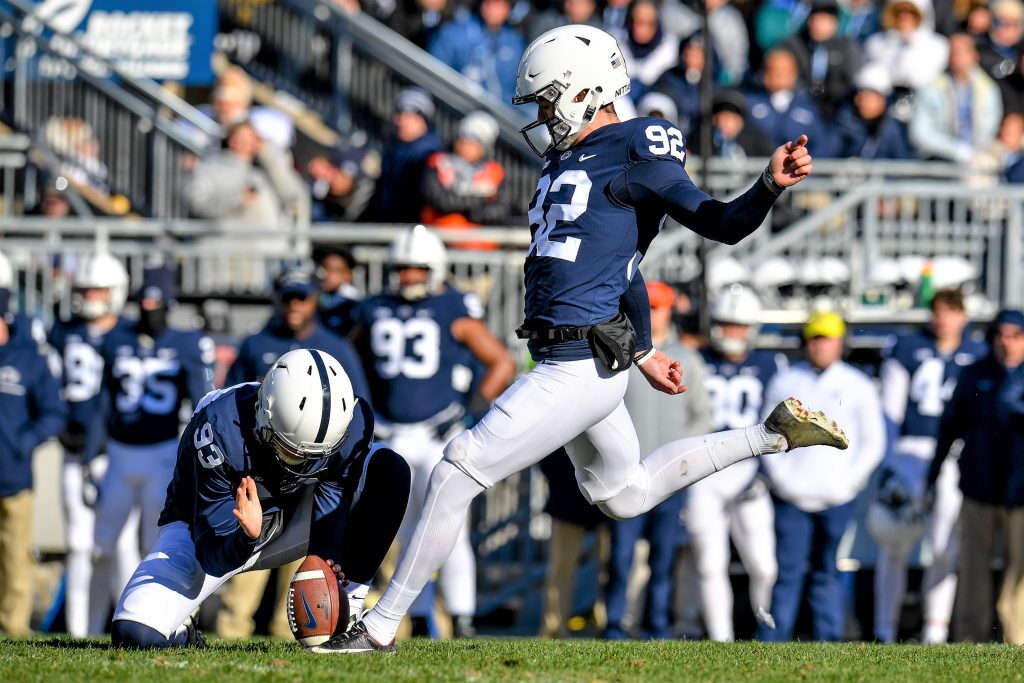 The date of Oct. 12 is already circled on Jake Pinegar's calendar.
For many football fans in Iowa–especially those of the Hawkeyes–it is, too.
Pinegar, Penn State's sophomore place-kicker and a former Ankeny Centennial star, will return to his home state on that day for the first time as an opposing player. The Nittany Lions will visit Iowa City to play Iowa at a time to be determined.
"That's going to be a fun game," said Pinegar. "A lot of my family and friends are going to be there. That'll be really exciting."
Pinegar has been to Kinnick Stadium only one other time. It came toward the end of his high school career.
"I honestly went to a lot more Iowa State games. I was kind of more of a fan of them growing up," he said. "But as I was getting recruited and trying to find a place to play, there was no burning desire to play for either one of those teams. But I grew up watching a lot of Iowa and Iowa State football."
Pinegar initially committed to Bowling Green during the summer before his senior year, but he decommitted from the Falcons after Penn State and Indiana–another Big 10 school–began showing significant interest. Ranked the nation's No. 9 kicker in the Class of 2018 by Kohl's Kicking Camps, he visited Happy Valley in July of 2017 and quickly committed after receiving a scholarship offer from the Nittany Lions.
Pinegar went on to lead the Big 10 in total points with 101 as a true freshman in 2018, helping Penn State to a 9-4 record. He made 16-of-24 field goals and 53-of-55 PATs.
"Overall, I was pleased with how it went," Pinegar said. "Obviously, it started out a little shaky. It kind of took awhile to get used to things. As the season went on I thought I did pretty well. I picked up a lot of things. And then, obviously, I didn't end the season the way I wanted to. But overall, it was decent. It was just a lot of learning going into next season."
Perhaps the biggest highlight of Pinegar's season came on Oct. 27, when he made field goals of 45, 49 and 44 yards to help the Nittany Lions to a 30-24 victory over Iowa at Beaver Stadium.
That game provided him with an opportunity to reunite with Iowa defensive back Riley Moss, his former Centennial teammate. Those two played together in the Jaguars' secondary.
Both Pinegar and Moss also ran on Centennial's state champion shuttle hurdle relay team in 2017.
"I didn't talk to him until after the game," Pinegar said. "But he was on the PAT block team and kind of looked over and gave me a head nod, and then after the game we caught up a little bit. That was the first time I had talked to him in like seven months, so we talked for a while and took some pictures. It was nice to catch up with him."
Like Pinegar, Moss made an immediate impact as a true freshman. He made 24 tackles and intercepted two passes while helping the Hawkeyes to a 9-4 record.
"He's super athletic," Pinegar said of Moss. "No matter what comes, he seems to overcome it. No matter what people think about him or the expectations they put on him, he kind of always seems to overcome it. I knew he was going to come in and do his thing and have a good season."
And that's what Pinegar did as well, making every field-goal attempt inside of 30 yards. However, he struggled at times with the longer kicks, going 5-of-7 from 30-39 yards and 5-of-11 from 40-49 yards.
"I'm just trying to treat each kick like it's the same," Pinegar said. "Obviously, the longer ones are harder, but the same technique should be applied to a 40-yard field goal as a 20-yard field goal. I'm just trying to hone in on my craft and become as consistent as I can be."
Penn State completed the 2018 season with a 27-24 loss to Kentucky in the Citrus Bowl on New Year's Day in Orlando. The Nittany Lions scored 17 unanswered points in the fourth quarter, but couldn't overcome a 27-7 deficit.
Pinegar missed a 40-yard field-goal try and had a 36-yard attempt blocked in the first half. He later made a 32-yard field goal with 4 minutes 12 seconds left, but Kentucky then essentially ran out the clock, leaving the Nittany Lions with only 1 second when they regained possession of the ball at their own 17-yard line.
A fumble on a lateral was recovered by the Wildcats' Chris Oats to secure the victory.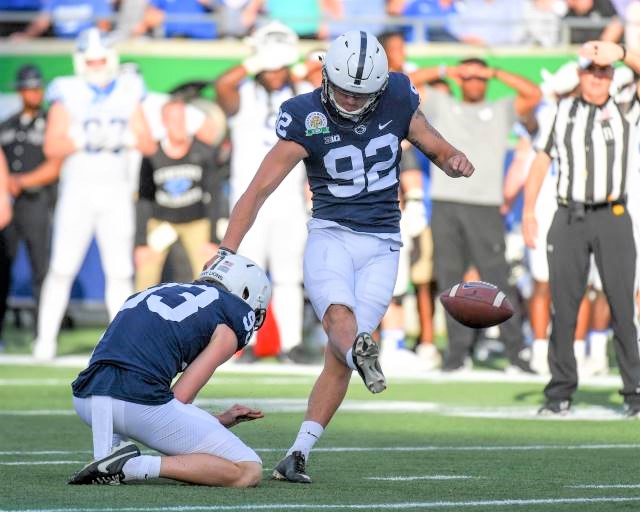 "The season obviously didn't end the way we wanted it to," Pinegar said. "We expect a lot more out of ourselves, that's for sure."
Still, the bowl experience was a memorable one for Pinegar.
"They treated us really well," he said. "We had super nice weather in Florida–it's a super nice place. The whole week was amazing; they really treated us right. They had a bunch of things set up for us, so it was a great experience. Obviously, the game didn't end the way we wanted it to–especially me. We wanted to come out with a win, but you live and you learn. We'll take those lessons into next season with us."
Pinegar is spending most of the summer working out in University Park. He is hoping to add the kickoff duties to his plate this season.
Last year, Pinegar booted three kickoffs during a win over Maryland in the regular-season finale. He was even credited with a tackle, his first since his days as a defensive back at Centennial.
"We never practice tackling, but it was actually really fun," Pinegar said. "You kind of have to run down there and be the last man to get in the mix a little bit, and the returner bounced it to where I was going and I just had to trip him up a little bit. I obviously didn't expect that, but it was fun."
Pinegar wouldn't mind having another moment like that one this season.
"I'm just going to go out there and compete," he said. "I'm not going to stop competing for kickoffs."
Penn State will open the season on Aug. 31 against Idaho. On the same day, Pinegar's older brother–Hunter–will make his debut for Sam Houston State when the Bearkats play at New Mexico.
Hunter recently committed to Sam Houston State, turning down offers from schools such as Auburn and Washington State.
"Honestly, I was just super happy for him and super proud of him," Pinegar said. "I knew he really liked it down there. After a lot of the things he's been through and the journey that brought him to where he is now, I knew he could do it the whole time. It was just a sigh of relief, because I was super happy for him."
Pinegar said he offered some advice to his brother while Hunter weighed his potential options.
"I just kind of said, 'Wait til you take your visits and get around the coaches and players. That'll kind of open up your eyes a lot more,'" Jake said. "Just go with your gut and what feels like home, where you can play and make an impact."
The brothers are hoping to eventually reach their ultimate goal, landing a job in the National Football League.
"Any kid that plays college football, that's always going to be the end goal," Pinegar said. "You want to be the best that you can be, and hopefully you'll have a chance to make that leap. That's a goal that I definitely want to pursue."
For now, though, Pinegar is focusing on the 2019 season. He said the Nittany Lions are entering the fall with some high expectations.
"We want to be Big 10 champions and national champions," he said. "That's the goal every year, and we don't want to do anything short of that."
Personally, Pinegar is hoping to be a more consistent kicker.
"I'm feeling a lot more confident," he said. "I know what's going on around me now. I just want to go out there and execute to the best of my ability every time I go out there and kick. I want to put up some better numbers."
Pinegar tries to treat every kick and every game the same way, but he knows he'll be a little more juiced up than usual on the second Saturday in October.
"They've got a tough place to play, from what I've seen," Pinegar said of the Hawkeyes. "It's a tough environment, but we're looking to come in there and play the best game we can play. It'll be really exciting."