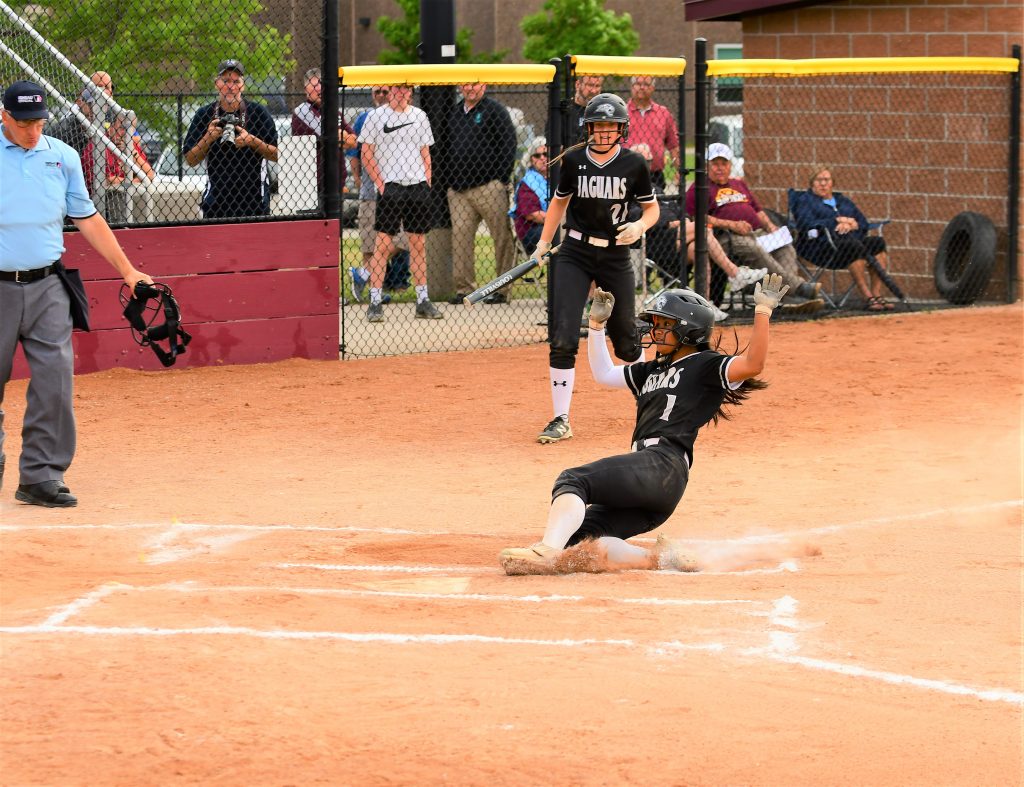 The Ankeny Centennial softball team rolled to a pair of run-rule victories at Des Moines Lincoln on Thursday to raise its overall record to 19-10.
The Jaguars posted a 13-1 win in five innings, then followed with a 14-0 triumph in six innings to extend their winning streak to five games. Lincoln dropped to 8-20 on the season.
Centennial broke the first game open with six runs in the second inning and five more in the third. The Jaguars pounded out 12 hits in support of winning pitcher Madi Huisman (6-2), who allowed no earned runs and just two hits.
Carleigh Kray went 2-for-2 with a double and two RBIs. Lily King went 2-for-3 and also drove in two runs, while Cassie Severson added a double and two RBIs.
Franie Burnett went 2-for-3 and scored a pair of runs. She then went 2-for-3 in the nightcap and scored another run as the Jaguars completed the sweep.
Centennial erupted for seven runs in the fourth inning to build an 8-0 lead. After adding a run in the fifth, the Jaguars scored five more in the sixth to end the contest.
King went 2-for-2 with a walk and two stolen bases. She scored three runs and drove in another.
Centennial coach Brett Delaney used 17 different players in the game, including sophomore Kayla Smalley. She entered as a pinch-hitter and blasted a three-run triple for her first varsity hit of the season.
Ella Schulz went 2-for-3 with a double and two RBIs. Severson also went 2-for-3 and knocked in two runs, while Kennedee Jones added a double and two RBIs.
The Jaguars finished with 16 hits. They have scored 47 runs on 53 hits during their winning streak.
Karlie Kaiser (4-0) tossed a four-hitter to remain unbeaten. She walked two and had two strikeouts.
Centennial will return to CIML Central Conference play on Monday, traveling to Dowling Catholic for a doubleheader against the Maroons. The Jaguars will then host Ballard (Huxley) on Tuesday before hosting a twinbill against Ankeny on Wednesday.