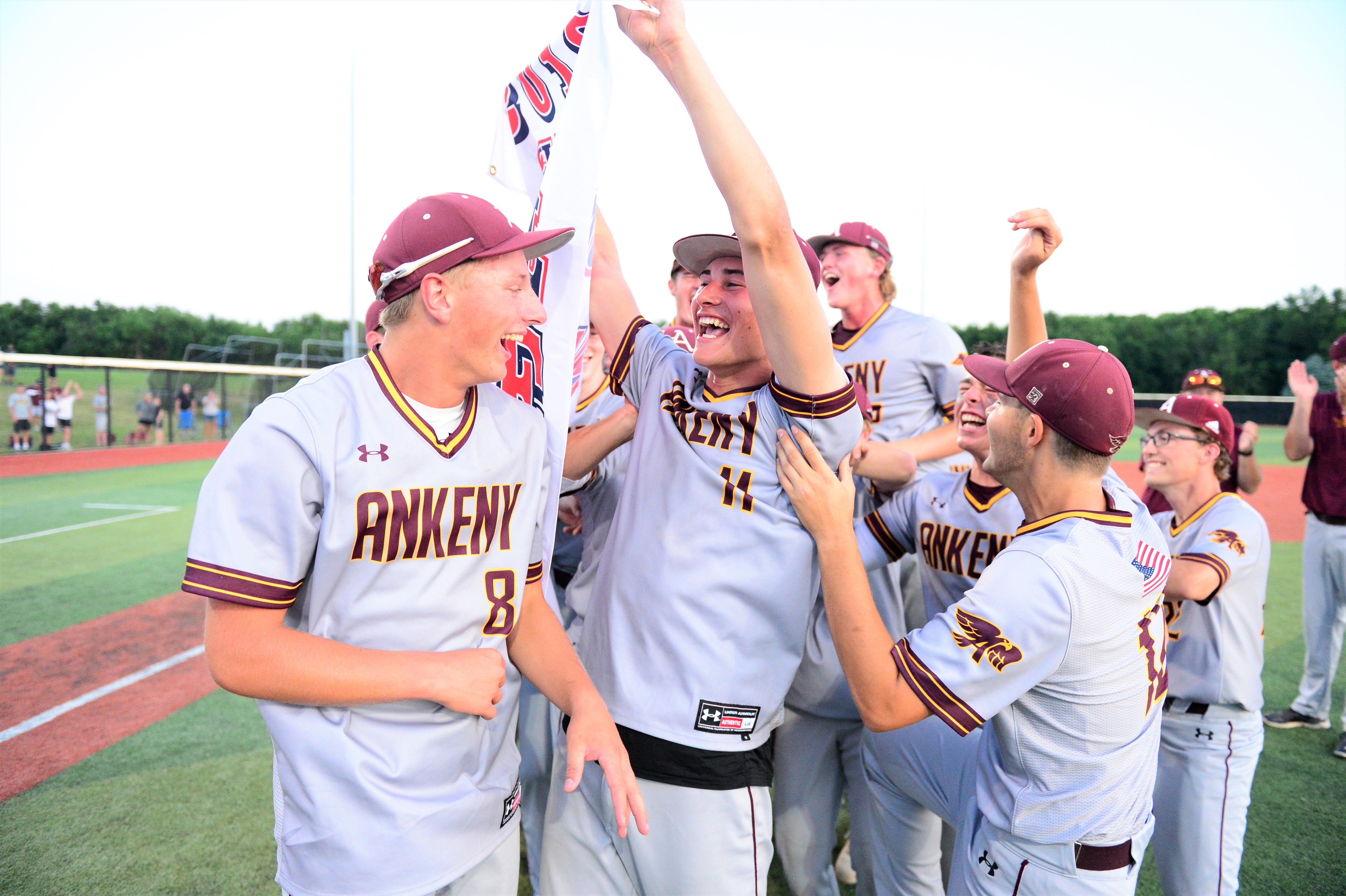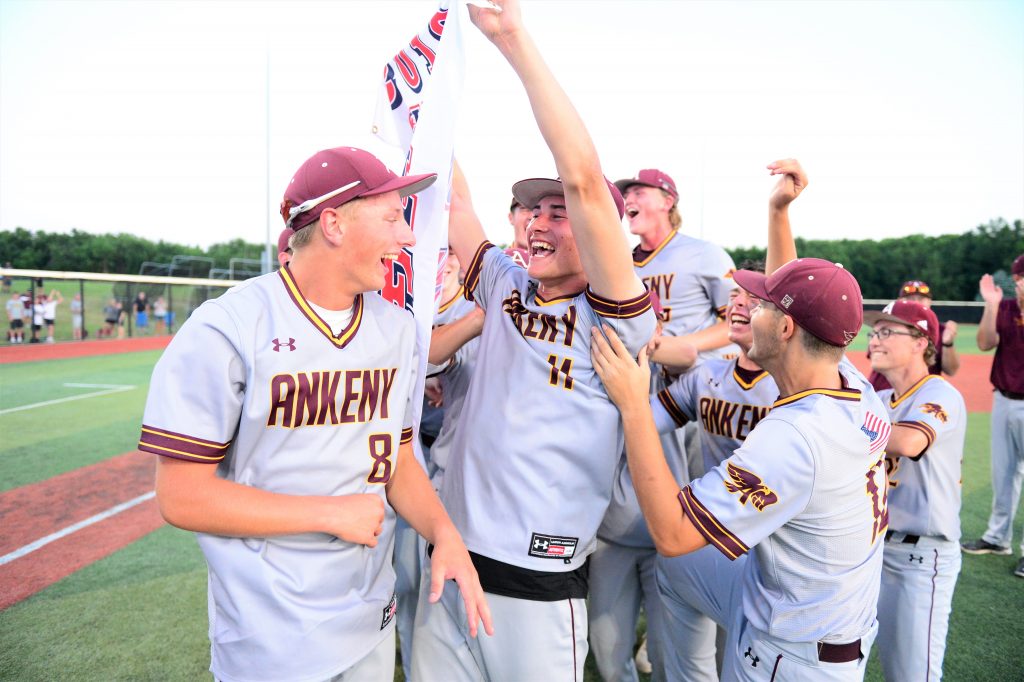 Brody Brecht's teammates gave him a five-run cushion before he even took the mound on Wednesday night.
Then they just kept adding to the lead.
After scoring five runs in the top of the first inning, the Ankeny baseball team added four runs in the second and seven more in the third to support Brecht's four-inning no-hitter as the Hawks rolled to a 16-0 victory over seventh-ranked Des Moines Roosevelt in a Class 4A substate final at Southeast Polk.
Ankeny (21-17) advanced to next week's state tournament for the first time since 2013, its final season as one high school.
"It feels amazing to go to state and to have this program moving forward," said Brecht, who raised his record to 6-2.
The Hawks pounded out 13 hits against three Roosevelt pitchers. Six of them went for extra bases.
Weston Fulk led the way, going 3-for-3 with a walk. He finished a home run shy of the cycle while driving in seven runs.
"We knew that they were going to throw a good lefty on the mound (Alec Nigut) and we had to be prepared right from the very first pitch, and we did that with the five-run first inning," Fulk said. "We really only saw their starter one inning from only playing them in one doubleheader, but we had a good scouting report on them. I think once we stringed some hits together in the first inning it was almost a snowball effect for the entire game, making us way more confident at the plate with multiple guys getting hits and extra-base hits."
Kade Somers went 2-for-3 with a double, triple and three RBIs. Cooper Cox went 2-for-3 with a triple, scored two runs and knocked in two more.
Evan Lyons went 2-for-2 with an RBI, while Carter Smith tripled and also drove in a run. Brecht helped his own cause by going 2-for-4 at the plate.
"The five runs in the first were huge. It made me calm down a little bit and take some of the pressure off," Brecht said. "Then we didn't stop there, and all those runs gave me confidence to go up there and finish the game. I didn't know we would win 16-0 or I'd throw a no-hitter. We just went out and had fun. And as a pitcher, you can't complain when your offense has 13 hits and 16 runs. We just played a good game of baseball."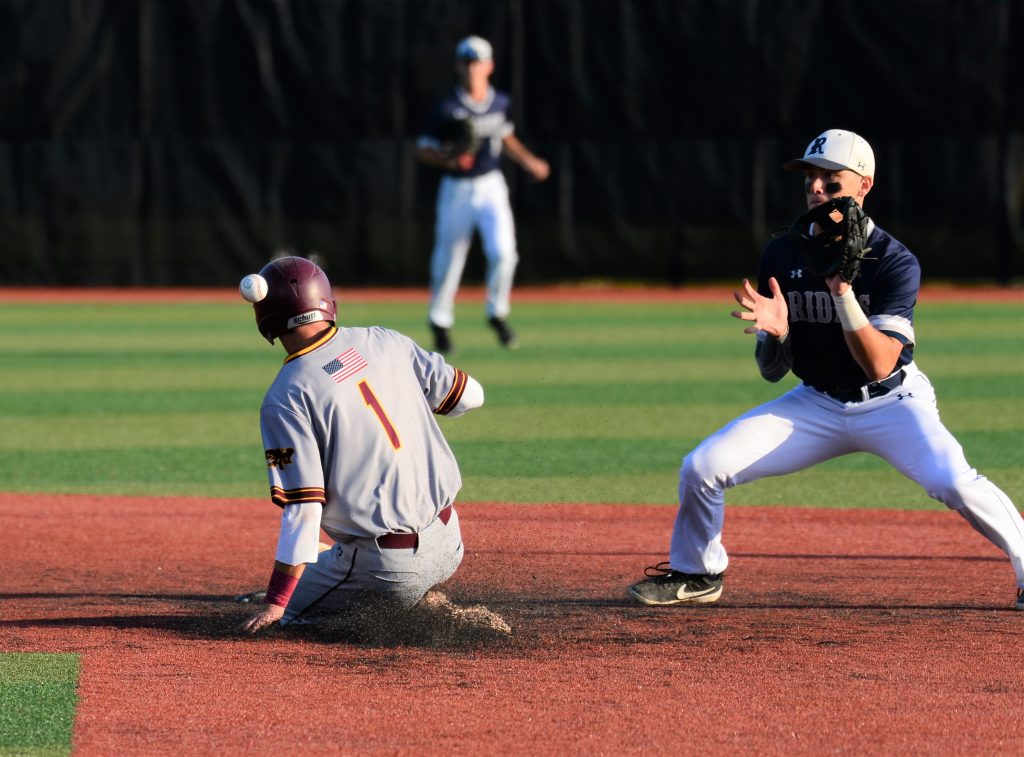 Cael Boyd also contributed to the rout. He stole a pair of bases to give him 34 on the season, which sets a new school record.
"We just kept pushing and I was like, 'Holy cow. We might only have to get 12 outs here and we can get out of this,'" said Ankeny coach Joe Balvanz.
Brecht walked four and had nine strikeouts in a dominant performance. Roosevelt (29-10) put only three fair balls into play against the Ankeny sophomore, who lowered his ERA to 1.96.
"You can't really ask Brody to do any better," Fulk said. "He is a really good friend of mine, and I know he shines in big games like these. He had one hell of an effort on the mound, and I can't be more proud of him."
Fulk, meanwhile, regained the team lead in RBIs with 33. He has recovered from a groin injury that forced him to sit out late in the season.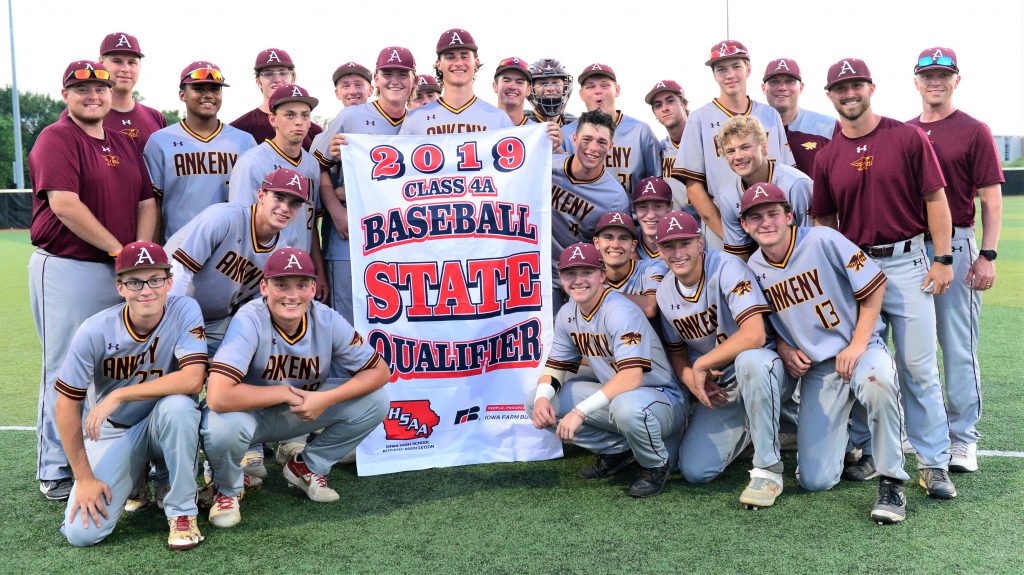 "He's finally back healthy," Balvanz said of Fulk. "I know he hasn't pitched in the postseason yet, but he was ready to go and we have all the confidence in the world in him. And it's great to have his bat back in the lineup, too."
Ankeny will be joined in the Class 4A field by three other teams from the CIML Central Conference–No. 1 Johnston, No. 6 Dowling Catholic and No. 9 Urbandale. The Hawks lost at Urbandale, the eventual state champion, in last year's substate final.
"We played in that game against Urbandale, and that was kind of a daunting task," Balvanz said. "But I feel like I'll take my chances with this group against anyone. We've beaten Johnston twice, and I think this was our ninth or 10th win against a ranked opponent. There's nothing that they've seen that they can't handle."
Ankeny will play top-seeded Johnston (34-5) in the Class 4A quarterfinals on Wednesday at 1:30 p.m. at Principal Park. The two teams split four meetings during the regular season.
One of Ankeny's wins came on June 19 at Johnston, where Brecht allowed just four hits and had 11 strikeouts over the first 6 1/3 innings as the Hawks posted a 1-0 victory. That was the only time that the Dragons were held scoreless this season.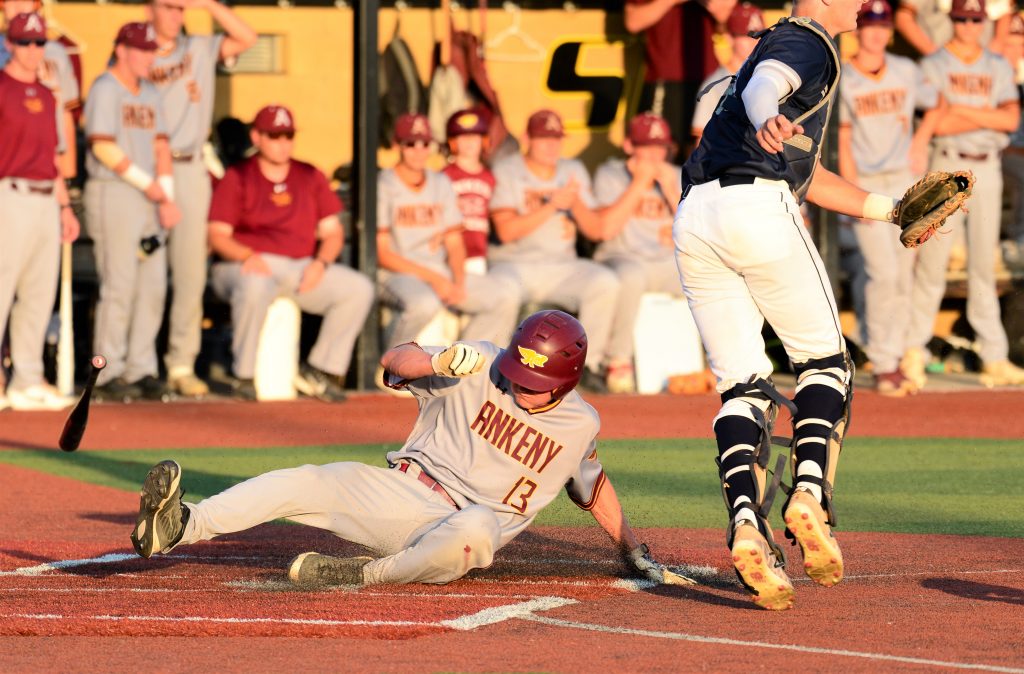 "Johnston's obviously a very good team, but we've played them and beat them before so I'm confident in our team that we can go out there and get the job done," Brecht said.
Ankeny used a five-run rally in the seventh inning to beat Johnston again, 8-7, in the second game of a doubleheader on July 8. Since then, the Dragons have reeled off 10 straight victories, scoring 117 runs during that stretch.
"I'm not sure (Johnston coach Michael) Barta wants to see Brody in the first round, and I'm not sure I want to see them," Balvanz said. "But it is what it is. We'll play them again if we have to."
The Hawks enter the state tournament on a season-best five-game winning streak.
"I think this win will help our confidence as a whole team as we make our way to Principal Park," Fulk said.