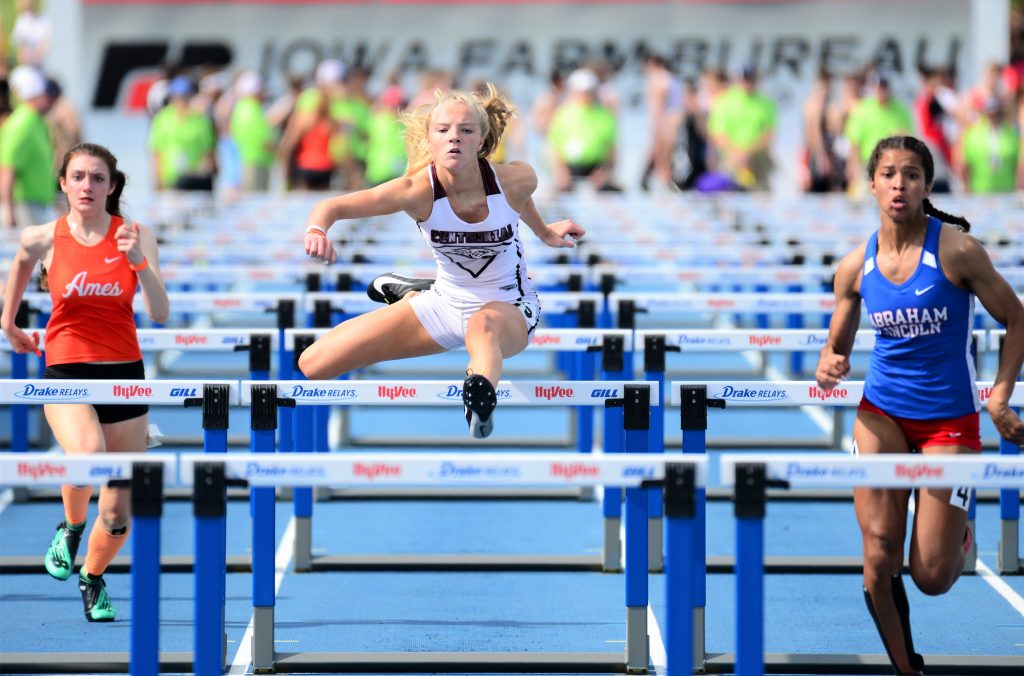 Katie Petersen tried to look on the bright side after her run at the USATF Hershey's National Junior Olympics Track & Field Championships came to an end on Saturday in Sacramento.
Petersen posted a time of 14.88 seconds in the semifinals of the 100 hurdles and placed 18th overall in the Women's 17-18 Division. Only the top eight finishers advanced to Sunday's final.
"Nationals was a really great experience for me, and I'm so thankful I had the opportunity to go there and run against some of the best girls in the country for my age," said Petersen, a senior-to-be at Ankeny Centennial. "These summer meets were new to me this year and are very different than any meet I've ran at, so the whole process has been a learning experience."
Petersen dealt with some unexpected adversity on Saturday. About 90 minutes before her race, she went out for breakfast with her mother and while they were eating, someone smashed out the window of their rental car and stole all of their belongings, including Petersen's track shoes.
Petersen's mother, Leslie, ran to a store to buy some new shoes while Katie got checked in at the track. Katie got her replacement shoes just minutes before she was to run her race only to find out that the store gave her men's shoes (size 10 1/2) instead of women's shoes.
So, Petersen ran the race in shoes that were too big for her feet.
"My ultimate goal this week was to PR, so it was a little frustrating that I wasn't able to get that done when I was confident I had it in me," Petersen said. "However, after our car got broken into and my entire bag with my spikes and everything was stolen, I learned that sometimes life just has other plans for me and even though (Saturday) was not my day, I was still pretty happy with the way I was able to perform given the adversity thrown at me."
Petersen qualified for the semifinals by posting a time of 14.76 in the preliminaries on Thursday. She ran the 10th-fastest time overall and nearly matched her all-time best.
"It's difficult to really know what to expect going into these meets, but I actually had a girl run a 13.9 in my prelims heat, so that was definitely new for me and I enjoyed getting to run against that level of competition," Petersen said. "I felt pretty good about my prelims race and time after settling in and getting that first race out of the way. I walked away from that race and went into semis really feeling good and like I had another gear in me that I could bring out after my off day."
Four different girls ran under 14 seconds in Saturday's semifinals. Kaylah Mccall of the Zephyrs Track Club ran 13.61, then ran even faster on Sunday (13.56) to win the national title.
Petersen didn't want to dwell on the past. She was already looking ahead to her senior year.
"Overall, I feel like I grew a ton from my training and experiences this summer as both a person and an athlete, and I'm really looking forward to being able to finally show that off in my senior year and see where it takes me in the future!" Petersen said.