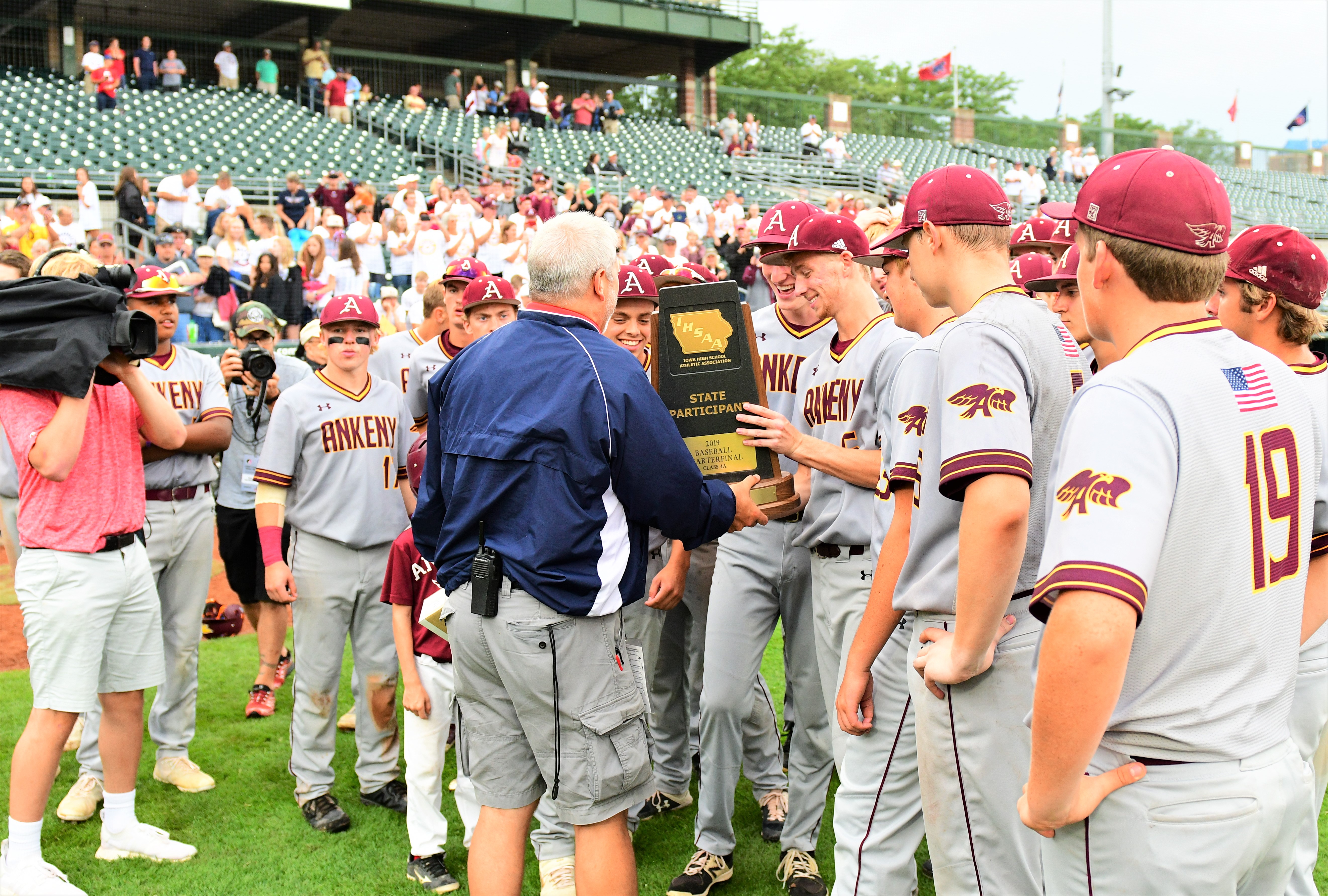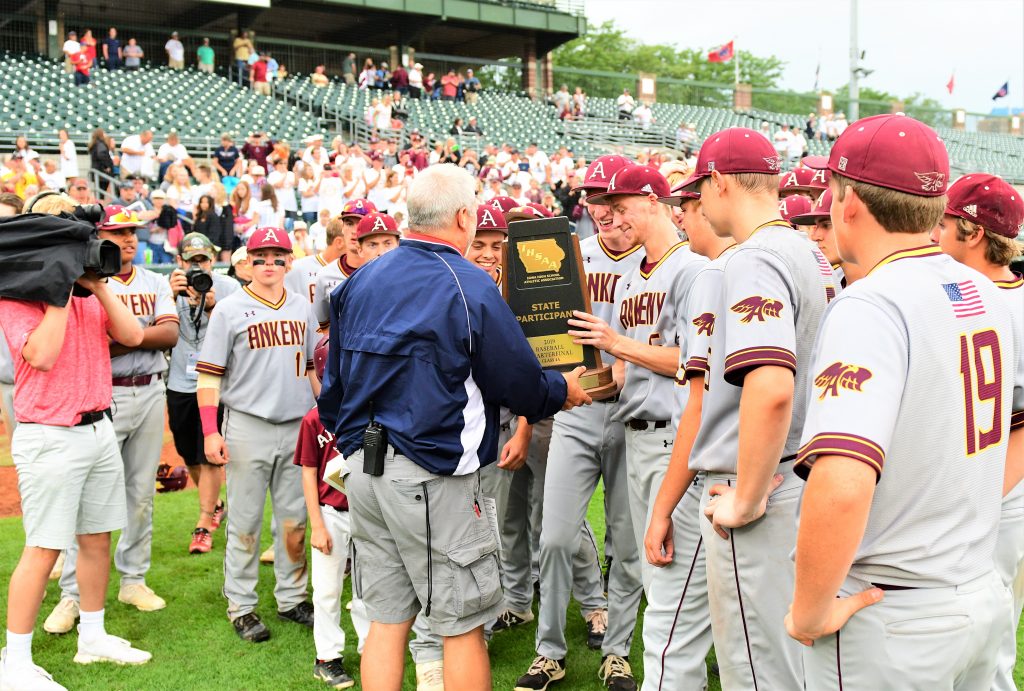 Johnston baseball coach Michael Barta wasn't excited about his team's matchup against CIML Central Conference rival Ankeny in the quarterfinals of the Class 4A state tournament at Principal Park.
Barta knew the Hawks were a dangerous No. 8 seed.
"(Ankeny's Joe) Balvanz is a great coach," Barta said. "They have tremendous talent–(Brody) Brecht shut us out (on June 19). I'll be honest, I didn't want to play them. I'll be the first to say it. I thought their pitcher–when he's on the mound–they're one of the best teams in the state of Iowa."
Despite his concerns, Barta's top-ranked Dragons advanced to Friday's semifinals with a 6-0 victory on Wednesday afternoon. Johnston (35-5) is seeking its second state title in three years.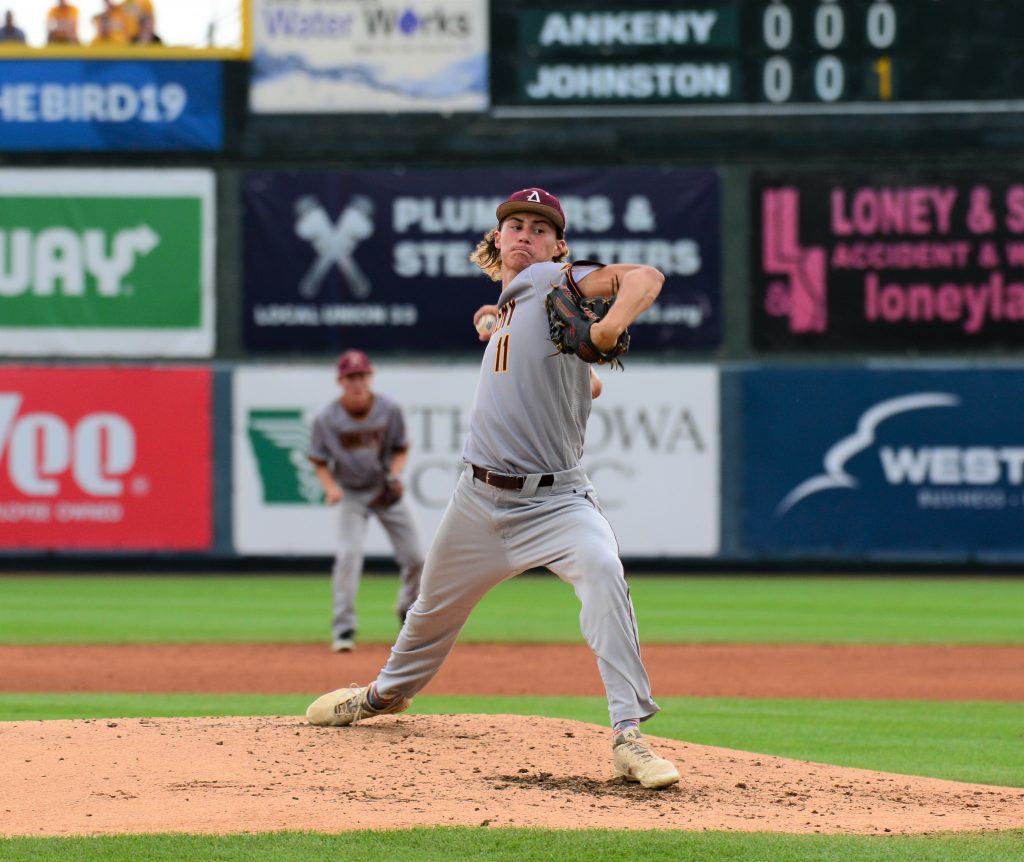 "They're a good hitting team, so you don't want to give them anything special," said Brecht, who allowed four runs before being relieved in the fourth inning. "You don't want to leave anything over the plate, but in doing that I threw some balls, got some walks and they got runners on base. I'd have to fight back, I'd get down in the count and then they'd get a fastball over the plate and then they'd make you pay, so I've just got to do a better job of throwing strikes ahead of the count."
The loss ended Ankeny's five-game winning streak. The Hawks finished the season with a 21-18 record.
Ankeny qualified for state for the first time since 2013. With seven sophomore starters, the Hawks will return a talented squad next year.
"We talked about that…that you certainly need to enjoy this, but you never know (what will happen in the future)," Balvanz said. "You could get in a really tough substate the following year or have a bad game in the postseason, so you have to enjoy this time. But it's also really important that we stay focused and continue to work and push ourselves and get better so that we take another step in the next year."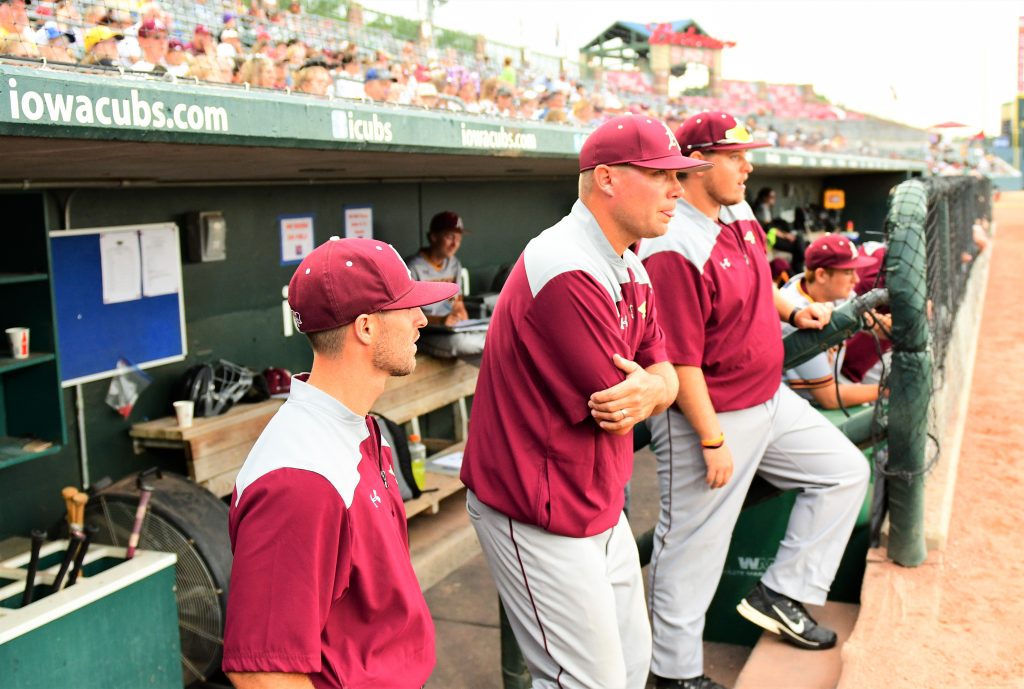 Ankeny had split four meetings against Johnston during the regular season. Brecht was the only pitcher to hold the Dragons scoreless in a game, but he was unable to duplicate that brilliant performance on Wednesday.
After needing 43 pitches to get through the first two innings, Brecht could not escape another jam in the third inning. Johnston loaded the bases with one out as Peyton Williams was hit by a pitch, Andrew Nord singled and Cade Moss walked.
"During practice we had a week to prepare, and we knew (Brecht) was throwing," said Nord, who went 3-for-3. "We knew what we needed to hit was his fastball, and we trained at a high velo because that's what he throws. We executed that well today."
Jacob Swansen hit a sacrifice fly to break a scoreless tie. Jake Thilges then followed with a two-run double to center field.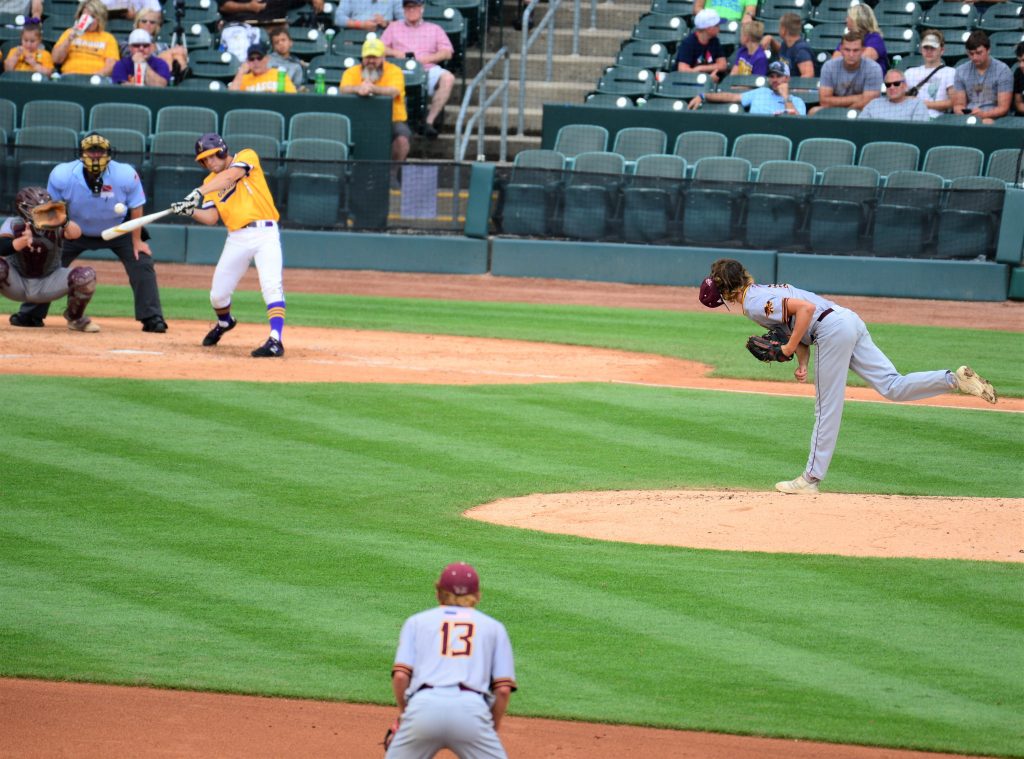 "We've seen Carter Baumler (of Dowling Catholic), we've seen (Ty) Langenberg from Urbandale and a few other guys that throw high-80s and low-90s," Nord said. "We just stepped up big today as a team."
The Dragons again loaded the bases with one out in the fourth. Brecht (6-3) was replaced by Chris Spear after walking Williams on four pitches.
Brecht left after throwing 84 pitches.
"That was kind of our plan. We wanted to work his pitch count," Barta said. "He's just so good that you just kind of want to work that guy out of the game and hope to get into their (bull)pen. But actually, the kid that came in was great. Spear was solid and threw strikes, so I was really impressed with their pitching. Our guys just kind of grinded and had a couple big hits, and that was it."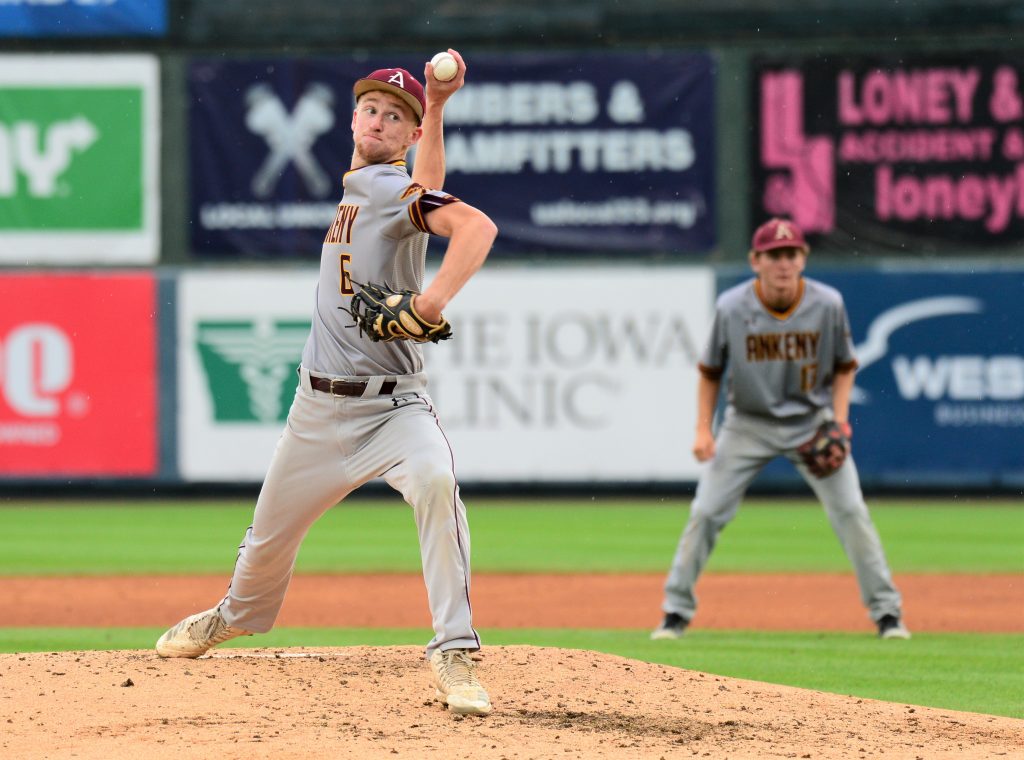 Nord greeted Spear with an RBI single to make it 4-0. He added an RBI triple in the sixth, then came home on a single by Moss.
"It was a battle," Barta said. "The scoreboard doesn't represent how tight that game was for a long time."
Johnston lefthander Jacob Tobey (8-1) combined on a three-hitter with two relievers. He defeated Ankeny for the second time this season.
Tobey took a perfect game into the fourth inning before Mo Watson hit a one-out single to center. Brecht then lined out to second baseman Gabe Swansen, who fired to first to complete an inning-ending double play.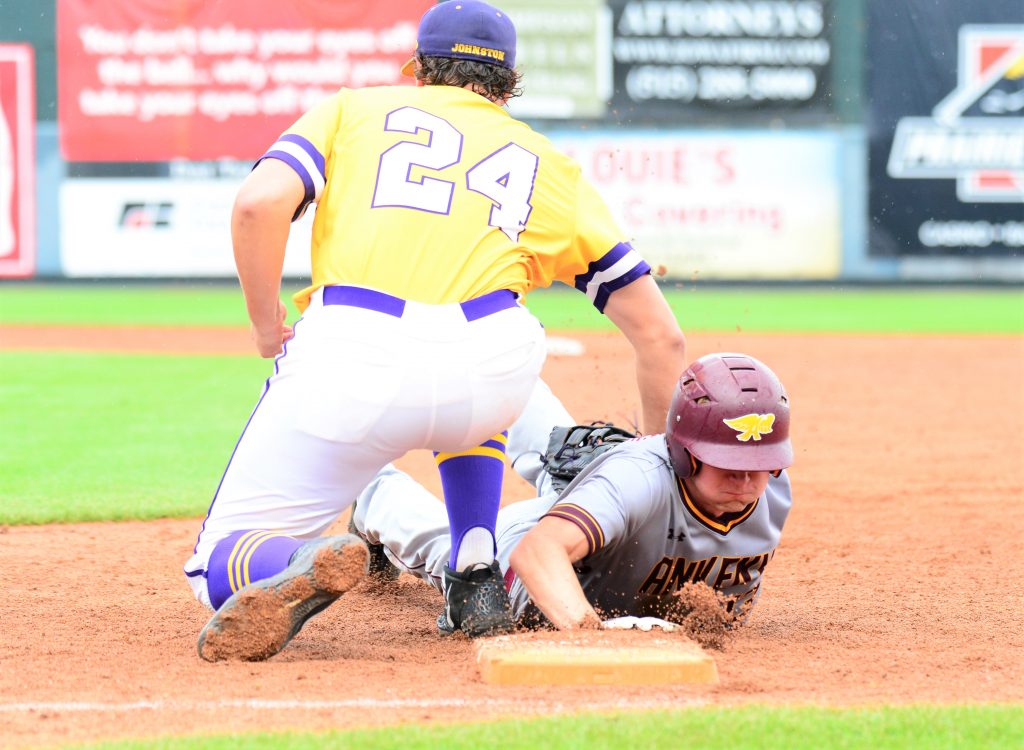 "He's a great pitcher," Brecht said of Tobey. "He can locate three pitches very well consistently, so he's a good pitcher. But we have to do a better job of hitting the ball."
Tobey, who had seven strikeouts, faced the minimum 15 batters through five innings. He gave up an infield single to Cooper Cox in the sixth, then left the game after throwing three pitches to the next batter, Spear.
Because he had thrown just 65 pitches, Tobey could throw again on Saturday if Johnston reaches the Class 4A title game. The Dragons will play fourth-seeded Dowling (31-11) in Friday's semifinals.
Ben Wilmes replaced Tobey and retired the next three hitters. Jacob May then got the final three outs for the Dragons, working around a one-out single by Brecht.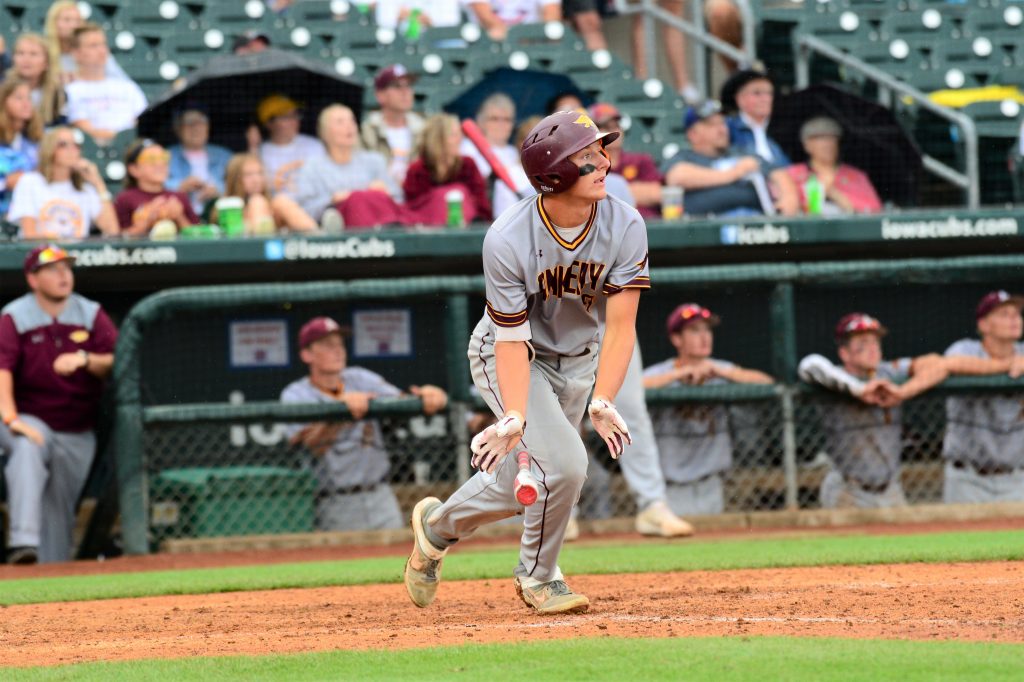 The game ended when Jase Bauer hit a deep fly ball to center that was tracked down by Reece Anderson.
"They battled their tails off all day, and they proved that they could hang," Balvanz said. "We got in some two- and three-ball counts, and you saw how explosive that offense is. They're an impressive team, and they're the No. 1 seed for a reason. We had a bunch of young guys out there, and I think this was a tremendous experience for them. I'm very proud of the work and the effort and how they played together, even when we got down a little bit. There was no hanging their heads. We just kept battling. It didn't go our way today, but we're going to make sure we put the work in to try and get back here."
The win allowed Johnston to avoid being an upset victim for the second straight year. The Dragons were also seeded No. 1 in 2018, when they lost to Cedar Rapids Washington in the quarterfinals.
"We felt a little bit (of pressure) but not really," Nord said. "We just knew if we executed our jobs and took our training to the game, we'd be just fine."