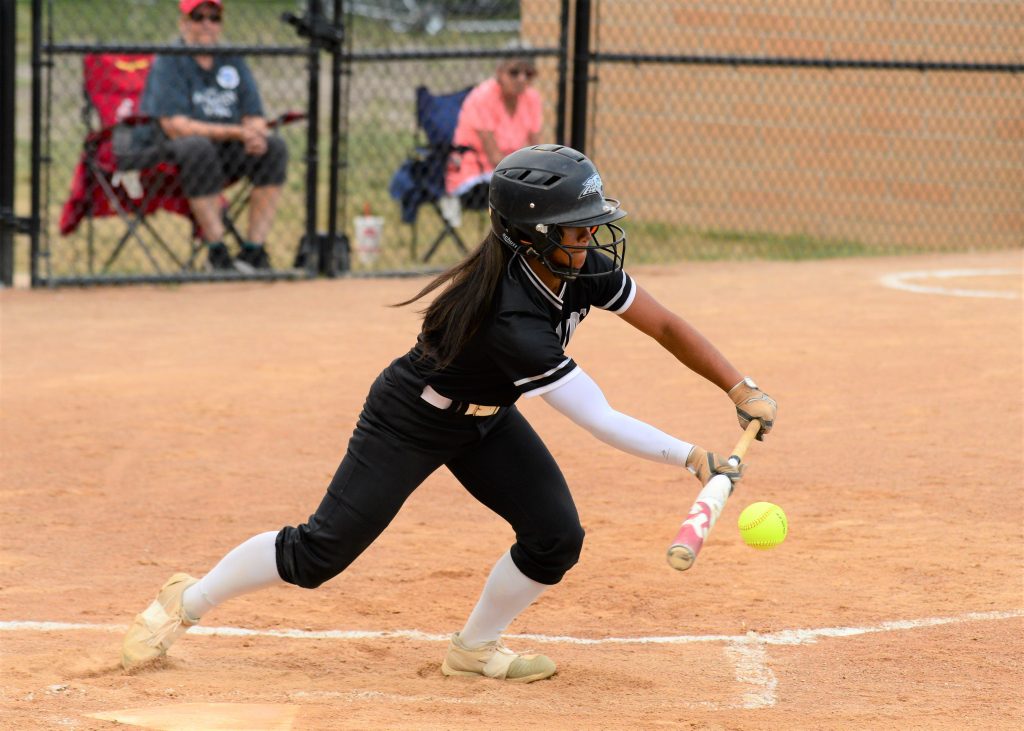 Junior shortstop Franie Burnett helped the Ankeny Centennial softball team to a 26-12 record, the winningest season in school history. She led the Jaguars in six different offensive categories–hits (48), runs (45), doubles (11), stolen bases (22), walks (20) and batting average (.403).
Burnett was named to the Class 5A all-state second team by the Iowa Girls' Coaches Association. She was also selected to the Class 5A West all-district team, and she was a unanimous pick to the CIML Central Conference first team.
Here is some inside info on Burnett:
Congratulations on an outstanding season. Overall, were you happy with the season that you had personally?
I definitely was happy with the season I had. There are always things to improve and get better at. However, I am happy with it in a personal aspect and a team aspect as well.
Obviously, your season didn't end the way you wanted it to–with an 8-6 loss to Des Moines Hoover in a Class 5A regional semifinal on July 13. Did it take you awhile to get over that loss?
It did take some time to get over the loss. It can still be a sore subject at times as that loss also marked the last game I would get to play with an incredible number of players with whom I have grown very close to.
What was the highlight of your season?
My highlight wasn't a hit or win against a certain opponent. For me, I think the highlight came from our final game against Hoover. Although the game didn't end in our favor, there were moments during the game that I can never forget. The fight and sense of togetherness I felt from the team throughout the game is unforgettable. A 6-1 deficit midway into the game would have made it easy to falter and give up, but that wasn't how we responded. Girls turned to each other and exclaimed "Lets go!" or "We've got this!", and there was just this feeling of unity; the pieces had all come together and we were playing for each other and that was definitely really cool to be a part of. Despite the fact we lost that game, it was still the highlight of my season because of the moments I shared with my teammates.
If your team had won that game, how do you think you would have matched up against Valley–the eventual state champion–in the regional final?
It's hard to say how that game could have gone because that wasn't how it played out. Based off of the positive direction our team ended the regular season with, I believe we would have competed if the outcome against Hoover had been different. Ultimately, I believe that if we would have gotten the chance we would have competed and fought from the first pitch and given it our all. Not taking away from Valley's successful program, I believe our team would have matched up but again it is hard to say because that wasn't how it played out.
Were you happy that Valley and your former teammate, Haley Gatica, went on to win the championship?
It's definitely a bittersweet moment when a former teammate achieves a goal that so many strive for. I say it's bittersweet because it's not just our team but every team that works for the chance to compete at the state championship. Ultimately, I am happy for Haley as it is a wonderful accomplishment, but it's definitely something to keep working toward in hopes my team is able to achieve that goal as well.
Did you attend any of the games at the state tournament?
I attended the Class 4A and 5A championship with some of my friends.
Your team will have to replace 10 seniors, including several starters. What will you miss the most about the girls in that class?
There is so much that will be missed–the enthusiasm, leadership, ability, personalities and authenticity. Each senior brought their own unique element to the team. I think what I will miss most from the graduating class is the bond I shared with them. Having played with most of that group for years, there was a special relationship formed with each of them which is something that can't just be replaced. The bond we had made our team strong and connected, and it's that piece of the game I will miss most on the field.
Do you think there's enough talent in the program to replace those girls next year?
There is tremendous talent coming up, and I think those younger girls will have an opportunity to compete for spots at the varsity level. However, most of the graduating class had previous varsity experience that exposed them to the different pace the varsity level brings which in turn brought an element of maturity to their game. I don't think talent is much the piece that will be hard to replace but more the experience and sense of maturity for the game that comes with that experience.
Now that you'll be a senior, will you try to become more of a leader for the team next season?
I do have a goal to be more of a leader this upcoming year. To specify, I would like to be a more vocal leader.
Would you like to play softball in college? Have you received any offers, and have you looked at any schools?
I do have aspirations to play softball in college. There are schools in-state and out of state that I have looked/am looking at. It would be a really cool opportunity to attend a school that fulfilled both my athletic and academic desires.
What do you want to study?
Right now I am leaning toward studying chemical engineering.