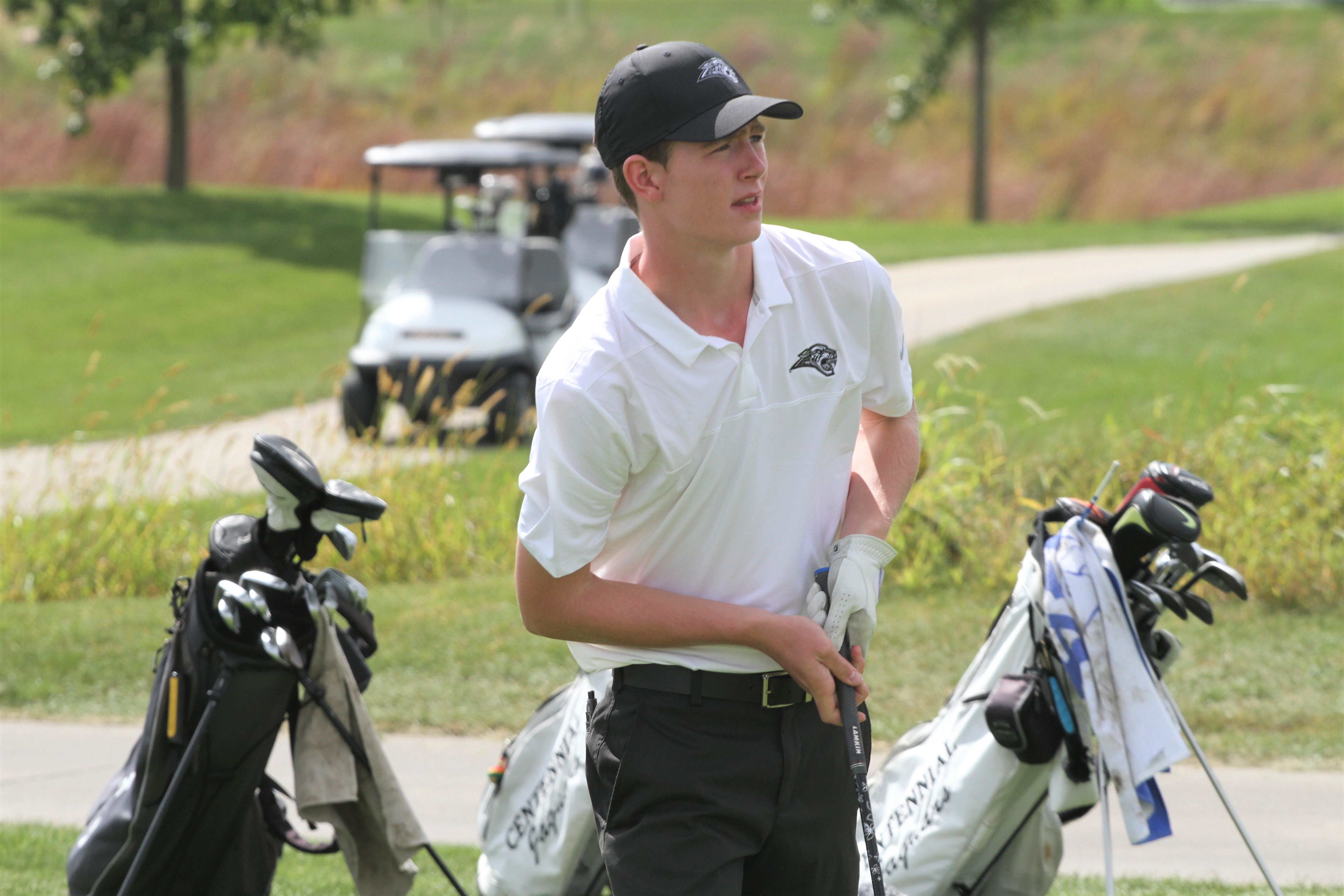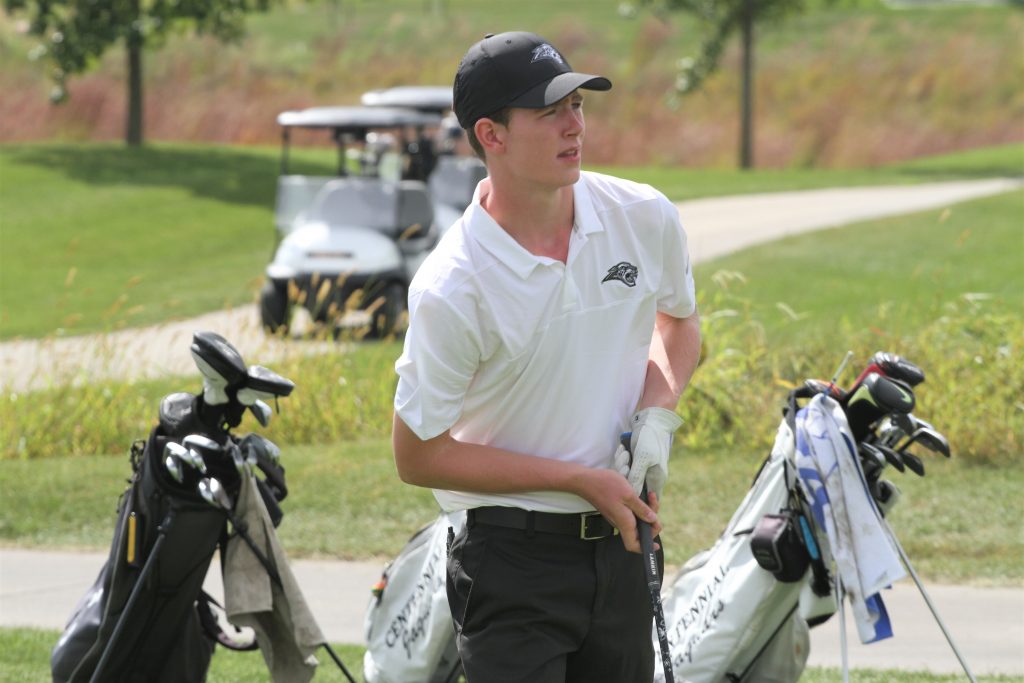 Senior Drake Ellgren is the top returning player for the Ankeny Centennial boys' golf team. He placed fourth on the squad a year ago with a 40.7 average.
Ellgren helped the Jaguars to a 3-2 record. He carded a 37 to earn medalist honors in a victory over Urbandale and later shot a 78 to place ninth at the CIML Central Conference meet.
Here is some inside info on Ellgren:
How was your summer? Did you play in some tournaments, and how did you do?
I had a great summer, and I'm excited to get back on the golf course. After tearing my ACL in my left leg playing basketball in February and having surgery in April, I wasn't actually able to even swing a golf club until July 15. I haven't played any tournaments since last year, but I don't think this will hurt me. I play much better in the tournament atmosphere, and I'll be fresh and ready for the season. I just played as much as I could to get prepared and even got some rounds in with former teammates/great buddies Chris McAleer, Eric Ossian, Russel Rydin and Matt Scharingson.
Did you go on any trips just for fun?
I didn't go on many trips out of state but since I wasn't able to play much golf this year, I spent a lot of time fishing different lakes with my dad and going down to a friend's lake house in southwest Iowa.
Your team will host the Centennial Invitational on Monday. Do you feel like you're ready to open the season?
With the little golf I've played so far this year, my game has actually been pretty good lately. I've shot quite a few rounds in the 70s lately, and I've started to get dialed in. I think not playing as much golf this year is going to help me peak toward the end of the year which is, of course, the most important part. With the golf I've played already I've been very pleased with how I have been hitting the ball lately.
What do you think is the strength of your game?
My biggest strength is definitely my length. I'd like to say I'm one of the longest hitters in the state, which helps me have a lot of short wedges into greens and helps me get to par 5s in two (shots). I've been working on driving accuracy a lot lately, too, so I'm hitting more fairways with driver than I used to as well. This is probably why my favorite golfer is Brooks Koepka–he bombs it off the tee and isn't scared of any other player and plays great in the majors.
Do you have a weakness?
My biggest weakness is probably my iron play. I'm not a bad iron player, but on some holes I'm not getting it as close to the hole as I'd like to with my irons. I think this prevents me from getting as many good looks at birdie as I could be.
Do you think golf is more of a mental or physical challenge?
Golf is definitely more of a mental challenge. If you have the mindset that you're going to play well or hit a good shot when you need it, most of the players with that mindset will make it happen. I think this is one reason why my brother Connor (Peck) was such a great golfer at the high school and collegiate level. It always seemed like he was making multiple birdies after every bogey and never losing focus. I think I've gotten stronger mentally, too, which helps me hole more putts and make more birdies after bad holes.
Your brothers, Connor and Jesse Peck, were both standout golfers in high school. Did you learn a lot about the game from them?
I definitely have a lot to thank my brothers for. Connor has taught me a lot about the game that many coaches can't give you much advice on. I've caddied for him a few times in big tournaments, and I think watching him decide what club to hit and where to hit to definitely helped my course management. He loves FaceTiming me asking about how I play each day and helping me with whatever problem I had on the course that day. Along with this, watching my brother Jesse win a state tournament as a Jaguar was a great moment, as that gave me the drive to play well in those high pressure moments like he did.
As a senior, are you trying to be a leader for the squad?
I'm definitely going to try to be the leader of this team. Being the top returning golfer and having three years of varsity experience under my belt, I think it gives me a lot of knowledge that I can give to my younger teammates and help them succeed at a high level.
Goals for the season?
The main goal this year–as it is for every year–is to make state with my team. Although our team doesn't have as much experience as others, I know we have an incredible amount of talent. All of our top players have a chance at putting up a good score, and once they get a few tournaments at the varsity level under their belt, I think this team will shock some people. I love the group of guys I have on the team this year. They all love the game and have the work ethic to play at a high level. I also want to have my lowest scoring average this year and have some rounds under par or in the 60s. I think my lowest score in high school is a 74, which I know I can easily top this year if I keep working hard.
What other activities do you enjoy besides golf?
Besides golf, I love to hunt and fish. It's been my passion ever since I first went hunting with my dad, and it's my favorite thing to do in my spare time. I love to hunt whitetail deer the most probably, but I love the adventure of any hunt or fishing trip. I even got lucky enough to harvest the biggest deer of my life last year about a month after golf season ended. It is something that you can do your entire life, and I've made countless memories with friends and family whether it be fishing a neighborhood pond with the boys, or elk hunting in the Colorado Rockies with my dad Todd.
Would you like to play golf in college? What do you want to study?
I haven't really pursued to play golf in college. I love playing, but I just don't think it's really for me. I think the smarter thing to do is focus on my education. I've fulfilled my childhood dream, and I've decided to go to school in Ames next year and be a Cyclone. I will be some form of business major like marketing or management. I can't wait to cheer on the football and basketball teams and be a part of the best fan base in the country.