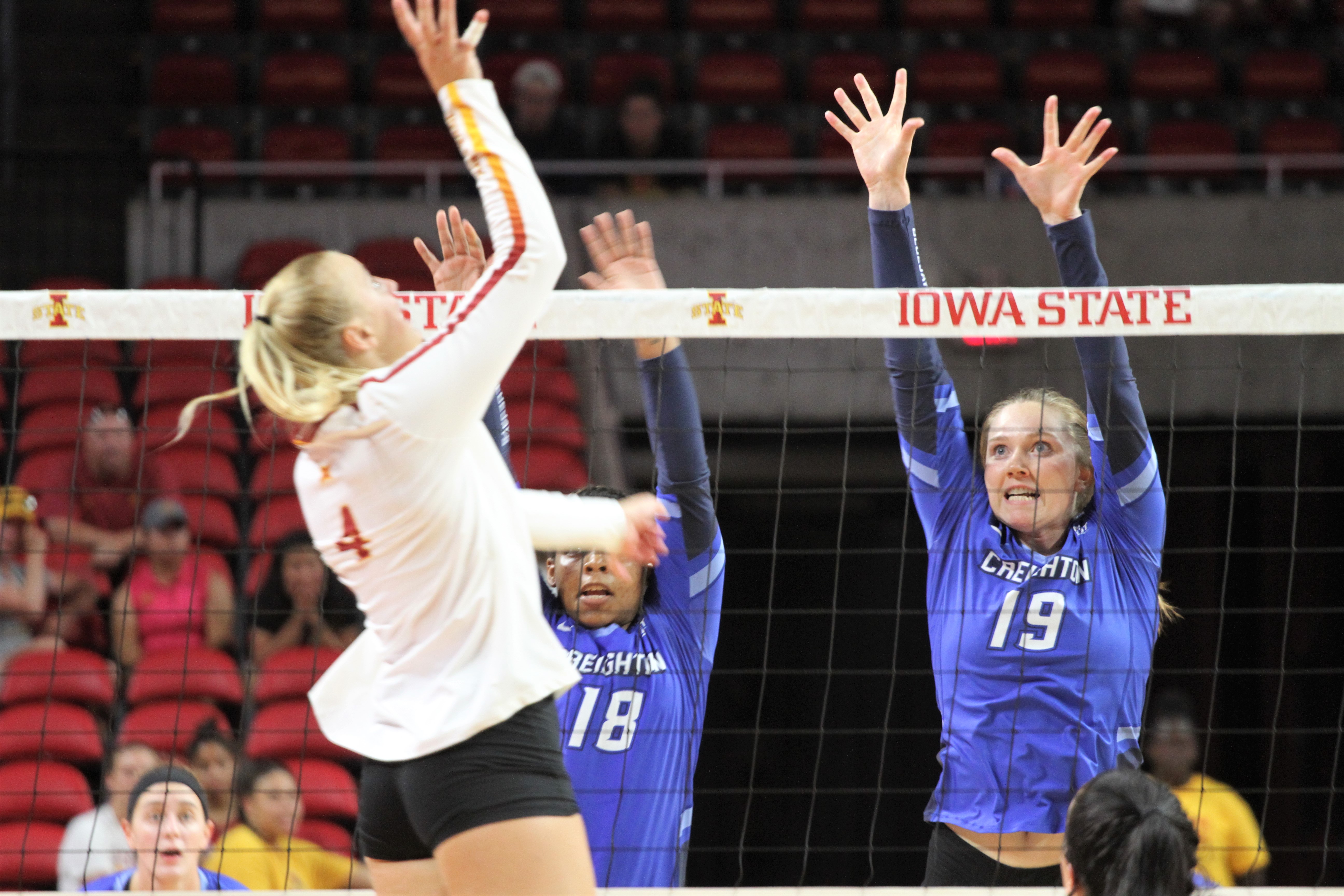 There's a reason why Megan Ballenger's teammates on the Creighton volleyball team call her "Mama Meg".
The former Ankeny star has been a longtime leader for the Bluejays both on and off the court.
"I do cook some food and do some other things for certain people sometimes," Ballenger said on Friday after the Bluejays played Iowa State in an exhibition match at Hilton Coliseum in Ames.
Ballenger, a redshirt senior middle blocker and right-side hitter, is expected to take on an even larger leadership role this season. The Bluejays graduated four seniors off last year's team that posted a 29-5 record, including Jaali Winters, the former Ankeny Centennial star who was a three-time all-American.
"Jaali's been around for awhile, even in high school," Ballenger said. "It's different without her–she's overseas obviously–so it's crazy to not have her now and the other seniors who graduated."
Ballenger has been named to the 2019 preseason all-Big East team after starting all 34 matches last season. She averaged 2.53 kills and 0.87 blocks per set while hitting .305 as a junior.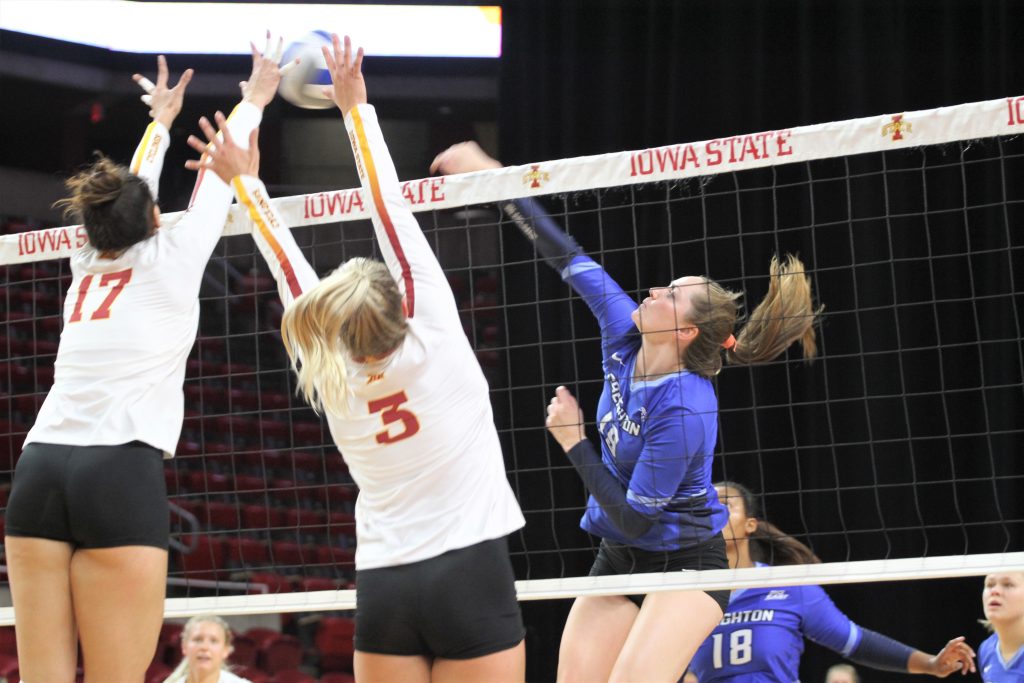 Ballenger's 299 kills ranked third on the team, trailing only all-Americans Taryn Kloth (490) and Winters (451). Kloth has also graduated.
"We did lose some big pieces, so we'll have some new faces on the court," Ballenger said. "But I think it'll be fun to see how it all meshes together."
Creighton is ranked No. 18 in the preseason top 25 poll by the American Volleyball Coaches Association. It's the sixth time in the last seven seasons that the Bluejays have been ranked in the preseason poll, and tied for the third-best preseason ranking in program history.
"I guess that's the expectation now with our program," Ballenger said of the lofty ranking. "When you come to Creighton, we're going to play the best teams in the country and we want to finish really high. It should be a fun season."
Creighton won two of the five sets in Friday's match. Iowa State won the first three sets, 26-24, 25-19 and 25-21, before the Bluejays rallied to win the last two sets, 25-22 and 15-11.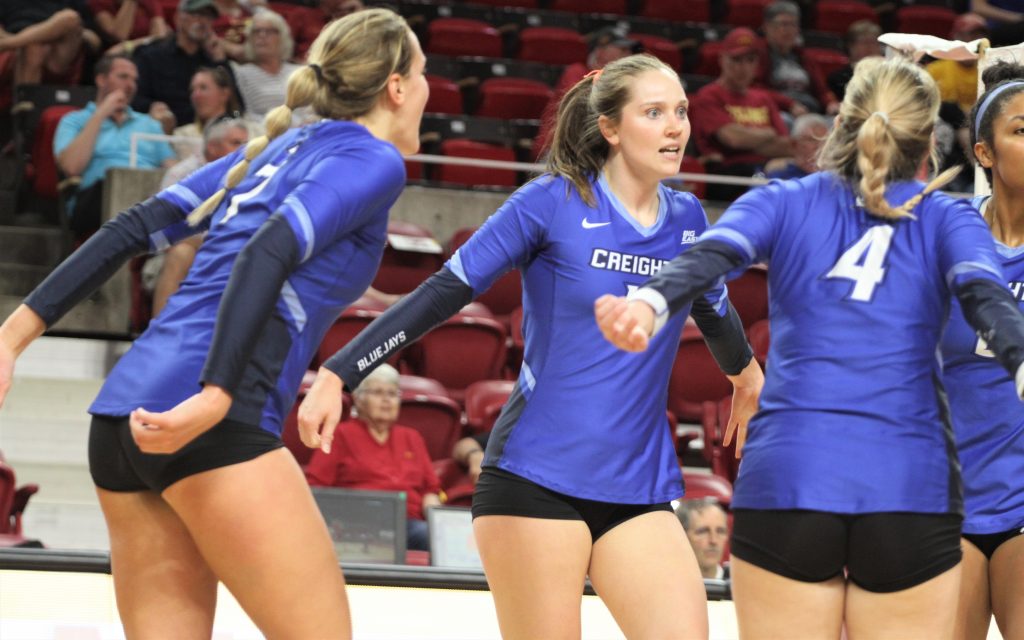 Both coaches agreed before the match to play five sets no matter what, rather than the traditional best-of-five format. This allowed both programs to use as many players and lineups as possible in preparation for the regular season.
"I thought we saw a lot of good things tonight," said Creighton coach Kirsten Bernthal Booth. "Iowa State's far improved from when we played them in the spring. That's what this exhibition is about. It's exciting to get out there and work through some nerves and then go back to work this week."
Statistics for the match were not disclosed, but Ballenger had several kills for the Bluejays. One of her kills closed out the fourth set.
"I feel like we had some good pieces, and that's kind of what our coaches talked about, too," Ballenger said. "We're kind of going back to the drawing board a little bit with certain things and getting a little better at detail-oriented things is really important, but it was nice to get a chance to play another team and put a lineup out there."
Ballenger enjoyed the opportunity to play close to home. She will also return to Iowa next month when the Bluejays play Kentucky, Northern Iowa and USC at Cedar Falls on Sept. 6-7.
"It's always fun to come back," Ballenger said. "My parents and friends had a nice, easy drive up to the game so it's really fun to be close by."
Creighton opens the regular season next weekend at the Husker Invitational in Lincoln, Neb. The Bluejays will face No. 2 Nebraska, the defending national runner-up, on Friday and No. 20 Baylor on Saturday.
Booth is counting on Ballenger to help the Bluejays get ready for their opening matches.
"Megan's been a leader–she was a captain last year–so she's kind of always been a leader for us," Booth said. "She leads by example–actually she doesn't just lead by example–she almost looks like she's got a quiet demeanor, but off the court they call her 'Mama Meg' and she kind of controls things, making sure we're on time and everything is in the right place. But she does lead by example by working hard every day, and the players look up to her."
Ballenger welcomes the additional responsibilities that have been placed on her shoulders.
"I think my leadership role has changed a little bit," she said. "I kind of have to take that over a little bit more, but I think I'm doing all right and I have the support of the other seniors, too. That helps a lot."