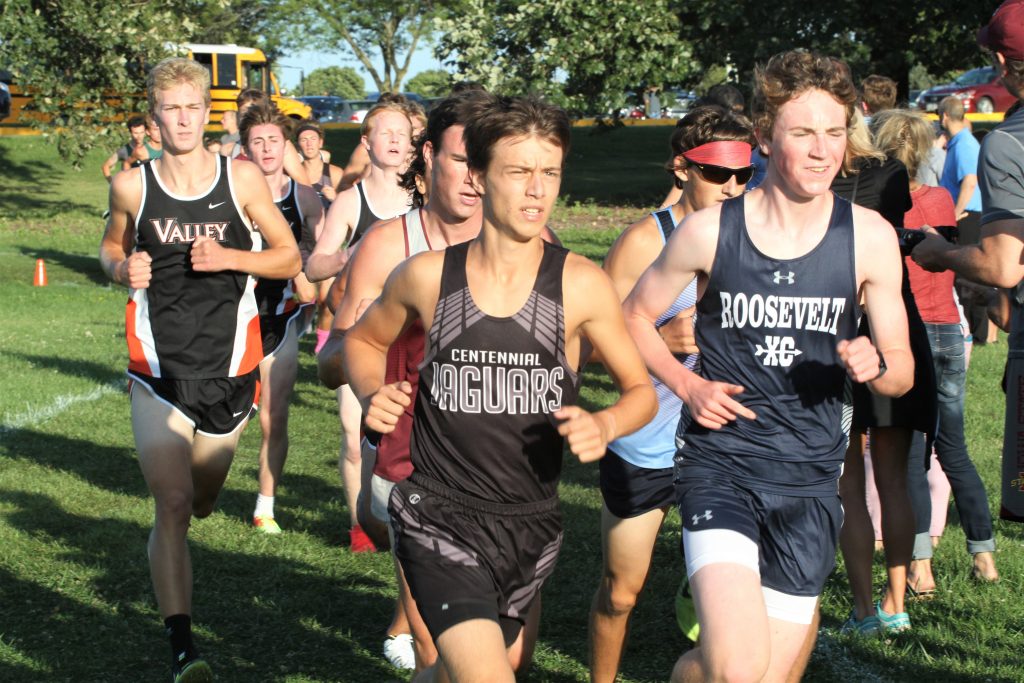 After Ankeny Centennial's Gabriel Vicker crossed the finish line on Tuesday, he immediately focused his attention on his cross country teammates.
Vicker placed second in the 11/12 race at the season-opening Centennial Invitational at DMACC, posting a time of 16 minutes 17 seconds. Three other Jaguars earned top-10 finishes, helping the team to the division title and a runner-up finish overall.
"It was great," said Vicker. "I was really proud of how our team did in general. Connor Cunningham had a fantabulous race. It was amazing to have a moment with all those guys when they came in one by one. We worked hard all summer for this moment, and it was amazing."
Sioux City North won the overall boys' crown with 49 points. No. 13 Centennial placed second in the seven-team field with 57 points, edging No. 12 Valley by five points.
"I thought it was a good race to see where we are at and what we need to work on," said Centennial coach Chad Fickbohm.
Ankeny took sixth with 132 points. The Hawks are trying to rebuild after graduating five of the top seven runners from last year's team that placed fifth in the Class 4A state meet.
"We can pack run really well this year," said Ankeny junior Andrew Poock, who is one of the two returning varsity regulars for the Hawks. "With T.J. (Tyler Hentzel) stepping up, it's going to be a great year, I think."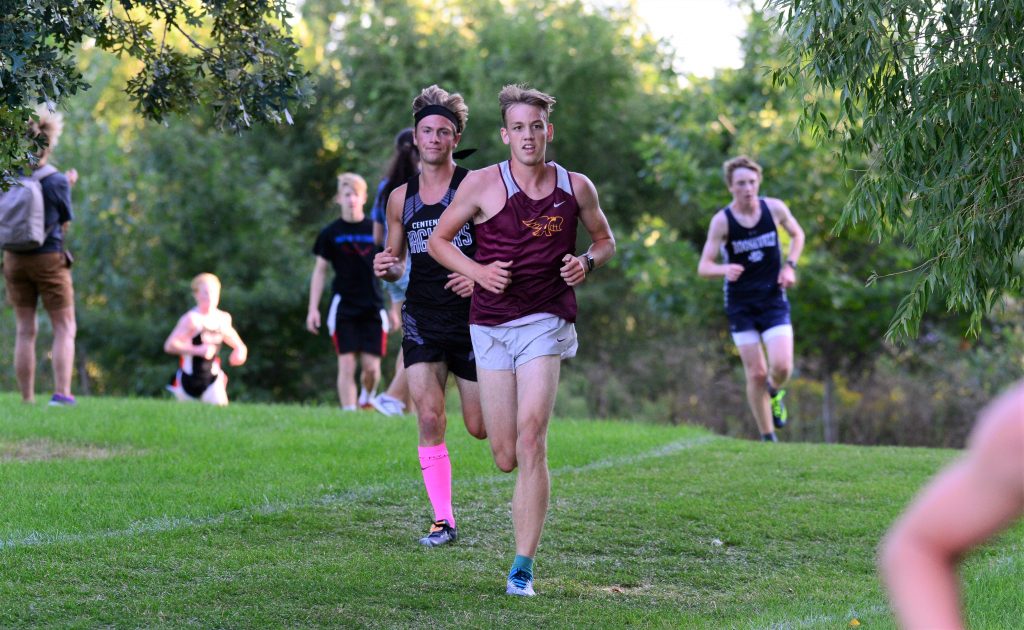 Vicker battled for the lead in the 11/12 race most of the way before Sioux City North's Jaysen Bouwers pulled away from the field. Bouwers won the race in 15:52.
"He was in districts my freshman year, and he also ran at this meet last year–the one that was supposed to be in Fort Dodge," Vicker said of Bouwers. "He ran 15:59 (a year ago) and I was 15:53 and I was hoping to come back and repeat that, but I got up the hill over there and my stomach just decided that this wasn't the day."
Cunningham placed fourth for the Jaguars in 16:41. Nate Jones took sixth in 17:03, Kade Christensen was ninth in 17:11, Joe Guddall placed 25th in 17:49, Ryan Bybee was 28th in 18:07, and Abe Brink finished 35th in 18:46.
"The top four looked pretty solid and we know we need to close the gap on the top four," Fickbohm said. "It's just a matter of learning how to race and wanting to step up. We have a lot of season to improve on this start."
Centennial won the 11/12 division with 46 points, edging Valley by two points.
"I can't believe where we're at as a team," Vicker said. "This is only the beginning of the season, so it shows the potential that we have."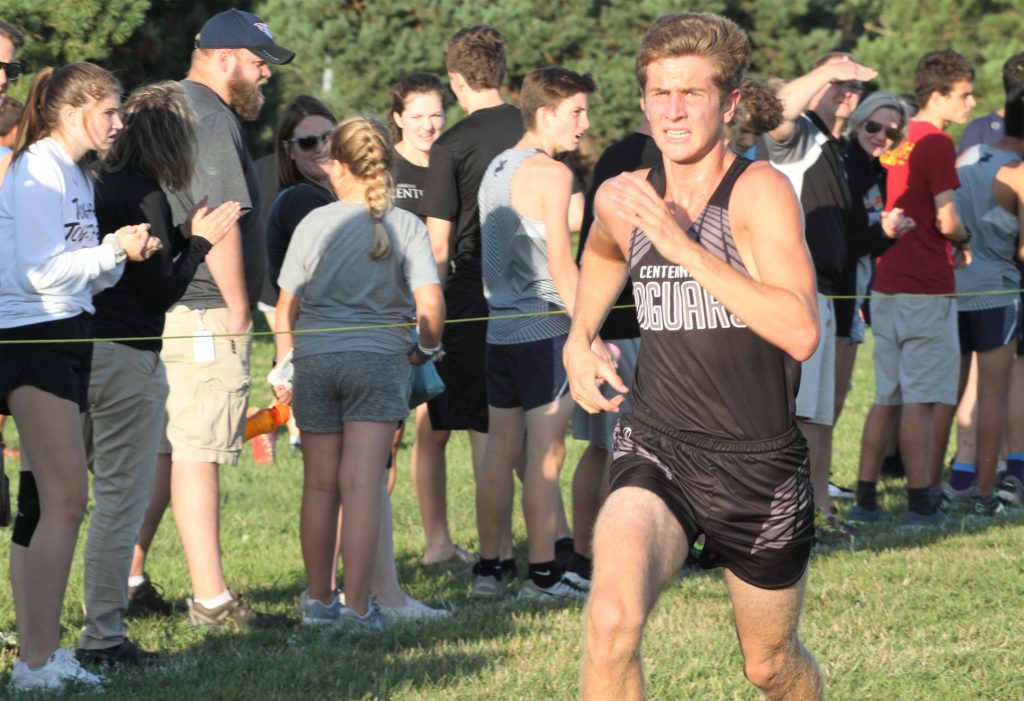 Hentzel placed eighth in 17:10 to lead the Hawks. Poock finished 11th in 17:18, Cael Cox was 29th in 18:09, Marc Medici took 30th in 18:18, and Anders Peterson placed 32nd in 18:26.
"It felt really good," Poock said. "I PR'd by a couple of seconds, so that was a good start to the season. It was a really nice day so that helps."
Ankeny's Paul Erredge placed eighth in the 9/10 race in a time of 17:54. Teammate Levi Hill was 10th in 18:04.
Four other runners placed 13th to 16th for the Hawks, who took second in the 9/10 division. Centennial's top finisher in the race was Cameron Larson, who placed 25th in 19:06.
Although the running conditions were nearly ideal, there was a gusty wind at times.
"It was a little windy down that stretch, but you just have to focus on your drive and keep your form together," Poock said.