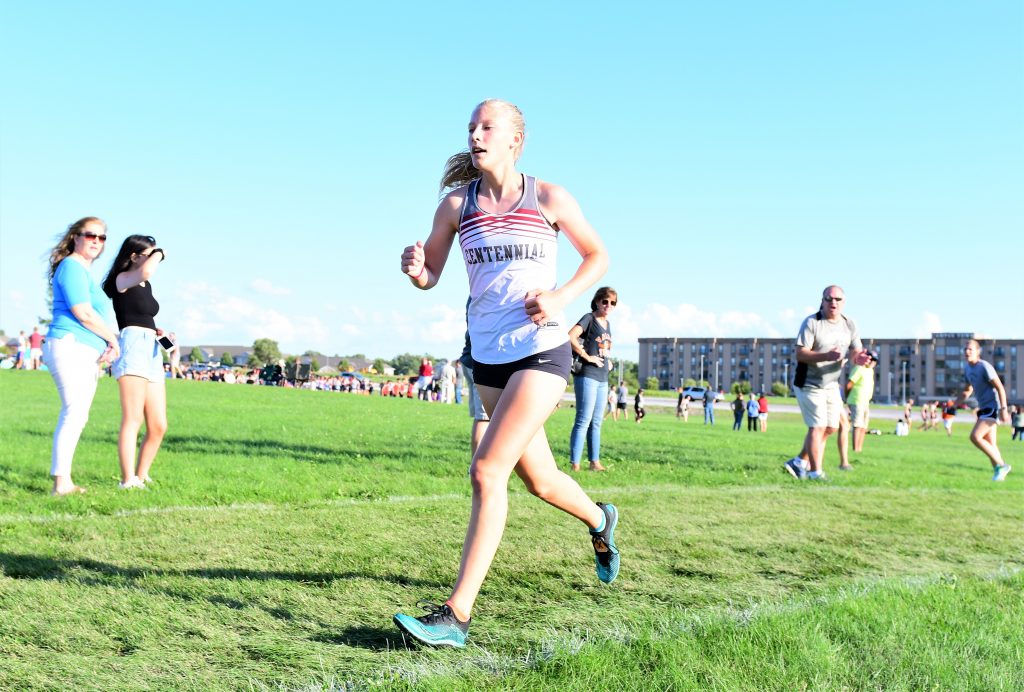 Ankeny Centennial cross country runner Kathryn Vortherms had two different messages written on her arms for Tuesday's season-opening Centennial Invitational at DMACC.
She wrote the word "positive" on her right arm. "I give up control" was written on her left arm.
"It's a lyric from a song. It's for King & Country–one of their songs," Vortherms said of the Bible verse from Phillipians. "It reminds me during my race that I can do the best I can, but in the end I'm not in control–God is."
Vortherms led the Centennial girls' squad to a runner-up finish in the nine-team field. She placed fifth in the 11/12 race with a time of 19 minutes 28 seconds.
Top-ranked Johnston, last year's state runner-up, won the overall team title with 22 points. No. 11 Centennial scored 63 points, finishing 13 points ahead of No. 15 Dowling Catholic.
"Collectively, this was one of our best season openers," said Centennial coach Eric Cogdill. "Historically, we are more sluggish here."
Ankeny placed fourth with 125 points.
"Our Hawkettes ran very well for our first meet of the season, competing with some of the top teams in our state," said Ankeny coach Eric Klingensmith. "With our top seven at or under 22 minutes, we have a base to build from and plan to continue shaving our times to become even more competitive as the season progresses."
Vortherms took the early lead in the 11/12 race. That wasn't part of her strategic plan.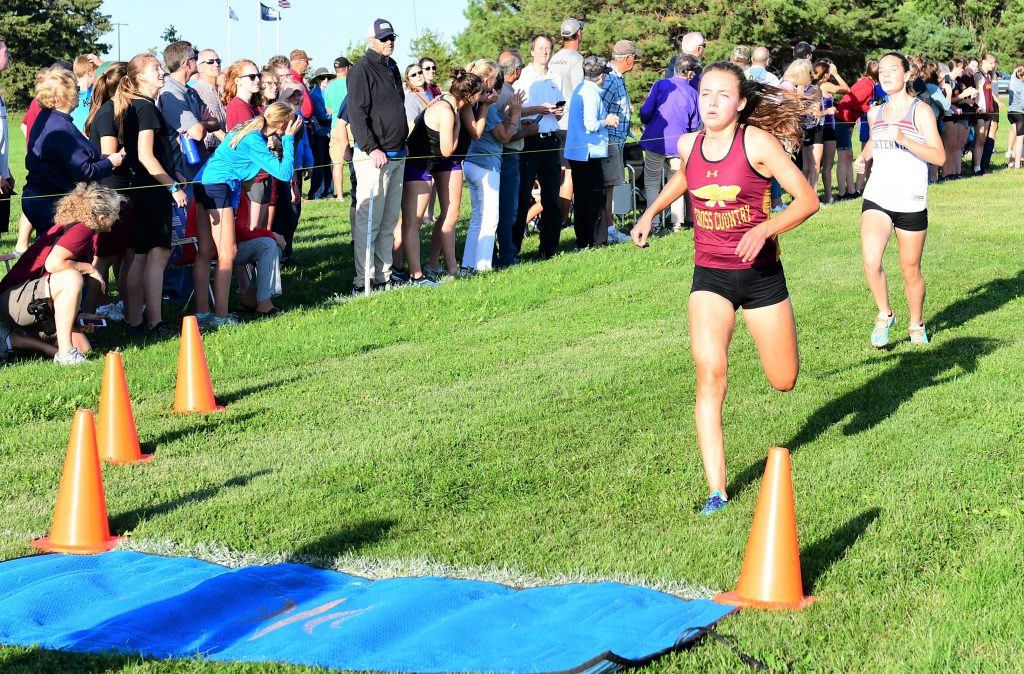 "I was supposed to only be in the top 10, so that was a surprise," she said. "I just felt good."
Johnston's Brooke McKee eventually pulled away to win the race in 18:38. The Dragons placed four runners in the top six.
"We have a strong team," Vortherms said. "Johnston was a good measuring stick for us."
Centennial's Morgan Graybill took eighth in 19:59, Sophie Lee was ninth in 20:01, Jeanne Peters placed 14th in 20:30, Jennifer Jordan was 16th in 20:33, and Kierstan Fritz finished 17th in 20:38.
"Just about everything went right in the 11/12 race," Cogdill said. "Five of our top 11 in that race ran lifetime bests, including our top two runners which will lift us greatly this fall."
Madeleine Murphy led the way for Ankeny. She placed 15th in a time of 20:32.
"I was a little bit nervous, but I just came out ready to try my hardest," Murphy said. "It was a little rough, but still felt good."
Murphy completed her softball season last month. She then scrambled to get into shape for cross country.
"I feel like it always is (hard to catch up), because everybody is already training over the summer and already getting better," Murphy said. "Right when (softball) was done, I jumped in as soon as possible."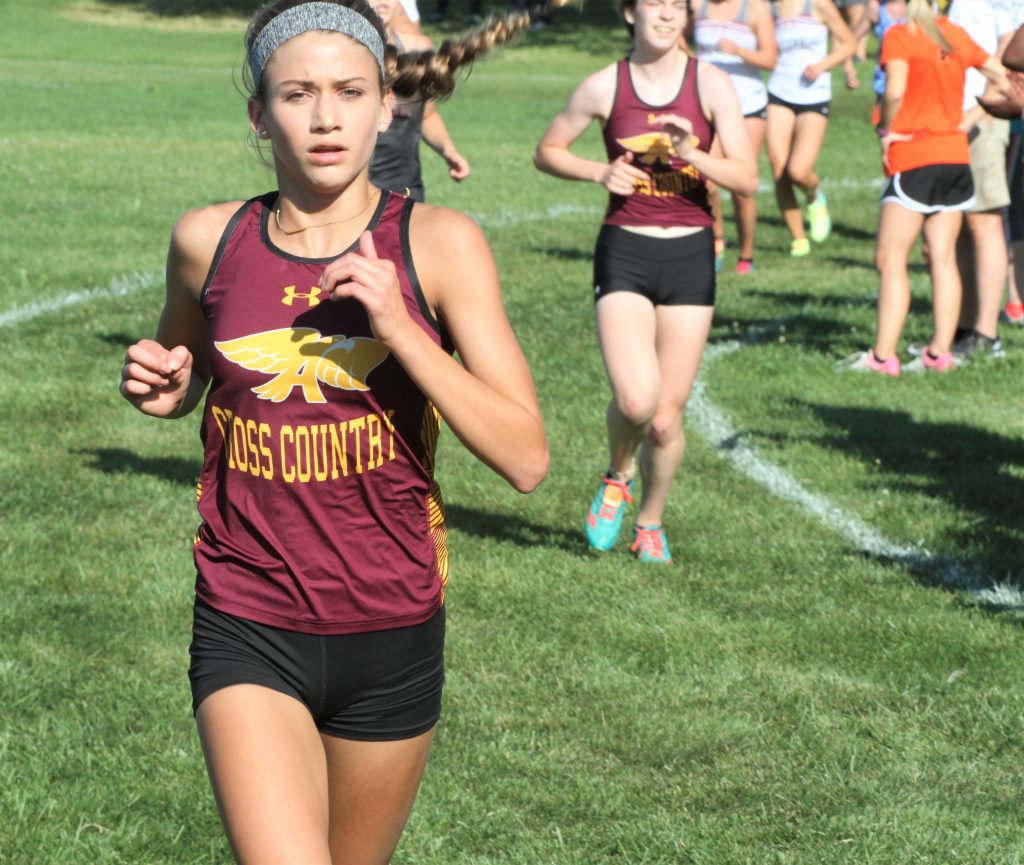 Marika Kisgen placed 20th for the Hawkettes in 21:03. Megan Bosch was 22nd in 21:08, and Lauren Clark finished 25th in 21:21.
Ankeny freshman Jenna Pitz placed fourth in the 9/10 race in a time of 20:37. Maddie Walsh was 17th in 21:49, and Talia Dosh finished 19th in 22:01.
"With Madeleine and Jenna up front and a tight pack of four behind them in this separated race, it will be interesting to see them race all together in future meets," Klingensmith said.
The Hawkettes competed without senior Fiona Riordan, who was one of their top runners last season. She is out with an injury.
"I have a lot of other great teammates to run with, but I can't wait until she can get back so she can run with us again," Murphy said.
Centennial's Rondi Quass placed seventh in the 9/10 race in 21:02. Three other Jaguars earned top-20 finishes.
"Our 9/10 girls started their races much too quickly as they stated they couldn't hold back their excitement," Cogdill said. "Despite that, they still collected four medal winners to go along with six in the 11/12 race. The younger girls are already looking forward to showing what they've learned about pacing at the next meet."
Cogdill said the Jaguars have created ownership of their squad.
"First and foremost, this team seeks out and shares positivity on a daily basis and that rolls directly into creating a unity that is very strong," he said. "To be certain, they worked hard this summer too and have put together nice workouts this fall, but that is secondary to the team climate."