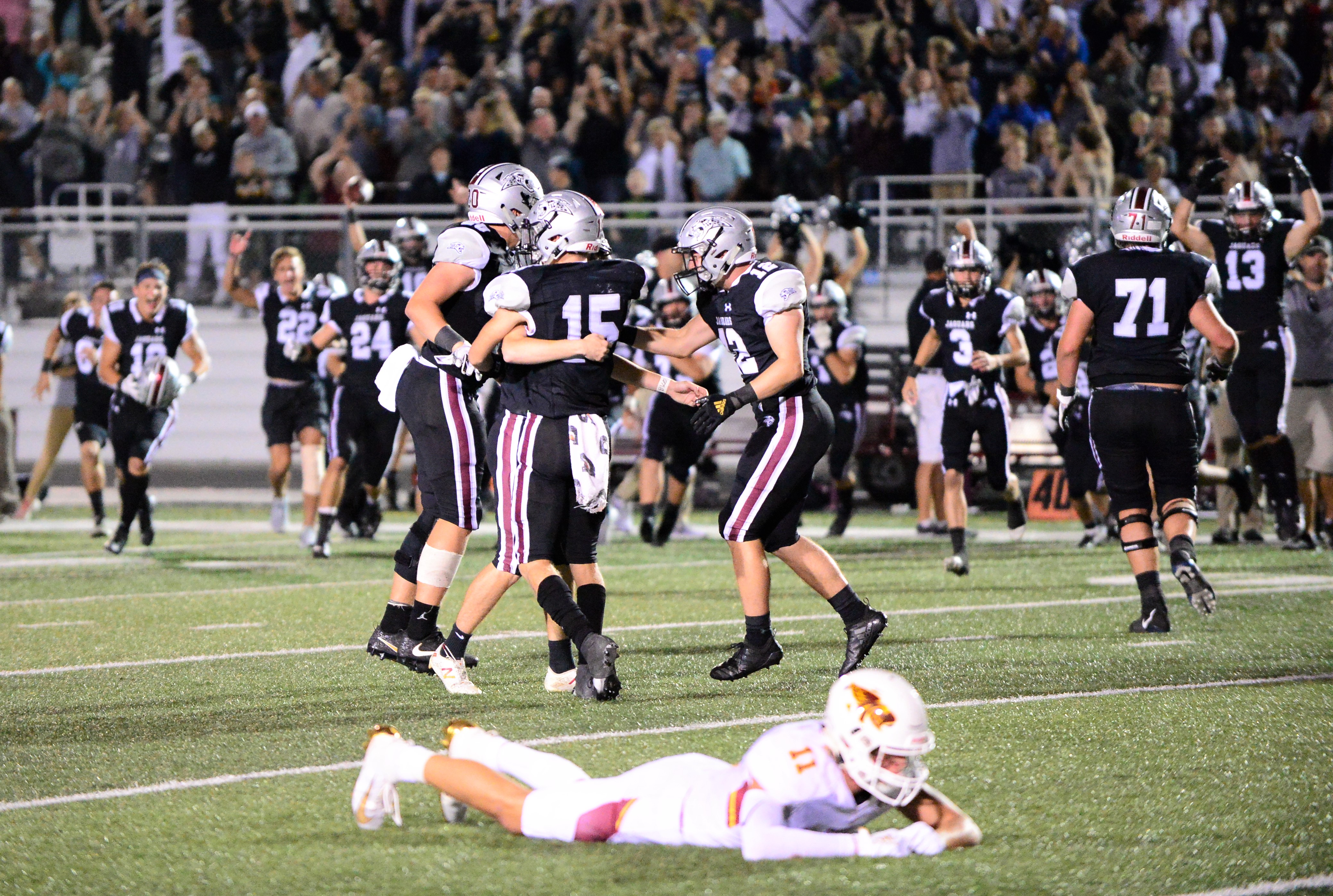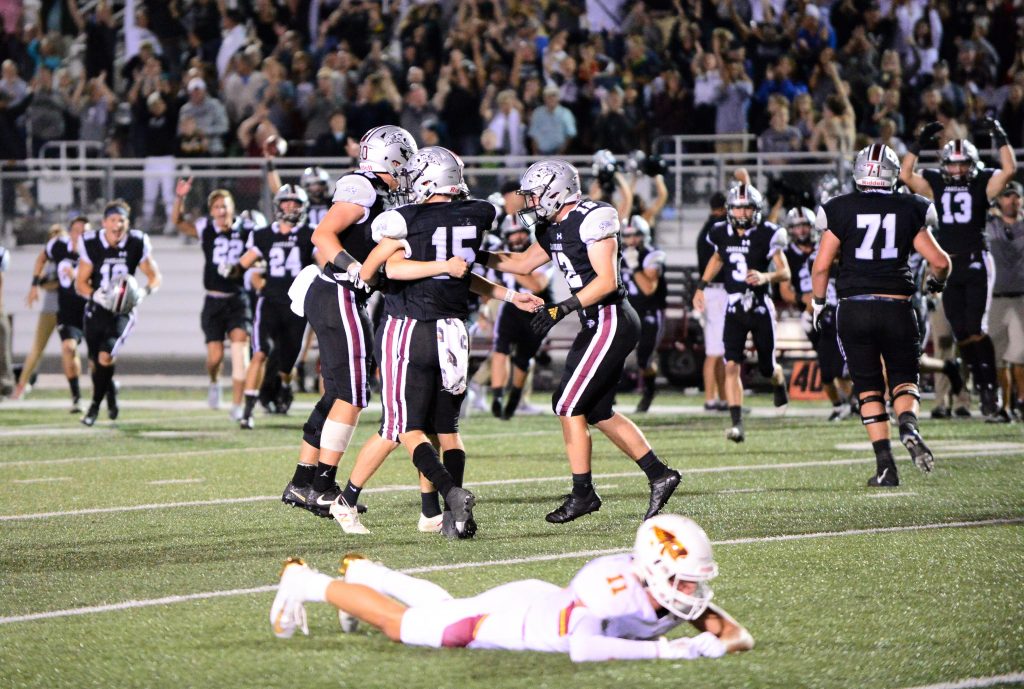 The Great American Rivalry Series could not have picked a better game to feature on Friday night than the Jag-Hawk Bowl.
Crosstown rivals Ankeny and Ankeny Centennial battled into overtime before Connor Page drilled a 34-yard field goal to give the Jaguars a 17-14 victory at Ankeny Stadium.
"I've dreamed about it a little bit," Page said of his game-winning kick. "I've always thought maybe it would be against Dowling or the state championship. But the first game of my football career, I never imagined it would be that."
Centennial defeated Ankeny for the fifth consecutive time. The Jaguars had won the last two meetings by a combined score of 41-0, but they never led in Friday's season opener until Page's kick sailed through the uprights.
"They're a great team," Centennial co-head coach Ryan Pezzetti said of the Hawks. "It could have gone either way. They got after us the first half and came out and executed perfectly. Their defensive line is very, very good–we couldn't block them. We found out a lot of things about us tonight that we can improve on, and we're very grateful for a hard-fought win."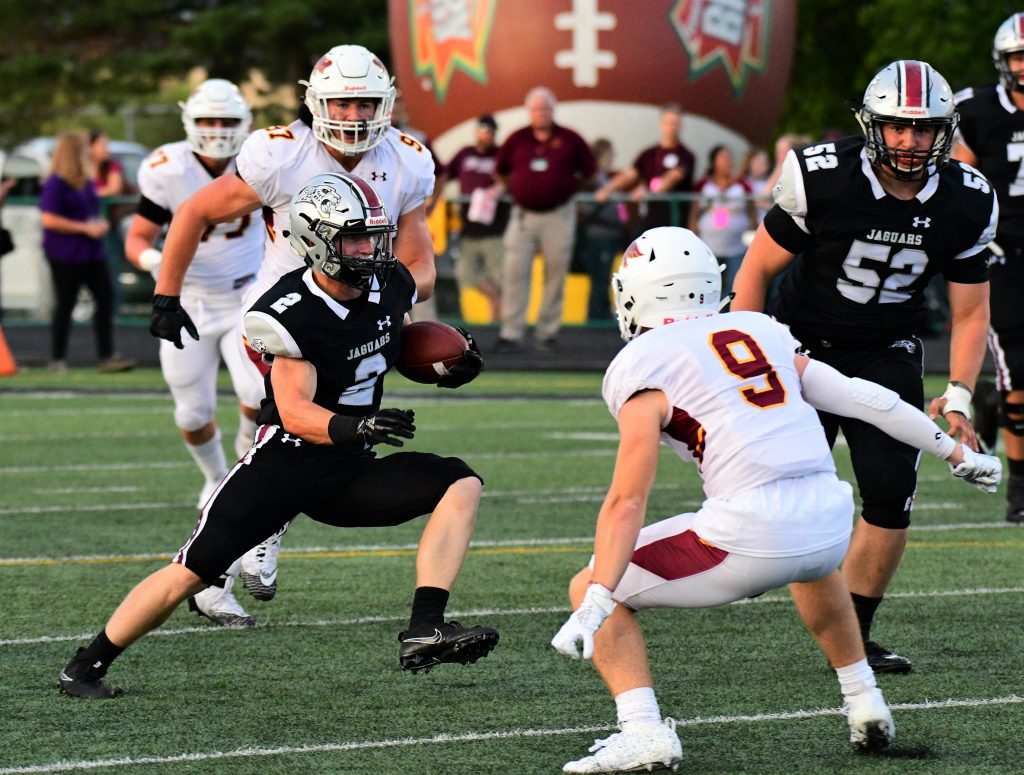 Ankeny took a 14-7 lead when Jase Bauer fired a 19-yard touchdown pass to Kade Somers with 20 seconds left in the third quarter. That drive began with a 35-yard flea flicker from Bauer to Brody Brecht, who earlier caught an 84-yard scoring pass in the first quarter for the Hawks' first points against Centennial since the 2016 season.
The Jaguars turned to backup quarterback Keaton Gray to provide a spark in the fourth quarter, and he guided a 10-play, 73-yard scoring drive that tied the game. Gray carried six times for 37 yards on the drive, and his 1-yard sneak with 2 minutes left forced overtime.
Gray replaced Hayes Gibson, who played at Ankeny last year.
"We all believe this is still Hayes' team," Gray said. "Hayes is going to lead us to a great season, and we're ready for him to do that."
Ankeny had the first possession in overtime, but was unable to move the ball. The Hawks then botched their field-goal attempt.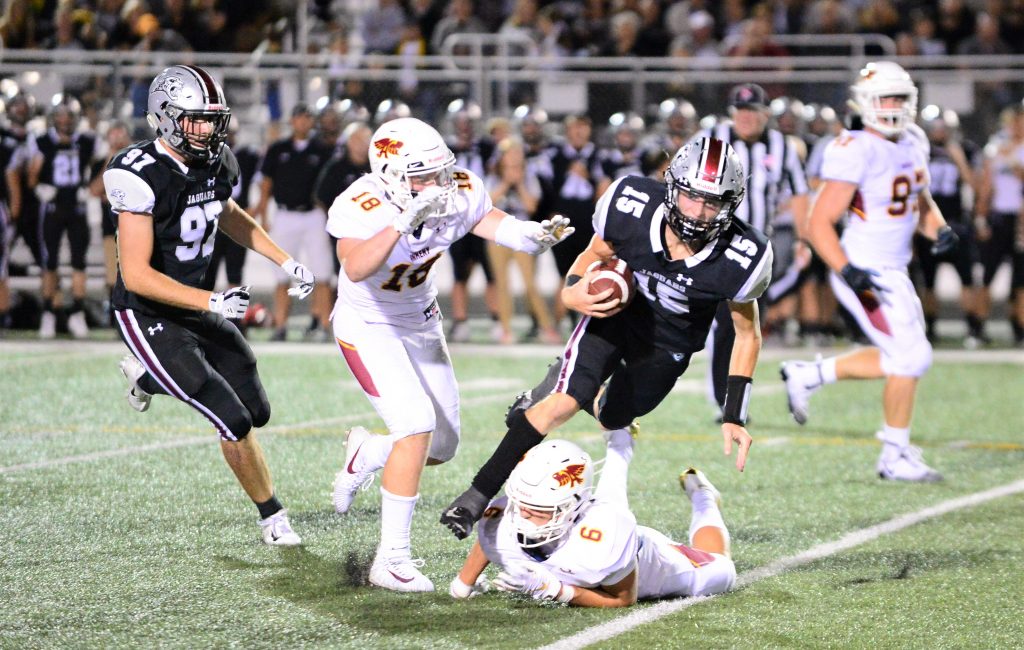 After Centennial lost 2 yards on its first two plays, Gray then fell down for a 3-yard loss while centering the ball for Page's ensuing kick. Ankeny called a timeout in an effort to ice Page, but the strategy failed.
"Coach (Jamie) Kohl always puts me in great situations to make kicks like that," said Page. "The team's been giving me salsa–they just start yelling at me during practice. And I've been practicing for this all my life."
Gray served as the holder on the game-winning kick. He had all the confidence in the world in Page, who also plays for Centennial's boys' soccer team.
"We love him–he's a great kid," Gray said. "And as Jerry (Pezzetti) said, we'd like to thank the soccer team for all that they've done for us this year."
Centennial finished with 240 total yards, 10 more than the Hawks. The Jaguars had just 75 yards at halftime while falling behind, 7-0.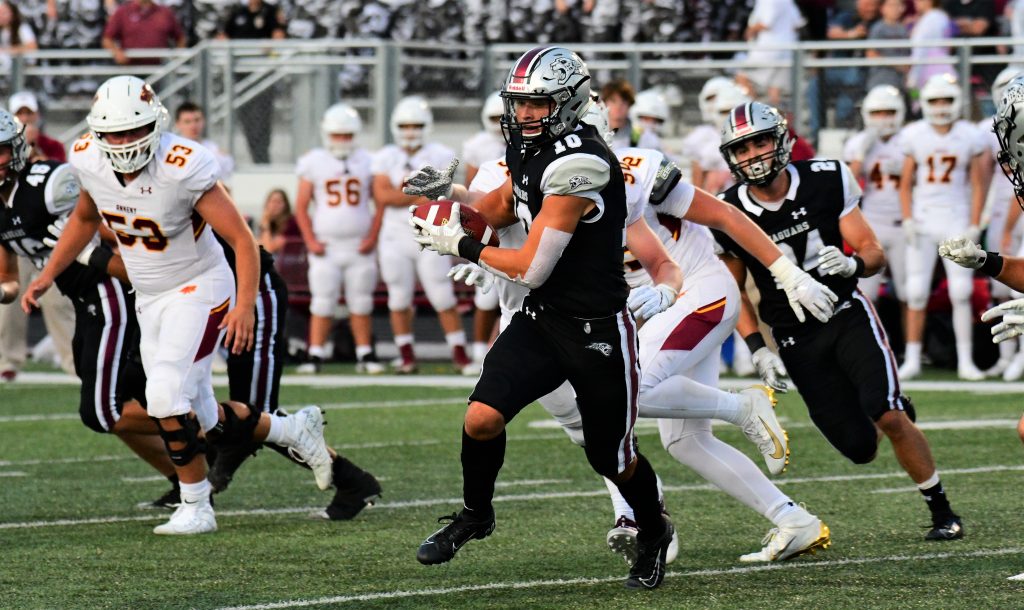 Avery Gates rushed for 112 yards on 21 carries. His 5-yard touchdown run tied the game at 7-7 with 8:15 left in the third quarter.
Gates later had back-to-back runs of 16 and 17 yards on the Jaguars' game-tying drive in the final period. But he was limited by a high ankle sprain the rest of the way.
"I was just trying to do whatever I could for my team. It was a real grind tonight," Gates said. "We had to push every play and every down. I tried to tough it out, but I couldn't. But we got the job done in overtime, and that's all I could ask for."
Gates wasn't the only Centennial player to be hobbled at the end of the game. Gibson also appeared to be limping at times.
"We thought we came into the game in good condition," Ryan Pezzetti said. "In the end we had a lot of kids cramping up, and a few dings here and there. It was a real physical game. Ankeny came ready to play, and my hat's off to them for their effort. We're very fortunate to come out on top in this one."