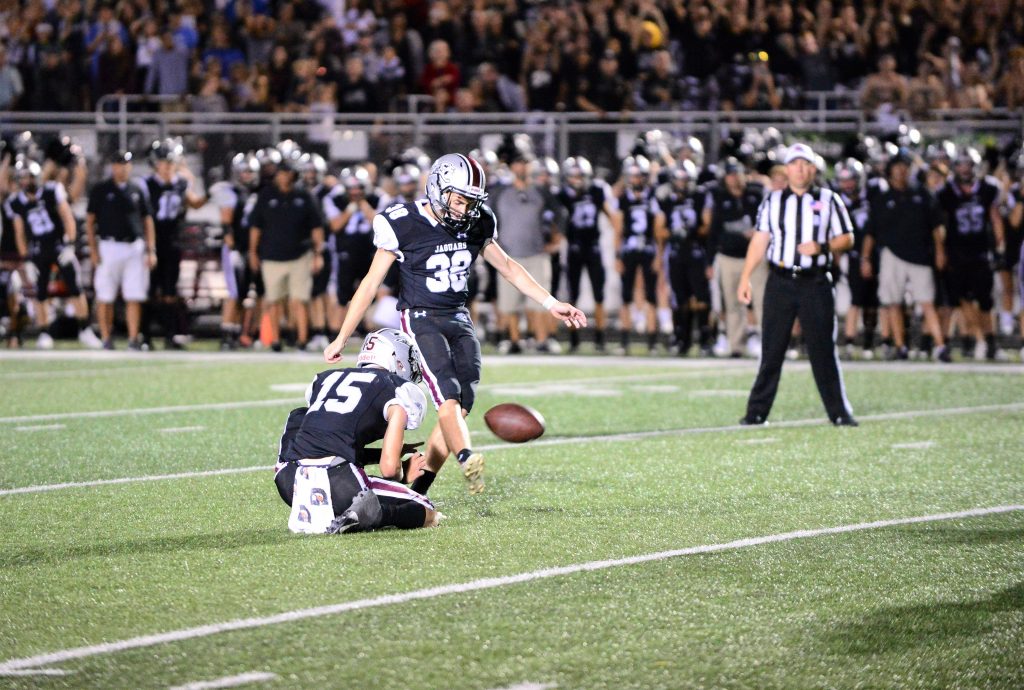 Senior Connor Page kicked a 34-yard field goal in overtime to give the Ankeny Centennial football team a 17-14 victory over Ankeny on Friday at Ankeny Stadium.
Page is also a member of the Centennial boys' soccer team. He had six assists last season while helping the Jaguars to a 13-4 record.
Here is some inside info on Page:
Congratulations on the win over Ankeny. How did you celebrate afterwards?
Thank you very much. My close friends were waiting for me back at my house, and they all congratulated me.
Were you nervous at all before your game-winning kick?
I thought I was going to be a lot more nervous than I was, but I was taught to just block out the noise and let my technique take over throughout the kick.
The Hawks called a timeout in order to "ice" you. Did the extra time to prepare for the kick actually help you?
Yes, for sure. Coach (Jamie) Kohl and (holder) Keaton Gray talked to me before the kick and calmed me down and gave me some confidence going into the kick.
Did you know the kick was good right away?
From the angle I was at I did not think it was going in. I thought it was going to hit the upright. But based on how I hit it, I knew that it would curve left and go in between the uprights.
You were mobbed by your teammates after the ball sailed through the uprights. Can you describe what that feeling was like?
Getting mobbed by those guys was something I've never really felt before. It was an amazing feeling. In soccer I've had moments of hitting the game-winning (penalty kick) and having like 20 or so guys do it, but having the entire football team is something that I will remember forever.
What is your field-goal range? How far out do you feel comfortable kicking?
My range for kicking is probably a 45-yard field goal. If I got really good contact on a ball and with some wind at my back, I think it's 48 but for right now it is 45 yards.
You told me after the game that coach Kohl always puts you in great situations to make kicks like that. What makes him such a good kicking coach?
Coach Kohl is the best kicking coach in the nation. He has coached the best of the best and lots of guys in the NFL. That's what makes him the best; he has experienced every level of kicking there is–high school, college and the NFL. Since the start of the summer he has worked with us kickers and prepared us for moments like the ones Friday night. With coach Kohl getting the job with the Chicago Bears he brought in another special teams coach, coach Antle. He has also been a big help in this process with him coaching us at practice every day.
Do you consider soccer to be your primary sport, or is that going to change now?
I decided to not play club soccer which is during the fall so I could focus on one sport. But no, for what soccer has done for me, that will not change.
Keaton said he'd like to thank the soccer team for all that they've done for the football squad. However, the holder certainly plays a key role in your success as well. You couldn't do it without him, could you?
Keaton has helped me so much. He knew going into this I was going to have some nerves for my first football game against our crosstown rival. The two of us have played sports together most of our lives from soccer to basketball and now football. We have a very good bond, and he knows what I want for a hold and he delivered on that kick. Also, I have to give a big shoutout to Trey Morris for the great snaps during practice and games. He shows how good his snaps are.
I know your brother, Colton, originally went to Drake to play soccer. Where is he at now?
He is not playing soccer, but he is still at Drake majoring in environmental sciences with a minor in economics.
Would you like to play a sport in college?
Right now I do not have plans to play a sport in college. My plan right now is to go to Iowa State and major in actuarial science.