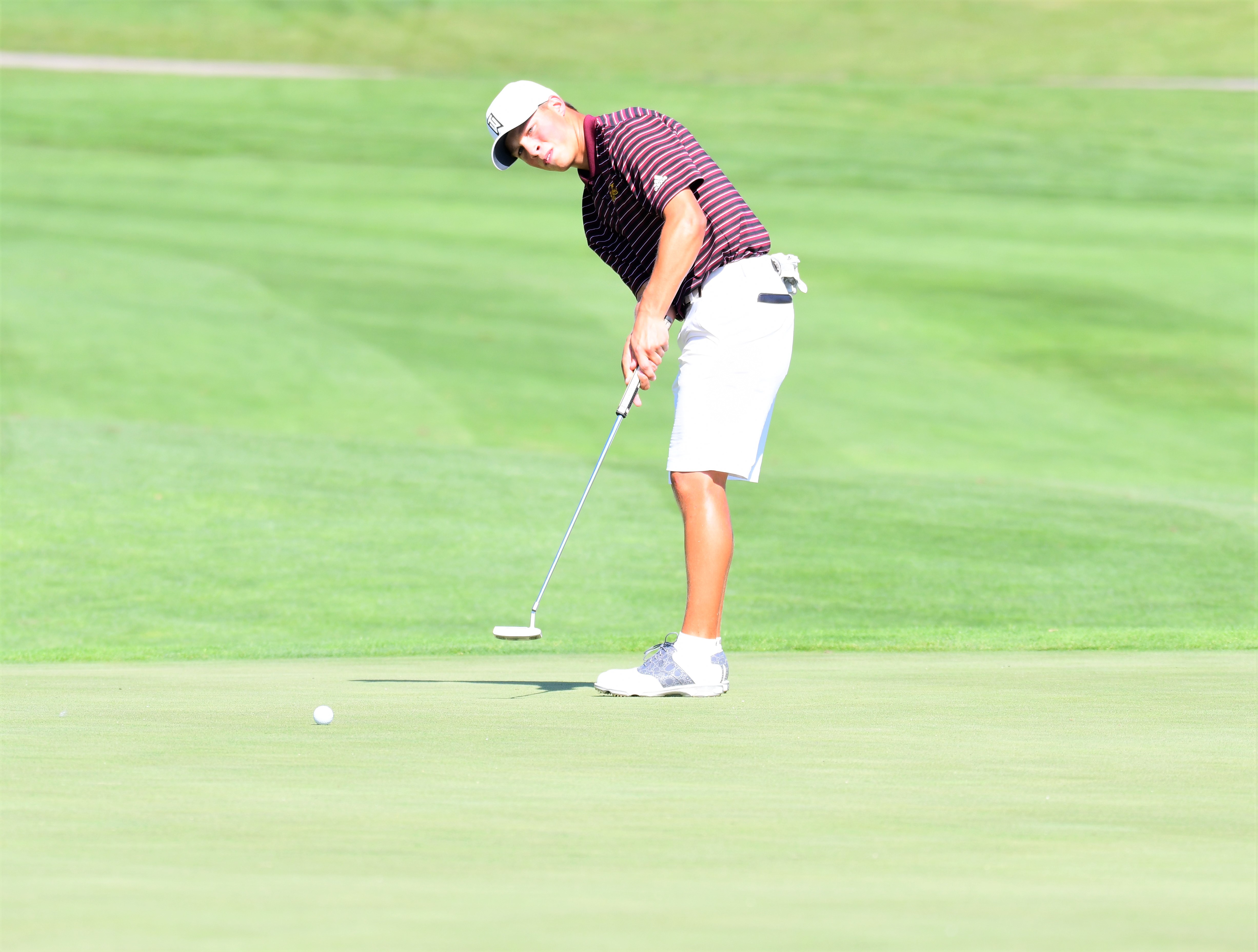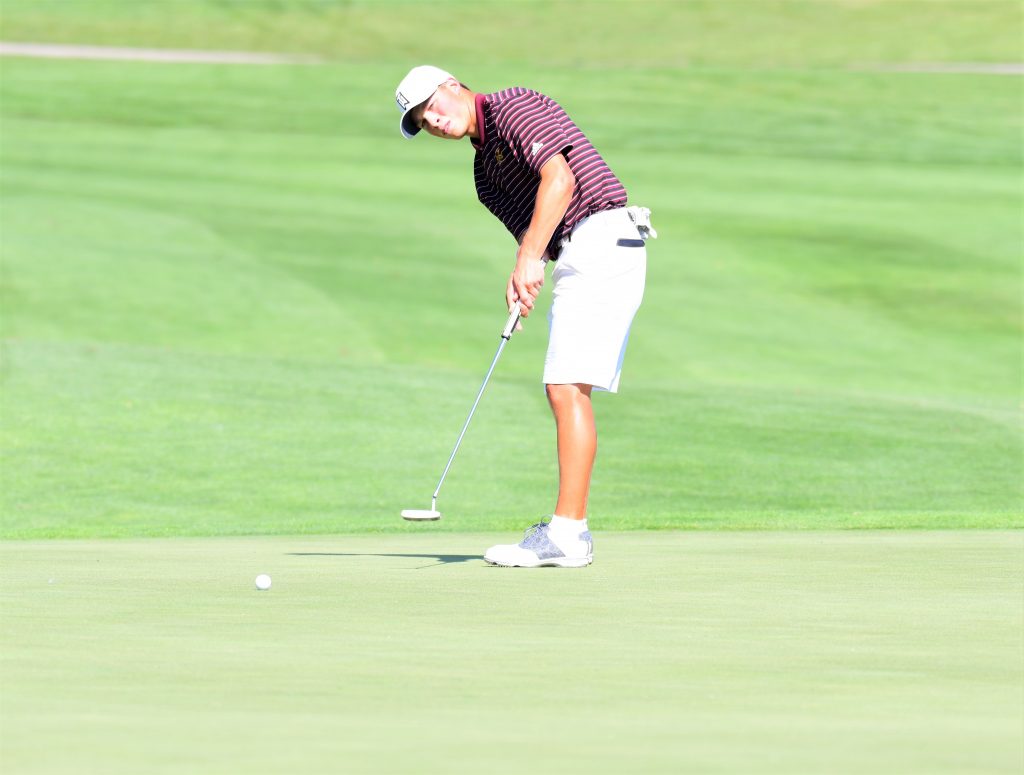 Eighteen holes weren't enough to separate the Ankeny and Ankeny Centennial boys' golf teams on Tuesday at the Fort Dodge Invitational.
The Hawks and Jaguars finished in a third-place tie in the 17-team field. Both squads posted a score of 317, finishing at 33-over-par.
"I was very happy with the boys' third-place finish," said Centennial coach Rick Fee. "The course was playing tough due to high winds and hard greens."
Ankeny coach Mike Weddingfeld said his team struggled to regroup after a one-hour lightning delay early in the round.
"We shot ok, but it definitely could have been better," he said. "We got about four or five holes in and then had the weather delay so the kids said they were just getting in a groove and then sat around. It is definitely a tough course, and we struggled with the greens."
Waukee shot a 302 to win the team title. Ames placed second with a 309.
Jack Starr of Waukee carded a 3-under-par 68 to earn medalist honors. Jackson Thompson of Sioux City Heelan was the runner-up with a 70.
Ankeny's Hunter Johnson placed third with a 2-over 73. He had a double bogey on No. 1, then played the final 17 holes in even par.
"Hunter played a great round," Weddingfeld said. "He didn't even have a bad shot on No. 1. He just hit his approach too well, and it just jumped long over the green and had a really tough chip back and then left his first putt short. He did a great job of bouncing back from that start."
Johnson made birdies on No. 2, No. 3 and No. 9. He missed some other chances for birdies on the back nine.
"It was a good round, but I was a little disappointed it was not better," Johnson said. "I made some aggressive club decisions on the front nine, hit good shots but went long and ended up with a double on the first and a bogey on the sixth. I had six good birdie looks on the back nine and did not convert any."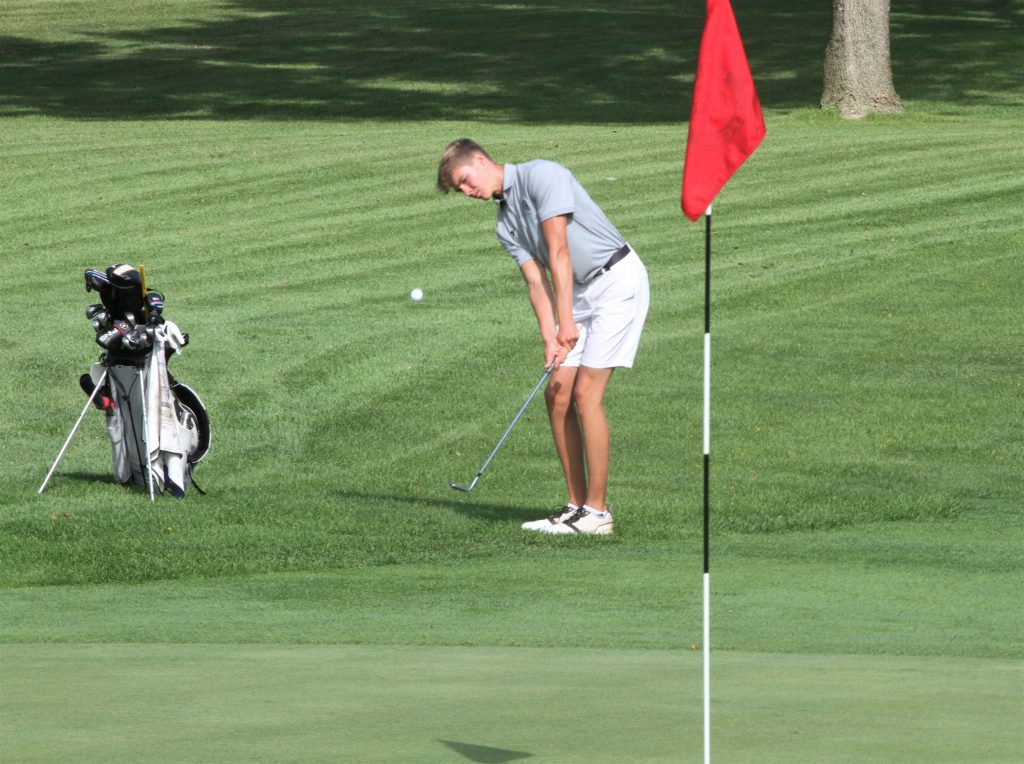 Centennial, meanwhile, was led by the trio of Logan Kinch, Drake Ellgren and Jack Winkel. They each overcame a triple bogey on the back nine to shoot a 79.
"We did have a couple large numbers as a team, but I am confident as we move forward and we get some more time fine-tuning our skills on the range and putting green we can eliminate those doubles and triples that seem to keep showing up," Fee said. "Bogey at all costs needs to be our thought process. There are so many times we try to do too much after we get in trouble, and all we do is compound the issue. Time and reps will help us get a better handle on this."
Johnny Saddoris carded an 80 for the Jaguars. Adam Wagner had an 82, and Connor Thorpe added an 86.
Corbin Walker fired an 80 for the Hawks. Ty Roghair shot an 81, Luke Parkinson and Dylan Taylor each had an 83, and Joey Newton finished with an 86.
"I think we started out trying to shoot low instead of just playing golf, and that hurt us a little," Weddingfeld said. "We know what we need to work on and have a few days now this week to work out a few kinks."
While Ankeny won't play again until Monday, Centennial will be back in action on Wednesday. The Jaguars will host a CIML Central Conference dual meet against Johnston at Briarwood Golf Club, beginning at 3:30 p.m.