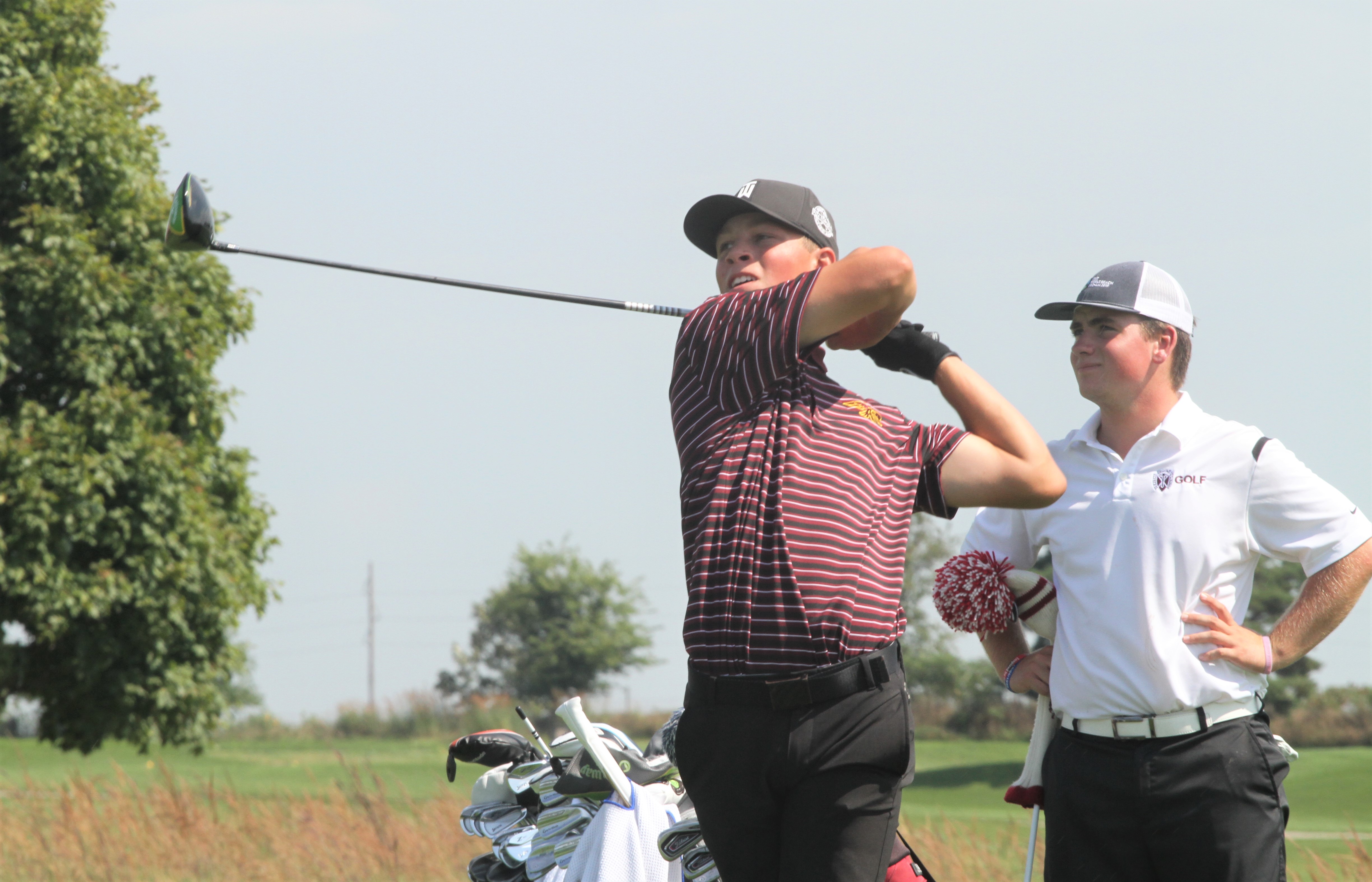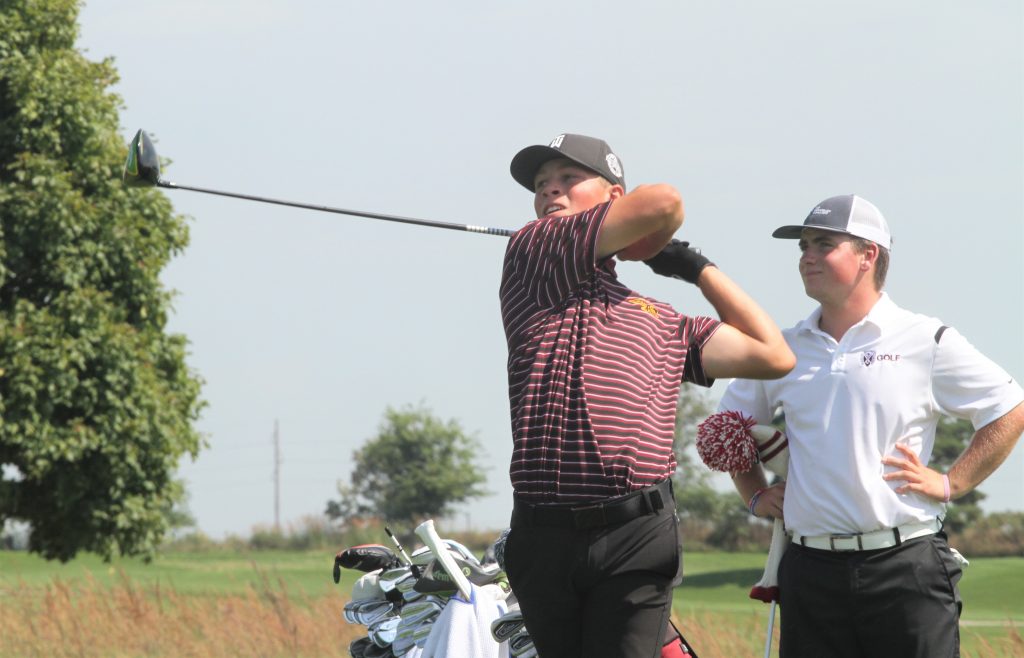 Only a handful of strokes separated the top six teams at the Ankeny Invitational on Wednesday at Otter Creek Golf Course.
Both the Ankeny and Ankeny Centennial boys' squads contended for the team crown before finishing just behind ninth-ranked Marshalltown, which captured the title with a 298. The No. 2 Hawks took second in the 10-team field with a 299, while the Jaguars placed third with a 301.
"I was very happy with our play," said Centennial coach Rick Fee. "The course and the conditions were tough due to the rain and wind. When we turned in our score of 301 I was thinking we may have won–not gotten third. That just goes to show you the talent that's out there. Ankeny played well on its home course, and I have to give them credit for firing a great score of 299."
Centennial was followed closely by three other teams. No. 3 Valley took fourth with a 304, No. 6 Ames was fifth with a 305, and Dowling Catholic finished sixth with a 306.
"It was a crazy day as far as the weather," said Ankeny coach Mike Weddingfeld. "We started out with rain as the teams were trying to warm up, then had about an hour delay about seven holes in. Thankfully, the weather cleared about noon, and we were able to get back out and finish. The course was really wet and the wind started to blow some so it made the course tough. I'm super proud of our guys as they battled the elements from rain, heat to wind."
Ankeny's Dylan Taylor overcame the conditions to earn medalist honors. He shot a 1-under-par 70 to finish two strokes ahead of runner-up Cole Davis of Marshalltown.
Taylor made two birdies and had seven pars for a 33 on the back nine.
"The key to success for me was not thinking about the conditions too much," Taylor said. "That way, I could focus on playing golf and not focus on the weather."
Centennial was led by Johnny Saddoris. He fired a 73 to place fourth.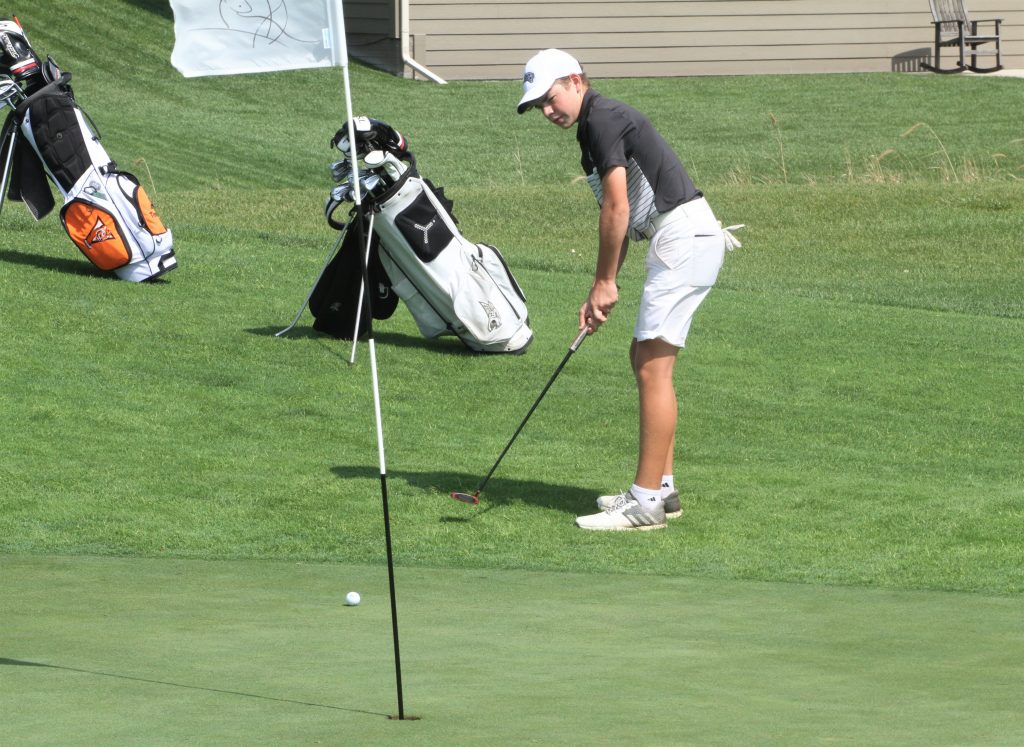 Saddoris made three birdies on the day, including two in a row on holes No. 2 and 3.
"Jonathan's 73 was a great round," Fee said. "I'm hoping we are starting to trend in the right direction."
Both Ankeny and Centennial posted five scores in the 70s. Taylor nearly broke 70 for the Hawks.
"I was really impressed with Dylan as he has just been playing ok lately, but he really turned it on today and played a great round," Weddingfeld said.
Ankeny's Hunter Johnson carded a 75, including an even-par 35 on the back nine. Ty Roghair and Corbin Walker each had a 77, Luke Parkinson shot a 79, and Joey Newton finished with an 86.
"Hunter struggled on the front, but came back to finish strong," Weddingfeld said. "Ty and Corbin both played solid as well, and Luke shot his best round of the season in competition."
Taylor said the Hawks have the potential to shoot an even lower score.
"I think our team score shows that even when we face adversity we are still able to compete and break 300," he said. "In good conditions, I think this team is capable of anything."
Logan Kinch and Jack Winkel each shot a 75 for the Jaguars. Connor Thorpe had a 78, Drake Ellgren fired a 79, and Adam Wagner added an 81.