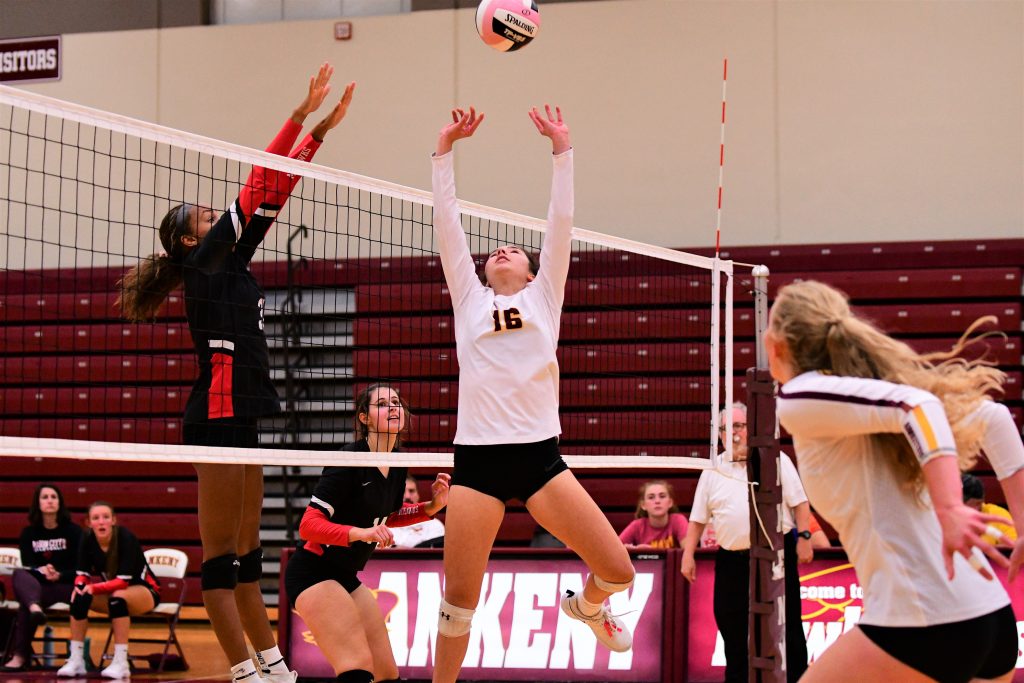 Somehow, the Ankeny volleyball team nearly captured the title at the Caroline Found Extravaganza on Saturday at Iowa City West.
The second-ranked Hawkettes played without all-state setter Phyona Schrader, who missed the tournament in order to take the ACT test. They also lost two other key players, outside hitter Isabelle Vacek and libero Kaci Behrens, to injuries after they collided during a match against Des Moines Hoover.
Still, Ankeny went 5-1 on the day, advancing to the championship match before falling to No. 8 Iowa City Liberty, 25-22, 25-20. The Hawkettes are now 17-2 on the season.
"With three regular starters out of the lineup, I would say we played really well," said Ankeny coach Dave Whims, who needs one more win to reach the 1,000-victory career mark. "The players stepped up, and we had a chance to continue developing our team depth. That is always a positive."
Iowa City Liberty, which outlasted No. 5 Dowling Catholic in the semifinals, improved to 13-0 in its third season of competition. The school opened in the fall of 2017.
"They proved to be more than we could handle," Whims said. "But I was really impressed how well we adjusted to our situation and the results. The girls battled for every point. Hopefully, this will build more confidence and make the team stronger."
Whims will now try to reach the historic milestone on Tuesday, when Ankeny travels to Dowling to play the Maroons in its CIML Central Conference opener. The Hawkettes topped Dowling, 21-13, 21-14, at the Marge White Valley Invitational a week ago.
"Dowling is really good and powerful," he said. "We will have to be up for it. It's an away game, and they will be looking to knock us off for sure. I think they are a really good final four team at state.
"We will see how the girls come out health-wise. We are also battling some colds and stuff," he added.
Ankeny opened Saturday's tournament with a pair of victories during pool play. The Hawkettes posted a 21-12, 21-16 win over Iowa City West and a 21-19, 21-16 triumph over Waterloo Columbus.
In the second round of pool play, Ankeny rolled to a 21-2, 21-6 victory over Hoover despite losing Vacek and Behrens in the process.
"Those two girls collided, and they both sustained injuries," Whims said. "Both were lost for the rest of the tournament. I think Kaci will be fine, but I am not sure about Belle. She ended up going home."
Ankeny then defeated Clear Creek-Amana, 21-18, 21-11, in its final match of pool play. Clear Creek-Amana is ranked 10th in Class 4A.
"Our lineup changed drastically, and we called on the reserves to fill in for the rest of the day," Whims said. "Our setting was taken over by Marissa Faber as we went to a 5-1 offense, and she did a great job. Ava Reynolds stepped up to take Belle's place in the front row and for serving. Lexi Stephens took over for the libero spot. Then we called on the rest for defensive purposes–Lauren Willets, Mallory Luther and Haley Grubb.
"They all pulled together and took two sets from Mount Vernon," Whims added.
In the semifinals, Ankeny posted a 27-25, 25-17 victory over Mount Vernon, the No. 2 team in Class 3A.