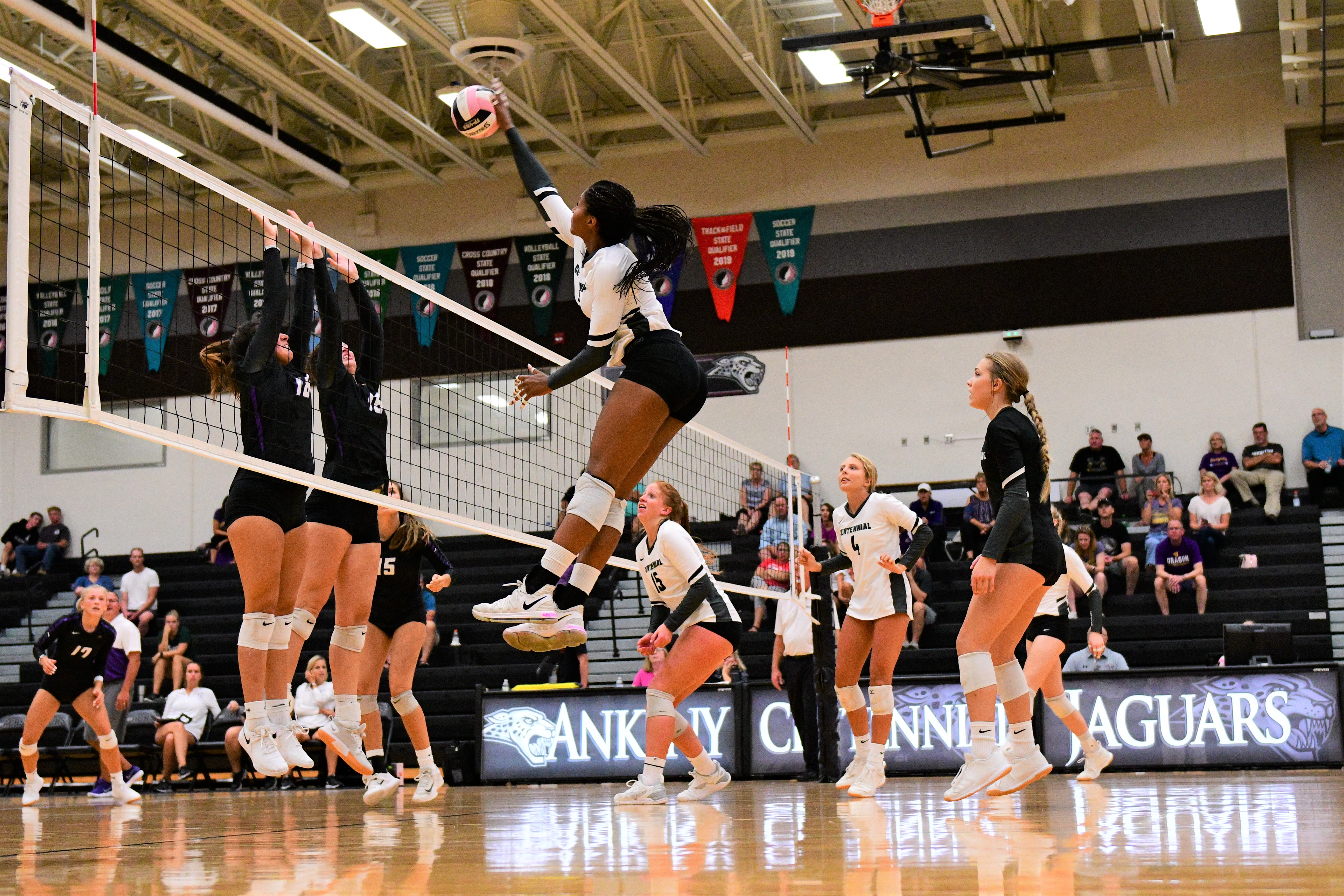 There have been some classic battles between the Ankeny Centennial and Johnston volleyball teams in the past.
Tuesday's match may have topped them all.
The 11th-ranked Jaguars, ignited by the return of preseason all-American Devyn Robinson, outlasted visiting Johnston in a five-set marathon. Centennial posted a 25-10, 27-29, 25-23, 23-25, 15-13 victory in the CIML Central Conference opener for both teams.
"It was an awesome win for us," said Centennial coach Jessica Rinehart, whose team improved to 9-8 overall. "The games were all extremely close, and we learned how to battle through it. I thought Johnston played really well–better than what we had seen on film–so we weren't as prepared for some of the things that they brought."
The last four sets were all decided by two points. Each team won two of those sets, so Centennial's lopsided victory in the opening set proved to be the difference.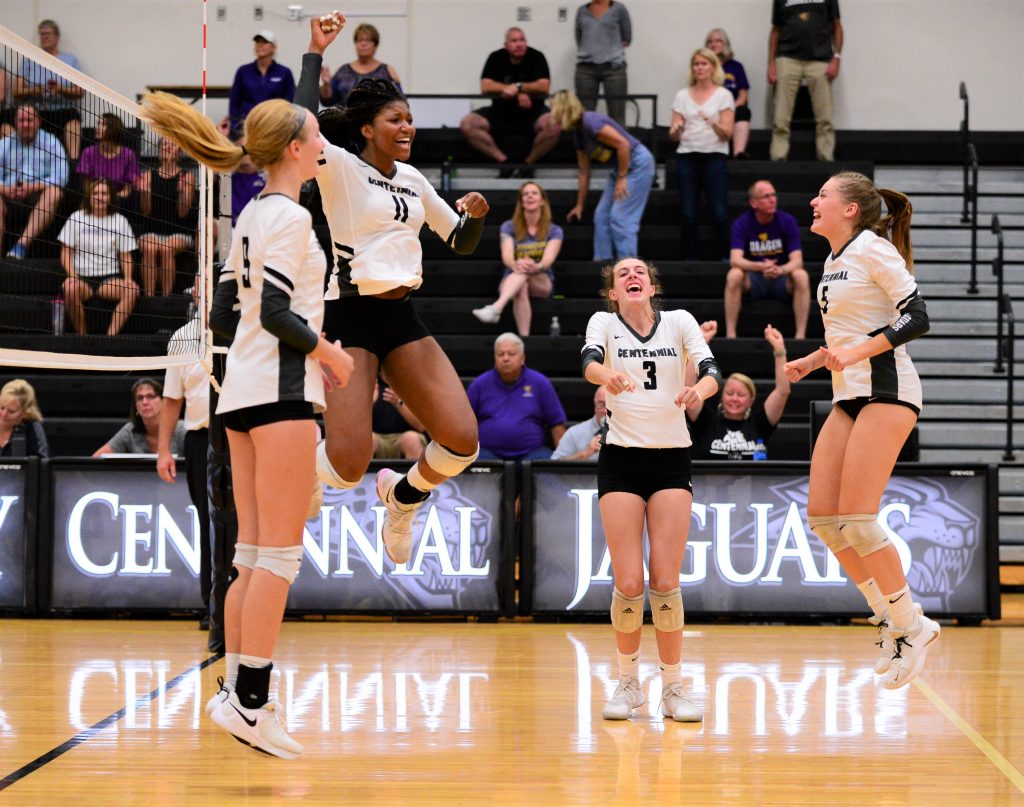 The Jaguars came out on fire in their first match of the season with Robinson in the lineup. She spent the previous two weeks in Cairo, Egypt, helping the U.S. Girls Youth National Team to the U18 World Championship.
"Our first game of the night was pretty magical," Rinehart said. "We played really clean, and Dev gave us a spark and confidence that we hadn't had. Game 1 is our bar and what we are going to strive for to reach on a more consistent basis."
Johnston (4-6) battled the Jaguars on even terms the rest of the way. But the Dragons simply didn't have an answer for Robinson, who pounded 33 of her team's 56 kills and also had 18 digs.
"Devyn hopped off the plane and then carried us in a five-game match," Rinehart said. "She looked wiped out, but it was great to have her back."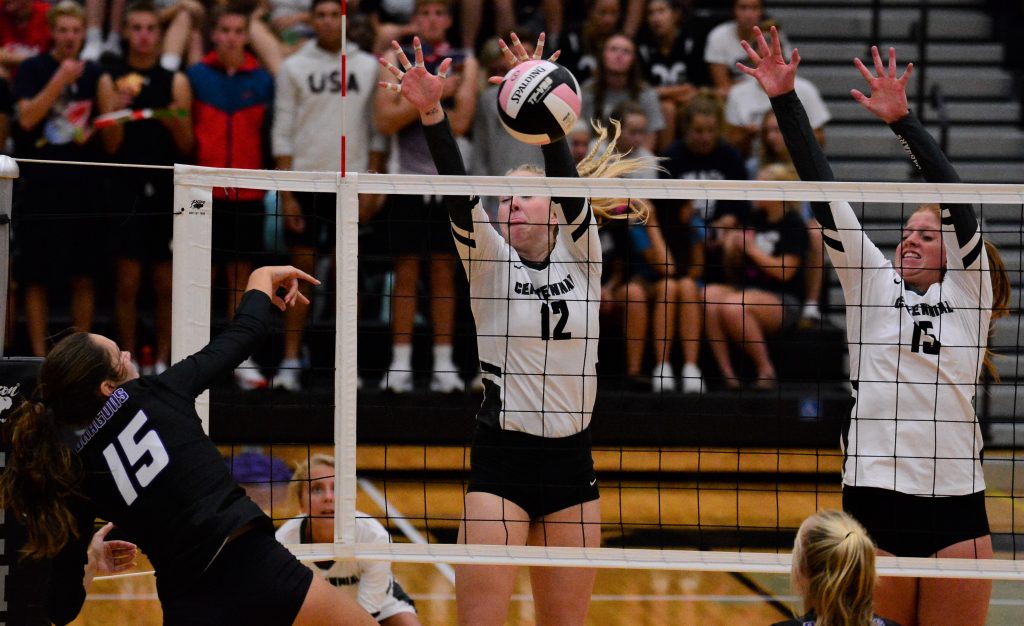 Olivia Anderson contributed nine kills in the win. Calea Jones added eight.
Setters Maura Rost and Karenna Larson combined for 48 assists, while Ella Becker and Kinsey Caruth each had 18 digs. Becker also completed 18-of-19 serves and had seven aces.
Peyton Mitchell and Jackie Pippett sparked the defense with four blocks apiece.
"Overall, it was a fun night and a fun match," Rinehart said. "It was great to pull out the 'W', and there's a lot we can take away from it and use to improve."