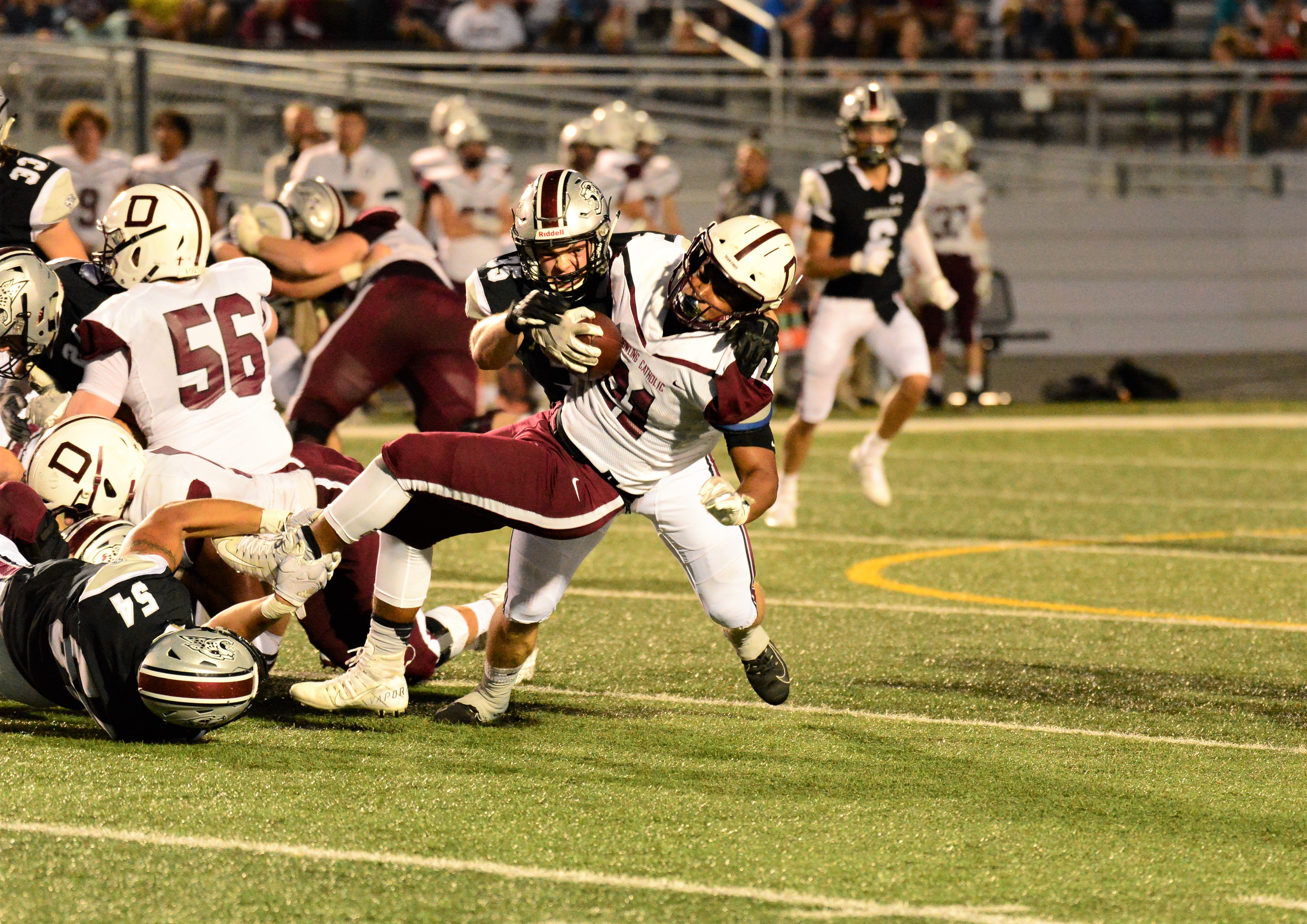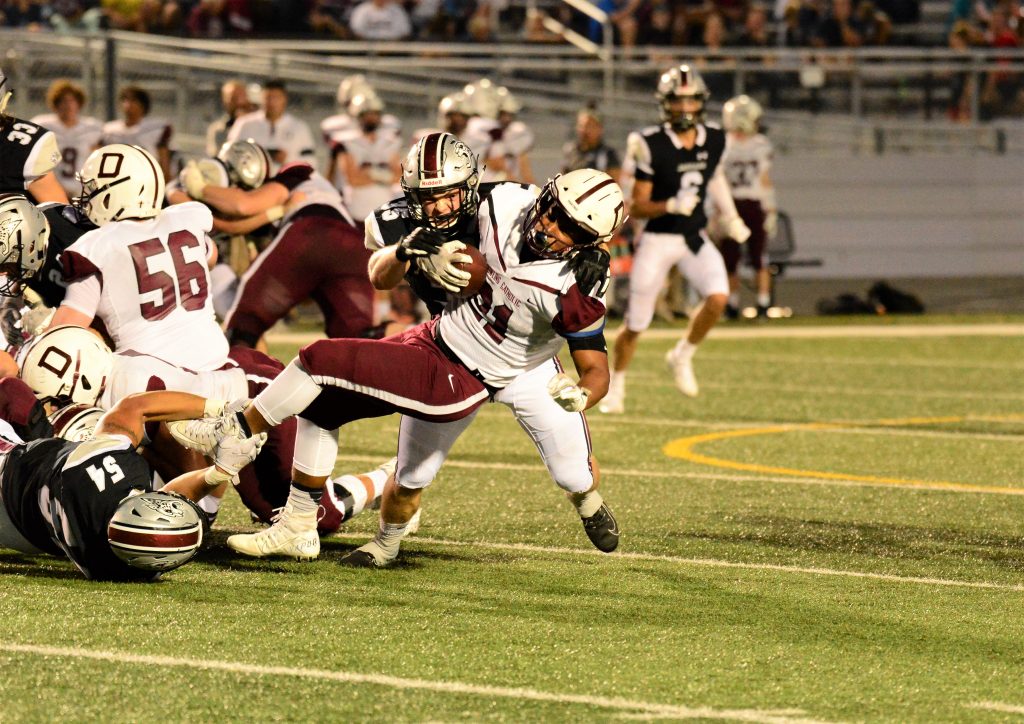 The Dowling Catholic football team got a lot healthier on Friday.
Ankeny Centennial still has a ways to go.
The fifth-ranked Maroons got a boost from the return of running back Gavin Williams and dominated Friday's showdown against No. 1 Ankeny Centennial, rolling to a 31-10 victory over the Jaguars at Ankeny Stadium.
"They're a phenomenal football team," Centennial co-head coach Ryan Pezzetti said of the Maroons. "They're the six-time (defending) state champs, and they came ready to play. They're healthy for the most part–it looked like–and they put it to us. No excuses on this end. We just got our butt kicked tonight."
Dowling (3-1) outgained Centennial by a 404-150 margin. Williams, the Southeast Polk transfer who has committed to play for Iowa, made his debut for the Maroons after missing the first three games due to an injury and rushed for 149 yards on 20 carries.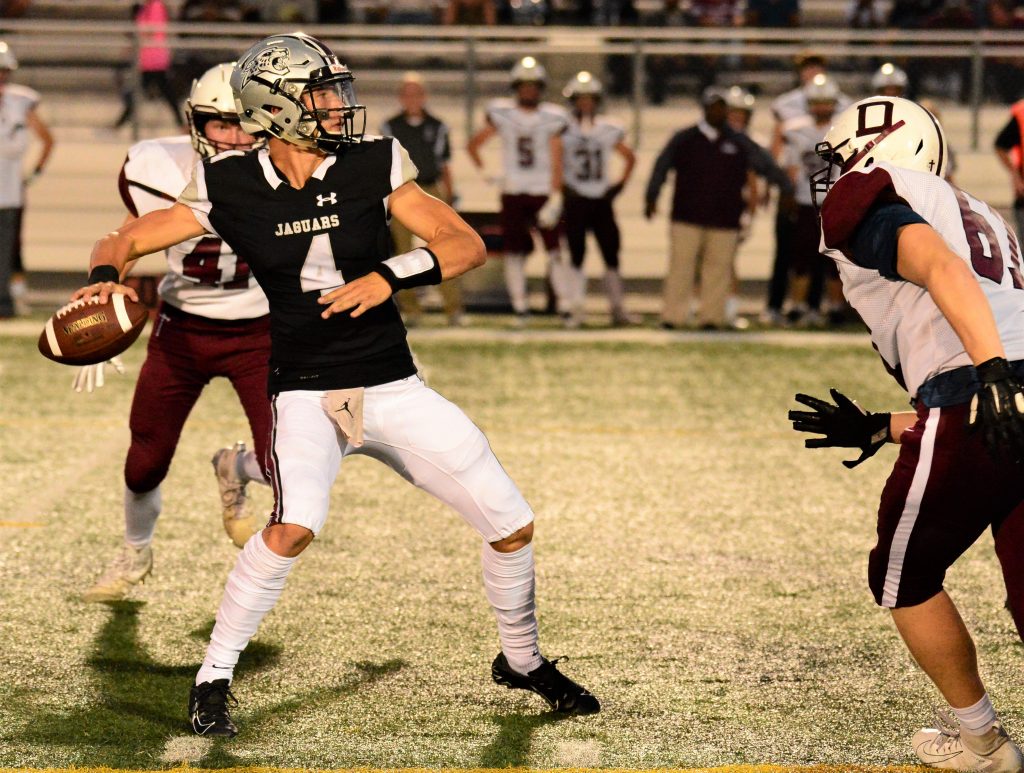 Quarterback Hank Himrich ran 15 times for 159 yards and three touchdowns. Teagan Johnson added 73 yards on the ground for Dowling, which outscored the Jaguars, 17-0, in the second half.
"We're a second-half team, I believe, but they got the better of us tonight," Centennial senior Desmond Vaughan said. "They're a good team."
Centennial (3-1) was strengthened by the return of all-state offensive lineman Brady Petersen, who had missed the last two games due to a hamstring injury. But the Jaguars–who were still without injured running back Avery Gates–did not pick up a first down in the second half until just 3 minutes remained in the game.
"I don't know if I was 100 percent, but I try and give my team 100 percent effort," said Petersen. "I think we just shot ourselves in the foot sometimes. But we'll be back, though."
Dowling took a 7-0 lead when Johnson broke free for a 47-yard touchdown run with 1:33 left in the first quarter. The two teams had combined for just 89 total yards before Johnson found a big hole up the middle.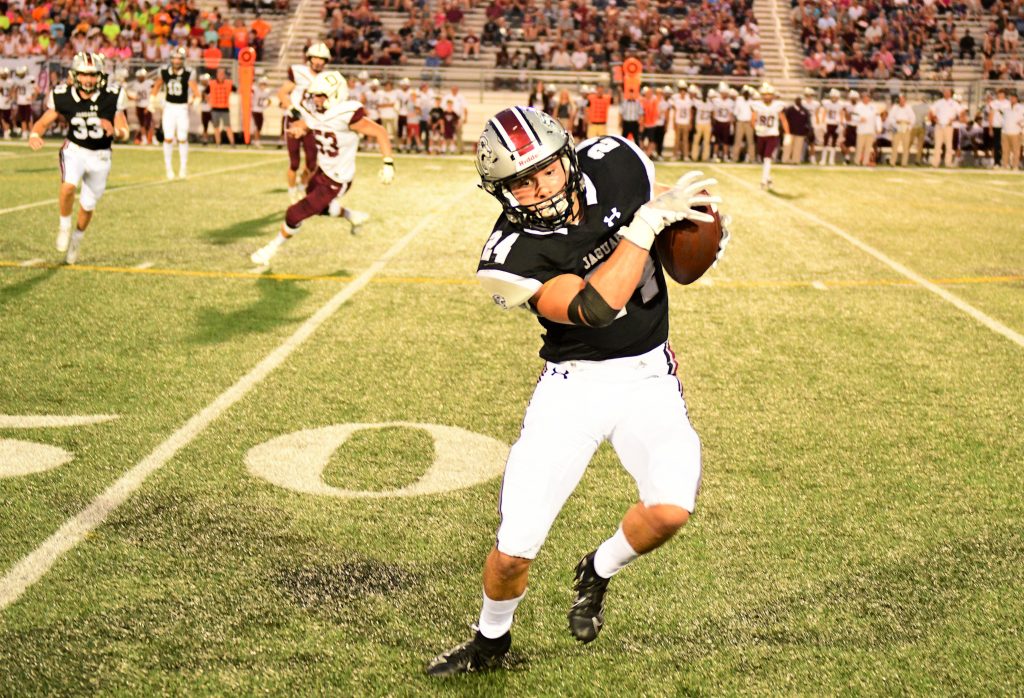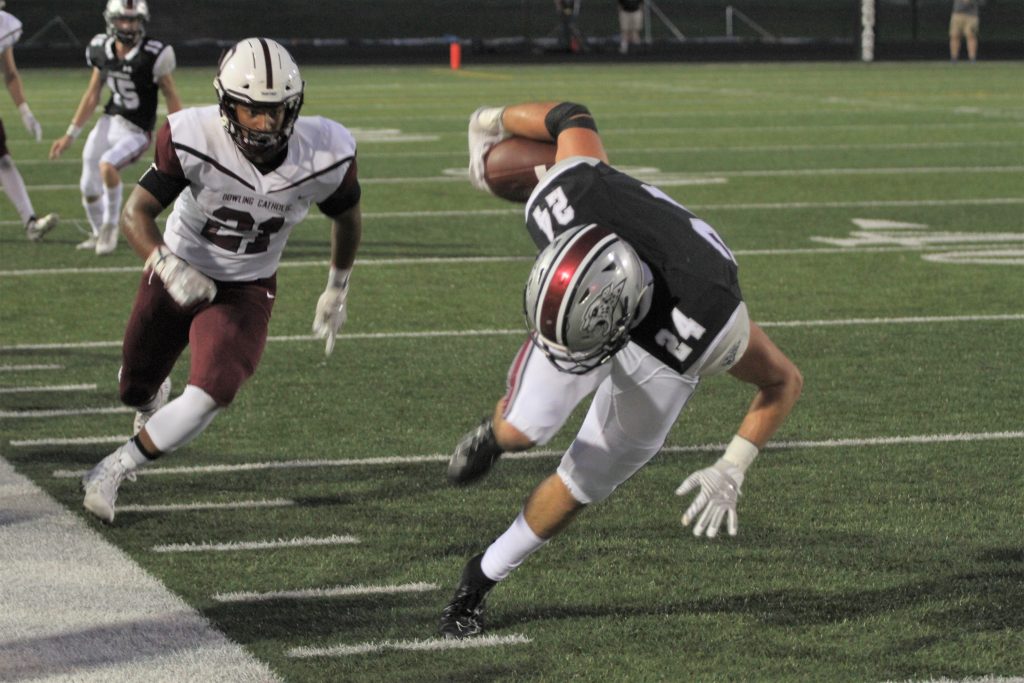 The Maroons then forced a punt, but Vaughan got the ball back for Centennial on the next play by picking off a pass that was intended for Williams.
"My teammates and I have been watching a lot of film," Vaughan said. "And we've been working on that screen play. (Williams) looked at me when he lined up, and I was like, 'Here it is.' I just took a shot at it and got it. I think I should have taken it all the way (to the end zone), but it is what it is."
The referees ruled that Vaughan stepped out of bounds at the Maroons' 43-yard line. Four plays later, Centennial quarterback Hayes Gibson scrambled out of the pocket and fired a 28-yard scoring strike to Tyler Johnson, who made a diving catch in the end zone to tie the game.
Dowling needed just five plays on its next possession to take the lead for good. On third-and-8 from the Maroons' 33, Himrich ran to his left, then cut back to his right and raced 67 yards for the go-ahead score with 8:54 left in the half.
Centennial got another big play from Vaughan later in the second quarter. He blocked a punt by the Maroons, setting up a 31-yard field goal by Connor Page with 2:46 remaining until halftime.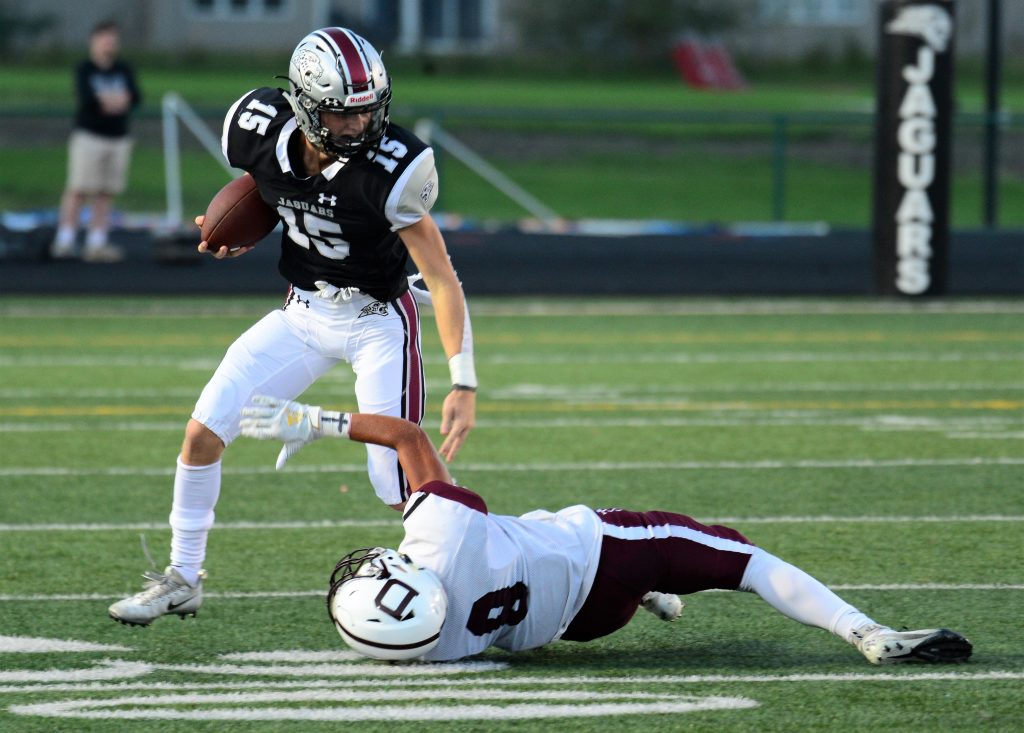 "I've been trying to get those punts all year and finally got one," Vaughan said.
Dowling scored on the opening drive of the third quarter to take a 21-10 lead. After five consecutive carries by Williams, Himrich kept the ball and ran 55 yards down the left sideline for his second touchdown of the game.
The Maroons then got a huge play by Will Leonhardt, who bulled his way through two blockers and reached his arm out to block a Centennial punt. That set up a 35-yard field goal by Jake Calvert midway through the period.
After Centennial's Cole Vincent missed a 53-yard field-goal attempt in the final minute of the third quarter, Dowling then drove 80 yards in 13 plays to seal the victory. Himrich capped the drive with a 1-yard run, but Williams did most of the work to set up the score–rushing eight times for 63 yards.
It was a night of missed opportunities for the Jaguars. Gibson opened the game with a 35-yard pass to Dylan DeAngelo, but the drive ended shortly thereafter with a turnover on downs.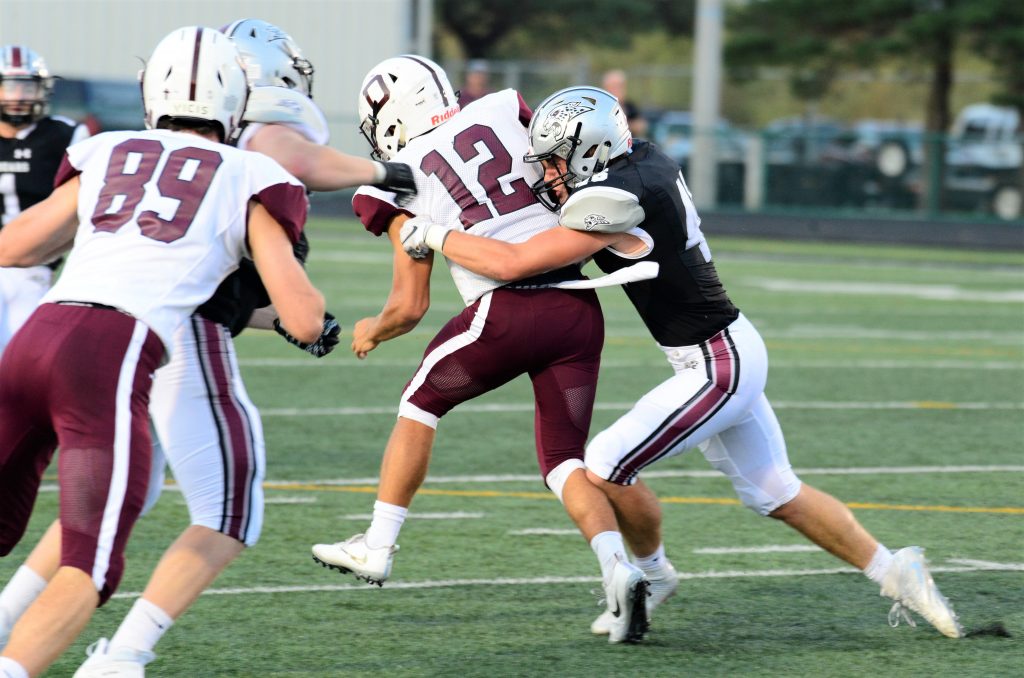 Several Gibson passes throughout the game were on target, but fell incomplete when his receivers couldn't hang onto the ball.
"We had some drops on some big plays, and you can't do that in games like this," Pezzetti said. "We'll regroup and we'll get healthy here in a week or two, and we'll be back."
Vaughan said the Jaguars would like nothing more than another crack at Dowling in the Class 4A playoffs. The Maroons defeated Centennial in the semifinals in 2016 and 2017.
The Jaguars were denied another postseason matchup a year ago when they lost to Williams' Southeast Polk team in the opening round.
"That's the goal–to play them again," Vaughan said.