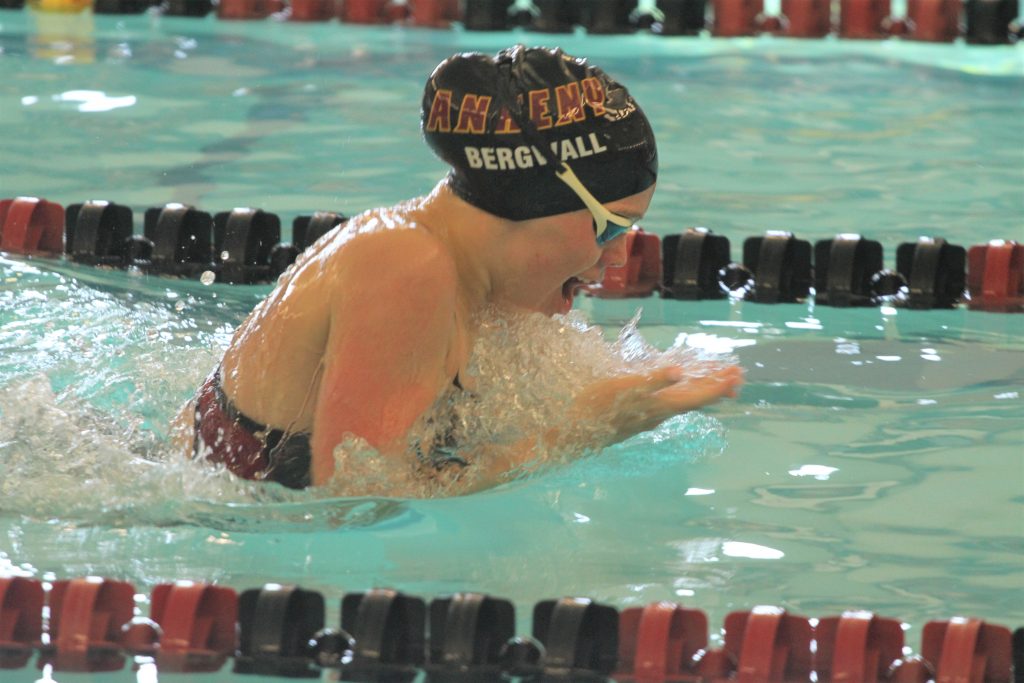 The Ankeny girls' swimming team set a meet record in the 200 medley relay en route to a runner-up finish overall in the Little Hawk Invitational on Saturday at Mercer Park Aquatic Center in Iowa City.
The foursome of Alexis Henning, Erica Peters, Scout Bergwall and Jasmine Rumley won the medley relay in a time of 1:48.87, edging Iowa City West by .05 seconds. The previous meet record of 1:49.17 was set by Bettendorf in 2017.
Iowa City West led by more than a second after the first three legs of the race. But Rumley then swam the 50-yard freestyle leg in 22.68 seconds to surge past West's Aurora Roghair, who later swept the 200 and 500 freestyle events.
"It was a very close race," said Ankeny coach Michelle Stout.
Third-ranked Iowa City West won the team title with 456 points. No. 4 Ankeny took second in the eight-team field with 372.
The Hawkettes won four of the 12 events.
"This invitational gives us a chance to see the great teams from eastern Iowa, and this year the talent level was exceptional," Stout said. "In all, seven meet records were broken. Iowa City West was responsible for five of these and ultimately won the meet. They are a tough, well-rounded team."
Rumley easily won the 50 freestyle in 23.74 seconds. She then won the 100 freestyle in 51.88.
"Jasmine has moved to the top spot in the rankings in both of those events," Stout said. "She was looking forward to the opportunity to race some highly-ranked girls."
Sydney Jorgensen won the diving event with a score of 468.25 points. Two of her teammates also placed in the top six–Peters was third with 430.70 points and Tasha Doth finished sixth with 379.05.
Bergwall was the runner-up in the 100 butterfly, posting a time of 59.41 seconds. She later took fifth in the 100 backstroke in 1:00.96, where she finished just behind Henning, who placed fourth in 1:00.61.
Madison Carleton took fifth in the 200 freestyle in a time of 2:00.17. She then finished sixth in the 500 freestyle in 5:26.99.
Mia Pearson added a sixth-place finish in the 100 freestyle. She was clocked in 56.59.
Pearson also swam the leadoff leg on Ankeny's second-place 200 and 400 freestyle relays. She teamed up with Myah Rozinek, Carleton and Peters to post a time of 1:43.02 in the 200 freestyle relay, then later combined with Henning, Bergwall and Rumley for a clocking of 3:38.58 in the 400 freestyle relay.
"The 200 free relay was another tight race," Stout said. "We were able to hold on to second by a tenth of a second."
The Hawkettes will now be off until Oct. 1, when they'll travel to Dowling Catholic for a dual meet against the No. 2 Maroons.
"We don't have meets scheduled for this week so we're looking forward to a great week of hard training to prepare us for the second half of the season," Stout said.