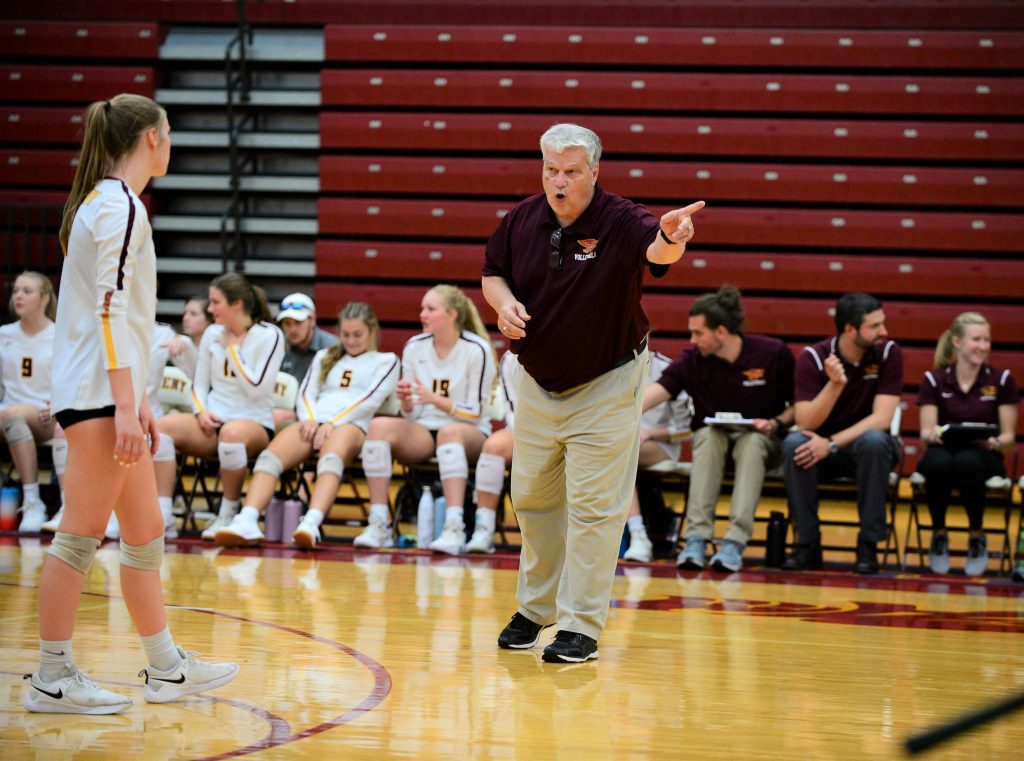 Dave Whims wanted to reach his coaching milestone as quickly as possible.
His Ankeny volleyball players made sure that he did.
The third-ranked Hawkettes routed Des Moines Lincoln, 21-6, 21-11, in their opening match at the Waukee Invitational on Saturday. It was the 1,000th victory of Whims' coaching career.
"We settled that request quickly," Whims said.
The Hawkettes celebrated with their legendary coach after the match.
"It was awesome," said Ankeny libero Kaci Behrens. "We made a couple signs for him and brought cake. I think he was surprised, but it was so special to be a part of that moment."
Ankeny then turned its attention toward the rest of the tournament. The Hawkettes won their first three matches during pool play before falling to No. 4 Valley, 24-22, 17-21, 15-13.
The Tigers (23-3), who avenged two earlier losses to Ankeny, went on to win the tournament.
"We fought back to take Set 2," Whims said. "But Valley squeezed out the win in Set 3."
The Hawkettes then dropped a 25-22, 26-24 decision to Sergeant Bluff-Luton in the semifinals. Sergeant Bluff-Luton (16-1), the No. 2 team in Class 4A, also defeated Ankeny in last year's semifinals before losing to Valley in the title match.
"They're a strong team," said Whims, whose squad is now 20-5 on the season. "I was pleased with our effort defensively–we are giving great effort. Our blocking is good…our defense around the block is good. We are getting a chance to dig and transition. We are right there. We just need to find a way to finish close matches.
"This week we will be working on putting the last three points on the board for a 'W'," he added.
Ankeny also swept two other opponents during pool play. The Hawkettes defeated Indianola, 21-9, 21-16, and Ames, 21-7, 21-14.
Ankeny will travel to Urbandale on Tuesday for a CIML Central Conference match against the J-Hawks (8-8). The Hawkettes will then compete in the Boone Invitational on Saturday.