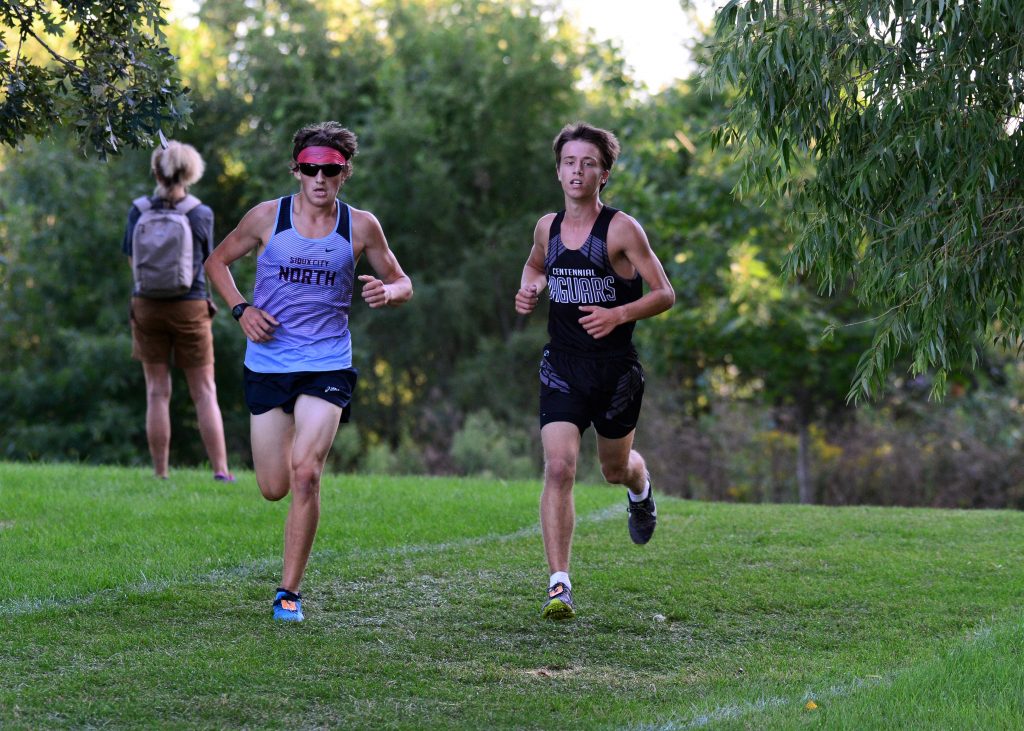 Senior Tyler Hentzel of Ankeny and junior Gabriel Vicker of Ankeny Centennial are the top runners for their respective boys' cross country teams.
Vicker won the Tom Karpen Invitational on Tuesday at Valley Southwoods Freshman High School in a time of 16 minutes 49 seconds. He led the 15th-ranked Jaguars to a third-place finish in the 13-team field.
Hentzel took 13th in the Rich Engel Classic on Thursday at Birdsall Park in Cedar Falls, leading the Hawks to a ninth-place finish in the 21-team field. His time of 17:27 was 2:36 faster than he ran on the same course a year ago.
Here is some inside info on the duo:
How is the season going thus far?
Hentzel: The season has been going really well. It has been really exciting to see how the Hawks have adapted to losing the majority of our varsity last year. But we had an amazing summer of training, and it was really encouraging to see so many of the underclassmen step up in their training.
Vicker: The season has been going great. The team and I have really been pushing hard in practice, and we've been able to prove we can compete with some of the toughest teams in central Iowa.
Were you happy with your last race?
Hentzel: We had a hard week of practice in preparation for our races at Rim Rock (Kansas) next week, so I didn't quite hit the times I was looking for. However, it was really cool to see our 9/10 runners compete in our varsity lineup this week, notably Paul Erredge–who did amazing for his first varsity race of his career, placing second on our team this week. So while I wasn't thrilled with my times, I was very happy with the progression we were able to see with the team.
Vicker: I was happy with my race. My coach told me to relax and execute my game plan, and that's exactly what I did.
How were the running conditions?
Hentzel: The conditions at Cedar Falls were not that bad considering the weather in the days before the race. The course was a little muddy in a few spots, but I like to look at those places as a little challenge to spice up the race a bit. But the conditions the day of the race were really good for a hard race day–a little muggy but nothing that we haven't trained through.
Vicker: It was really hot and humid. This wasn't the kind of race where you can easily go out and set a new personal record. My ideal running conditions are right after it rains. I love the coolness of the air and running on the wet pavement/grass.
Gabriel, you ran alongside your brother, Jonah, for much of the last two seasons. Now that he has graduated, does it seem strange that he's not around?
Vicker: It honestly still seems strange that Jonah isn't here pushing all of our guys to be better. He's one of, if not the greatest, leader our team has ever had. He pushed everyone to work hard and set the example for them.
Have you tried to become more of a leader yourself this season?
Vicker: I've tried to be more of a leader, not that I could replace Jonah. Our team prays before races and I try to help organize and plan that, but a lot of it is the rest of the varsity guys learning to set a good example. They help create an atmosphere of work hard, but have fun.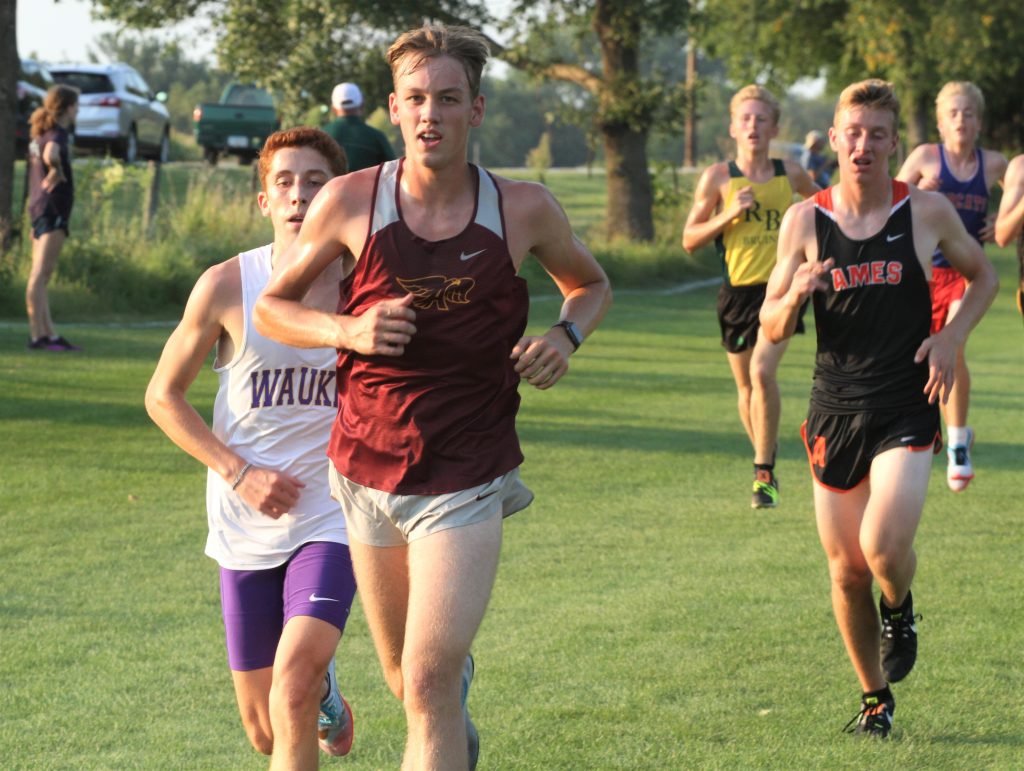 Tyler, you were primarily a JV runner last year. How do you explain your dramatic improvement to become the team's No. 1 runner?
Hentzel: Last year I (joined) the team on the first day of practice, looking to get more involved in school activities. I had barely run 10 miles total over that summer and I didn't know what I was in for during the fall season. But as the season progressed I fell in love with competitive running. Toward the end of the 2018 season, coach Lindaman told me that he expected me to step up next year because he saw the potential that I had and the love for the sport that I had developed. So I decided to join track in the long-distance events. In my mind the first day of track was the beginning of conditioning for cross country. I only made it to districts last year in track, but I was already excited with my improvements through the track season. I took just over a week off of running after track to give my body a break and then slowly loaded on the miles to start building my running base. With all the horror stories I've heard from previous runners pushing themselves only to get hurt right before the season, I went into the summer with a motto "The year of prevention". It was some advice I had picked up from Tim Sindt during one of my runs with him. He told me, "Don't treat an injury, prevent it before it happens." So with that attitude in mind I hit the summer hard, racking up the mileage as hard as my coach would let me, keeping in touch with him during my training because while I had determination, I was really still a rookie to the sport. If I could sum it up really quick: Hard work, never skipping steps and listening to my coaches who knew significantly more than I did.
You mentioned Tim Sindt, who was a two-time state champion. Did you learn a lot from watching him every day?
Hentzel: Tim played a big part in showing me what it looked like to be an athlete devoted to their sport. He had tremendous amounts of talent but he still got out there and worked harder than anyone on the team. Doing one more rep, one more lap. He wasn't scared to work hard when conditions were not perfect. That was what I needed to be able to fully commit over the summer putting in the time and energy to improve.
Gabriel, you competed against Sindt for the last two years. What was it like to compete against him?
Vicker: I don't know if I could say I competed with Tim. It was more of I was in the same race as he was. Tim is one of the best runners in the history of the state. It was an amazing experience to get to see that in person.
What is your favorite course?
Hentzel: All courses are different depending on the conditions and your goal for the race. I'm still pretty new to the sport–I haven't even run most of the courses that our varsity lineup competes in during the latter end of the season. But I always keep in mind that we all run the same route; it's just who can do it best.
Vicker: My favorite course would have to be the DMACC course. Very few hills and being super flat both add up to a fast race time.
How do you feel about hills? Do you like the challenge of running them, or do you despise them?
Vicker: I honestly love hills. Growing up, I would go on runs with my dad on the Neal Smith trail, which has a ton of hills. My dad taught me how to run hills properly and the constant repetition I had of running them really provides an advantage on race day.
Goals for the rest of the season?
Hentzel: I would really like to see the Hawks run together at the state meet this year and qualify as a team. However, I think most of all I would just like to push myself the hardest I can go. That's what this sport is about really, pushing yourself to be the best athlete you can be. Even if the Hawks don't make it all the way to state, I would like to know that we gave it our all during our races.
Vicker: My overall individual goal is to win state. I really think I'm able to compete with the top athletes, and I'm ready to see how it will turn out. My primary goal, however, is to score one point at districts and bring the team to state. State has been just out of our reach the past two years, and I would love to turn that around.
Would you like to run in college?
Hentzel: Competitive running has been an amazing experience for me. I would love to continue to run during college when I head up to Iowa State for engineering, and it would be amazing to run with Tim once again. However, I'm not sure that I will be running at a college level by the end of the season.
Vicker: I would love the opportunity to run in college. That would be a childhood dream come true.