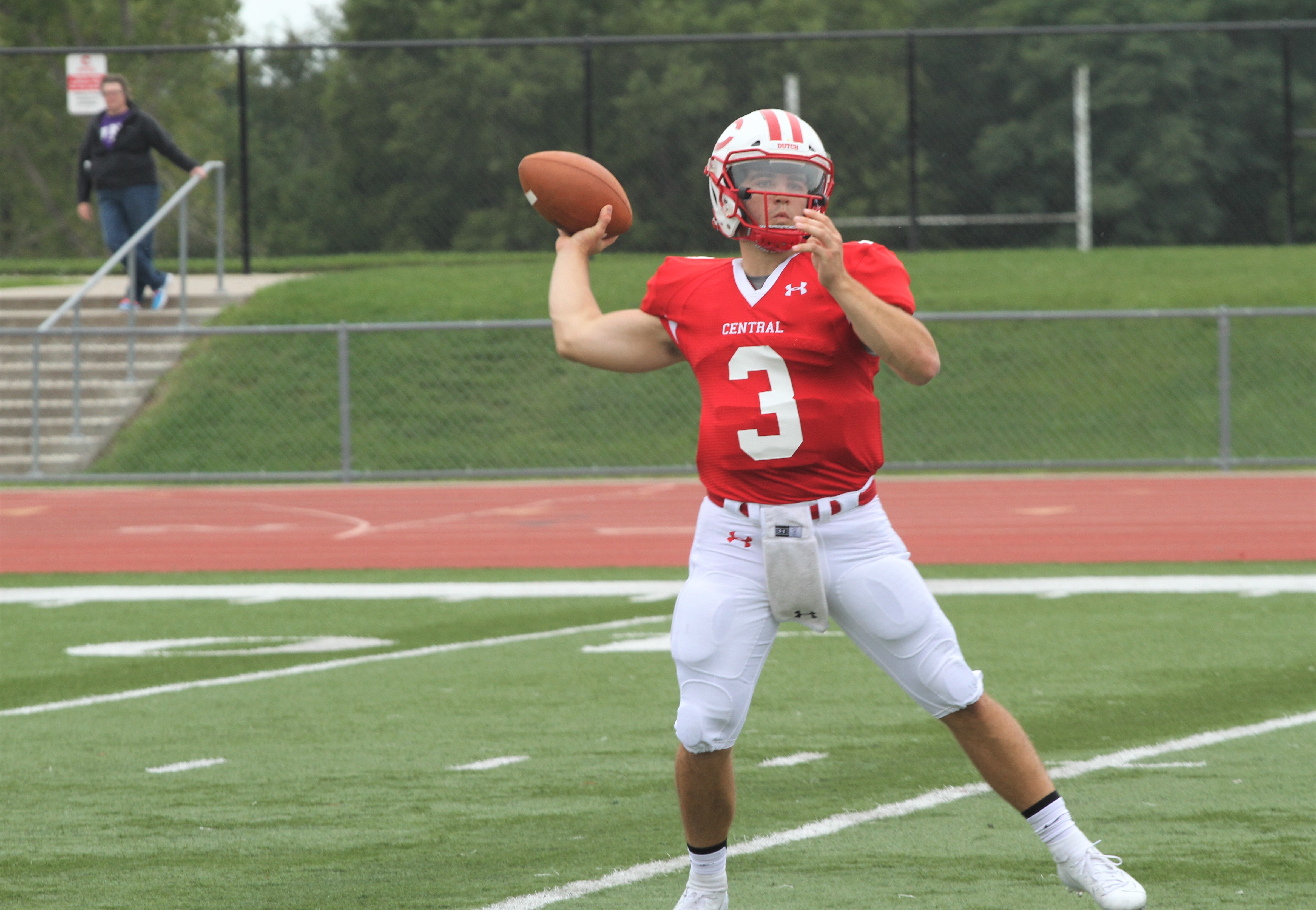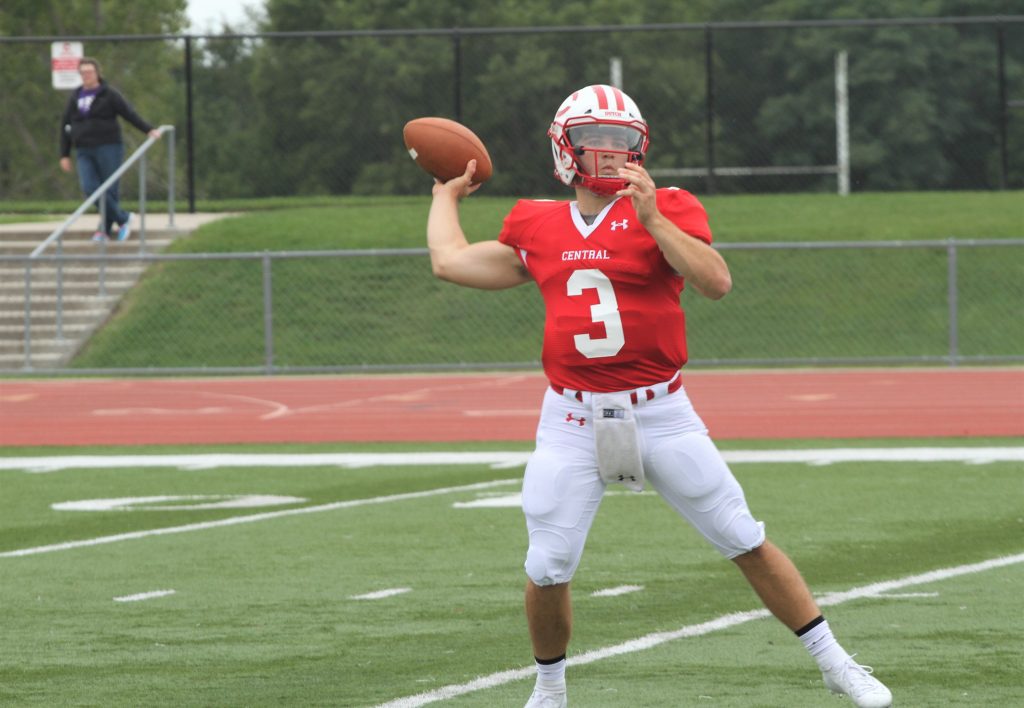 While preparing for Saturday's game against Loras College, Central College quarterback Blaine Hawkins recognized a familiar name–Riley Larson–in the Duhawks' secondary.
"I saw the scouting sheet and I'm like, 'Yeah, I know that guy. I've played against him a lot,'" Hawkins said. "It's probably five or six games now, so it's always fun."
The rivalry between the two players dates back to high school, when Hawkins was a standout at Ankeny and Larson was a two-way player for Ankeny Centennial. In 2015, Hawkins led the Hawks to a 24-16 victory over Larson and the Jaguars, which remains Ankeny's lone win ever against its crosstown foe.
On Saturday, Hawkins again earned some bragging rights with a spectacular performance in Pella. The junior passed for 354 yards and a record-tying six touchdowns to lead the Dutch to a 52-33 win at Ron and Joyce Schipper Stadium.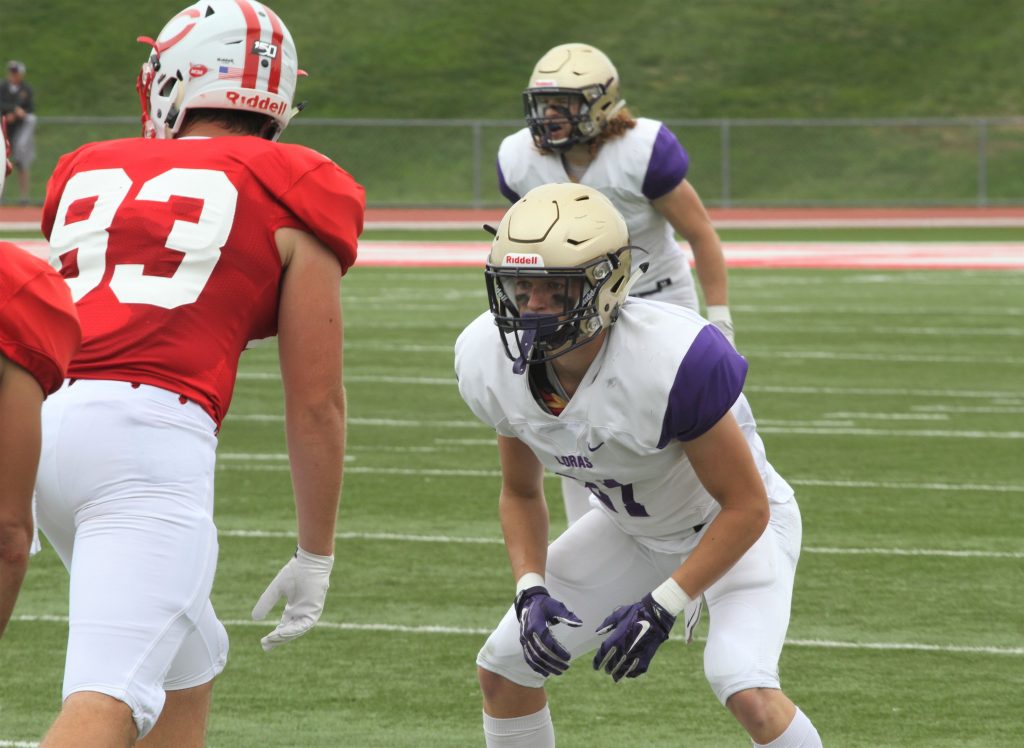 "Blaine is one of, if not the best, quarterbacks in the conference," said Larson, a senior cornerback. "We knew that coming in–it's been like that. The margin of error is very low (for our defense). He's not going to miss open receivers, and he's going to throw covered receivers open. So we knew coming in he was going to do his thing. We just weren't able to get him today."
After misfiring on three of his first four passes, Hawkins was nearly perfect the rest of the way. He completed 17 of his next 18 passes, including his final 11 attempts, as the Dutch (3-0 overall) won their American Rivers Conference opener.
"It was good coming off the bye week to get back out here on the field," Hawkins said. "We were all excited to get going again."
Hunter Robinson had four of the touchdown catches from Hawkins, including back-to-back scoring receptions from 58 yards out in the first quarter. He later added touchdown catches of 41 and 7 yards.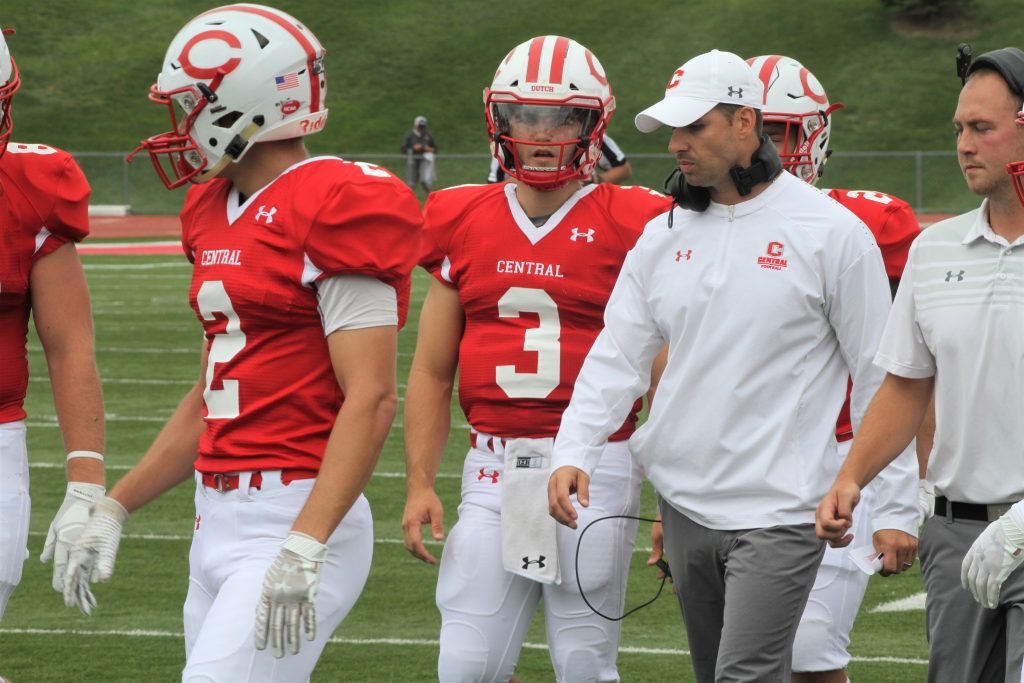 Hawkins also threw scoring passes of 12 yards to Erik Knaack and 37 yards to Tanner Schminke.
"Take away the first couple passes and we got off to a really good start," Central coach Jeff McMartin said. "We hit some really long balls. Blaine, throughout his career, has proven to be a very talented quarterback and one of his great strengths is he throws the deep ball really well. Not every quarterback does that, they're better with the underneath stuff or whatever, but when you find a guy who can do that, it can really stretch the field and he did a great job of that today. And Hunter made some great catches so they were really working in tandem today."
Hawkins credited quarterbacks coach and offensive coordinator Ryan Maiuri for putting him in a position to succeed.
"Coach Maiuri did a really nice job scheming up the game plan–getting our guys with one-on-one matchups–and our receivers did a great job of winning out there," Hawkins said. "On some of those deep throws, it takes a little longer for the routes to develop, so I've got to give credit to our guys up front for giving me a lot of time to throw."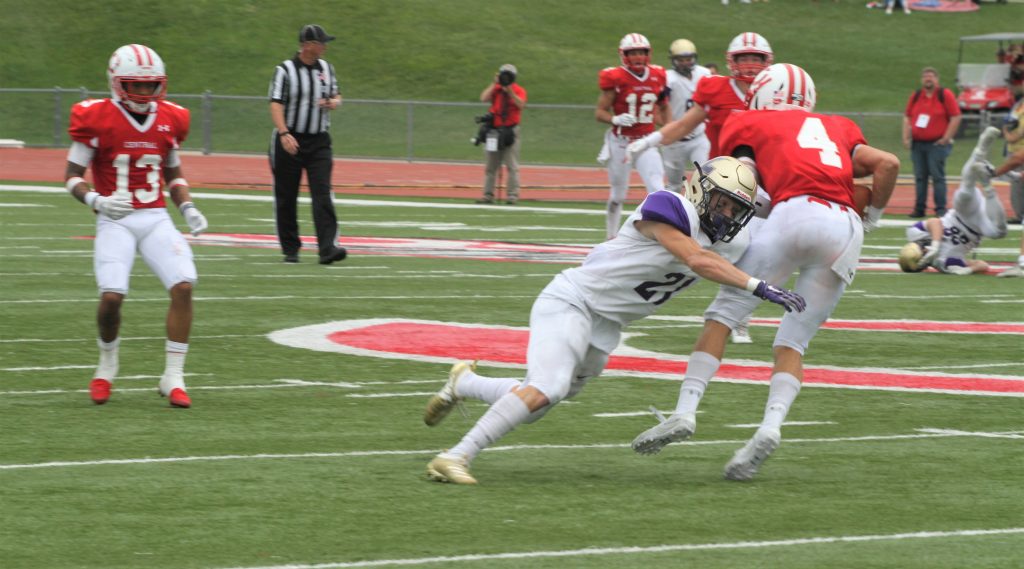 Central racked up 569 yards of total offense in the win. Hawkins, who sat out most of the second half, finished just 13 yards shy of his own school-record passing mark, which came against Loras in 2017.
"They're a great team," Larson said of the Dutch. "We knew they were going to be well prepared–they came off a bye. They're extremely well-coached and very talented. We just didn't have it today."
Hawkins matched his own school record with the six touchdown passes. He set the mark three weeks ago in a season-opening win against the University of Northwestern-St. Paul (Minn.).
"We just think about executing play-by-play, and sometimes these things happen," Hawkins said. "It's exciting, but it's not something we strive for. It's just putting points on the board in general."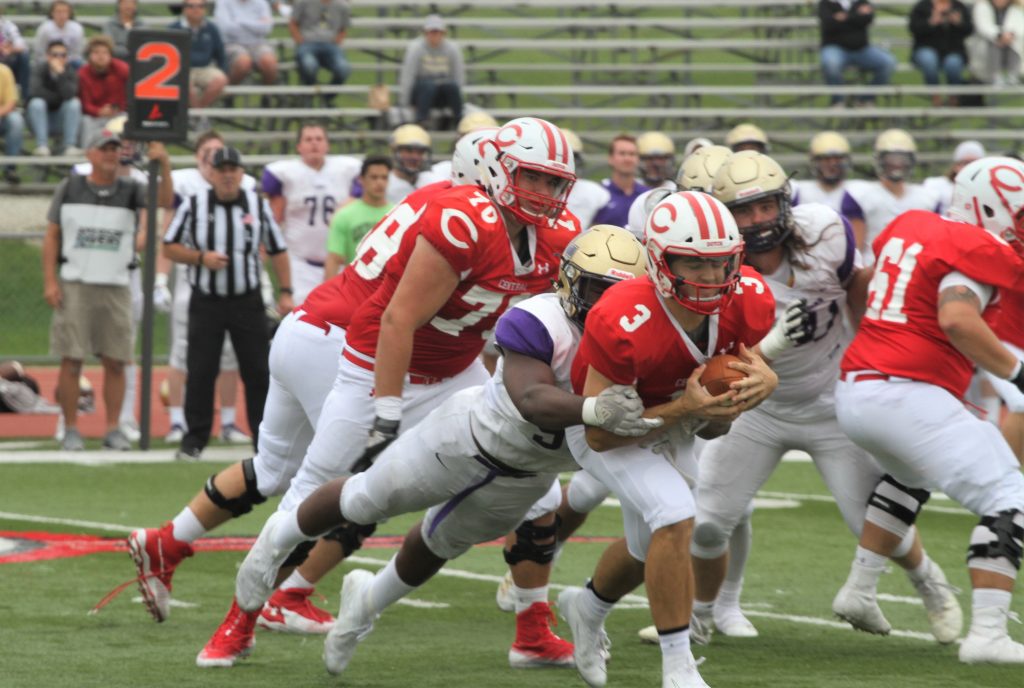 Larson had one solo tackle and four assists for Loras, which dropped to 0-2 in the conference and 1-3 overall. The Duhawks lost to Central for the fourth straight year.
"Every year I play (Hawkins), that's all I think about all week–I think about the Ankeny vs. Centennial game," Larson said. "He's a very similar player to what he was in high school–a very smart player. Not the biggest (quarterback), but I've always admired his decision-making. He's not a bad decision maker. He puts the ball in the right spots. It's always fun to play against him."
Hawkins admitted, however, to making one bad decision on Saturday. He threw a second-quarter interception that Loras linebacker Josh Jones returned 43 yards for a touchdown.
"They were bringing some pressure and I knew we didn't have enough guys to protect for it, so I had to get the ball out quick," Hawkins said. "I should have probably checked down to the running back, but I tried to slide one in there to the tight end and I've got to give the linebacker credit. That was a really nice catch and run. That was a great play by him."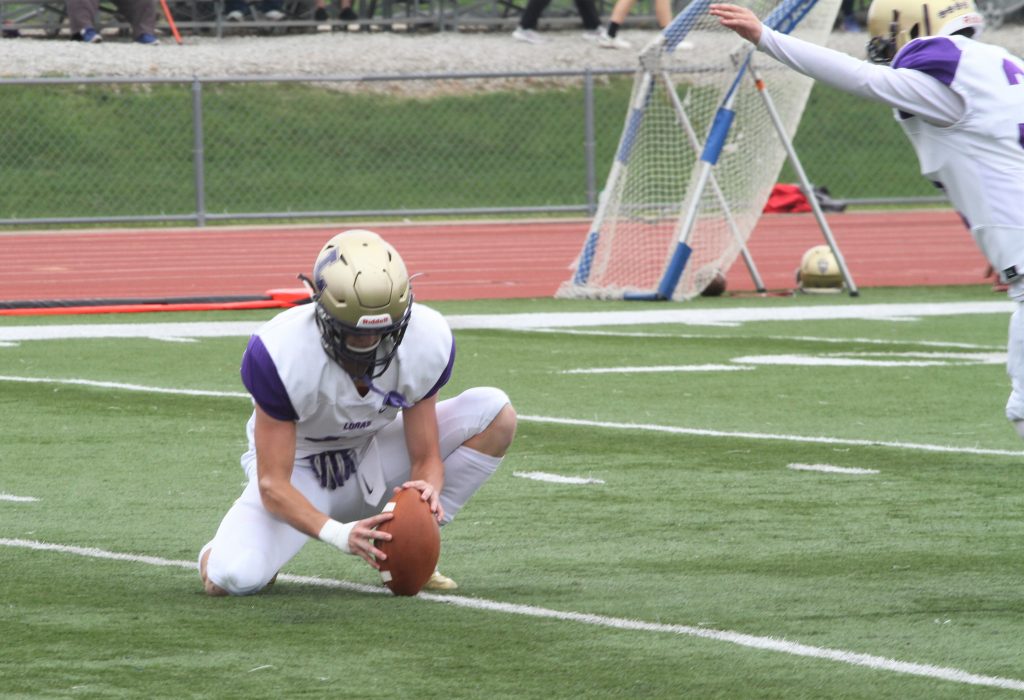 Hawkins, who is rapidly climbing the charts of several Dutch career records, served as a captain for Saturday's game. Larson did likewise for the Duhawks.
It was the final meeting between the two players as Larson will graduate later this year.
"It's crazy," Larson said. "It's a cliche, but it's really gone by fast."