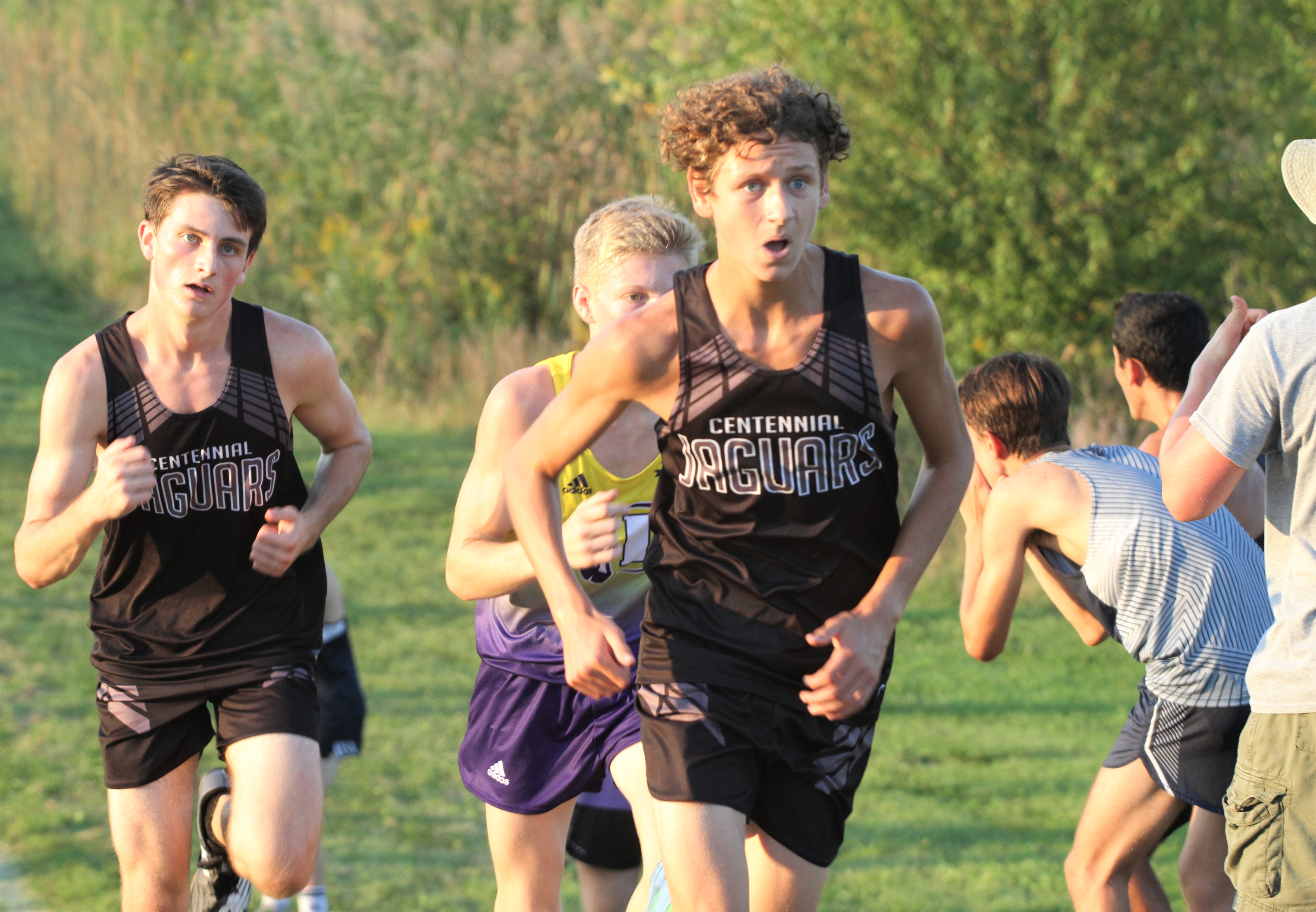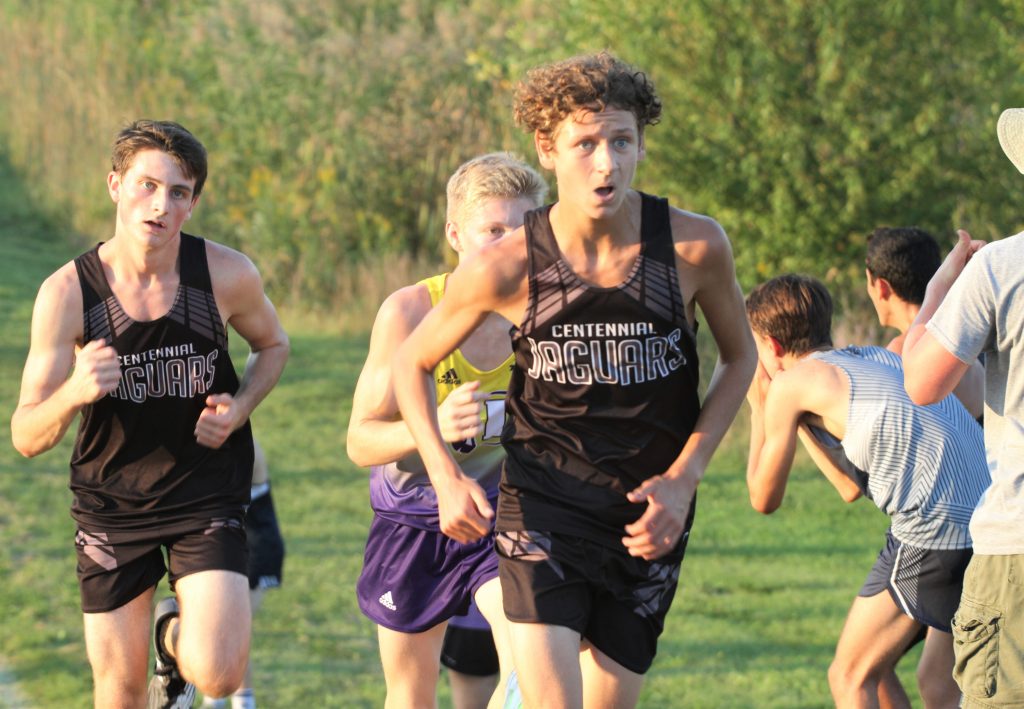 The Ankeny Centennial cross country teams faced some strong competition on Tuesday at the Iowa City West Invitational.
The Jaguars were also in a race against Mother Nature.
The meet schedule was rearranged in an effort to get both varsity races in before some bad weather was expected to hit the Iowa City area. That strategy was only partly successful–both races were completed, but the awards ceremony was cancelled afterwards due to lightning.
Still, it was a good day for both Centennial teams. The girls' squad placed third in an 11-team field, while the boys' team finished fifth among 13 schools.
"There were some good things and some things that weren't quite the way we wanted," said Centennial boys' coach Chad Fickbohm. "But all in all, with the weather as brutal as it was, we did all right. It was really hot and humid."
Only five points separated the top three girls' teams. Ninth-ranked Cedar Rapids Prairie won the meet with 49 points, No. 6 Dubuque Hempstead was second with 50, and No. 7 Centennial was right behind with 54.
"Our lineup again shuffled which helped us and hurt us," said Centennial girls' coach Eric Cogdill. "Our top two finishers from a week before ended up outside of our scoring five; either of which running in their usual spot paired with the other girls' performance would have given us a 10-point victory. It goes back to what I said a week ago, 'If we all fire at the same time, we are going to be a very dangerous squad.' The time for them all to fire together is still four weeks away, so we'll continue to learn and try different strategies."
The Jaguars placed four runners among the top 11 finishers in the 5k race on the University of Iowa's Ashton Cross Country Course. Freshman Rondi Quass led the way, placing sixth in a time of 20 minutes 47 seconds.
Morgan Graybill took seventh in 20:56, Kierstan Fritz was ninth in 20:58, and Jeanne Peters finished 11th in 21:06.
"We've now had six different girls in our top three," Cogdill said. "Kierstan came in with a more aggressive game plan equipped with the knowledge that she has never faded badly in a race. The aggressiveness paired with confidence and grit paid off nicely for her."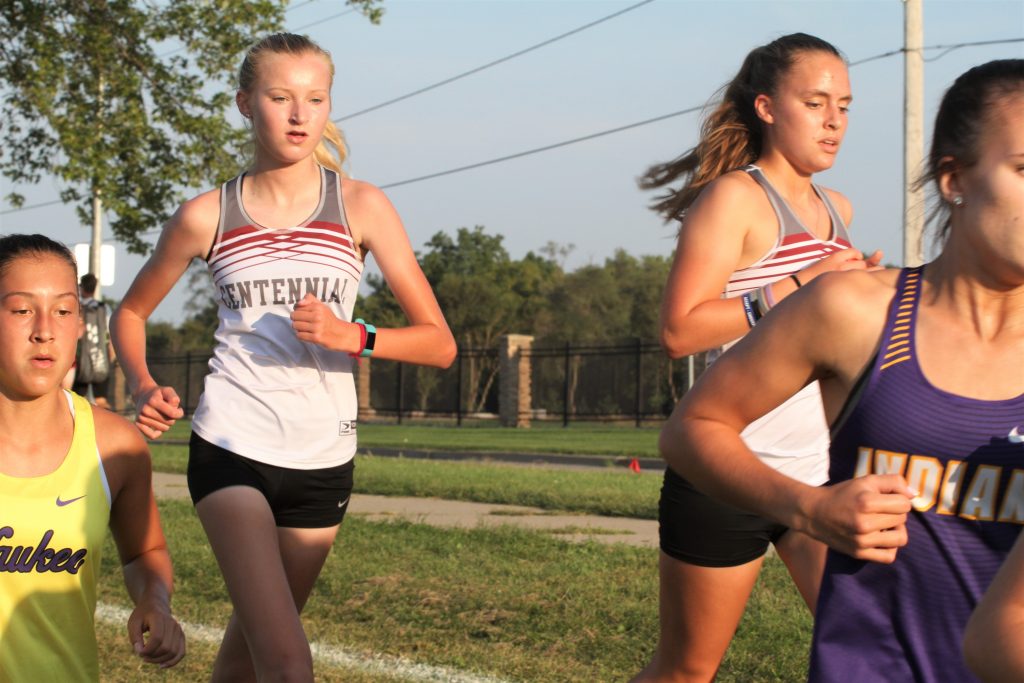 Katie Jensen was Centennial's fifth scoring runner in her first varsity race of the season, placing 21st in 21:25. Kathryn Vortherms finished 26th in 21:52.
Mary Cline of Cedar Rapids Washington won the race in 19:57. She was followed by a pair of runners from Prairie–Gabby Cortez and Laurdyn Meyer.
No. 7 Prairie also won the boys' crown with 81 points, edging No. 3 Johnston–which ran its junior varsity squad–by four points. No. 8 Iowa City West was third with 90 points, followed by Cedar Rapids Washington with 111 and No. 14 Centennial with 124.
The Jaguars were led by the duo of Gabriel Vicker and Connor Cunningham. Vicker placed fifth in a time of 16:52, while Cunningham took eighth in 16:59.
"Connor had a really good race," Fickbohm said. "Gabe was a little short of what he wanted, but he had a good race, too."
Centennial's Nate Jones placed 19th in 17:34. Ryan Bybee took 41st in 18:08, Kade Christensen was 51st in 18:25, Cooper Majors placed 52nd in 18:28, and Joe Guddall finished 67th in 19:15.
"We see what we need to do," Fickbohm said. "Christensen needs to be up there. Mentally, he had a little lapse, but if we can get him back up there that will make us stronger as a team."
Prairie's Jack Pendergast, who committed on Tuesday to run for Iowa, won the race in 16:22. He finished 11 seconds ahead of teammate Hunter Kalous.
Both Centennial teams will have a week off before competing in the Fort Dodge Invitational on Oct. 10. The meet will be held at Lakeside Golf Course, site of the state meet on Nov. 2.
"We are looking forward to nine days of preparation and then heading to Fort Dodge to see some of the best that central Iowa has to offer and a fresh shot at Waukee, who we haven't seen in a month," Cogdill said.