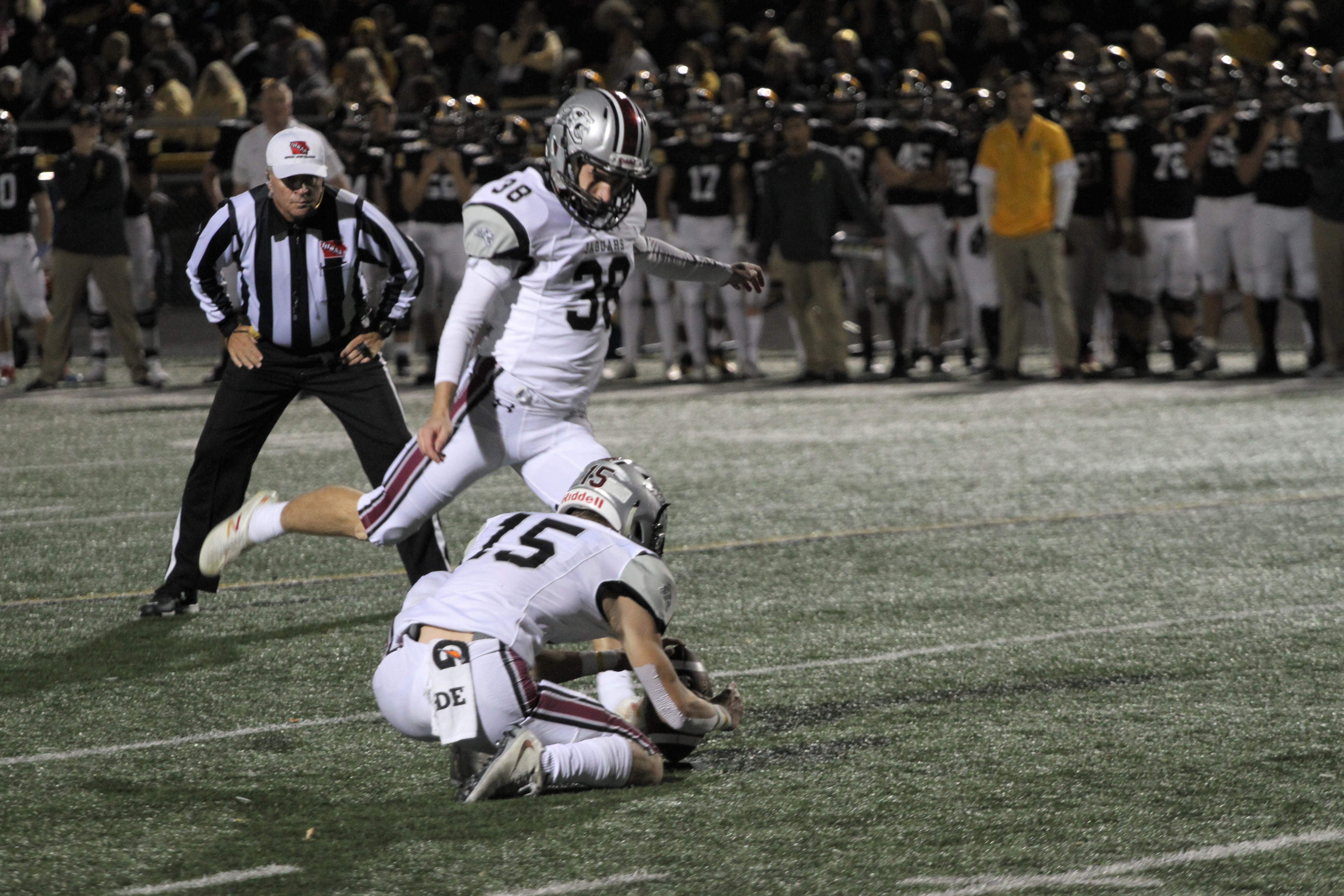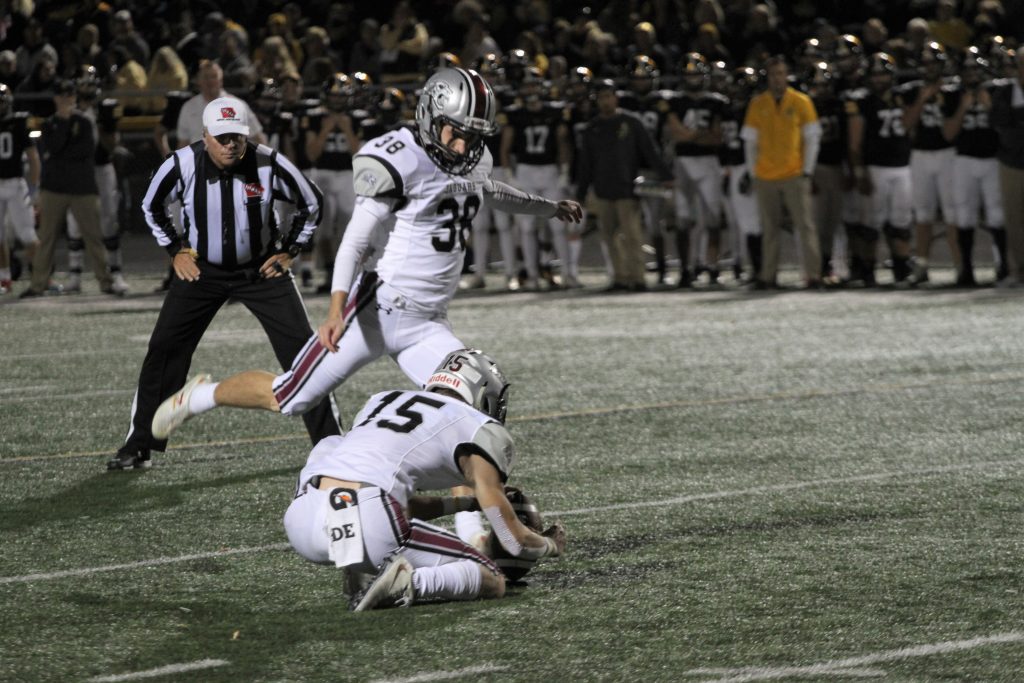 When Ankeny Centennial's Connor Page lined up for a game-winning field goal with 3 seconds left on Friday at Southeast Polk, the Rams tried to freeze the Jaguars' place-kicker by calling a timeout.
But Page has been in this situation before.
The 150-pound senior kicked a 30-yard field goal as time expired to give the sixth-ranked Jaguars a 20-17 victory in a Class 4A District 2 showdown. It was the second game-winning kick of the season for Page, who booted a 34-yard field goal in overtime to lift Centennial past rival Ankeny, 17-14, on Aug. 30.
"I have trust in myself now that most of these kicks from within a certain range are going to go in," said Page. "I knew it was going to go in."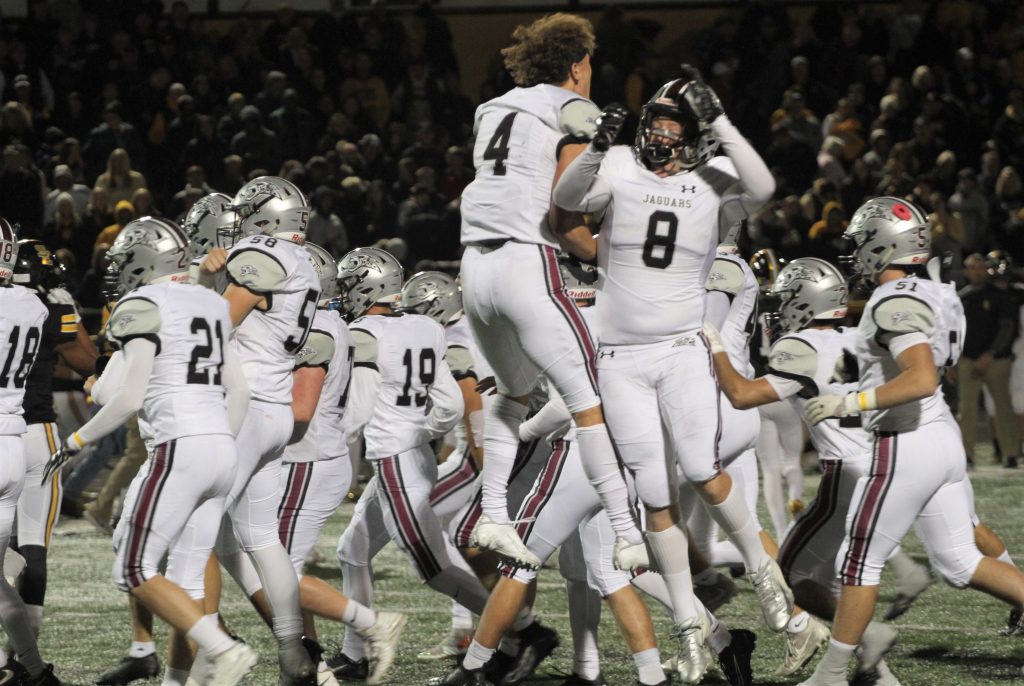 The win improved Centennial to 2-0 in the district and 5-1 overall. The loss ended a four-game winning streak for the No. 7 Rams, whose records fell to 1-1 and 4-2.
The Jaguars avenged last year's stunning 21-17 loss to Southeast Polk in the opening round of the Class 4A playoffs, when Centennial was the No. 1 seed.
"Anytime your season ends to a team like that, next year you just want it that much more," said Centennial running back Avery Gates, who rushed for 116 yards on 18 carries. "We were pretty fired up to come out here and get the opportunity to play those guys for a spot in the driver's seat for the district."
The game was tied at 17-17 when Southeast Polk was forced to punt from midfield with 4:25 remaining. The Jaguars took over at their 9-yard line.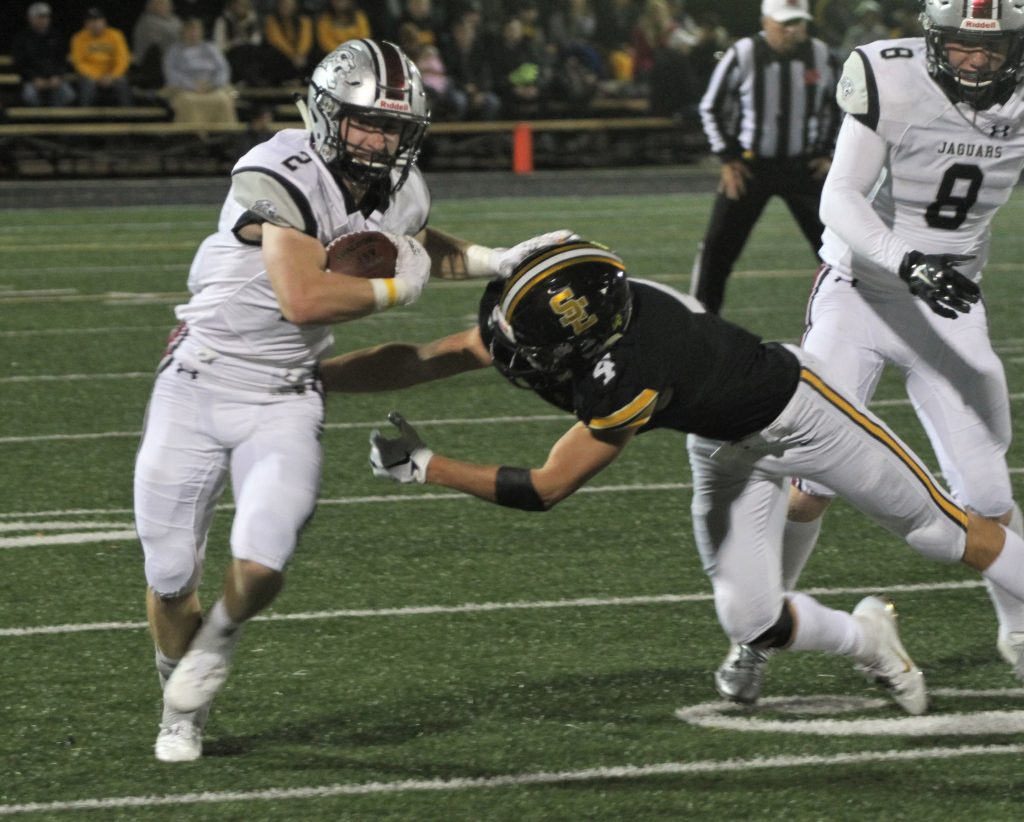 "We saw good things from our offense all night, especially our O-line," Gates said. "We were just preaching to put together a long drive that wears the clock down and puts us in a good position."
Centennial methodically drove down the field behind the running of Gates and the passing of Hayes Gibson, who completed 12-of-16 attempts for 162 yards on the night. Gibson ran 4 yards for a first down at the Rams' 13-yard line with less than 20 seconds left.
The Jaguars then let the clock run down to 3 seconds before calling their final timeout.
"My teammates knew I could do it, and they gave me all the confidence in the world," Page said. "This was a shorter kick (than the one against Ankeny), and I knew I could make it."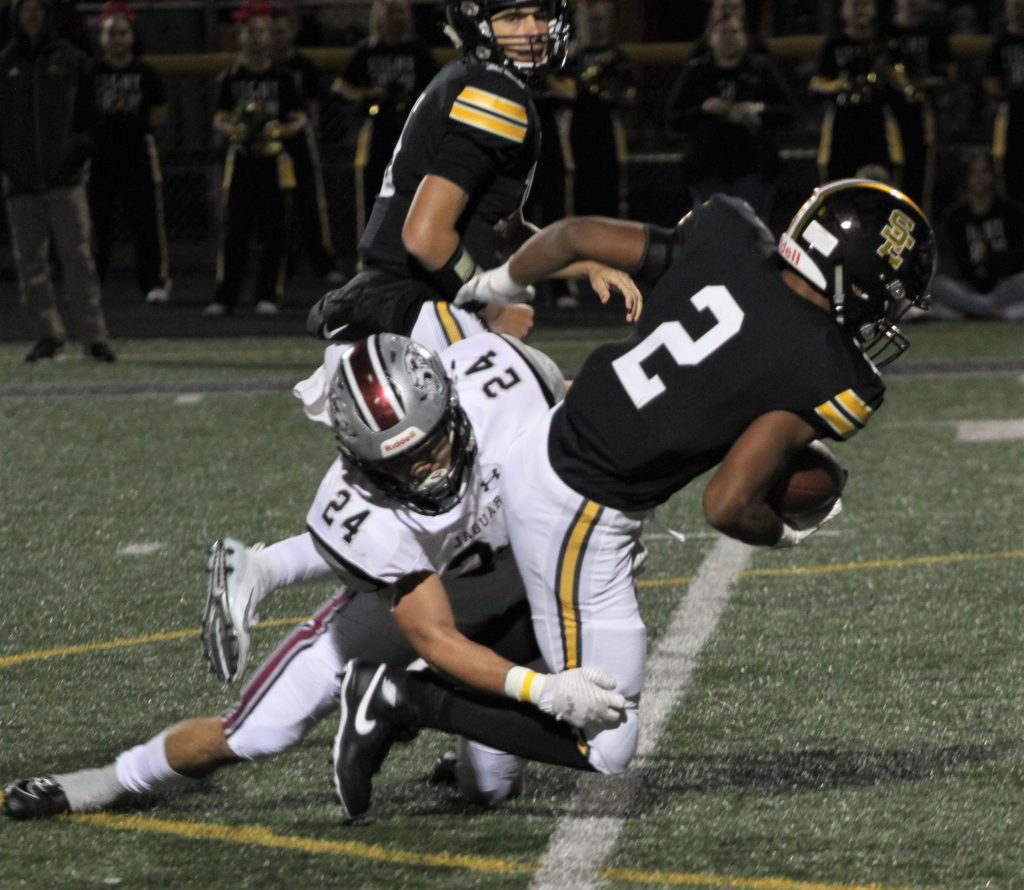 Southeast Polk then called another timeout before Page calmly converted the game-winner.
"For not kicking that long, to be able to make two game-winners in one season is pretty cool," Gates said. "He's pretty clutch."
Page kicked a 23-yard field goal to tie the game at 3-3 with 8:03 left in the first half. The Jaguars were forced to settle for a field goal after committing a false start penalty on fourth-and-goal from the 1.
Centennial then drove 68 yards on its next possession to take the lead. Gibson scored on a 1-yard sneak to put the Jaguars ahead, 10-3, at the half.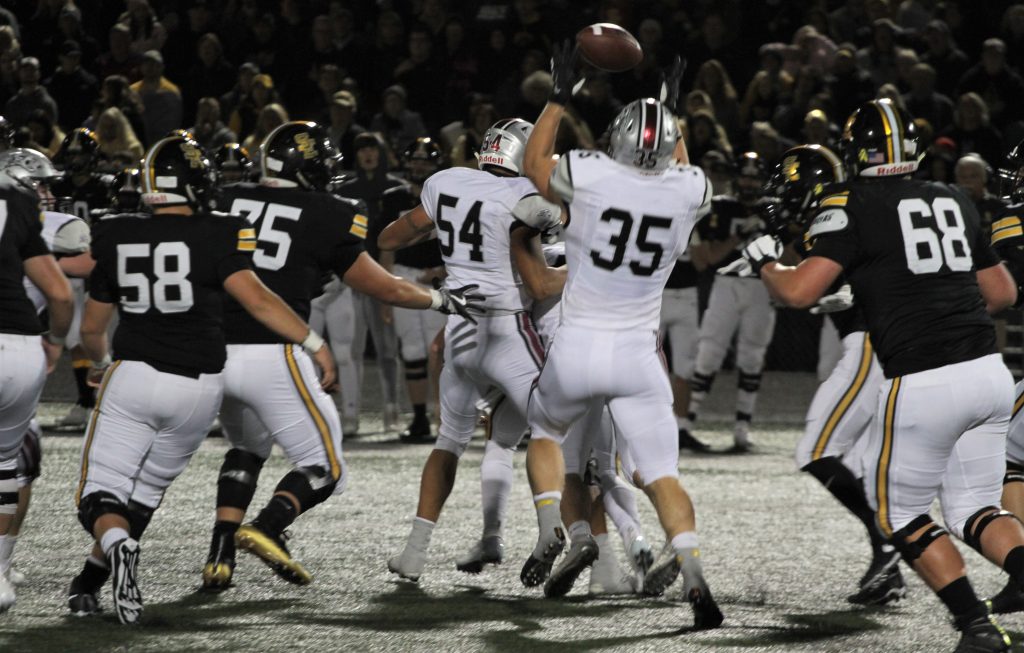 Southeast Polk opened the third quarter with an 80-yard drive to tie the score at 10-10. Quarterback Jaxon Dailey capped the drive with a 1-yard sneak.
Centennial regained the lead early in the fourth quarter, when Gibson fired a 31-yard scoring strike to wide-open tight end Karter Kester on third-and-4.
"I saw their (line)backer sink down, and instantly from my break I knew I was going to be open," Kester said. "I just wanted to make sure that I caught the ball and did my part for the team."
The Rams needed only 54 seconds to tie the game once again. Dailey threw a 38-yard touchdown pass to Fred Johnson with 9:35 left.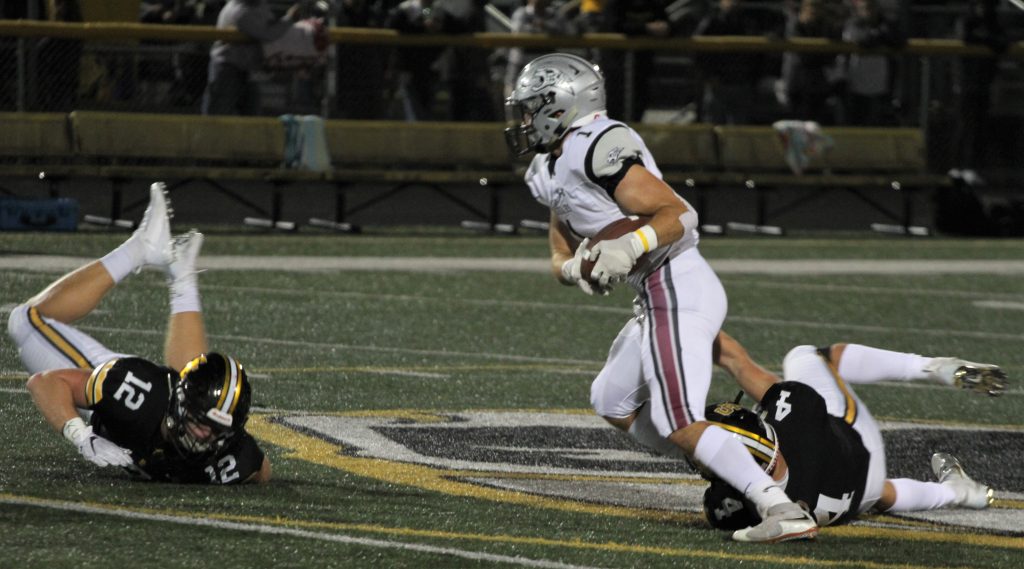 The two teams then traded punts before Centennial started its game-winning drive.
"I had 100 percent confidence in my team, and I'll ride or die until the end with them," Kester said.
Gibson also rushed for 61 yards on 16 carries. Dylan DeAngelo caught four passes for 71 yards.
Deveyon Montgomery ran 15 times for 105 yards to lead Southeast Polk.