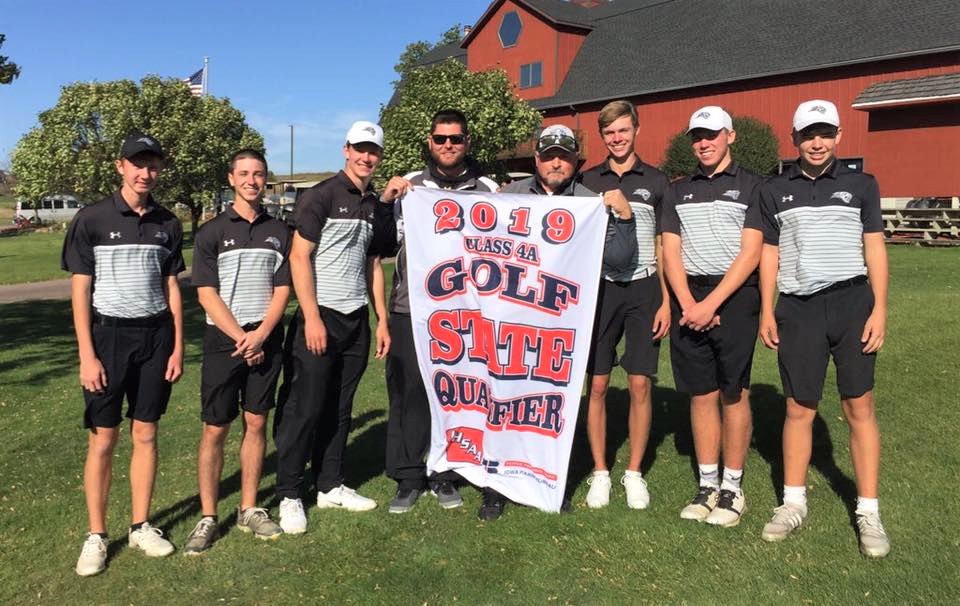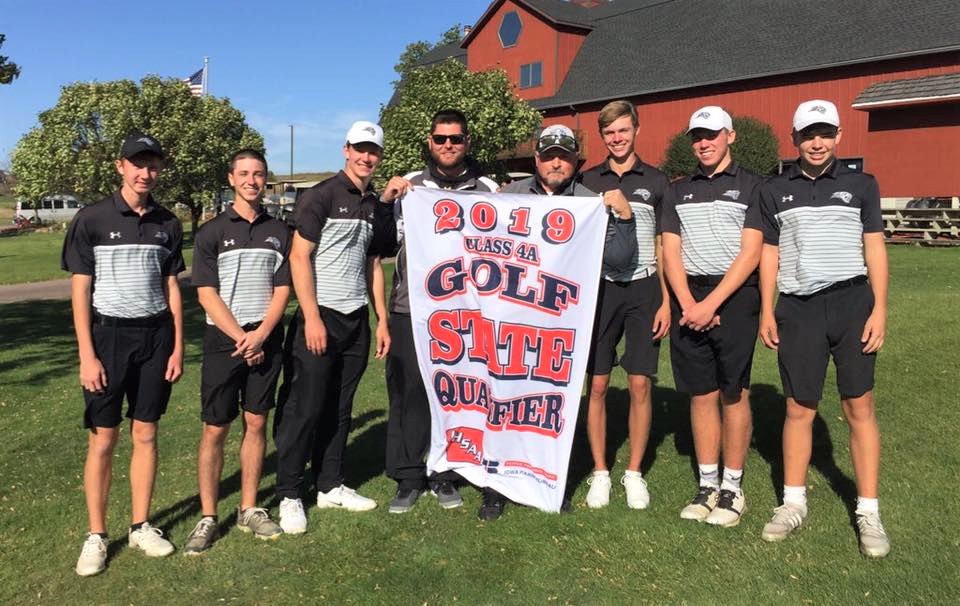 All season long, boys' golf coaches Rick Fee of Ankeny Centennial and Mike Weddingfeld of Ankeny have been saying that every stroke counts.
That was never more evident than it was Tuesday at the Whispering Creek Golf Club in Sioux City.
Centennial shot a 347 in windy conditions to place third in a Class 4A district meet, allowing the Jaguars to qualify for this weekend's state meet. Fee's team advanced to state for the fifth time in seven seasons, but it came by the slimmest of margins.
Ankeny and Sioux City East each shot a 348 to tie for fourth place in the 14-team field.
"Today was one of the most interesting rounds I've been a part of as a coach," said Fee. "We moved up and down the leaderboard all day being as high as second and as low as sixth. At the end of the day, we were able to sneak past Sioux City East and Ankeny by one stroke."
Senior Drake Ellgren, who played on Centennial's last state tournament team in 2017, sent the Jaguars to the state meet by making a par on his last two holes. He finished with an 80 to tie for second place as an individual.
"It feels incredible," Ellgren said. "The last two holes were the most pressure I have ever had on me on a golf course, and I was ecstatic when I made the final 8-footer to make state by one stroke."
Ankeny junior Corbin Walker carded a 7-over-par 79 to earn medalist honors. While Walker qualified for the state meet as an individual, it was an otherwise disappointing day for the Hawks, who have been ranked among the state's top five teams most of the season.
Defending state champion Waukee shot a 324 to easily win the district crown. Dowling Catholic placed second with a 345 and also qualified for state along with Centennial.
"I am not sure what happened today," said Weddingfeld. "If you would have told me before we teed off that Ty (Roghair) would play the front nine without making a par and Hunter (Johnson) would play the back nine without making a par, and Dylan (Taylor) would be heading to urgent care right after his round and that a 79 would win the entire tournament today, I wouldn't have believed it. It was really a crazy and stressful day for both the team and myself."
Centennial's Ellgren also felt some stress after making a quadruple bogey on the No. 12 hole. But he then played the rest of his round–11 more holes–in 2-over-par.
"The key today for me was just trusting myself and keep grinding," Ellgren said. "I (had a 9) on my seventh hole, but knew if I didn't let up I could still put up a solid score. I went 1-under my next five holes which got me back on track. I also had a great par-par finish, making a 25-footer and another 8-footer to end my day."
Ellgren tied with the Waukee duo of Jack Starr and Matthew O'Brien for runner-up honors.
"He played great in the conditions," Fee said.
Johnny Saddoris placed 12th for the Jaguars with an 85. Adam Wagner shot a 90, Jack Winkel had a 92, Logan Kinch fired a 96, and Connor Thorpe added a 98.
"Our team had some good discussions the night before in the hotel and knew if we just stuck it out, we would have a solid shot at making it," Ellgren said. "We have played some solid golf the whole season, and knew we could be one of the (top) three teams today."
Ankeny just missed qualifying for the state meet, despite Walker's outstanding round. Walker had a 2-over 38 on the front nine that included eight pars.
"Corbin really played great today and every time I talked with him during the round he was happy with how he was playing and OK with the bogeys that he made," Weddingfeld said. "Today, bogey was a really good score on some of those holes and that is hard to accept sometimes. I know the team was and is really bummed after today, but they are very proud of Corbin for playing so well and will be supporting him this weekend as he represents Hawk golf at state."
Johnson tied for ninth with an 84. He was hoping to earn a second straight trip to the state meet, but missed qualifying as an individual by two strokes.
Joey Newton shot a 92 for the Hawks, while Luke Parkinson had a 93. Roghair fired a 95, and Taylor finished with a 97 after playing through some neck pain and a bad headache that required some medical attention following the meet.
"It was a tough day as the wind was blowing 30-plus miles per hour at times, making it extremely difficult to judge distance and to keep the ball in play and even on the green sometimes," Weddingfeld said. "We had a great practice the night before and everyone was hitting great at the range before we teed off today, but once we got going the wheels seemed to fall off for some of the guys. When you start having a few bad holes, sometimes you start to press and try harder to make pars and birdies and that is really hard, especially with wind and fast greens.
"Luke and Joey played well for us and I know they weren't happy with their scores, but with conditions the way they were they played a good round compared to their season averages. Almost all scores today had to be 8-10 strokes higher than normal for all the guys playing," he added.
The state meet will be held on Friday and Saturday at the Tournament Club of Iowa in Polk City. District champions Cedar Falls, Pleasant Valley and Southeast Polk will be among the teams looking to dethrone Waukee, which has won five titles in the last nine years.
The Centennial golfers won't be satisfied just to be there.
"We still have to work on our ability to close out our rounds," Fee said. "As a group we need to focus on our areas of concern over the next two days at practice so we can be (ready) for state. There are a number of good teams at state and we are grateful to be there, but we want to also put in a good performance."