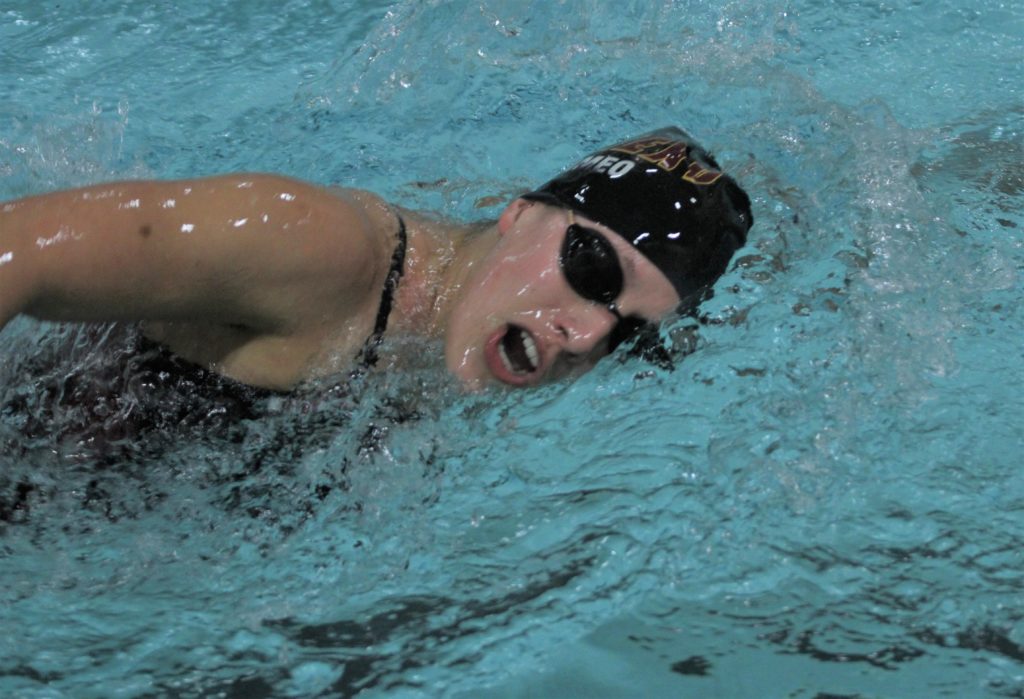 A lot of different swimmers contributed to the Ankeny girls' swimming team's victory in the Ram Relays on Thursday at Southeast Polk.
The fourth-ranked Hawkettes won 10 of the 11 events and captured the team title for the sixth consecutive year with 192 points. Newon/Colfax-Mingo/Pella placed second in the eight-team field with 120 points.
"This meet is one of the highlights of the season for many of our girls," said Ankeny coach Michelle Stout. "Each event is swam as a relay with a teammate. So the individual sprint event of the 50 free is actually a 2×50 free relay and so on. The usual relay events are doubled up as well, so each relay event has eight girls racing together."
Ankeny's Scout Bergwall and Jasmine Rumley teamed up to win the 2×100 butterfly in a time of 1:55.91. Both seniors had four first-place finishes on the night.
Some of their teammates also racked up four victories during the meet.
"The perseverance of this group of girls is outstanding," Stout said. "We've faced a number of challenges the past couple of weeks with our meet schedule changes and illnesses making the rounds on the team, and the team has worked through all of them together."
The only event that Ankeny didn't win was the 2×200 individual medley. Des Moines Roosevelt won that race in 4:40.33, while the Hawkettes got a second-place finish from the duo of Annie Walker and Myah Rozinek (4:56.45).
The longest race of the meet produced an unusual tie.
"It can get exciting to watch the lead changes that happen within each race," Stout said. "The 2×500 freestyle actually ended up being a tie after a total of 1,000 yards."
The Ankeny team of Madison Carleton and Riley Loeffler posted a time of 11:13.58 in the 2×500 freestyle. They finished in a dead heat with the Atlantic duo of Annamaria Lowary and Alexes Reynolds.
Here are the rest of Ankeny's winners:
8×50 medley relay (Alexis Henning, Katie Brown, Carleton, Rumley, Alexi Mast, Erica Peters, Walker, Rozinek), 3:48.93.
2×200 freestyle (Carleton, Rachel Rolow), 4:04.63.
2×50 freestyle (Rumley, Mia Pearson), 49.06.
2×100 freestyle (Henning, Pearson), 1:50.41.
8×50 freestyle relay (Pearson, Peters, Bergwall, Rumley, Rolow, Lydia Boehlert, Mariah Parton, Cassidy Jenison), 3:28.49.
2×100 backstroke (Bergwall, Henning), 1:58.60.
2×100 breaststroke (Brown, Peters), 2:24.30.
8×100 freestyle relay (Bergwall, Carleton, Henning, Rozinek, Eva DiMeo, Boehlert, Brown, Rolow), 7:48.77.