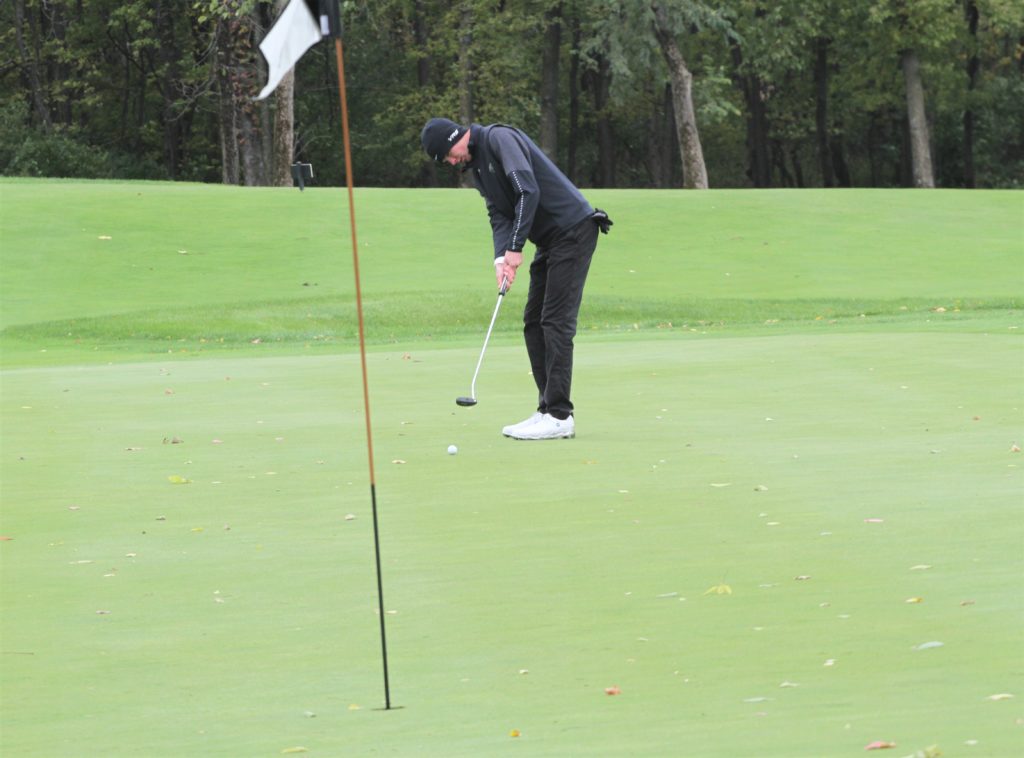 The boys' golf season came to an end on Saturday at the Tournament Club of Iowa in Polk City, but for both the Ankeny and Ankeny Centennial squads, it was also time to look ahead.
The Jaguars, who placed ninth in the Class 4A state meet with a two-day total of 668, will return a pair of state qualifiers next year. Junior Johnny Saddoris and sophomore Jack Winkel will both be back along with Ankeny junior Corbin Walker, who qualified for this year's meet as an individual.
"Both Ankeny and Centennial are excited to see what the future holds as we both have a great core group of kids coming back next season," said Jaguars coach Rick Fee.
Walker, who tied for 30th place along with Saddoris and Centennial senior Drake Ellgren, is hoping to make a second consecutive state-meet appearance in 2020. Ankeny will graduate only one varsity regular from a team that was ranked among the top five squads in Class 4A for much of the season.
"It was a very enjoyable experience and hopefully all of my teammates will be there next year as well," Walker said.
Centennial shot a 331 in Saturday's final round after posting a score of 337 on Friday. The tournament was played in cold and windy conditions.
"The course was tough and our scores showcased that, but I'm happy with the way the boys hung in there after having some struggles on certain holes," Fee said. "Hole No. 18 was a hard par-4 to begin with, but then add 30 mph winds in your face and it turned into a nightmare for the whole field. We definitely learned a lot from round one and tried to correct our mistakes for the second day. Our day two team score was lower even in the tougher conditions."
The Jaguars were led by senior Logan Kinch. He carded an 82 on Saturday to finish in a tie for 26th place with a 36-hole total of 166.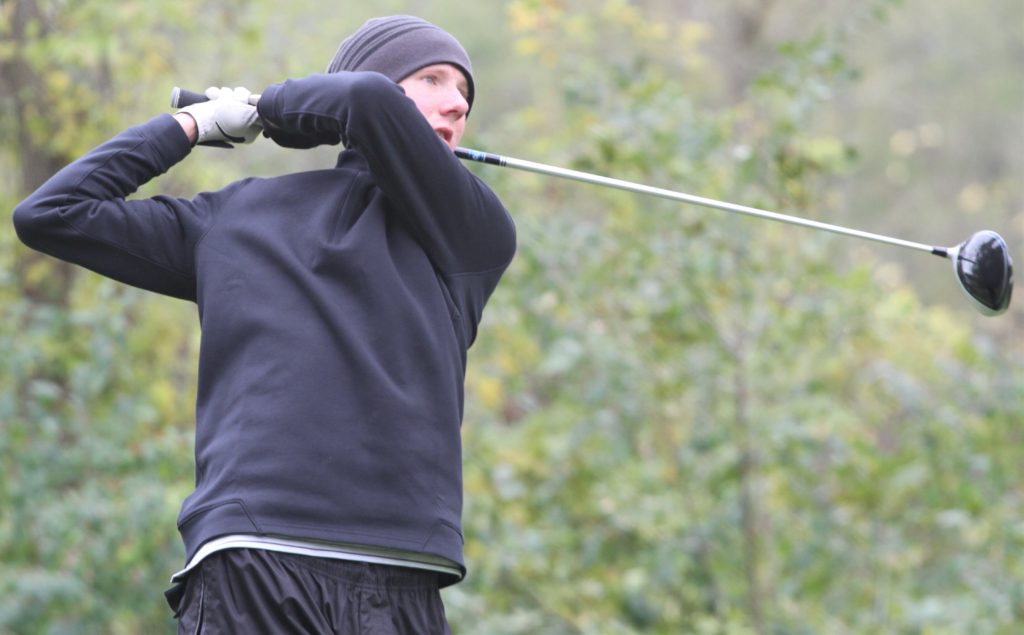 "I'm just happy that I could come back with a very solid score after my blowup from districts," said Kinch, who shot a 96 at the district meet on Tuesday. "I'm content with ending my season putting up a solid score for the two days."
Saddoris and Ellgren both finished with a 169 total. Saddoris carded an 83 on Saturday, while Ellgren struggled to a 90 after shooting a 79 on Friday that put him in a tie for 12th place heading into the final round.
Winkel fired an 81 on Saturday and finished with a 171 total. Connor Thorpe had an 86 to finish with a 174 total, while Adam Wagner carded an 85 for a 176 total.
"My boys really enjoyed their time at the state tournament this year," Fee said. "For everyone but Drake, it was their first experience taking part in this event."
Kinch said the Jaguars were prepared for the difficult conditions.
"Our coach helped us as much as he could on Wednesday and Thursday before the meet to work on controlling the ball in high-wind situations," he said. "Not only did he help with that, he also helped us prepare mentally by giving us the right mindset to play our best in cold, windy elements so that we could have a shot at state. As a team, I feel we played well since we were competing against many great teams."
Waukee held on to win the team title by one shot after building a seven-stroke lead on Friday. The Warriors carded a 334 on Saturday and finished with a 649 total to edge Valley, which shot a 325 in both rounds.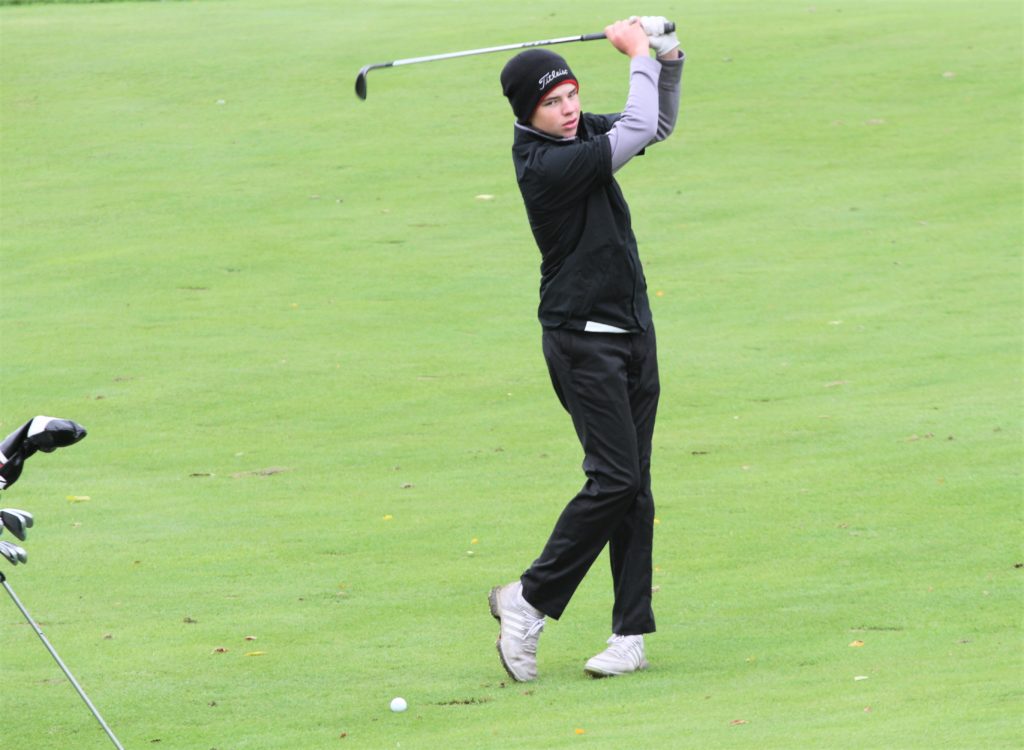 It was the second straight title for Waukee, which has won six of the last 10 championships.
Dillon Burr of Linn-Mar (Marion) was the individual champion. He shot a 73 on both days for a 146 total that was six strokes better than runner-up Nile Petersen of Cedar Rapids Washington.
Walker fired an 81 on Saturday after opening with an 88.
"I was happy with how I didn't give up, and I finished strong and I achieved my goal of finishing in the top half of players," Walker said.
Walker played the front nine in 2-over-par 37. He had a birdie on the par-5 No. 13 hole.
"Corbin played a great round except for (a quadruple bogey on) hole No. 18, which played the most difficult I have seen because of the wind," said Ankeny coach Mike Weddingfeld. "Corbin struggled a bit with his swing on Friday, but we finally figured out that his posture at set up was a little off causing him to hit both fat and thin shots. We figured it out Friday during the last few holes and he finished 2-under on the last two holes Friday, and that carried into Saturday.
"Both days were extremely difficult with the cold and wind and after Corbin got over the nerves, he really played well and worked hard to fight through some tough conditions and a tough golf course," he added.