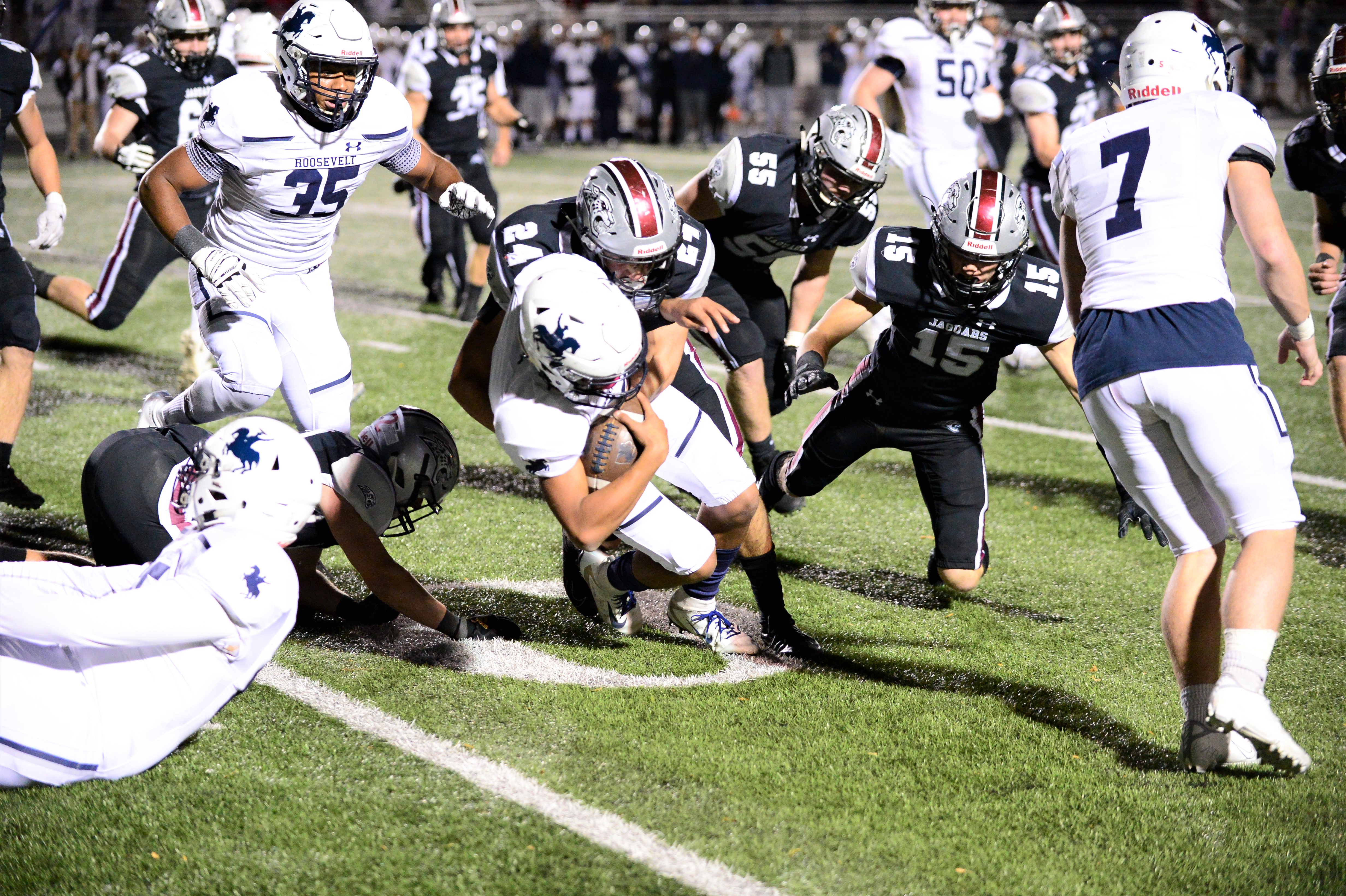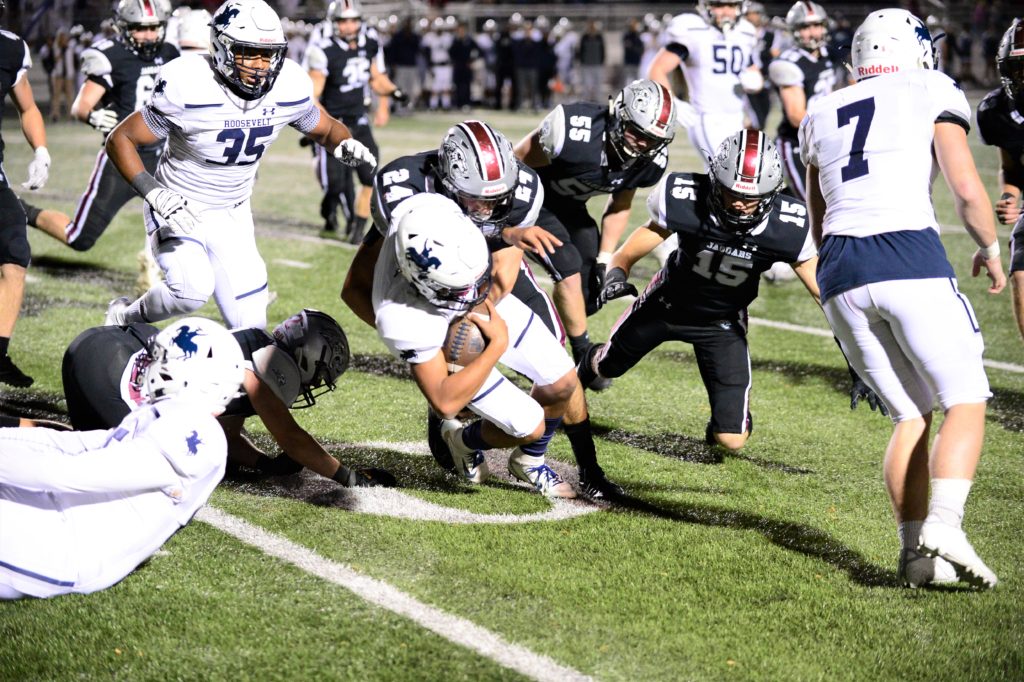 Ankeny Centennial's defensive unit is sometimes overshadowed by the Jaguars' high-powered offensive attack.
That wasn't the case on Friday night.
The fifth-ranked Jaguars turned in a dominating defensive performance, holding No. 7 Des Moines Roosevelt to just 84 yards of total offense en route to a 28-7 victory at Ankeny Stadium.
"That's our strong point on our team–has been since day one," said Centennial co-head coach Ryan Pezzetti. "We knew that going into the year, and an effort like you saw tonight is what you need going into the postseason."
The two teams combined to complete just seven passes in the windy conditions. Forced to run the ball, Roosevelt could not sustain any drives against Centennial's stingy defense, going three-and-out six times.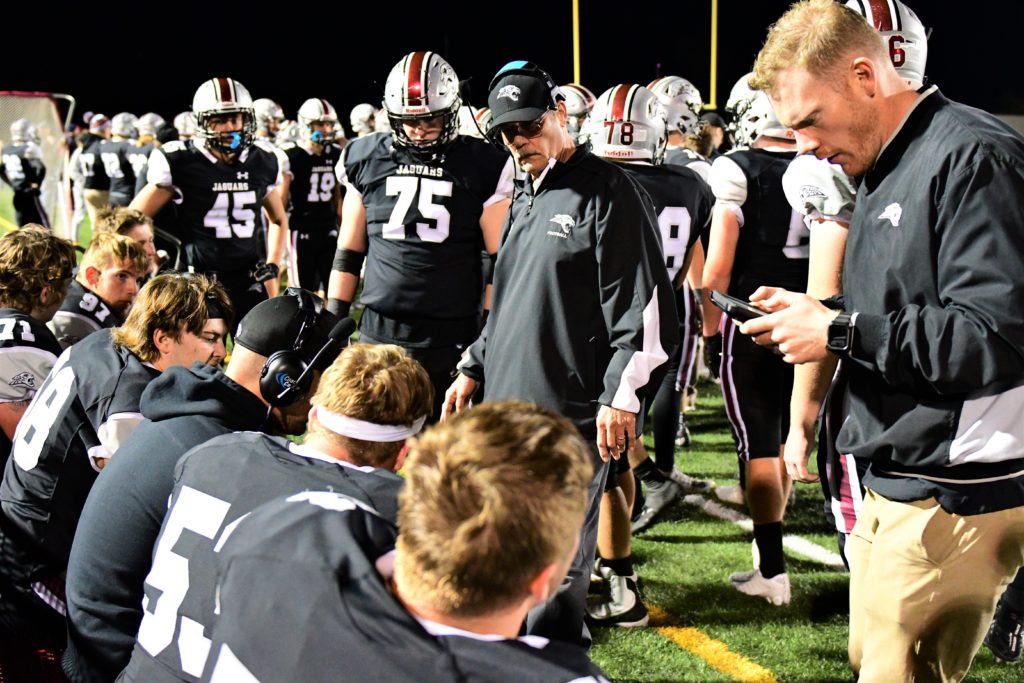 The Roughriders had just seven first downs. Two of them came by penalties, including one that led to Roosevelt's only touchdown.
"We just came together," said Centennial defensive back Nick Scherle. "We've had a lot of experience together, we play well together, and we just come out and hit hard."
Desmond Vaughan led the Jaguars with nine tackles, three of them for losses.
"We were expecting them to run–they've got a strong running crew," Vaughan said of the Roughriders. "We just fit the holes really good tonight, and that helped us out."
The win allowed Centennial to capture the District 2 title. The Jaguars improved to 4-0 in the district and 7-1 overall, while Roosevelt's records dropped to 3-1 and 6-2.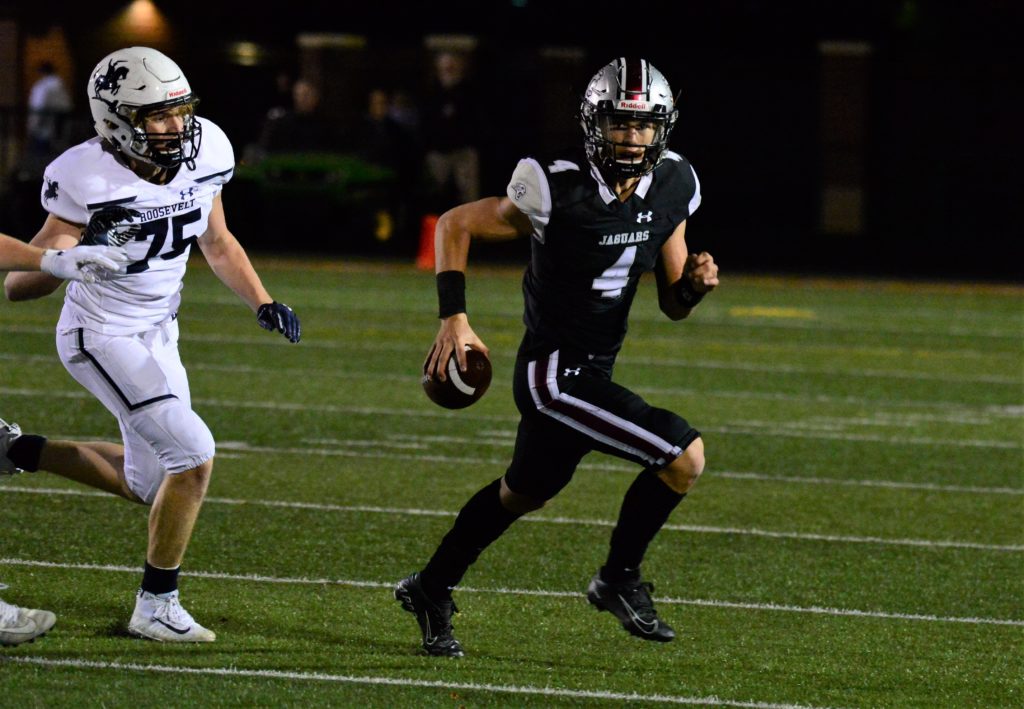 Centennial, which will likely remain third in this week's Class 4A RPI rankings, has secured an automatic playoff berth.
"A district title is always a goal for our team, and securing a seed in the top four is something that we're blessed to have," Pezzetti said.
Friday's game got off to a rough start for Centennial. On the game's opening possession, the Jaguars were stuffed for no gain on fourth-and-inches from their own 29-yard line.
"They're phenomenal," Pezzetti said of the Roughriders' defense. "They've got great athletes, and they were running around. They had a lot of movement up front that was giving us some problems. This was a good game to have going into the postseason, because we've got some things to correct."
Roosevelt then benefited from a roughing-the-passer penalty to keep the ensuing drive alive. That led to a 10-yard touchdown run by George Runkel less than 4 minutes into the game.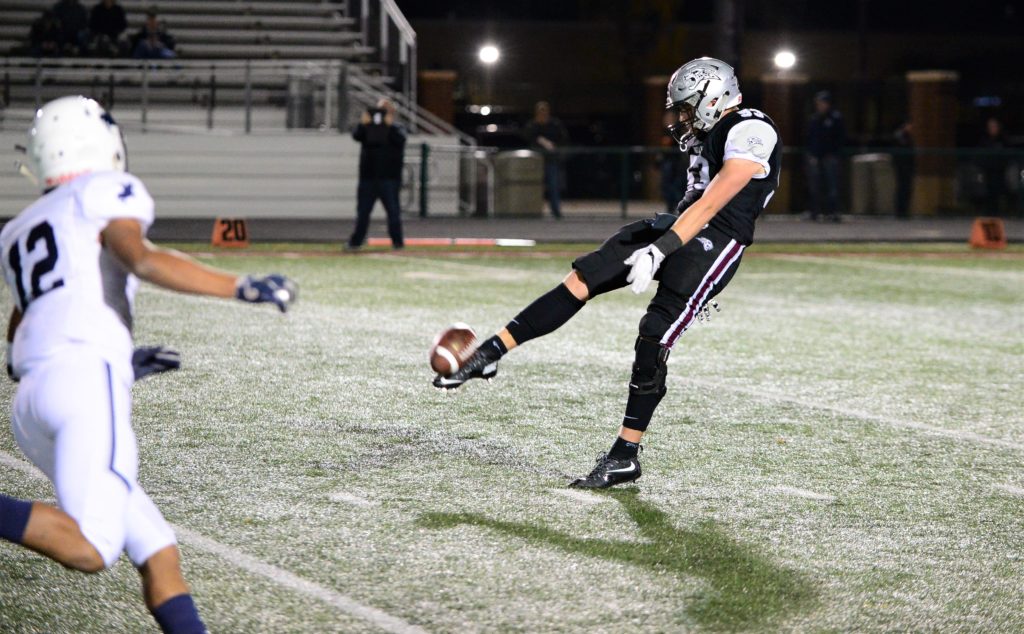 Centennial answered with an 80-yard scoring drive. Quarterback Hayes Gibson tied the game with a 1-yard sneak that was set up by Tyler Johnson's 40-yard run.
Early in the second quarter, Scherle put the Jaguars ahead for good with a pick-six. Roosevelt's Garrett Hutchison threw a pass into the wind that Scherle intercepted, then ran 40 yards to the end zone.
"I dropped back and was playing off the quarterback's eyes, and I saw the ball go up and I just made a play on the ball," Scherle said. "Things worked out–I got some blocks downfield, and it turned out in my favor."
Most of Centennial's offense came on the ground. Johnson ran 11 times for 106 yards, while Avery Gates added 98 yards on 24 carries.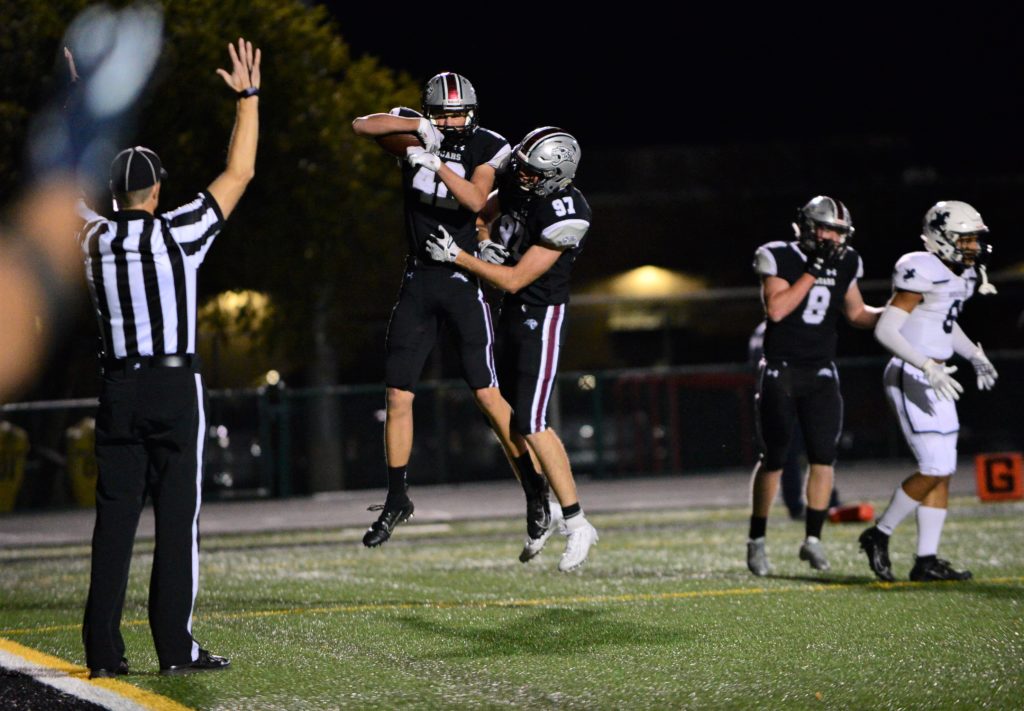 However, an unlikely hero emerged for the Jaguars in the second half. Sophomore tight end Trace Thaden, who hadn't made a catch all season, was on the receiving end of two touchdown passes from Gibson.
"We ran some passes in practice, and we finally ran it in the game," said Thaden.
Midway through the third quarter, Gibson found Thaden in the end zone for a 9-yard scoring pass. The Jaguars later sealed the victory when Gibson passed to a wide-open Thaden for a 24-yard catch-and-run touchdown with 6 minutes 24 seconds remaining.
"I was just thinking, 'Catch the ball and turn and run,'" Thaden said.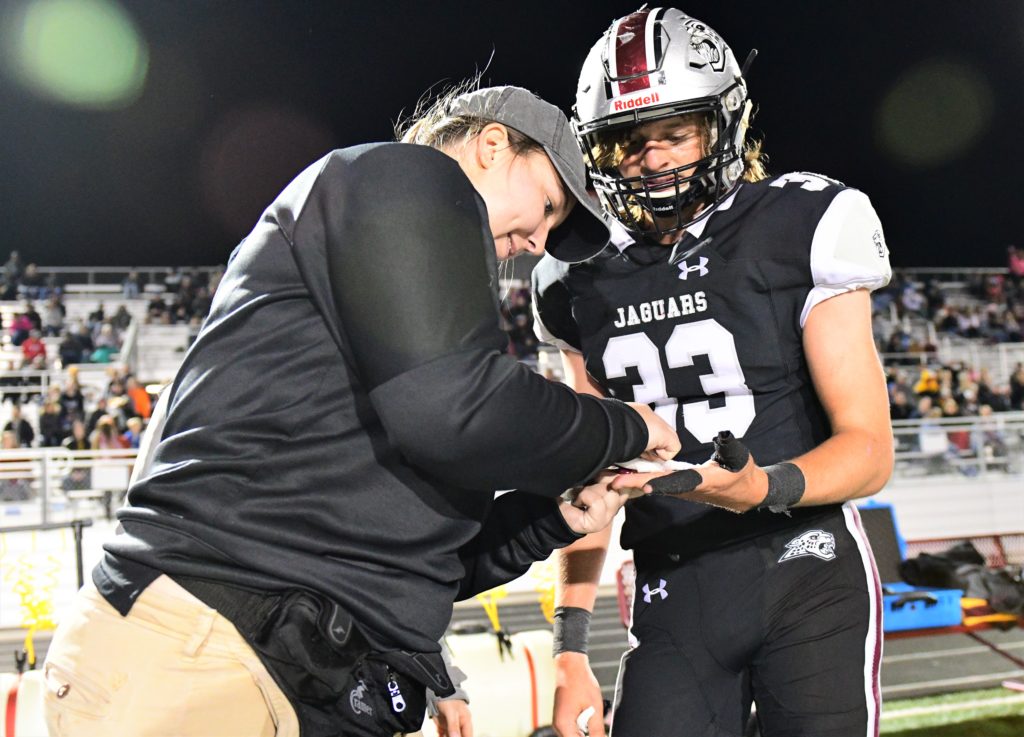 Thaden is listed as No. 48 on the Jaguars' roster. But he wore No. 42 on Friday after forgetting to bring his jersey to the game.
"Maybe that's why he was so wide open," Pezzetti said.
Centennial will close out the regular season on Thursday with a game at Sioux City West (0-8), which has been outscored by a 429-37 margin this season. With a win, the Jaguars would likely be at home for the first two rounds of the playoffs.
"It's unchartered territory for us to play our final game on a Thursday, but it will give us an extra day to get ready for that first playoff game," Pezzetti said.