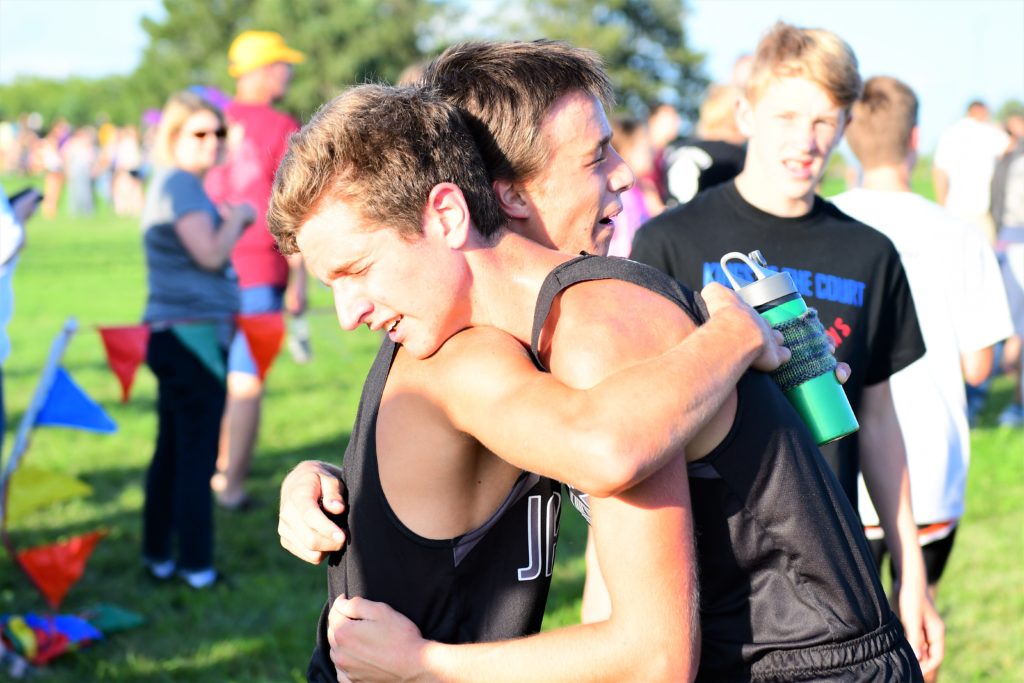 The cutoff point to qualify for the state cross country meet can leave runners feeling exhilarated or devastated.
The Ankeny Centennial squads experienced both ends of the spectrum during Thursday's state qualifying meet at Council Bluffs.
While the Centennial boys' team qualified three runners for the state meet, including a pair who earned the last two individual spots, the ninth-ranked Centennial girls' squad lost a tiebreaker for third place and failed to advance for the first time in program history. The Jaguars and No. 11 Urbandale both finished with 81 points, but the J-Hawks qualified because their No. 6 runner finished ahead of Centennial's.
"We knew we needed to run well because Urbandale was bringing up a JV runner from conference who was going to help them out," said Centennial girls' coach Eric Cogdill. "In the end, their sixth runner beat out our fourth runner–adding two points to our score. Those two points put us into a tie, and they held the tiebreaker."
However, the Jaguars will still be represented at the state meet. Kathryn Vortherms and Katie Jensen qualified as individuals and will be making the trip to Fort Dodge on Nov. 2 along with fellow juniors Gabriel Vicker, Connor Cunningham and Nate Jones.
"The team all competed well," said Centennial boys' coach Chad Fickbohm. "We just didn't have enough (to make it as a team)."
No. 3 Sioux City North won the boys' title with 46 points. No. 14 Urbandale placed second in the nine-team field with 72 points, while No. 13 Waukee was third with 83.
Centennial finished fourth with 97 points.
"Gabe, Connor and Nate all had a good race," Fickbohm said. "We just had too much of a gap between Nate and Kade (Christensen) to break up Waukee's pack to have a chance to get the team in."
Payton Marrs of Urbandale won the boys' 5k race in a time of 16 minutes 28 seconds. Vicker placed fifth in 16:57 to earn his second trip to the state meet.
"The race felt pretty good," Vicker said. "I felt amazing through 1.5 miles and then worked hard against the hills. The race went mostly according to plan. I hung onto Marrs until I couldn't compete anymore. It was a great day altogether."
Cunningham placed 14th in 17:11. Jones finished 15th in 17:17 to erase the disappointment from last year's district meet, where he placed 17th and just missed qualifying for state.
Christensen took 31st for the Jaguars in 18:09. Joe Guddall placed 32nd in 18:18, Cooper Majors was 35th in 18:33, and Ryan Bybee finished 38th in 18:48.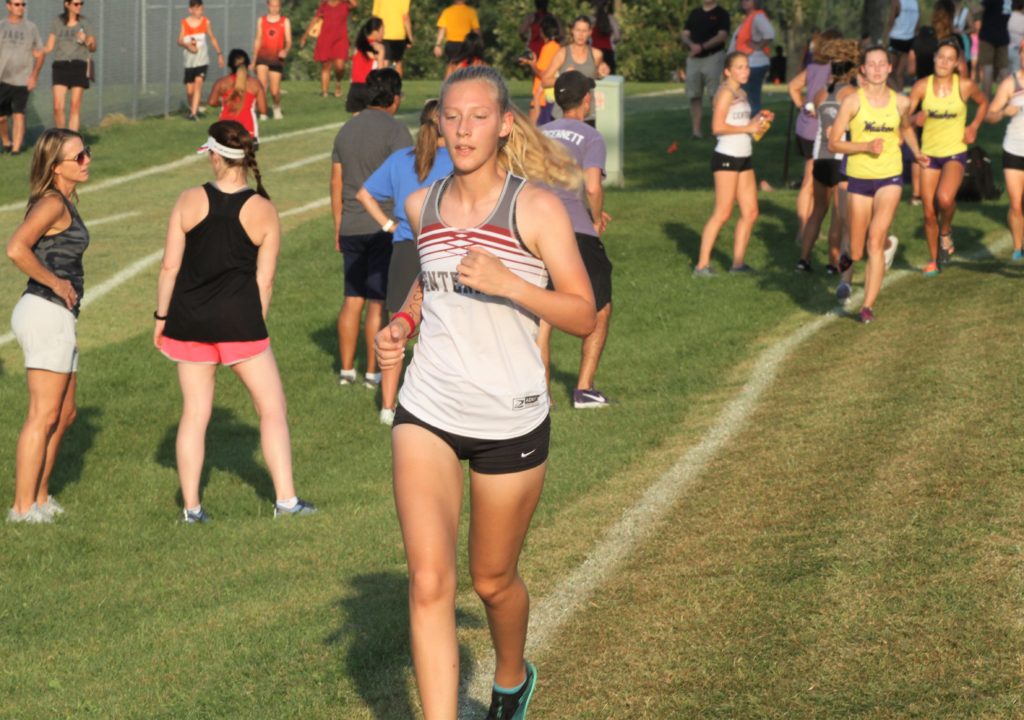 No. 4 Waukee easily won the girls' crown with 26 points. The Warriors had four top-five finishers behind Kaia Downs of Sioux City East, who won the race in a time of 19:19.
"Waukee controlled the race from the start to the finish," Cogdill said. "They have a great squad and will contend for a state podium finish."
Unranked Sioux City East placed second with 70 points. Cogdill said he lost a lot of sleep this week worrying about the Black Raiders.
"I had a strong feeling they would be running at state," he said. "They have a state medal contending individual with three strong runners to back her up. They have a gigantic gap to their fifth runner, but in a small meet that gap has much less of an impact. They will contend for a top 10 finish next week."
That left CIML Central Conference rivals Centennial and Urbandale to battle for third place. The Jaguars had defeated Urbandale by 12 points at the conference meet on Oct. 17, and for awhile on Thursday, it looked like they would do it again.
"The girls ran a great race plan," Cogdill said. "They knew they needed to be conservative early as the final hill (at the 2.25-mile mark) was going to be a leg-buster. After peaking the hill, we held a 62-86 edge on Urbandale with about a quarter of the race to go. Unfortunately, we ran out of gas and slid into an 81-81 tie. Urbandale didn't really move up much, but our pack got swallowed up by the experienced No. 1 and No. 2 runners from the other squads and the hard-charging finishers from Sioux City East."
Vortherms led the Jaguars with a sixth-place finish. She posted a time of 20:18 to advance to state for the third straight year.
Jensen qualified for the second time with an 11th-place finish. She was clocked in 20:42.
Centennial's Rondi Quass placed 19th in 20:58. The other Jaguars also earned top-25 finishes: Morgan Graybill placed 22nd in 21:03 and was immediately followed by Kierstan Fritz (21:05), Jeanne Peters (21:10) and Kendall Jorgensen (21:16).
"Our girls ran their hearts out, and we put all seven runners into the top 25 finishers," Cogdill said. "Our first season, we punched our team through to state with just three top-25 finishers and a total of 80 points. That team took 10th at state. We had 81 points today. We have a state-caliber team, but sometimes the qualifying assignment or the race just doesn't go (your) way. On the season, we were 4-0 against Valley, 3-0 against Dowling Catholic, and 3-0 against Indianola–and those teams all qualified at different sites."