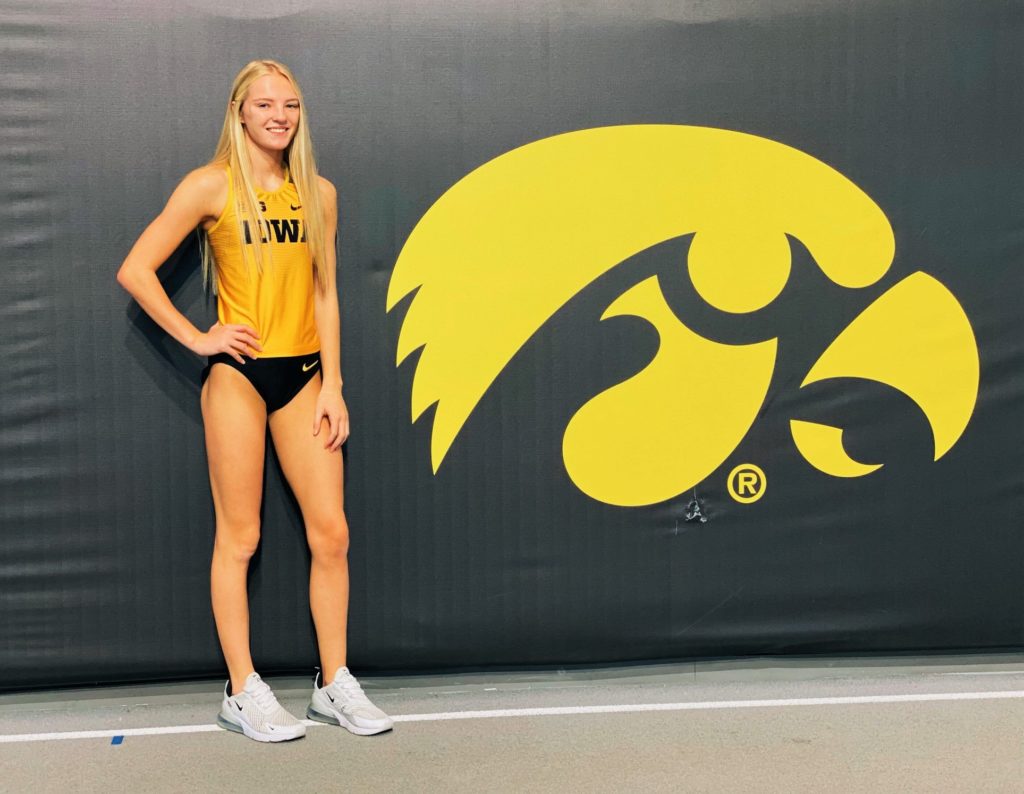 The recruiting battle for Ankeny Centennial hurdler Katie Petersen started with an official visit to the University of Iowa.
Iowa City is also where the fight for Petersen's services came to an end.
Earlier this week, Petersen announced her verbal commitment to Iowa via Twitter.
"(I) couldn't be more blessed and excited to announce I will be furthering my education and track career at the University of Iowa!" Petersen tweeted. "Huge thank you to family, friends and coaches for the endless support. Go Hawks!!!"
Petersen, a five-time state placewinner, said she didn't need to continue her search after visiting Iowa last weekend.
"Iowa was the first school I officially visited, and it just felt like where I was meant to be from the moment I stepped on campus," Petersen said. "I was initially planning on visiting a few other schools before I made my decision, but it didn't take long for me to realize that Iowa was the right place for me. I loved absolutely everything about Iowa, and they had everything I was looking for and more."
Petersen blossomed into one of the state's top hurdlers as a junior, when she placed fifth in the 100 hurdles at the Drake Relays and set a school record with a time of 14.70 seconds. She was the CIML Central Conference champion in the 100 hurdles, then later placed fourth in that event at the Class 4A state meet, where she helped Centennial to a tie for 12th place overall–the highest finish in school history.
Petersen ran the leadoff legs on both the fourth-place shuttle hurdle and the sixth-place distance medley relays. She also ran on the fifth-place sprint medley relay that set a school record with a time of 1:49.46.
"I think the 100 hurdles will continue to be a race I specialize in and focus on being able to compete in the highly competitive B1G conference, and I hope to contribute in other events for the team as I continue to develop as a sprinter as well," Petersen said.
Former Olympic hurdler Joey Woody is the director of Iowa's track and field program.
"The coaching staff there is second to none, and I could tell on my visit they truly value and care about every single one of their athletes," Petersen said. "Iowa has first-class facilities and offers outstanding academic resources and support for student-athletes which was also really important and stood out to me. Ultimately, I believe Iowa will put me in the best position to grow the most as a person, student and athlete."