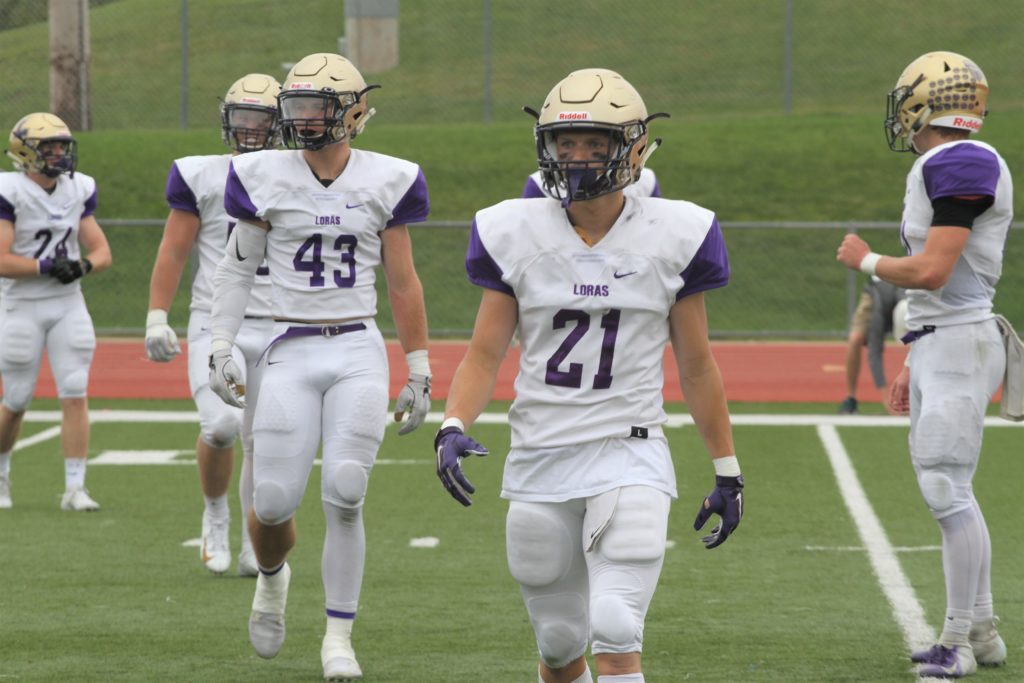 During his high school football career at Ankeny Centennial, Riley Larson was consistently a valuable member of the Jaguars' special teams.
Larson has continued that trend at Loras College.
On Saturday, the senior defensive back blocked an extra-point attempt in overtime to help the Duhawks to a thrilling 40-39 victory over Buena Vista in an American Rivers Conference game at the Rock Bowl in Dubuque.
"We already had gotten a hand on one earlier (PAT) so we knew we would have a chance to block another, and just throughout the course of the game I got comfortable with their timing and how the long snapper would snap it," Larson said. "So I just used that and I wasn't going to be too worried about an offsides penalty if it happened anyway, but I was able to time it well and get around (the edge) and it all worked out."
Buena Vista got the ball first in overtime and took a 39-33 lead on a 1-yard run by Bryland Menicucci on fourth-and-goal. But Larson then blocked the PAT try by Morris Aranda.
Loras tied the game on a 2-yard quarterback keeper by Noah Sigwarth, who passed for 280 yards in the win. Nicolas Farfan then followed with the game-winning extra point.
Farfan had a chance to win the game earlier, but his PAT try was blocked with 2 minutes 54 seconds left after Jerry McDaniel scored on a 3-yard run for his third touchdown of the day. That sent the contest into overtime–the first time the Duhawks played an overtime game since the 1996 matchup against the University of Wisconsin-Platteville.
Loras raised its records to 2-3 in the conference and 3-4 overall.