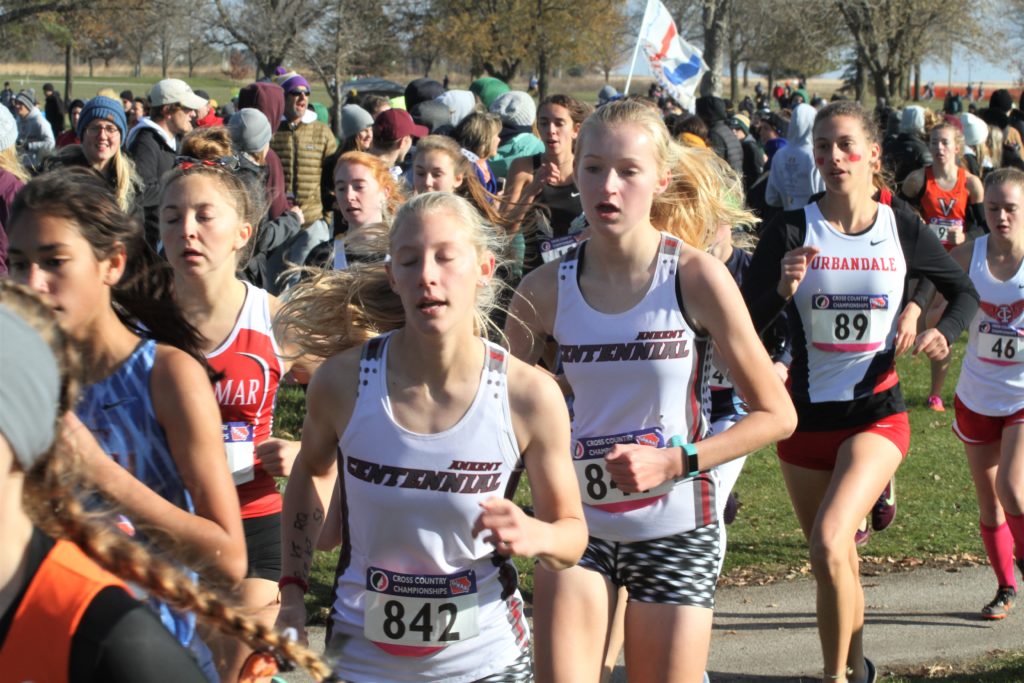 Ankeny Centennial runners Kathryn Vortherms and Katie Jensen have come a long way in the last two years.
On Saturday, that growth culminated in a pair of strong performances in the girls' Class 4A state cross country meet at Fort Dodge.
Vortherms, a junior, raced to a 32nd-place finish in a field of 126 runners. The junior posted a time of 19 minutes 29 seconds on the 5k course at Kennedy Park.
"I didn't really have (a plan)," said Vortherms. "It was just have fun and catch all the Urbandale girls."
Jensen, meanwhile, ended up in 74th place. The junior was clocked in 20:14.
"We wanted to not go out too hard this year," said Jensen. "We just kind of wanted to run our own races and not worry about anything."
Both Vortherms and Jensen joined Centennial's squad as freshmen in 2017. Neither of them cracked the varsity lineup right away.
"These two ladies have experienced tremendous growth through the combination of patience, good health, and hard work," said Centennial coach Eric Cogdill. "As a freshman, Kathryn didn't make the varsity lineup until the week before state qualifying, and then she placed 110th at state. A year later, she was 30 seconds faster and placed 73rd at state. And now as a junior, she cut another minute at state."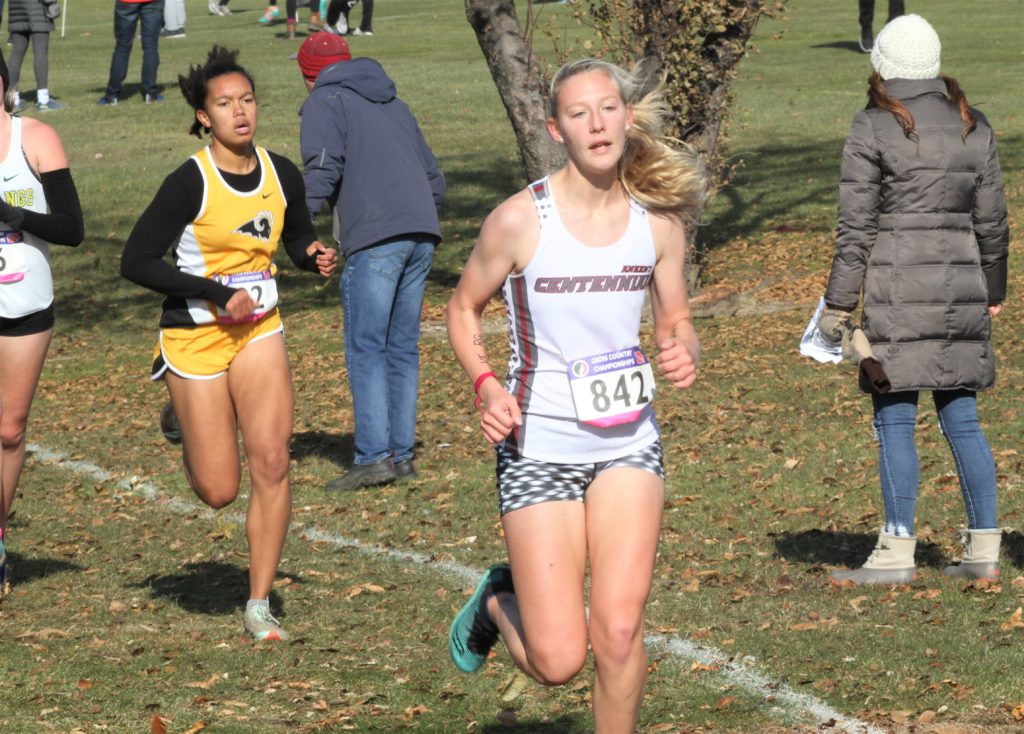 Jensen has made similar progress throughout her career.
"As a freshman, Katie started out 23rd on our team," Cogdill said. "She didn't run a varsity race until midway through her sophomore year and then she finished 96th at state. Now as a junior, she cut 45 seconds at state and placed 74th."
Camille Jackson of Ames pulled away from the field to win the race in 17:24. She finished 20 seconds ahead of Iowa City Liberty's Ashlyn Keeney.
Top-ranked Johnston easily won its third state title in four years, finishing 32 points ahead of No. 2 Dubuque Senior. Centennial failed to qualify as a team for the first time in school history, but Vortherms and Jensen advanced as individuals by placing in the top 15 at last week's regional meet.
"It was (different)," Vortherms said. "I started (the race), and it was weird because I didn't have Rondi (Quass) and Morgan (Graybill) with me."
Jensen ran together with Vortherms for the first part of the race.
"I just wanted to place higher and have a faster time than last year," Jensen said.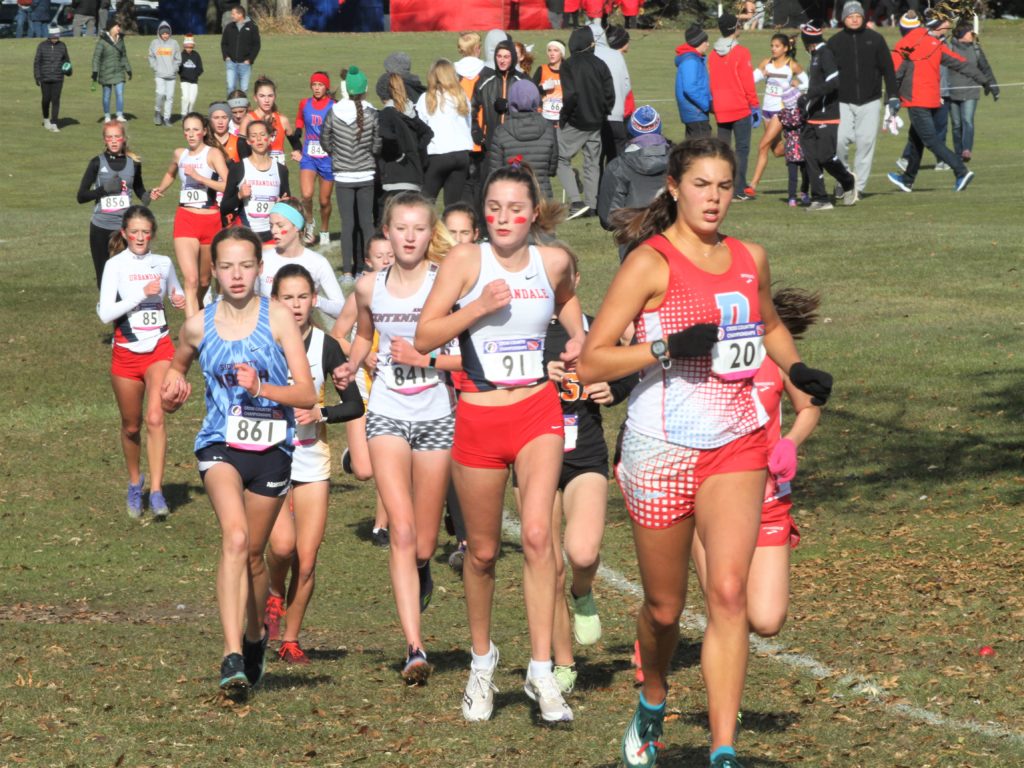 Vortherms eventually took off and started to pass tiring runners. She nearly matched her No. 30 ranking in Class 4A.
"I felt really good about the race. It was fun," Vortherms said. "This is the first time I didn't have a goal, and it went better than it ever has."
The Centennial duo was cheered on by many of their teammates throughout the race.
"After the meet, there were tears of joy paired with a sadness that we were unable to provide the same outcomes for their teammates–outcomes that they truly deserved to experience on the course instead of from the sidelines," Cogdill said.
However, the Jaguars may have learned a formula for success on the state-meet course, something that could be beneficial next year.
"Today's performances were the perfect race outcomes for Kathryn and Katie as they represented our team," Cogdill said. "They both ran within themselves, doing what they know they do best, and they tried not to force anything. The end result was both girls ran right at their lifetime bests, which has been a rarity at the state meet.
"Leaving today and reflecting on the past week, us coaches feel we may have finally cracked the state meet formula and these girls will be well-poised to lead the team next year," he added.