The state diving meet got off to a bad start Friday for Ankeny senior Sydney Jorgensen when she took a tumble at the Marshalltown YMCA.
Just a few hours later, though, Jorgensen was a state champion.
She racked up a score of 513.2 points to finish 27.5 points ahead of runner-up Joscelyn Buss of Ames, who entered the meet as the No. 1 seed.
"It feels really good," Jorgensen said. "I'm really happy."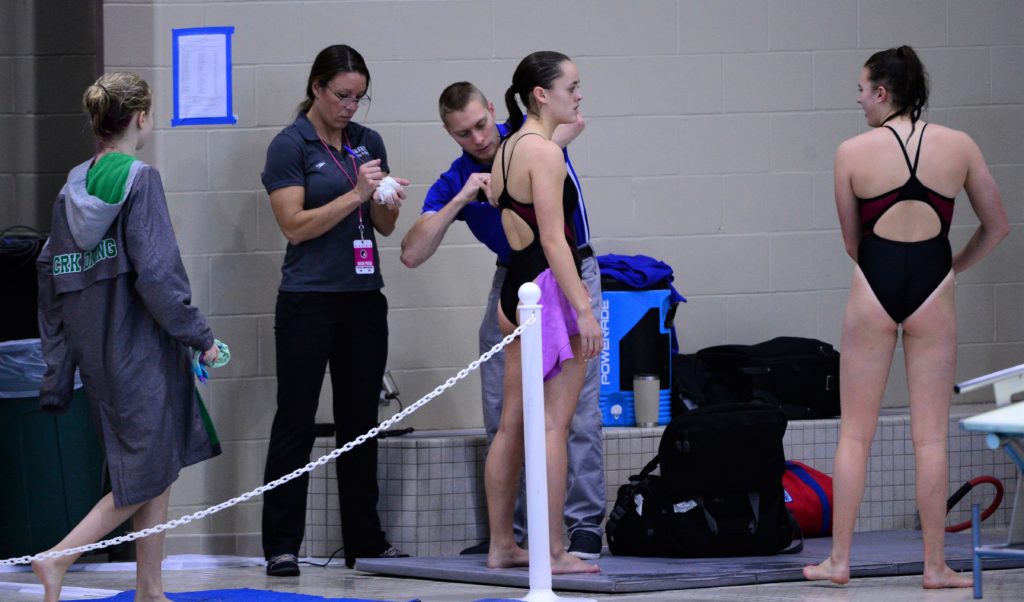 Jorgensen overcame some adversity after slipping in the locker room before the meet. The fall left her with a bloody elbow.
"I had my socks on and I went down to take them off, and I kind of slipped and fell on my elbow and had a little cut," Jorgensen said. "But I'm all right."
Jorgensen competed with a bandage on her left arm. She scored just 38.25 and 36.4 points on her first two dives, leaving her 12.1 points behind Buss.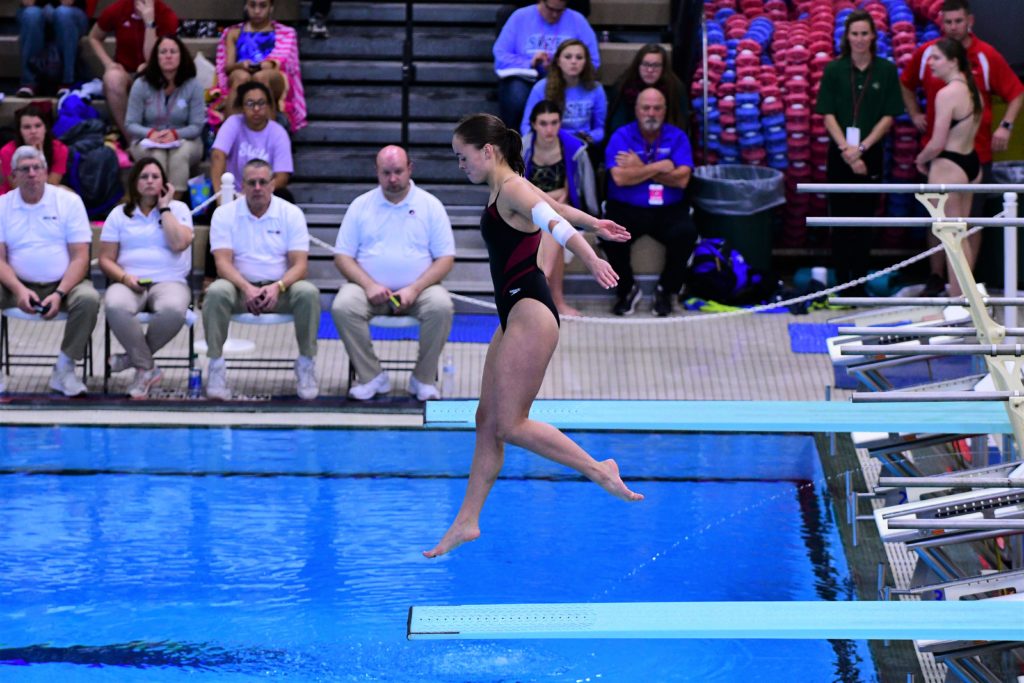 "She just had a little bit of a rough start, but then came back and settled in and had an amazing day," said Ankeny coach Michelle Stout.
Jorgensen still trailed Buss by 2.5 points after the sixth round, but she took the lead for good with a 50.6 on her seventh dive. She then built a commanding lead with a spectacular dive on her ninth attempt–one that earned a score of 61.2 points.
"I came in feeling really good," Jorgensen said. "I wouldn't say confident in a win, but just really confident in my ability and my skills."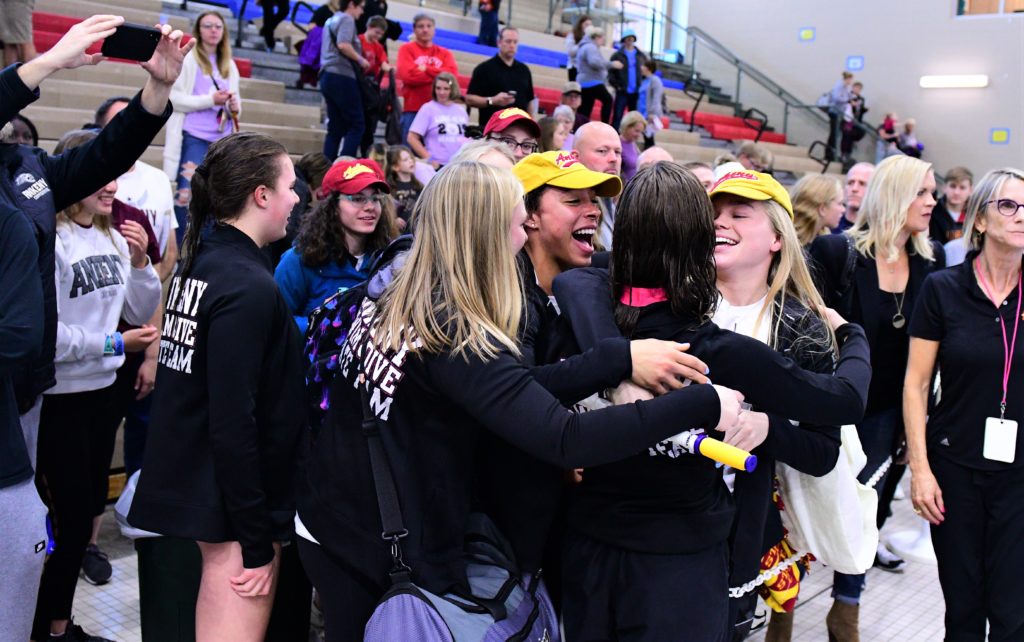 Jorgensen followed with two more solid dives on her final attempts, posting scores of 51.7 and 51.75 points.
"I told myself going into each dive, 'Just do it to the best of your ability,'" she said. "I think I was (a little rattled early on), but I kind of got my head back in it and finished strong. That's what matters."
Two other Ankeny divers also placed in the top 16. Dasha Toth was 12th with 409.9 points, while Erica Peters took 14th for the second straight year, finishing with 405.9 points.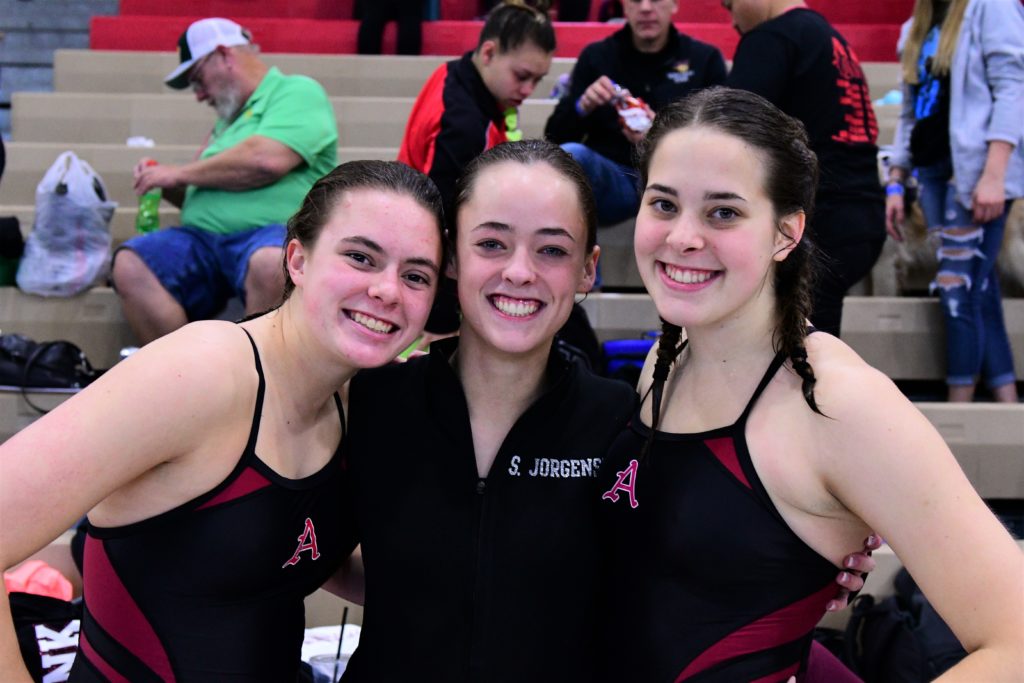 "We've gone from having no qualifiers to one qualifier to three qualifiers, and we're actually going into the meet (Saturday) in first place," Stout said.
The Hawkettes scored 28 points in the diving event. Bettendorf is in second place with 19 points.
Preliminary races in the swimming events will be held on Friday night. Check back later for more coverage of the meet.