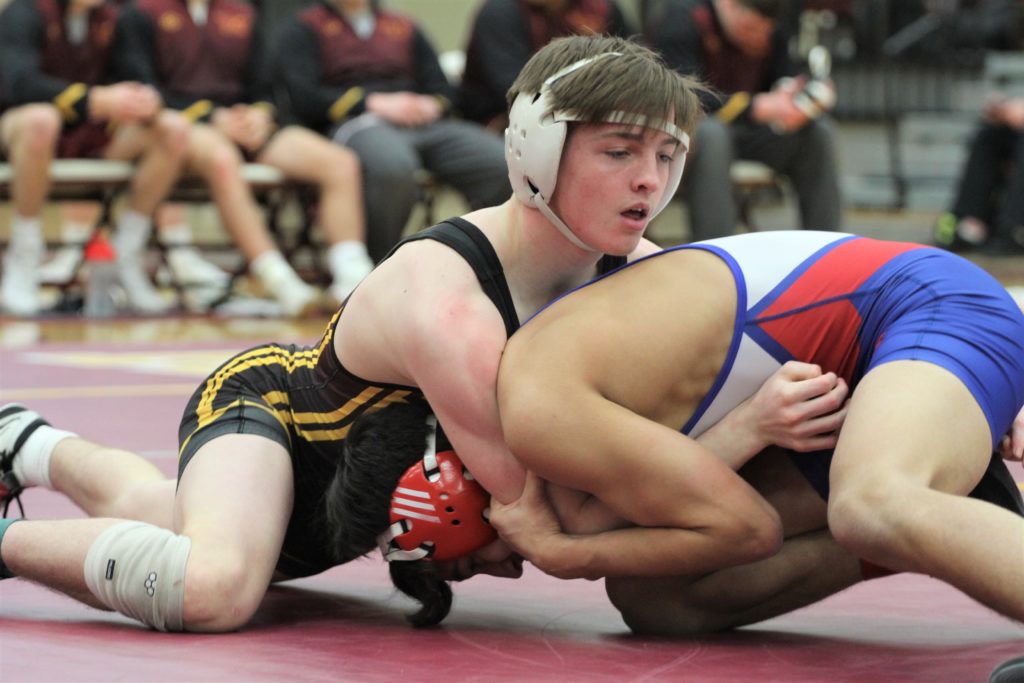 Ankeny's Caleb Rathjen wrestles with an aggressive mentality that fits perfectly with the Iowa wrestling style.
In a couple of years, Rathjen will get his chance to wrestle for the Hawkeyes.
Rathjen announced on Thursday via Twitter that he has verbally committed to join Iowa's program in 2021.
"I'm very proud and excited to announce my commitment to further my academic and wrestling career at the University of Iowa," Rathjen tweeted. "I want to thank all of my amazing family, friends and coaches who have helped support me. I can't wait to wear the Black and Gold! Go Hawks!"
Rathjen, a junior, is considered one of the nation's top prospects. He's currently ranked No. 14 nationally at 132 pounds and is the No. 29 overall prospect in the Class of 2021, according to MatScouts.
Rathjen picked the Hawkeyes over Iowa State, North Carolina and Purdue.
"It was (a tough decision), and then it wasn't," said Rathjen. "I was a big Hawkeye fan growing up, and I tried to not let that play into the recruiting process. I tried to keep my recruiting options open and my mind open. And I did, and there are some schools that really made me think. But at the end of the day, Iowa was the right fit.
"I grew up going to Carver-(Hawkeye Arena) watching duals. Being around that awesome atmosphere and watching some of the greats come up, it was definitely awesome," he added.
Rathjen, a two-time state finalist, has compiled a 61-3 record in his first two varsity seasons. He was the state runner-up at 113 as a freshman before claiming the Class 3A crown at 126 last season.
Rathjen has also enjoyed success on the national level. He placed third at the Junior folkstyle national championships and finished fourth at the Cadet freestyle world team trials earlier this year.
Rathjen is planning to wrestle at 138 this season. He projects as a 157-pounder in college.
"It was fun, but the past couple of weeks narrowing down the schools was getting a little stressful, trying to figure out which school was the best," Rathjen said. "It's definitely nice to get it out of the way.
"It was kind of my plan to make my decision before the season started. To get all this stuff out of the way and to go into the season fresh–not have anything on my mind. I can focus on the goals I have ahead of me for this season," he added.
Rathjen becomes the third member of Iowa's 2021 recruiting class. Missouri star Wyatt Henson, the No. 16 overall 2021 prospect by MatScouts, and Colorado state champion Cam Lucero previously committed to the Hawkeyes.
"They have some great guys coming in that I know and I've been around," Rathjen said. "It's going to be a fun time."